It was only recently that I tried a fat tire bike. Three opportunities to ride in the mountains in winter presented themselves over eight days and I was game to try. I'm hardly an expert now but I do feel these 10 fat tire bike tips will help anyone keen to try this growing sport for the first time. Although it takes more energy to ride a fat tire bike, let me assure you that it's a whole lot of fun.
Fat tire bike tips for beginners
Choose your day
The weather will play a big role in your experience. If it's too cold or windy, you'll be miserable. And if it starts to snow hard, it's akin to riding in sand – energy zapping and demoralizing.
What is the ideal fat bike trail?
The ideal trail is hard-packed snow. If it's deep you'll waste so much time just trying to peddle. Small patches of ice are okay – but treat any ice longer than the length of the bike with respect. Otherwise your bike will slide out from under you.
Choose the right difficulty of trail
Trails are rated for difficulty. Choose easy or moderate trails when you're just starting out, especially if you have no mountain biking experience.
Start with short trails. You won't be riding fast so you don't cover nearly the distance you would on a mountain bike in the same time period. Tire pressure is much lower on a fat tire bike so it takes more work to cover the same distance.
Fat tire bike tips – dress appropriately
Wear warm winter boots and gloves or mitts with enough dexterity so you can change gears. You still need to wear a helmet so a thin hat or a headband is a good idea.
A padded butt makes everything more comfortable
Many fat tire bike trails are rutted so if the ride isn't smooth you'll feel it in your arms and butt. Even though you must dress for winter, a padded short with leg warmers under an outer shell would certainly make the ride more comfortable.
Stay hydrated when you're fat tire biking
Bring water or a drink to stay hydrated – in a thermos if it's really cold so it doesn't freeze. Take more than you think you'll need.
Refuel
Don't forget energy bars and snacks. Between trying to stay warm (which shouldn't be too much of a problem) and working hard on the bike you use a lot of calories. You don't want to burn out far from the trailhead.
Is the fat bike you're riding the right size?
Make sure the fat bike you are riding is properly sized to you. Carry an allen key if the seat doesn't have a lever cam lock system. It's more work for you if the seat is too low – and if you're having a hard time reaching the pedals it can be dangerous.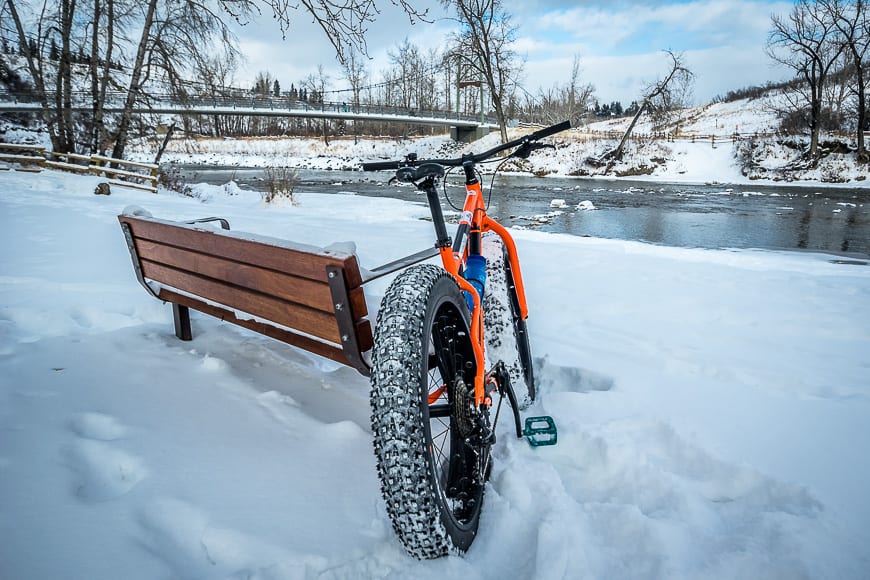 Fat tire bike tips – get into shape!
The better physical shape you're in, the more enjoyable the fat tire biking experience will be. Some people lose their fitness routine in winter but you can join a gym to get you in shape. My daughter who joined me on one of the rides credits her twice a week fitness class for making the ride enjoyable.
Share the trail
Many fat tire trails are shared with cross-country skiers, hikers and snowshoers. Stay out of the ski tracks and be prepared to pull over for others. Chances are the further away from the trailhead you get, the fewer people you'll run into.
Fat tire biking in winter is a lot of fun – even magical – when the weather and the trail conditions are right. You'll enjoy it even more if you've dressed properly, maintained your fitness level and follow the fat tire bike tips.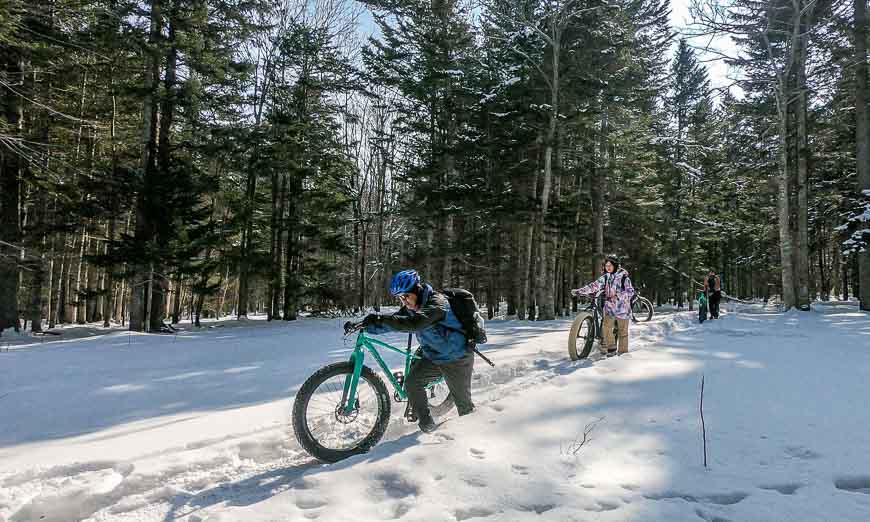 Further reading on winter adventures
Click on the photo to bookmark to your Pinterest boards.