I love the national parks in Canada and seek them out when I travel. I have a dream of seeing them all but the northern national parks are expensive to access and the weather window is short to visit. We'll see how far I get!
There are only a handful of non-northern national parks in Canada I've missed; Rouge National Urban Park in Toronto, Sable Island off the coast of Nova Scotia, Wapusk National Park in Manitoba and Wood Buffalo National Park in Alberta. I think I can knock those off in my lifetime.
Of the national parks I have visited these 10 are treasures. I've only included those not in the north but from personal experience I can tell you that Kluane and Auyuittuq are both stunners as well. And I finally visited the Mingan Archipelago National Park Preserve in Quebec. It's an exceptional place to visit – especially for photographers, kayakers and hikers.
Gros More National Park
If you visit Newfoundland somehow find a way to include time in Gros Morne National Park. It's a UNESCO World Heritage Site filled with natural beauty. That became very apparent on the four day backpack on the Long Range Traverse I did with my husband a few years ago.
On the boat ride on Western Brook Pond be enchanted by the landscape of a freshwater fjord that includes the highest waterfall in the eastern part of North America.
Go hiking so the copious wildflowers, mountains and big vistas can speak to your soul. Look for moose and black bears. Kayak out of Norris Point. And explore the rugged coast along the Gulf of St. Lawrence.
Kejimkujik National Park
Visit Kejimkujik National Park in the interior of Nova Scotia for fantastic canoeing, kayaking and camping and the seaside "Keji" for wild, rugged and isolated coastal scenery. Both are fabulous.
In the interior look for Georgian Bay kind of scenery replete with windswept pines and granite outcrops. Paddle on one of the many canoe routes, some that require long portages. Be prepared to stop for turtles crossing the road. The park has a great diversity of amphibians and reptiles.
At the seaside, hike on one of two trails or combine them to form a loop. Walk through bogs laced with wildflowers including beautiful pitcher plants and wild iris. Enjoy the rustic beauty along the coast but be alert for bears. I came across mom and her two cubs on a solo hike and couldn't get out of there fast enough.
Read: Kayaking Kejimkujik National Park in Nova Scotia
La Mauricie National Park
Beloved by Quebecois yet unknown to most Canadians, La Mauricie National Park is a four season destination that protects a big junk of billion year old Canadian Shield. In winter stay in an oTENTik after a day of cross-country skiing or snowshoeing.
In summer hike or paddle the exceptionally beautiful deep blue lakes. In fall come for an otherworldly foliage display.
Read: A Winter Visit to La Maurice National Park
1000 Islands National Park
Situated about halfway between Toronto and Ottawa, 1000 Islands National Park is very accessible – especially if you have a boat. One of the most enjoyable ways to experience the park is by kayak, hopscotching from island to island and camping or staying in oTENTiks.
The birding in spring is fantastic because of the parks location in the Frontenac Arch Biosphere. It's actually the second most biodiverse area in all of Canada. There's lots of outcrop, again reminiscent of some of the Group of Seven paintings and in summer you can cool off with a swim.
Read: A Kayaking Trip in the 1000 Islands, Ontario
Pukaskwa National Park
Pukaskwa National Park is a long ways from anywhere. It's located on the north shore of Lake Superior 320 kilometres east of Thunder Bay, the closest big city.
I think the best way to experience this park is by hiking the challenging Coastal Trail – either as a day trip from the Visitor's Centre if you're short on time but ideally as a five to six day backpacking trip via a boat shuttle. The beaches are beautiful, remote and empty.
The scenery varies daily though you'll always have long sections of hiking on lichen covered granite. Blueberries are bountiful in fall – and so are the bugs so do this hike in September. Don't expect to see many people.
Read: Hiking the Coastal Trail in Pukaskwa NP – part I
Grasslands National Park
Quiet beauty, big skies and solitude is what you find in southern Saskatchewan in Grasslands National Park. There are two blocks to the park with the western block offering more trails.
Do some of the easy front-country hikes to get a real sense of the lonesome breadth of the land and the diversity of the prairie eco-system. You'll see a lot of wildlife including pronghorn antelope, black-tailed prairie dogs, bison, American badgers and coyotes.
Read: Hiking in Grasslands National Park, Saskatchewan
Banff National Park
The most popular national park in Canada enthralls visitors from around the world with its majestic mountain peaks, turquoise blue lakes, and wildflower filled meadows and with a little luck, lots of animal sightings.
Although the Banff town-site can get ridiculously busy in summer, you don't have to go far to find solitude and unspoiled beauty.
I love the hiking and backpacking in the summer and fall, cycling in the shoulder season and all the skiing and snowshoeing come winter. Just remember to reserve campsites and lodging in the summer months to avoid disappointment.
Read: 13 Incredible Things to Do in Banff in Winter
Jasper National Park
Quieter than Banff National Park but boasting just as many larger than life mountain landscapes, Jasper National Park offers lots of year round adventure opportunities and in my opinion higher chances of seeing wildlife.
The hiking and backpacking trails are world-class. So is the canyoning no one knows about. In winter come for the skiing, skating, dogsledding and even ice climbing in Maligne Canyon.
One of my all-time favourite backpacking trips is the Skyline Trail where you enjoy vistas above treeline for almost 30 kilometres. Really, you should combine Banff, Jasper and Yoho National Parks in a single trip!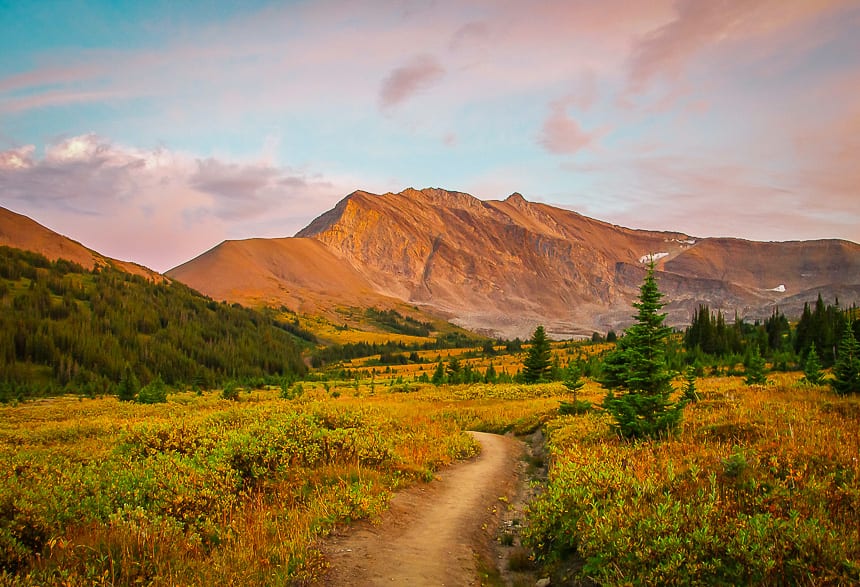 Yoho National Park
Yoho National Park isn't very big but it packs a punch when it comes to mountain scenery. Whether it's the Iceline Trail with its fabulous Takkakaw Falls views, the grand scenery around Emerald Lake or the Lake O'Hara region with some of the most beautiful mountain scenery in Canada, this little park just outside of Banff National Park is most certainly worth a visit.
The Lake O'Hara area requires pre-planning as access is primarily via a bus ride and it fills quickly months in advance. You'll remember the beauty of this area for the rest of your life.
Read: The Lake O'Hara Alpine Circuit, Yoho National Park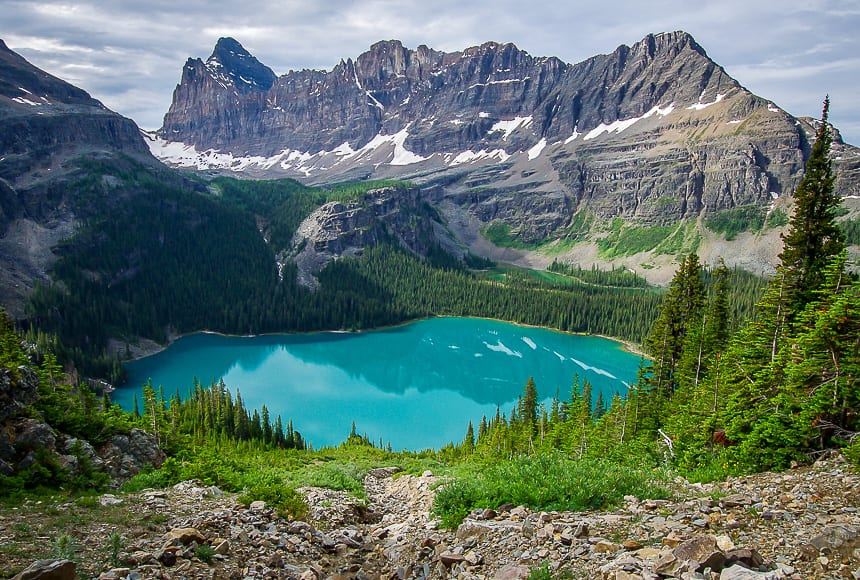 Gwaii Haanas National Park Reserve – one of the hard to get to national parks in Canada
You'll either have to fly into Sandspit or take a ferry from Prince Rupert to access Haida Gwaii – and then you'll need to boat down to Gwaii Haanas.
It's wild, rugged country with a temper, that's tamed in the summer. This is a land the Haida people have lived in for more than twelve thousand years. With its dense rainforests, gorgeous sand beaches and incomparable marine life, visitors are in for a treat. The kayaking here is phenomenal.
Read: Trip Highlights of Kayaking Gwaii Haanas in BC
These 10 beautiful national parks give you an inkling of what awaits you on a visit to Canada.
Click on the photo to bookmark to your Pinterest boards.