The best way I know of to get through a Canadian winter, and have fun at the same time, is to plan loads of activities and short getaways. From Alberta and British Columbia, one of the easy options is a trip to Kelowna – the largest city in British Columbia's Okanagan Valley.
In the summer Kelowna is a very popular recreational area with loads of sandy beaches and opportunities for boating, swimming, SUP & wind surfing. During a Kelowna winter – which is mild compared to most places in Canada – you can look forward to excellent snowshoeing, cross-country and downhill skiing, hiking and of course wine-tasting at over 40 wineries, most of which are open year-round.
This post includes some affiliate links. If you make a qualifying purchase through one of these links, I may receive a small percentage of the sale at no extra cost to you. Thank you for your support.
Here's a look in some detail at what you can do during a Kelowna winter.
Ski and play at Big White
Canada's largest ski-in, ski-out village – Big White, is just an hour's drive from Kelowna but it's a world away. The road out of Kelowna climbs 1,400 metres (4,600 feet) and ends in a winter wonderland filled with trees heavy with snow. In fact, this resort is famous for its snow ghosts – trees completely coated with snow and ice, primarily found at the very top of the ski resort.
At Big White you can look forward to champagne powder on over 119 runs that include groomed cruisers and forested glades – ideal for skiers or boarders new to glade skiing. Experts can choose from over a dozen black runs.
If you're really not that into skiing or snowboarding, fear not. Big White has everyone in the family covered. At the Happy Valley Adventure Centre you can go tubing, fat tire biking, climb an ice tower, try dogsledding or enjoy a sleigh ride. Their massive skating rink is perfect for a family skate or some pick-up hockey, no matter what your age.
Those that still want some serious exercise can look forward to a great set of snowshoe and Nordic ski trails. All are well-signed – and I for one felt very comfortable exploring them on my own.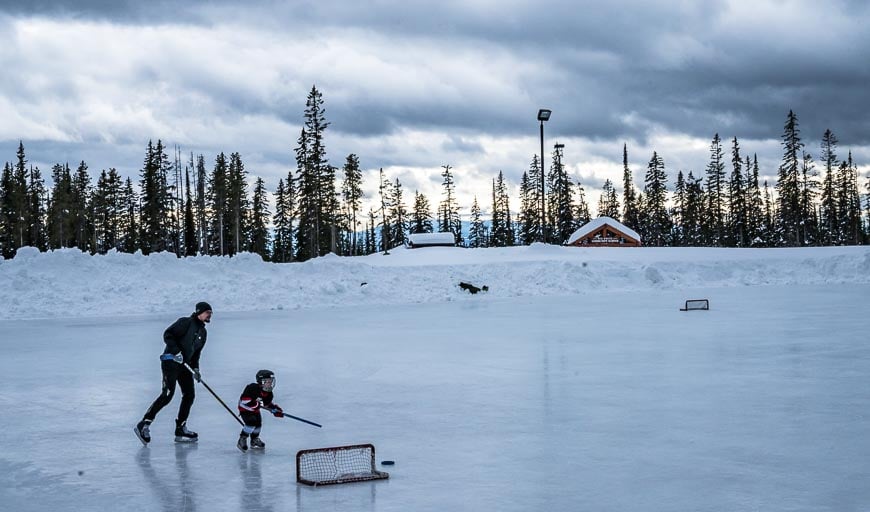 Getting to Big White
Getting to Big White without a rental car is easy if you book a shuttle with Sagebrush Tours – a company offering ski shuttles in winter with pick-ups and drop-offs all over the Okanagan Valley. In summer they offer nature tours (a bat tour at sunset anyone?). Frank, the owner, is particularly knowledgeable – as the founding member of the Boreal Centre for Bird Conservation in Slave Lake, Alberta.
Read: 20 Big White Photos to Inspire a Visit to the Ski Resort
Telemark Nordic Club in West Kelowna
From downtown Kelowna it's a 30 minute drive to reach the Telemark Nordic Club in West Kelowna, a snowshoe and Nordic skiing club that's open to the public.
The club sits at an elevation of 1,000 metres on a 3,000 acre chunk of land in beautiful mixed cedar and ponderosa pine forest. Some trails offer Okanagan Valley views – if you're prepared to work for them. There's a dedicated dog-friendly snowshoe and ski trail along with night skiing on 3 kilometres of trails. And you can rent skis and snowshoes onsite.
You'll find five signed snowshoe trails – many of them loops, ranging in length from the easy 2 kilometre Chalet Loop to the 13 kilometre Crystal Mountain trail – rated a difficult trail. Many of the loops have shortcuts you can take if you're pressed for time or energy. We did part of the Panorama Ridge Trail – following fresh moose tracks for much of its length.
Both classic and skate skiers – of all levels – can enjoy over 50 kilometres of professionally groomed cross-country ski trails. If I'd had another day in Kelowna, I would happily have spent it here.
Go for a hike during a Kelowna winter
Hiking is a year-round activity in Kelowna. The only thing to consider during a Kelowna winter is ice so pack the "icers" just in case the trails are slippery.
I enjoyed a couple of excellent hikes over just three days in the area. The one hike I missed that sounds terrific because of the views is the 3 kilometre (one-way) hike to the top of Mount Boucherie. Next time.
Knox Mountain Park
Knox Mountain Park, just north of downtown Kelowna is a popular area to hike. There are a network of trails of various lengths and difficulties – all dog-friendly – with many offering superb vistas.
I did the Apex and Paul's Tomb combination – which as you can see offers exceptional views of Lake Okanagan. In the summer there's a lovely beach at the end of the Paul's Tomb Trail that is ideal for swimming. Allow 1.5 hours to do the return hike.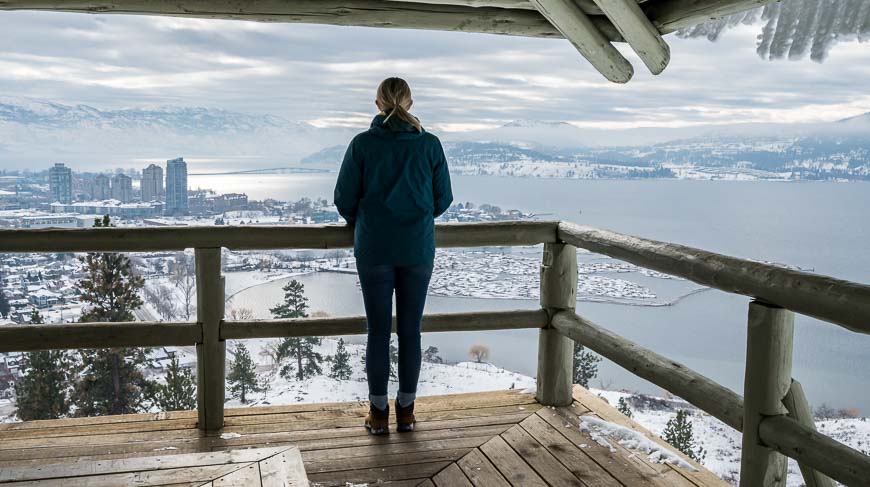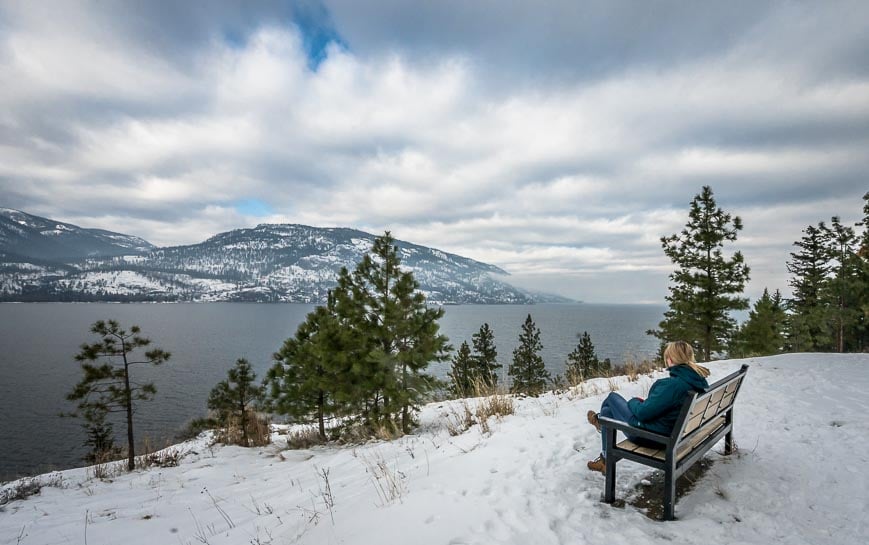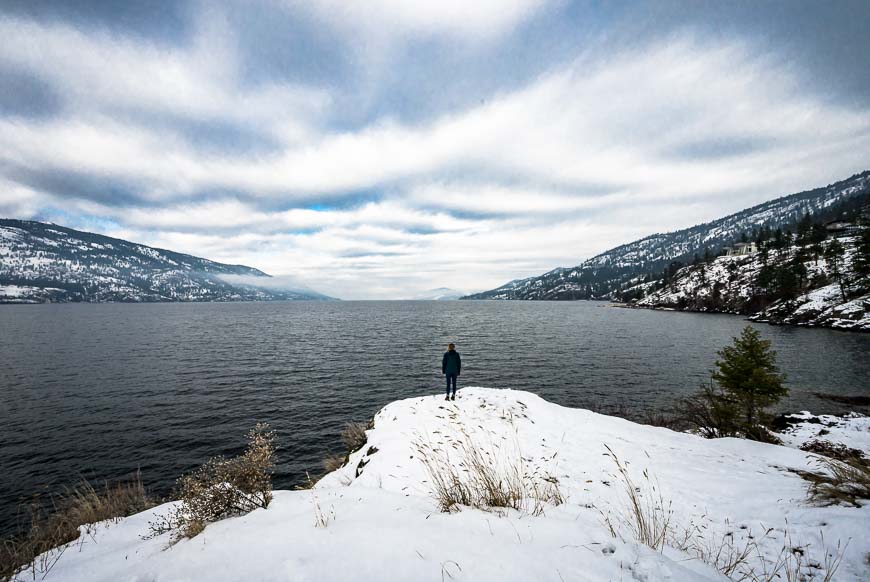 Bear Creek Falls in Bear Creek Provincial Park
The 2.6 kilometre loop hike to see Bear Creek Falls in Bear Creek Provincial Park is also a winner. On a sunny day, views here would be incredible. As it was, the hiking through pine forest along the canyon rim was lovely. The waterfall, seen from a distance, was grander than expected.
A Kelowna winter is a perfect time for wine-tasting
Wineries never sleep. There is always something to do and while the 40 plus wineries around Kelowna may have shorter hours in winter, most are open and happy to welcome visitors. In fact it's a great time to be wine-tasting as there aren't the crowds you get in summer.
Kelowna is home to a growing number of organic and biodynamic wineries with Summerhill Pyramid Winery leading the charge. Many of the wineries boast tasting rooms, along with winery bistros and restaurants with truly spectacular lake and mountain views.
In this part of the Okanagan be sure to try the old-vine Rieslings (my personal favourite is from Tantalus Vineyards), chardonnays, merlot and icewine.
I visited three of the five lakeshore wineries including Summerhill Pyramid, CedarCreek Estate Winery, and St. Hubertus & Oak Bay Estate. All are very different and each one worth a visit in their own right.
Summerhill Pyramid Winery
The Summerhill Pyramid Winery is the largest one in the Kelowna area producing 30,000 – 40,000 cases of wine per year. In summer they see anywhere between 1000 – 3000 people per day, so winter is a perfect time to visit.
Instagrammers will love the winery with its over-sized wine bottle and glass suspended in the air. The pyramid is another reason to visit – and I haven't even mentioned the killer views or the wines.
The pyramid is an 8% replica of the Great Pyramid in Egypt. The information on their website about the pyramid is compelling and definitely worth a read. They have shown through taste tests that there "is a definite and profound effect on liquids placed in sacred geometry." By liquids they refer to their wines which all spend time ageing in the pyramid.
Summerhill is particularly well known for its sparkling and dessert wine so be sure to try a sampling of both of these wine styles. They have a tasting sheet I really like that describes the flavours – which can be very hard to articulate, especially for novice wine tasters.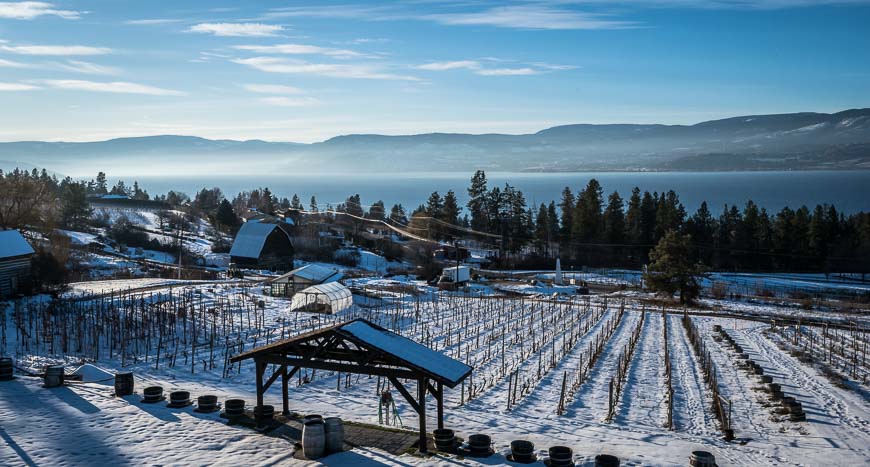 St. Hubertus & Oak Bay Estate Winery
The St. Hubertus & Oak Bay Estate Winery is a small, friendly, family-run winery with a keen belief in healthy, sustainable organic farmed vineyards along with great wines.
You won't find pretentiousness here. Andy Gebert, one of the owners, whom I instantly liked, doesn't seem to take himself too seriously. I loved his philosophy "Wherever grapes are grown life is good."
We didn't have much time for tasting so I tried a few of the whites including a delicious Riesling. And I walked out of the winery with a bottle of chasselas which I used in a cheese fondue a few days later. As with many wineries, these folks have a wonderful gift shop with many wine and food themed items.
CedarCreek Estate Winery
There's a big WOW factor when you enter the CedarCreek Estate Winery. We were seated for the wine tasting which was a first and actually a nice change from standing. Okanagan Lake provided one heck of a stunning backdrop. We tried about a half dozen wines with my favourite their old-vine riesling.
And then it was off to lunch next door in their stunning Home Block restaurant crafted from century old reclaimed barn wood and fieldstone. Giant windows look out to the lake across a large gas fireplace.
The food is exceptional – swoon worthy, so take an appetite. After starting with a decadent burrata with grilled focaccia I ate my daily allotment of veges – green chickpea fritters with wood grilled yams and greens. Seriously delicious.
Don't miss a stop at this gorgeous winery.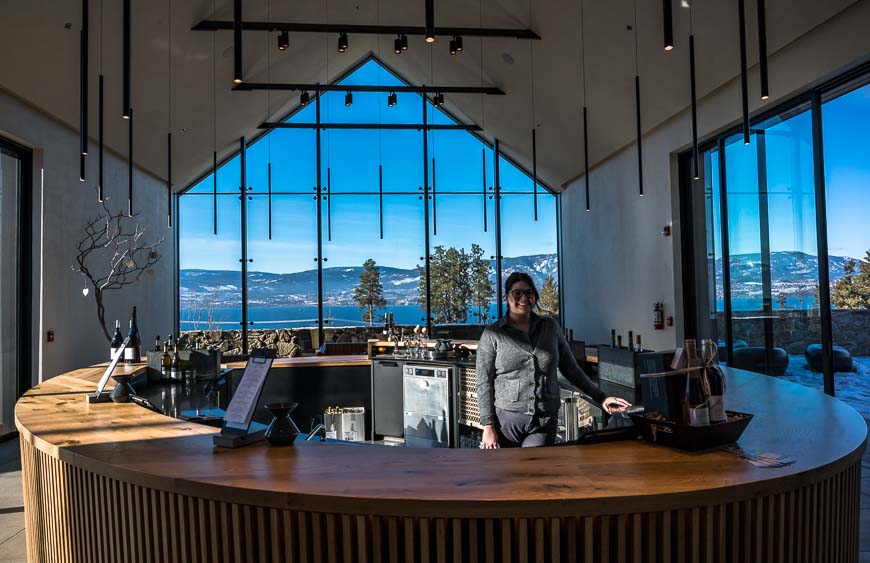 Stroll the boardwalk or go for a skate
During a Kelowna winter when there's hardly a soul about, take a stroll on the lakefront boardwalk for 2 kilometres, enjoying the views along with a little exercise. And if you like to ice skate, head to Stuart Park, just a few blocks south of the boardwalk. Skating is free though there is a cost to rent skates.
Sip a craft beer during a Kelowna winter
I'm more a wine drinker than a beer drinker but after my winter week in the Okanagan I have come to thoroughly enjoy a few of the locally crafted beers.
After a hike at Knox Mountain it was time to quench a big thirst with a stop at BNA Brewing – a very hip tasting room with beers like Canary in the Coal Mine – Porter (my fave with chocolate notes), Lost Ones IPA (aged on cabernet franc and cabernet sauvignon grape skins) and Flamingo – Margarita Gose (lemon, lime and orange peel and juice added, then aged in tequila barrels).
While we didn't have anything to eat here, I understand the food is excellent. What I loved about the place is its welcoming vibe – and the fact you could sit in the entrance with a beer and your dog!
Upstairs in this historic, downtown building is a truly beautiful renovated space where you can hang out starting at 4 PM and bowl, play bocce or shuffleboard. It's definitely one of the must see places when you visit Kelowna.
The craft brewery market is growing. Check out descriptions on the BC Ale Trail website for more ideas of where to go.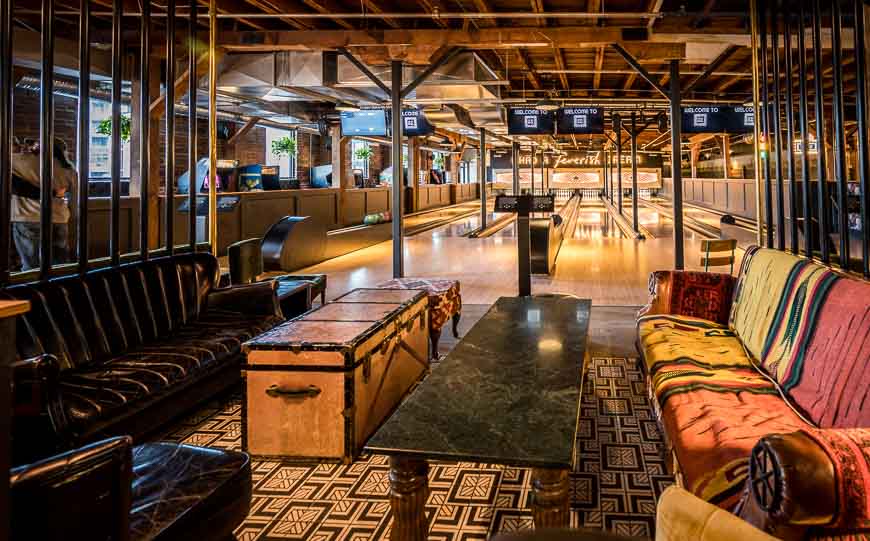 Eating in Kelowna
Kelowna is becoming something of a foodie destination. I don't write about food, preferring to enjoy my meal without snapping a zillion photos.
There were a few standout restaurants, apart from CedarCreek Winery I'd suggest.
For breakfast I highly recommend Sunny's – A Modern Diner, named in honour of the restaurant owner's golden retriever. I'm a pancake snob and theirs made the cut. Plus they offer real maple syrup.
For lunch or dinner visit Krafty Kitchen & Bar – a farm to table eatery and bar with a focus on high quality local, sustainable food.
If you're vegan, vegetarian or you just like to change things up, check out Frankie We Salute You!, with their focus on plant based foods. I had the chorizo ranchera bowl, pictured below. It's got made from scratch chorizo sausage (vegetable based), roasted beets, potatoes, sweet corn salsa, plant-based cotija cheese, cilantro, chili lime chips and green chili sauce. I left the dinner table feeling very healthy.
Where to stay during a Kelowna winter
I was fortunate to stay at the Hotel Eldorado located right on the water. My suite with an old world charm about it was roomy with a warmth I loved. In addition to a good sized bedroom, there was a small room with an over-sized soaking tub, a desk in the front entrance, a living room with a view along with a small, modern kitchen.
I felt very much at home here and particularly liked waking to the sounds of ducks quacking, just feet away from my living room window. In the summer this place is hopping, but in winter it's quiet and very peaceful.
An onsite waterfront restaurant is a short walk from any of the rooms. At this time of year it's easy to score a window seat – and sip your morning coffee, watching the world go by. At night, make reservations.
Book a room at the Hotel Eldorado or their family-friendly sister property – the Manteo Resort.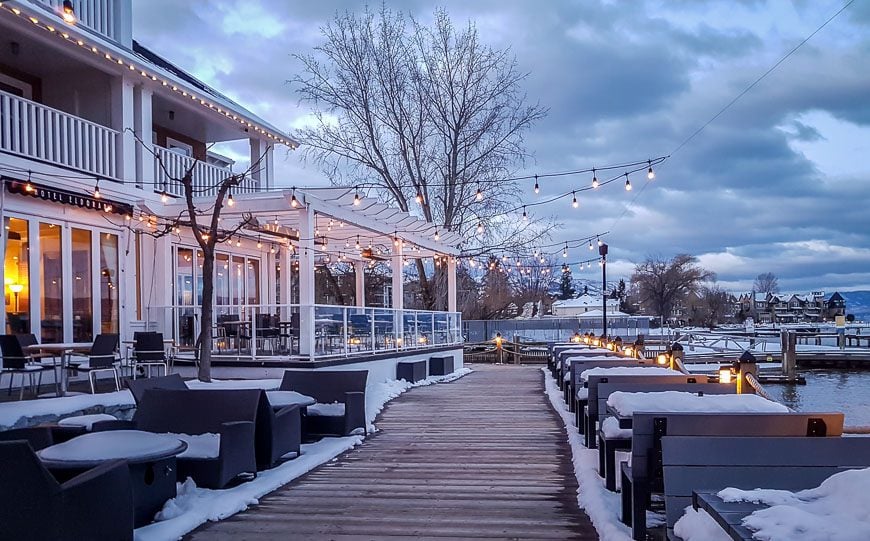 Getting to Kelowna, BC
Kelowna is 400 kilometres northeast of Vancouver – about a 4.25 hour drive, depending on weather. From Calgary, it's a 600 kilometre, 7 hour drive to reach Kelowna.
You can fly into Kelowna International Airport on non-stop flights from Vancouver, Calgary, Victoria, Edmonton and Seattle. Airlines flying to Kelowna include Air Canada, WestJet, Flair and Alaska Airlines.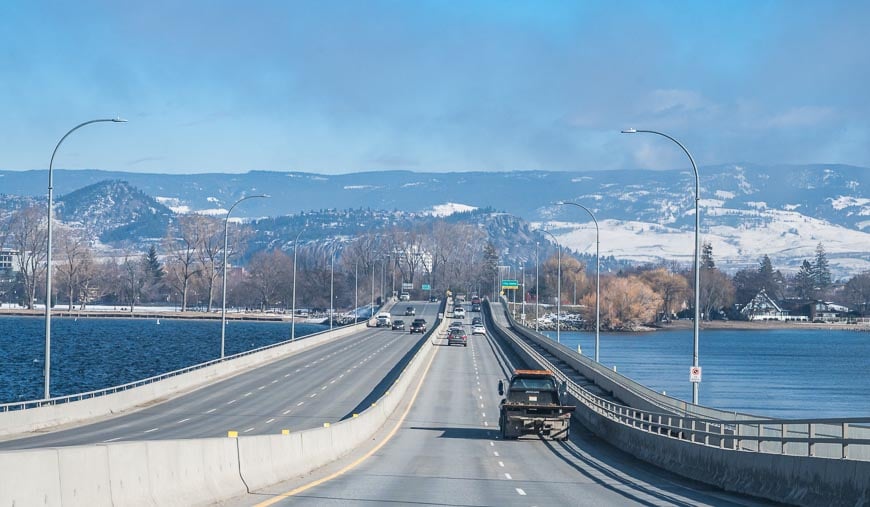 For more information on Kelowna visit their website.
Further reading on things to do in the Okanagan
Thank you to Tourism Kelowna for hosting my stay and sharing your lovely city.
Click on the photo to bookmark to your Pinterest boards.