Parks Canada offers a tent like cabin that they coined oTENTik. They've been placed in numerous national parks across all the provinces in Canada and can be reserved online. On a three day kayaking trip in the 1000 Islands, John and I had the chance to try two oTENTiks on two different islands within Thousand Islands National Park. 1000 Islands camping the oTENTik way is ideal for people new to sleeping in the wilderness – or for those who feel safer with a more solid roof over their heads at night.
Recommended reading before you go: Camping for Beginners: What You Need to Know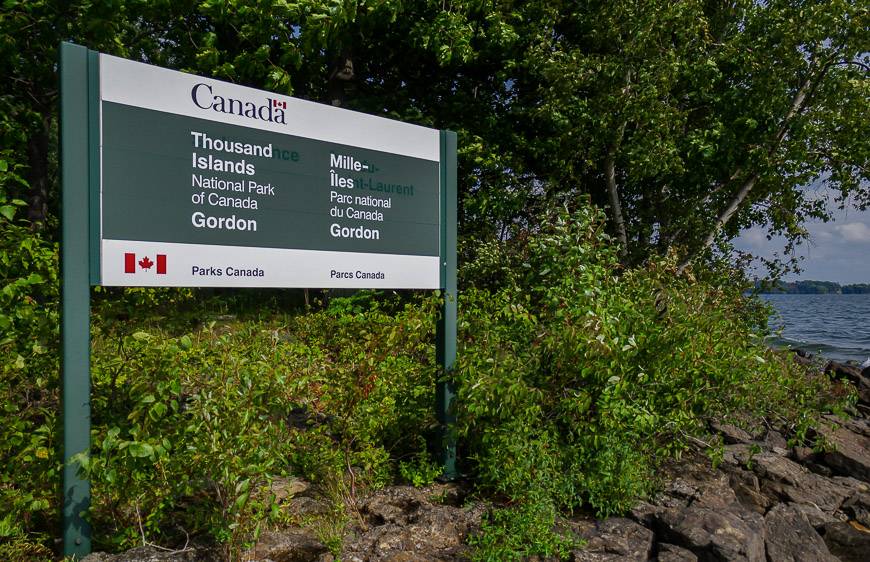 This post includes some affiliate links. If you make a qualifying purchase through one of these links, I will receive a small percentage of the sale at no extra cost to you. Thank you very much for your support.
1000 Islands camping on Gordon Island in an oTENTik
We arrived via sea kayak at a dock reserved for oTENTik users only on Gordon Island. It was a short carry to get all our gear over to the "oTENTiks".
First impressions were excellent as the location boasted a beautiful view out to the St. Lawrence River. And it felt private – despite being on a trail that circumnavigated the island – though maybe I'd feel differently in on a summer weekend.
The outhouse was just a 20-second walk away – and best of all it was odour free and so clean you could almost eat off the floor. Toilet paper and hand sanitizer is provided.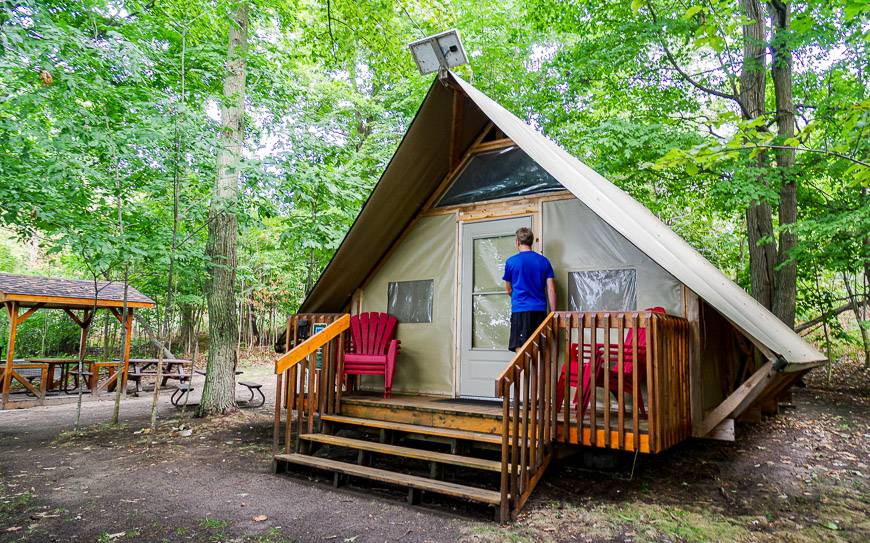 What comes with your oTENTik?
There are only two OTENTiks on Gordon Island. You want to reserve #1A as it has the best view. Inside there are mattresses that in theory sleep six people though it might be cozy if it was six large adults.
You'll need to bring sleeping bags. There is a table with chairs, a bench and a solar powered light that also comes with a 12 volt plug-in for recharging your phone.
You're not supposed to bring any food into the cabin and all cooking is to be done outside, either on the BBQ that comes with the oTENTik or via a camping stove that you bring with you.
Each oTENTik in the 1000 Islands comes with a covered picnic table, one (or more) non-covered picnic table, six plastic red chairs and an animal and waterproof food locker. Across Canada they should all be the same though I hadn't seen the covered picnic table before.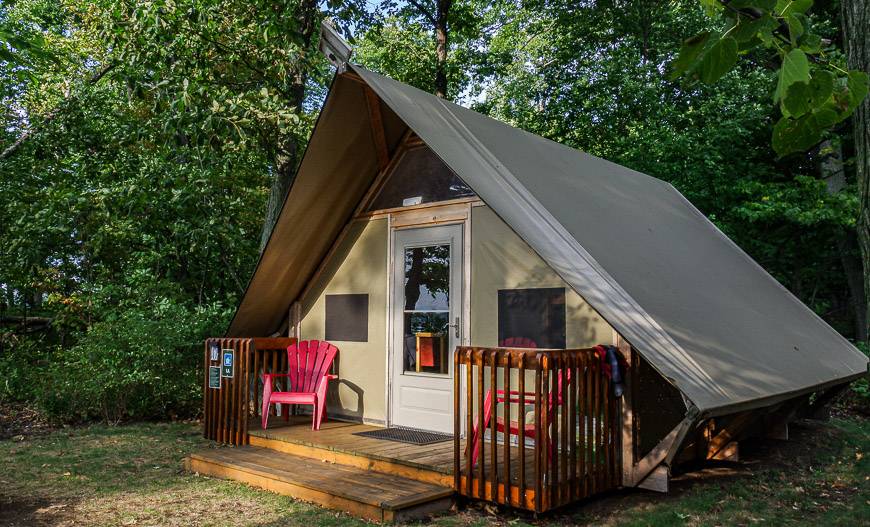 It was very windy when we arrived on Gordon Island so instead of exploring the area by kayak that afternoon we wandered the island and had a nap. Bliss.
This is one of the islands that is home to Parks Canada red chairs. On Instagram you can post a photo with the #sharethechair hashtag.
1000 Islands camping via the McDonald Island oTENTik
The following day we made our way to McDonald Island via a five hour paddle (making up for the previous day's relaxation) with a few breaks to check out two other islands that are part of 1000 Islands National Park – Mulcaster and Camelot.
If you are paddling between islands be aware that the winds can spring up quickly and generate some decent sized waves.
On the final half hour to McDonald we crossed an open water section with at least half metre sized waves and plenty of wave bounce to boot.
McDonald Island is very accessible to the marina in Gananoque so it's a popular island and an easy first trip for kayakers without a lot of experience.
There is a sandy beach across the island from the oTENTiks where you can pull up your kayak and leave it there for the night. It's more of a haul to get your gear to the oTENTiks on this island – even more so when you unload at the wrong cabin like we did.
1000 Islands camping – the prime oTENTik on McDonald Island
On McDonald Island you definitely want #2A as it comes with a waterfront view and a very private place right on the rock beside the St. Lawrence River to put a couple of red chairs and enjoy morning coffee or one of the stunning sunsets.
Snakes and mice in the 1000 Islands
The 1000 Islands are home to a number of snakes. We say a black water snake when we arrived at Gordon Island and on McDonald Island I saw a big, thick long snake slither under the boards of the covered picnic table.
Not long after I saw a mouse come from underneath the same area! You can be sure I didn't eat at that picnic table that night or the next morning.
The interiors of all the oTENTiks are the same. Aside from sleeping bags you will need to bring towels, cooking utensils, water filters, and any other paraphernalia you usually camp with. Firewood is available for purchase on the islands. Plan to pack out all your garbage.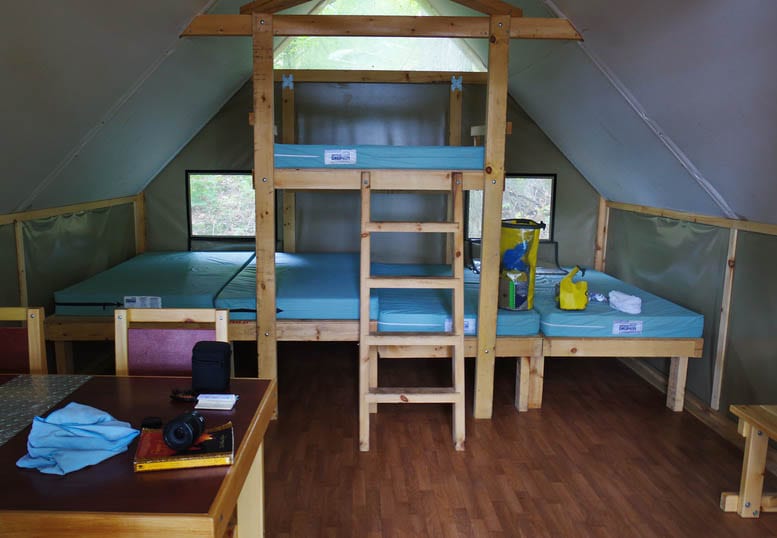 I was pleasantly surprised at how much I enjoyed the 1000 Islands camping – oTENTik experience. They're a great way to get into camping without having to be concerned about bugs, wildlife, and even rain. For the price (around $100 on Gordon Island and $121 on McDonald Island) they're a deal.
Where to stay nearby before your kayaking trip

Gananoque is the take off point for most kayaking trips. The town is filled with charming B&B's and some motels.

Some of the top places to stay include Seaway Manor B&B, Ruby Manor Bed & Breakfast and The Woodview Inn. All are rated superb or exceptional.
Have you stayed in any of Parks Canada's oTENTik cabins?
For more information on Thousand Islands National Park visit their website.
Further reading on things to do in southern Ontario
Click on the photo to bookmark to your Pinterest boards.
Thank you to Thousand Islands National Park for hosting my stay. All opinions as always are my own.