It took 15 months to give birth to my second book – 125 Nature Hot Spots in Alberta – The Best Parks, Conservation Areas and Wild Places, co-authored with my friend Debbie Olsen, who in fairness wrote a whole lot more of the book than I did. I swore after my first book I'd never write a second. It's just like babies; you forget about the sleepless nights, the lack of free time, the bleary eyed moments (cue Debbie in pajamas writing from dawn till dusk) and in a moment of weakness you say yes – and then wonder why?
Fifteen months later I know why. Debbie and I have produced a book – 125 Nature Hot Spots in Alberta, that we are extremely proud of. It's full of awesome photos – some ours, some sourced. It's packed full of information about places that will be familiar to you along with many I doubt you've heard of.
We certainly both thought we knew Alberta. And yet we discovered an extraordinary richness across the province we didn't appreciate existed – largely with the help of Alberta Parks and the Nature Conservancy of Canada. Dig into this book. I guarantee it will make you want to explore beyond Banff and Jasper National Parks.
Affiliate links ahead, which means I receive a small percentage if you purchase anything through them at no extra cost to you. This helps me provide free content on this site. Thank you for your support.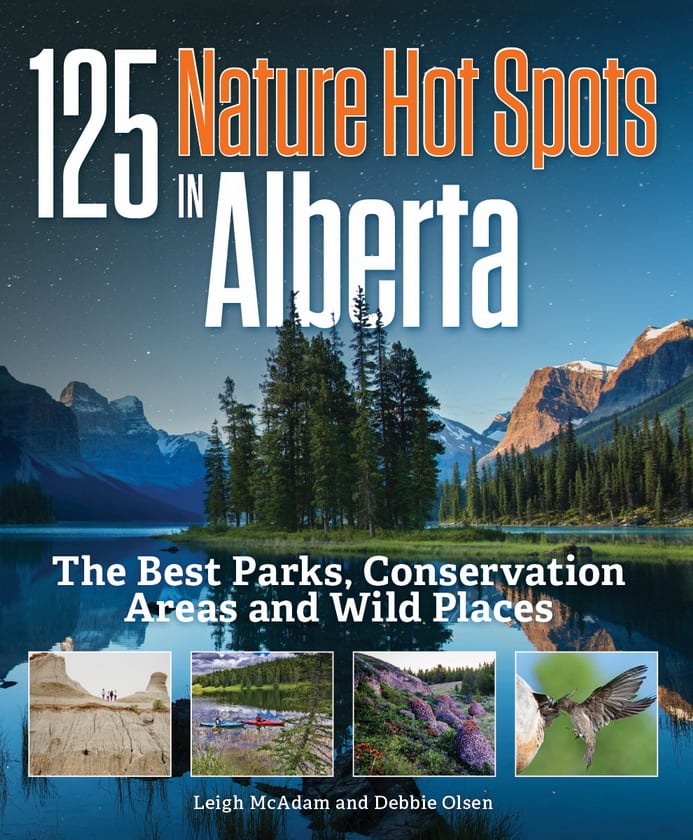 Some of the nature hot spots in the book you're likely familiar with include the Columbia Icefields, Sunshine Meadows, Lake Louise and Moraine Lake, Maligne Lake and the Bow Summit – Peyto Lake Lookout.
Some nature hot spots in Alberta that will likely be new to you
But have you ever heard of Big Knife Provincial Park, the Silver Sage Conservation area or Pierre Grey's Lakes Provincial Park? How about Carson-Pegasus Provincial Park, Kleskun Hill Natural Area or the Wild Rose Conservation Site? I hope not because you'll find a lot more of these hidden gems throughout the book.
To give you an idea of the landscapes you can explore have a look at some of the photos.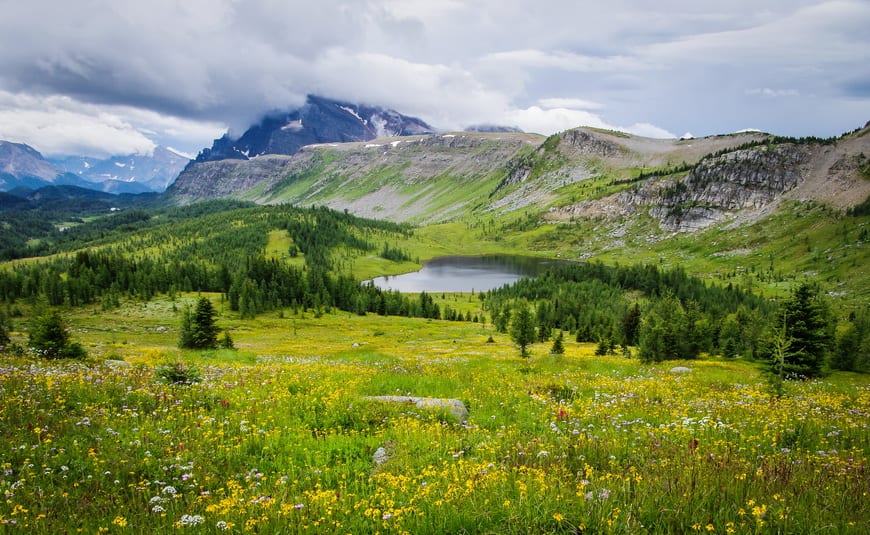 We also grouped some hot spots under broad headings like waterfalls, caves, larch hikes, paddling in Alberta and dark skies with the idea that you'd be inspired to explore a different part of Alberta, based on your interests.
In the 224 page book, you'll find location maps, additional useful readings along with numerous photos of each hot spot. I hope you find the book to be both motivational and practical.
Where can you buy 125 Nature Hot Spots in Alberta?
Online you can order from Amazon or MEC. I hope we inspire you to get out and discover more of Alberta!
Further reading on some of the nature hot spots