One of the best ways to discover Canada in the summer is via a canoe. If you're looking for adventure and a means of communing with nature then any of my suggestions should do the trick. From single day outings to month long epic Canadian canoe trips, this country has it all covered.
Canadian canoe trips can be an affordable way to explore the country. Canoes are relatively inexpensive to rent, camping is cheap and you have to eat. Unfortunately northern trips can be expensive but an exception is the Cameron River with a gorgeous side trip to Hidden Lake Territorial Park near Yellowknife.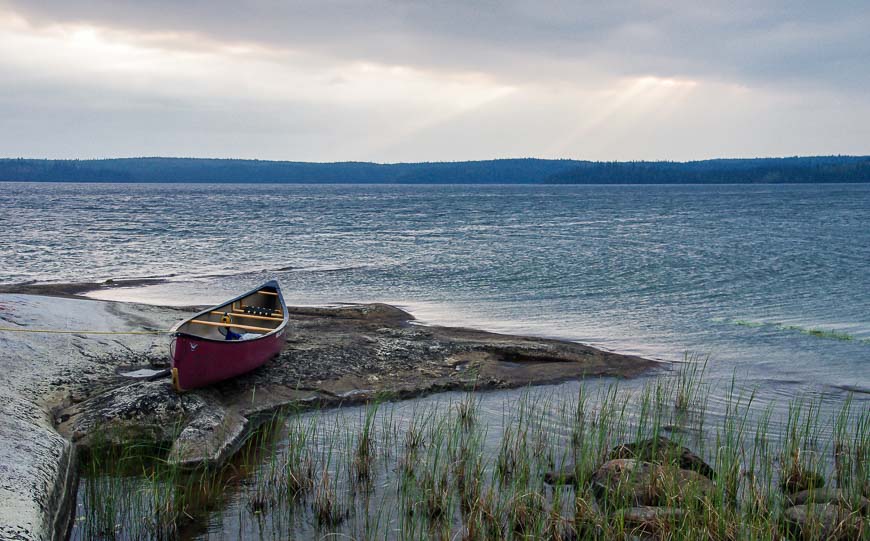 This post includes some affiliate links. If you make a qualifying purchase through one of these links, I may receive a small percentage of the sale at no extra cost to you. Thank you very much for your support.
Location map for the Canadian canoe trips
The Nahanni River canoeing trip is a classic
Located about 500 km west of Yellowknife in the Northwest Territories, the Nahanni River is the star of the Nahanni National Park Reserve. It's also a UNESCO World Heritage Site.
As National Geographic explains – The South Nahanni is what Everest is to mountaineers – remote, breathtaking and mystical.
Highlights of a two week canoeing trip are Virginia Falls (twice the height of Niagara Falls), the Tufa Mounds, Pulpit Rock as well as spectacular canyons and hot springs. You need basic whitewater canoeing skills to attempt this one. Most people go with an outfitter. Wildlife is also great – 42 mammal species and 180 bird species have been sighted.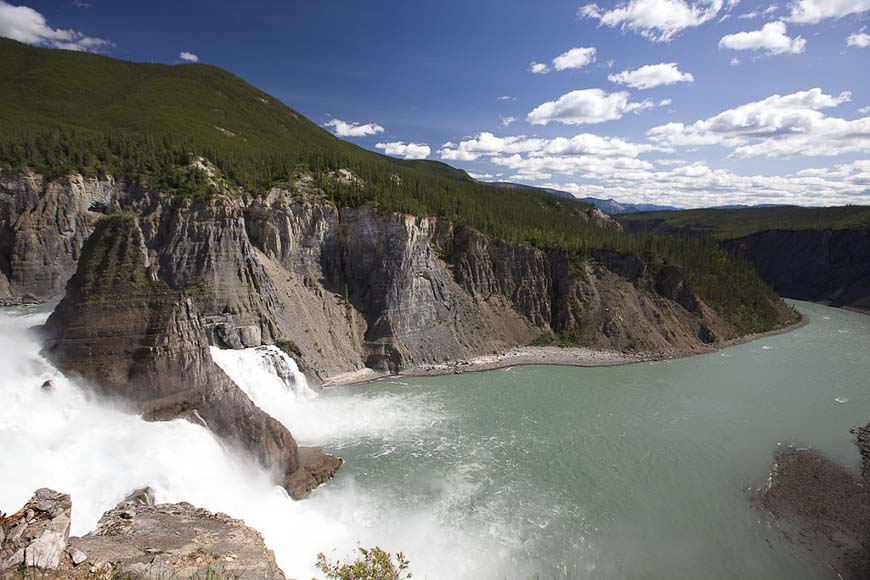 Thelon River, Northwest Territories – one of the very remote Canadian canoe trips
The Thelon River is a remote barren lands river that starts in the Northwest Territories and flows for over 900 kilometres through Nunavut to ultimately drain into Hudson Bay at Chesterfield Inlet.
The Thelon River is famous for its fantastic concentration of wildlife in a pristine wilderness environment. Muskoxen, caribou herds, wolves, grizzly bears and thousands of birds can be seen on this trip. Because of the logistics – one that requires a float plane deposit and pick-up, consider going with an outfitter. This is one of the Canadian canoe trips that is expensive to do, but also a once in a lifetime experience.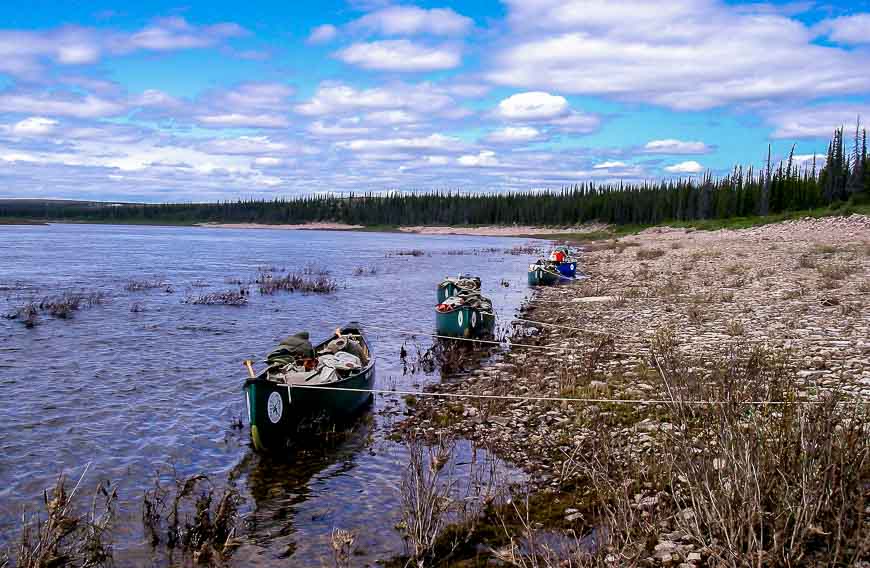 Canoeing the Mackenzie River in the Northwest Territories
The Mackenzie River offers an 1,850 kilometre journey that with good weather and moderate mileage, will take you a minimum of 48 days to complete.
That's assuming you start in Hay River on Great Slave Lake (the 10th largest freshwater lake in the world) in the Northwest Territories and finish in Tuktoyaktuk on the Arctic Ocean.
You can't even start until into June – or you'll be dodging icebergs the size of small houses. There are many options for starting and ending this trip depending on how much time you have. For a detailed account you can check out The Mackenzie River Guide: A Paddler's Guide to Canada's Longest River.
Another amazing read is one by Adam Shoalts – Beyond the Trees: A Journey Alone Across Canada's Arctic. This man poles up the Mackenzie River – granted not the whole river, but that's just one of his amazing fears on what is an incredible journey.
Bowron Lakes Canoe Circuit in British Columbia
Outside Magazine calls the Bowron Lakes Circuit in British Columbia one of the world's Top 10 canoe trips. It's the equivalent of a Boston Marathon for a runner or the Annapurna Trek for a hiker.
The Bowron Lakes attract an international crowd looking for adventure and solitude. The 110 km (72 mi) Bowron Lake Circuit is typically paddled over 6-10 days.
The journey involves six major lakes and two rivers linked by numerous portages with the Cariboo Mountains serving as a backdrop. It's easy to do on your own – though there are lots of outfitters too.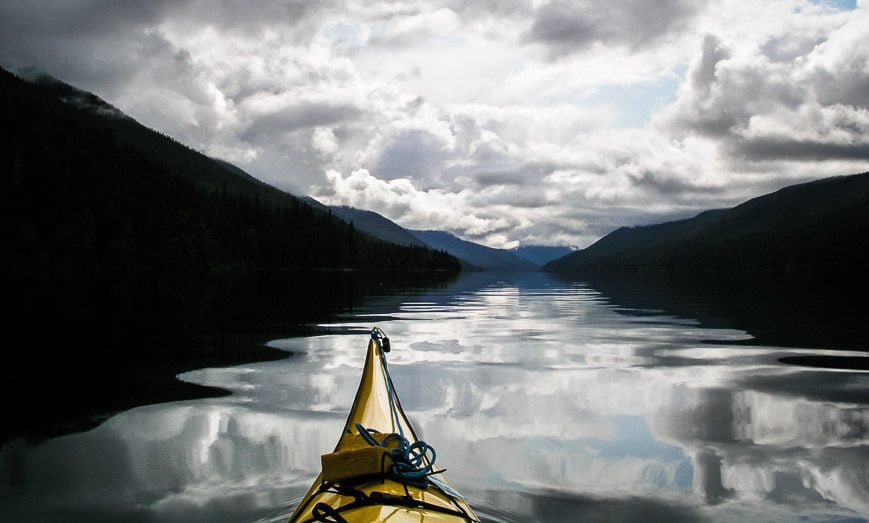 Churchill River – a classic Canadian canoe trip
The Churchill River in northern Saskatchewan is a series of lakes joined by rapids and falls – and is part of the route the Voyageurs followed so many years ago.
It's 105 km long and perfect for all levels as the more difficult rapids can be portaged. A total of nine portages are required, averaging 300 m in length. You need about a week to do it.
Read: Canoeing the Churchill River in Saskatchewan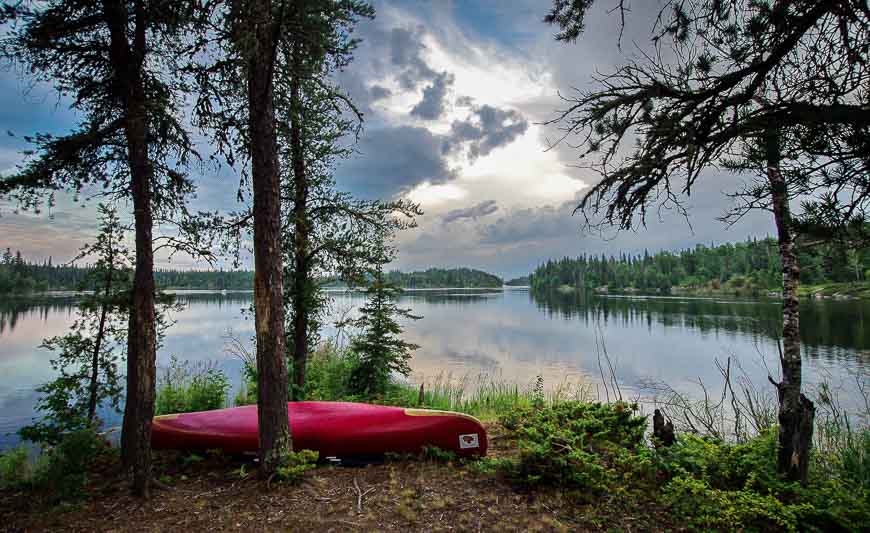 Reindeer Lake canoeing, Saskatchewan
Canoeing Reindeer Lake, the ninth largest lake in North America, really isn't something very many paddlers would consider but I threw it in here for the true adventurer. If you're into big water and solitude and you don't try the loop we tried, you could have a really good time. There are 5,500 islands, often covered in thick lichen and moss, swimmable water come summer, a total lack of people, and plenty of beautiful campsites. This fishing is second to none as well.
The lake is accessed from Missinipe – where you can rent a canoe. From there it's a two hour drive on a good dirt road to a launch site. Plan on at least a week to canoe as distances are huge and the lake is often very windy.
Recommended reading: Reindeer Lake Canoe Trip in Saskatchewan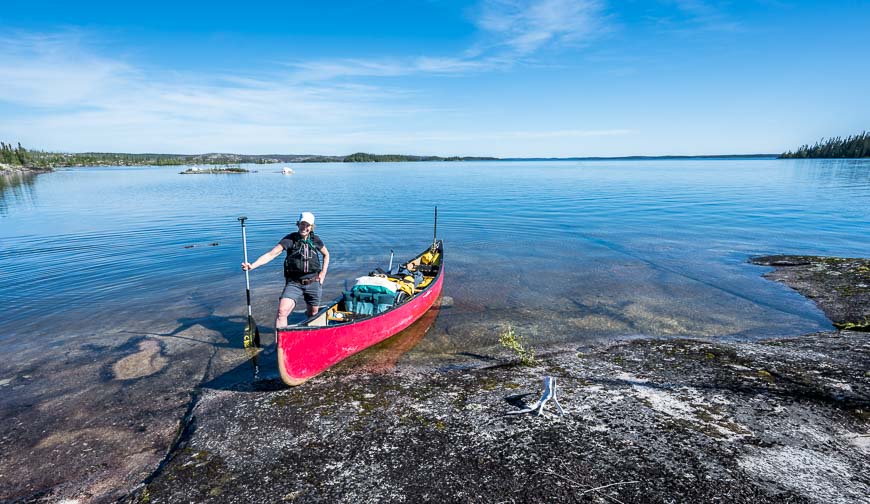 Canoeing the Bloodvein River, Manitoba
The Bloodvein River in Manitoba is probably named for the red granite bedrock. The river takes you through the Canadian Shield from the Ontario-Manitoba border through Atikaki Provincial Wilderness Park and a swath of the boreal forest on route to Lake Winnipeg.
It's suitable for novice through to expert paddlers. Highlights – apart from the fact that the river is pristine – are pictographs, seen on the longer trips and a sweatlodge ceremony at the end. You need 9 – 15 days to do it.
The Powell Forest Canoe Route
If you'd like to paddle a loop – with a small shuttle – that includes eight lakes and five portages over about five days, put the Powell Forest Canoe Route on your must do list. The portages are in great shape with canoe racks every 100 – 150 metres. There are plentiful campsites, and none need to be reserved. And though not as wild as some Canadian canoe trips, there is lovely mountain scenery and plenty of old-growth rain forest to admire.
Read: The Powell Forest Canoe Route Guide
Exploring Ontario's French River by canoe
The French River is a historic river running from Lake Nipissing to Georgian Bay, Ontario. It was my first overnight canoe trip. It's a great trip for novice canoeists and families.
Whitewater is easy – or should I say in hindsight it's easy as we tipped and dented our canoe in the biggest rapid when I stopped paddling – and the swimming is excellent. Campsites are beautiful too. You can do a section of the French River over a long weekend.
Read: The French River & The Lodge at Pine Cove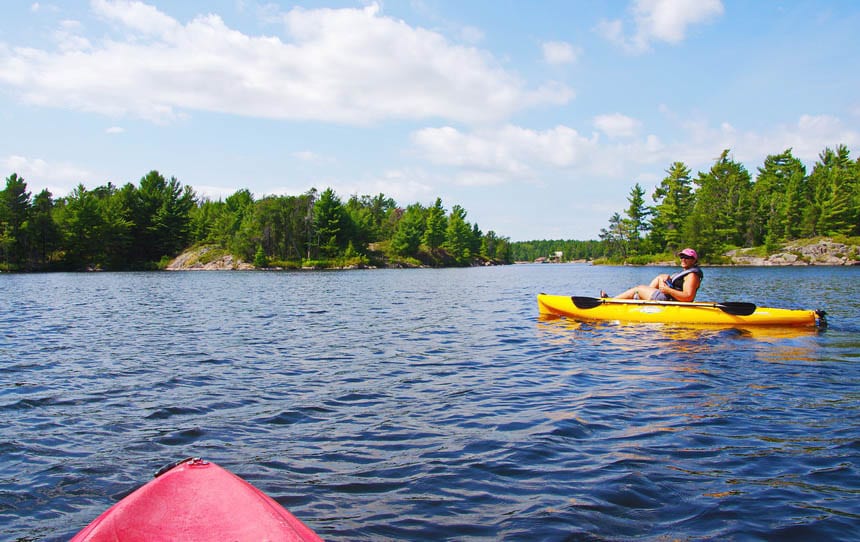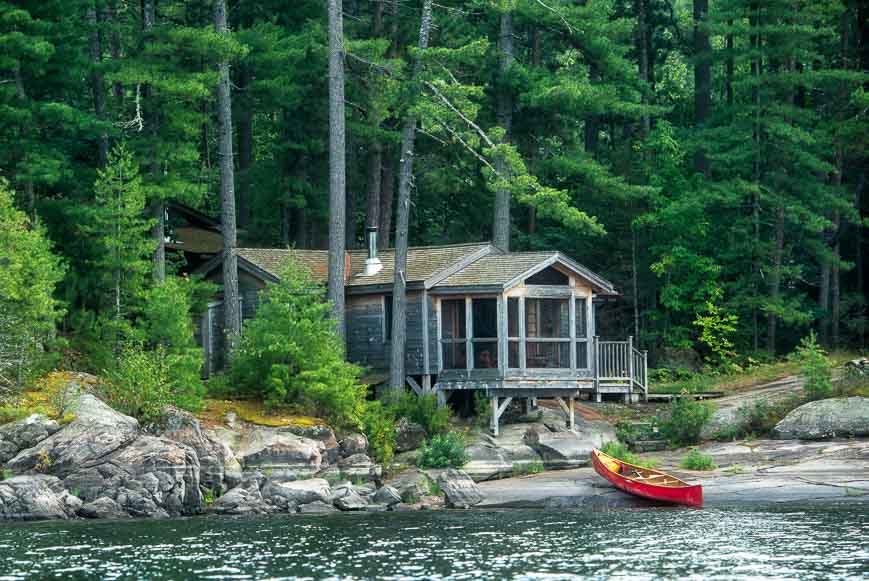 Algonquin Provincial Park – a much beloved park for Canadian canoe trips
Algonquin Provincial Park in Ontario boasts over 2,000 km of canoe routes. Not only are there picturesque lakes but there are rivers – perfect for the whitewater canoeist including the Petawawa River. A 3-day canoe trip in May is ideal to beat the bugs and the crowds – at least on popular routes.
Friends of Algonquin Park put out a map with suggested canoe routes but the possibilities are endless. Paddle for a weekend or an entire summer – it's all up to you.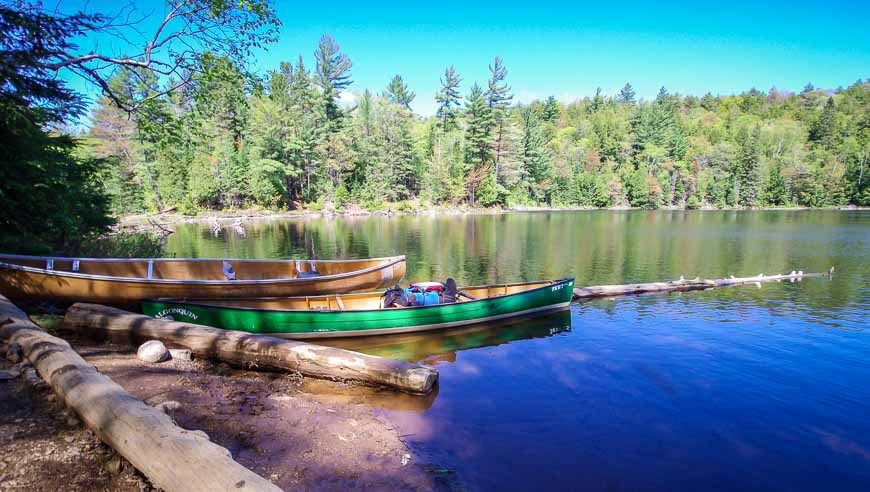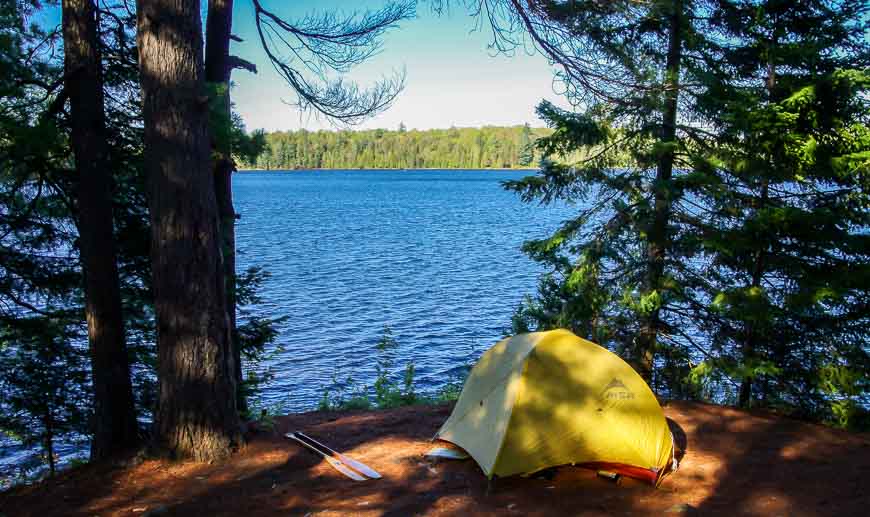 Killarney Provincial Park paddling
Killarney Provincial Park offers a gorgeous backdrop for camping, canoeing and kayaking – brilliant white quartzite cliffs, windswept pines, and red granite shorelines.
Over a weekend you can get a taste of the park but take a week or 10 days to explore the close to 50 lakes and 40 kilometres of portages available. Friends of Killarney publish a map and guide to help you make the most of your time.
Canoeing in Quetico Provincial Park
Quetico Provincial Park located 160 km west of Thunder Bay is difficult to get to and as a result sees only about 10,000 visitors per year. Its southern border is shared with the Boundary Waters Canoe Area Wilderness in Minnesota.
Your reward for this Canadian canoe trip is access to 600 plus lakes and over 2,000 wilderness backcountry campsites. An infinite number of canoe trips are possible – and if you stick to the larger lakes you can avoid most of the portages. There is something for everyone in this park – and a large number of snapping turtles.
Read: A Week Long Canoeing Trip in Quetico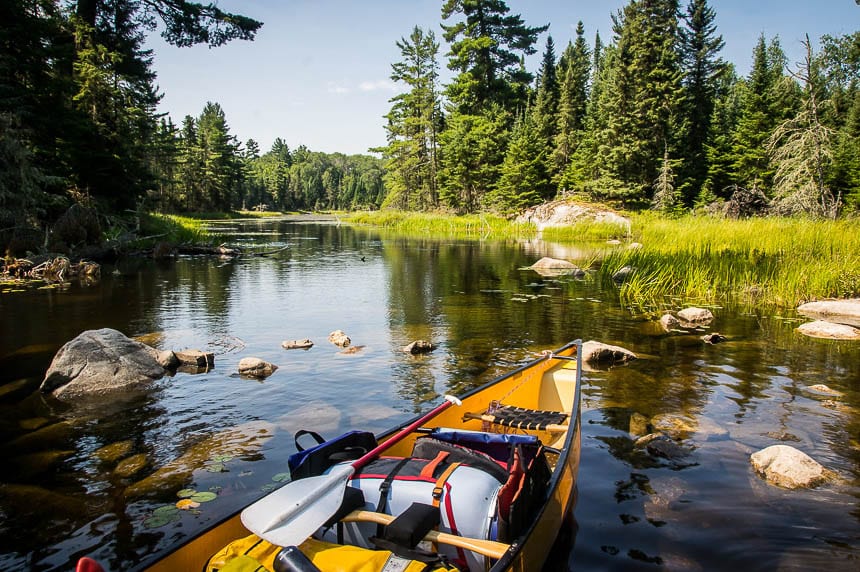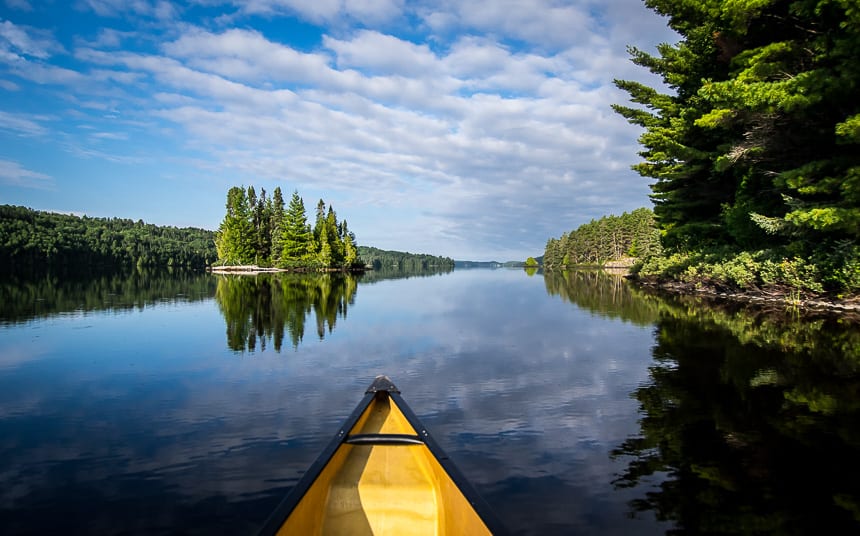 Canoeing La Vérendrye Reserve
La Vérendyre Reserve located in Quebec, about a three hour drive north of Ottawa, sports over 800 kilometres of canoe friendly routes including many circuits. It's quiet and peaceful and outside of long weekends you're not likely to run into anybody. It offers short trips to multi-week long adventures.
Canoeing in Kejimkujik National Park
Kejimkujik National Park in Nova Scotia is best explored by canoe. Its renowned for it's flat water so it's perfect for beginners. But it's got plenty of backcountry available for exploring too and anyone who has been in the area exclaims about the beauty and the perfection of canoeing here. As someone mentioned in the comments – how does it deserve to be one of the top Canadian canoe trips – but not everyone has the money or time to head to Canada's Arctic to do the classic and expensive Canadian canoe trips.
The Peskowesk Lake System offers 48 km of paddling in a landscape more reminiscent of Canadian Shield country – with windswept islands of red and white pine. If you're just looking for a day's outing this is a perfect place to start.
Note that reservations for backcountry campsites open on March 31, 2023. There are 47 campsites spread out over 17 lakes.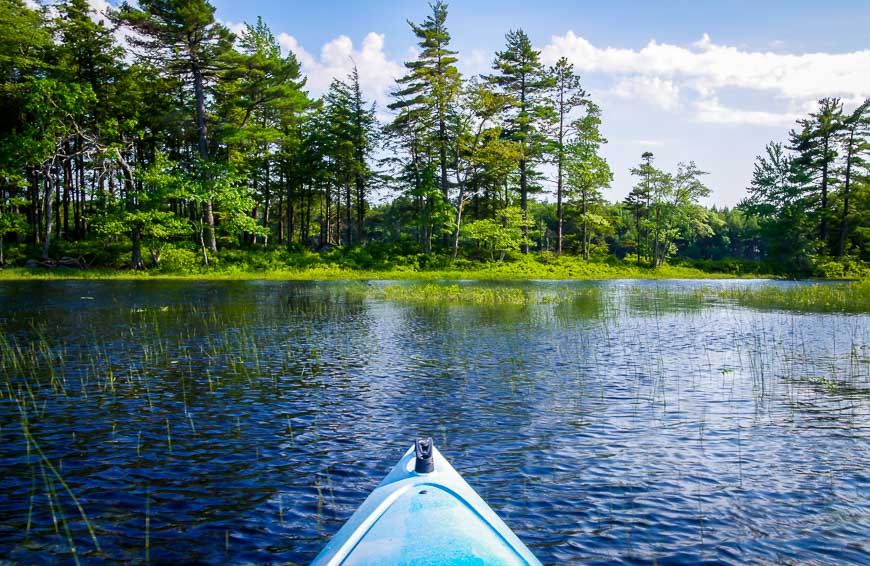 A few things that would be useful on any one of these Canadian canoe trips
Further reading on Canadian canoe trips
Click on the photo below to bookmark to your Pinterest board.