New to mountain biking? These 15 mountain biking tips are going to shorten your learning curve and make it fun to get out on your bike. I spoke with several very keen mountain bikers and asked them for their best mountain biking tips for first time riders. I've throw some of my own tips in too. Then the exciting part is going out to practice and explore.
Matt Mosteller, aka Powder Matt takes to the mountain biking trails with a vengeance come the summer. These are Matt's top mountain biking tips.
The right bike matters, both for fitting your interest but more importantly the actual fit of your bike is key. (I recently got a new Cannondale from Sporting Life and the tech spent a full hour with me to make sure seat, pedals and handle bars fit my body properly.)
Pick the right trails for your first mountain biking experience. Check trail reviews to make sure that they match your skill level.
Don't worry if a section of the trail is too difficult. Just get off the bike and walk around it. (I call this hikey bikey and I do a lot of it!)
Match your fitness level to the amount of riding time you have. Mountain biking for the first time is going to take a lot out of you. You'll need to focus on a winding trail, manage terrain change and possibly do some uphill climbing. For the first time out make it brief; 30 to 45 minutes is good.
Sign up for one of the University of Calgary's group mountain biking lessons. It's a good way to pick up pointers and develop confidence.
Troy V. Lee of From Ride the Wild: Exploring Northern BC by Bike was generous with mountain biking tips too.
Know your bike
Be sure that your mountain bike fits. A saddle that is too high will cause chafing and imbalance, whereas one that is too low will cause muscle fatigue and knee pain.
Check your height by sitting on the saddle, place your foot on the peddle and rotate until it is parallel with the ground. If your leg is not straight then increase the height. If your hips rock back and forth as you peddle, lower it.
Do a pre-trip inspection of the tire pressure, brakes, wheels and headset. Use the recommended maximum pressure for road riding and packed non-technical trails.
Use lower pressure for mud and snow. Brakes should stop on a dime, be responsive and snap back after release. Wheels should spin freely without any wobbles and be sure that there is no side-to-side play. Your headset should be firmly secured. If you're concerned about any of these issues get a tune up done a local bike shop.
Know your brakes
It's one thing to have functional brakes but it's another to use them effectively. Remember that when riding downhill, 70‰ of your braking power is in your front brakes. Use both to maximize your slowing and stopping power. A gentle squeeze of the levers will prevent you from sailing over the handlebars.
Know your helmet
Beginners often have loose fitting helmets that wobble from side-to-side. I even once saw a guy wearing a helmet backwards! Helmets that don't fit properly provide little protection.
Be sure that they fit snugly to your head and that the chinstrap binds under your chin (not your throat—gag…gag). Beware of helmets that don't meet state or provincial safety standards. Look for a CSA or equivalent sticker on the inside of your helmet.
Know your fitness level
Mountain bikes can be heavy and riding trails is like interval training. Flat fast sections, quick descents and tough climbs can lead to fatigue and crashes.
Ride achievable distances and carry at least two water bottles (1.5 to 2 litres). On hot days, mix electrolytes in your water—to avoid cramping—and remember to consume at least 30-60 grams of carbs an hour to reduce fatigue.
Know your trails
Go to your local bike shop for a map and trail advice. Maps of sanctioned trails provide key information about access, distances and difficulty. Trails are typically ranked as beginner, intermediate and advanced/expert or sometimes green, blue and black.
Match the trails to your skill and fitness levels. Be sure to ask where the up and down trails are located. There is nothing worse than pushing your bike up a downhill trail.
I would also suggest checking out the International Mountain Biking Association for information on the closest trail centre to you.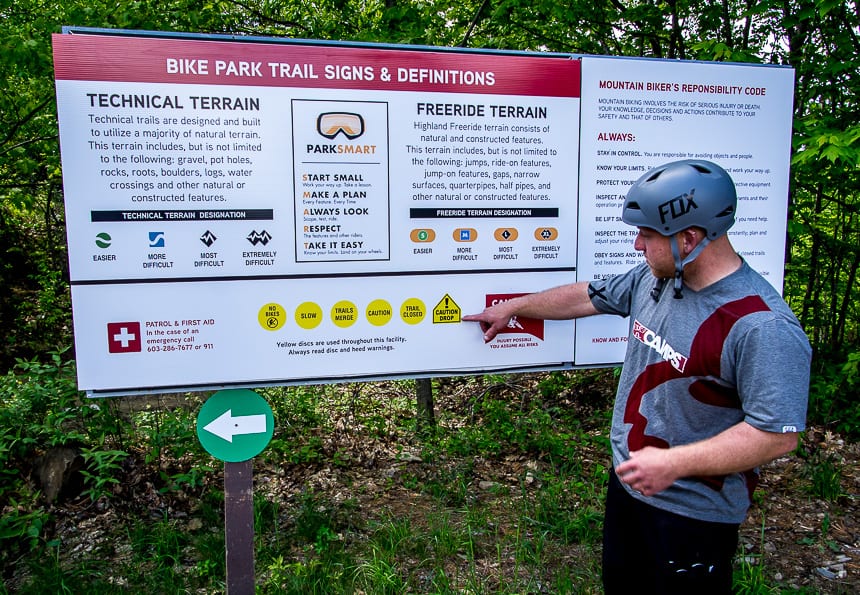 My mountain biking for beginners tips
Recently I spent some time mountain biking along a section of the Trans-Canada Trail in Edmonton with Jim Grant (EMBA board member and Mud, Sweat & Beers group leader) as my guide.
He always recommends you keep your heels down and weight into the pedals with the dominant foot forward. Let your hands float.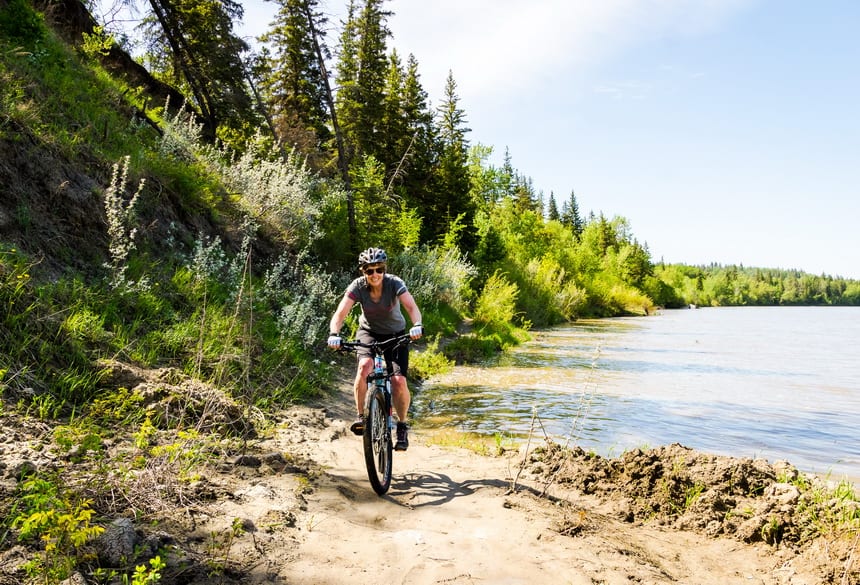 Practice biking uphill
Get into a lower gear. Then put more power into your pedaling and increase the frequency. Remain seated but lean into the handlebars while moving towards the edge of your saddle. You want the tires to have traction so the front tire doesn't pop up, as it can on a steep slope.
Practice riding downhill
I spent time with a mountain biking instructor at a New Hampshire bike park. I mentioned that I always got nervous on big downhills.
His word of advice that did wonders for me – look ahead, lead with your eyes and your bike will follow. It's so true and those few words made a world of difference to me. Also get into a higher gear and if it's really steep move your butt behind the saddle. Bend your elbows to absorb shock and keep your body loose.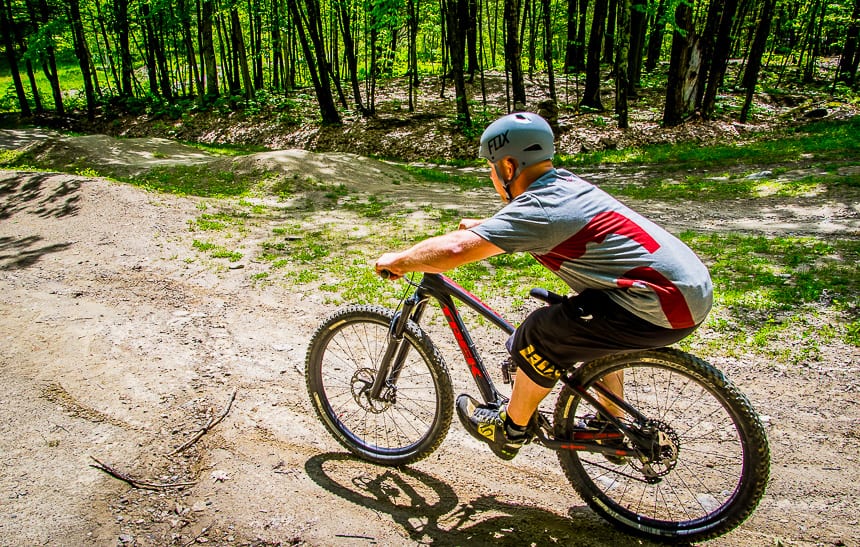 Biking on rough surfaces, even just dirt paths and roads is a lot of fun. And that's what the sport is all about. Do what makes you happy and you'll keep on biking.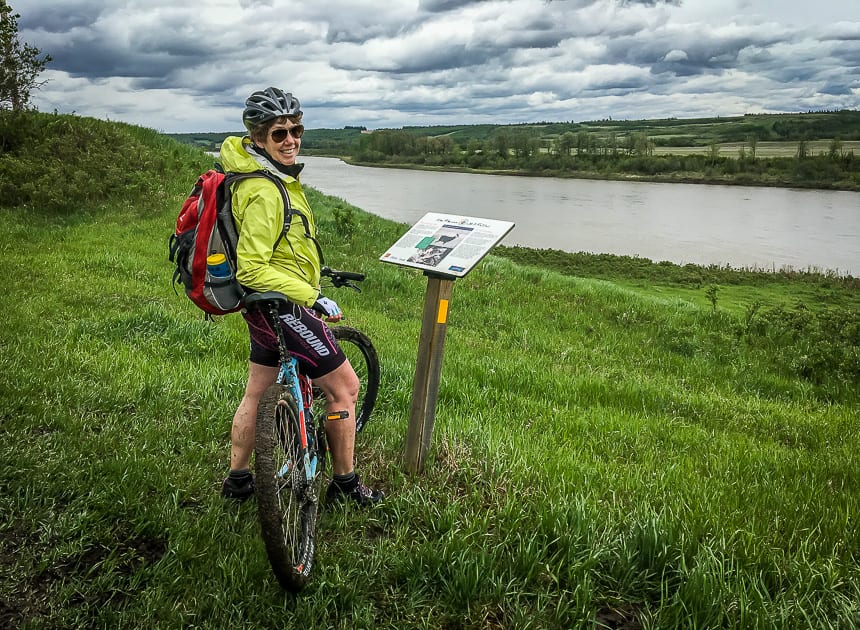 Further reading on biking
Click on the photo to bookmark to your Pinterest boards.