How do you get through the COVID-19 crisis with your physical and mental health intact? I for one have loads of work to do (updating old posts, writing new ones, fixing photos…) so staying busy isn't a problem. It's how to make the most of my down time. I'm less and less keen to even watch the nightly news and spend time on social media. There is too much hype and misinformation for my liking.
In my non-working hours I exercise daily, walk my dog, cook and now help with babysitting my granddaughter – with daycare shut indefinitely in Alberta. But what I really love is the time to lose myself in a good book – one that transports me out of my regular day to day life.
I try to read about a book a week – and even more lately. These are 17 books that have either kept me spellbound, educated me in a compelling manner or gave me a bad case of wanderlust. I hope a couple might do the same for you.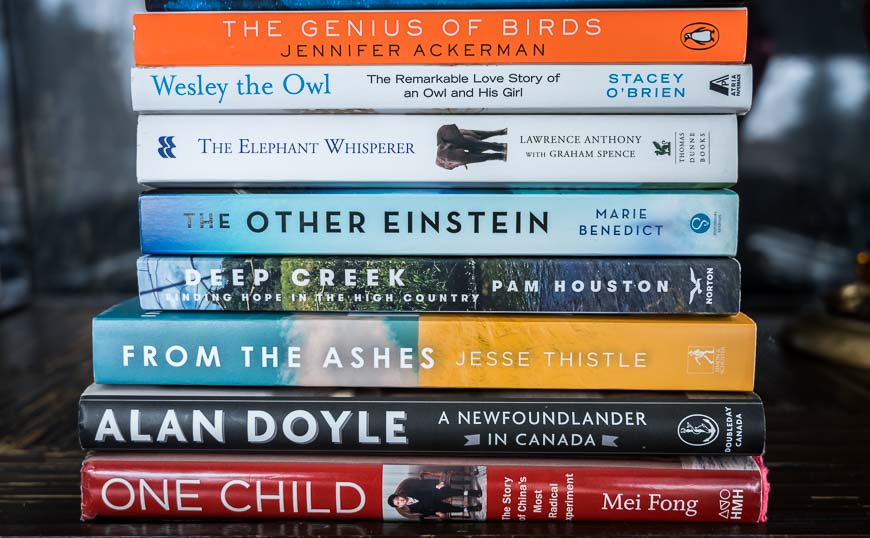 This post includes some affiliate links. If you make a qualifying purchase through one of these links, I may receive a small percentage of the sale at no extra cost to you. Thank you for your support.
Nature themed books
I'm almost through this book and look forward every night to being transported to the Thula Thula game reserve in Zululand, South Africa. The author, Lawrence Anthony has devoted his life to animal conservation, doing his best to protect endangered species – and get poachers behind bars.
His life changed dramatically when he said yes to accepting a herd of "rogue" wild elephants. If he didn't take them, they would have all been killed.
Over the years he learns a lot about elephants particularly when it comes to life and loyalty – and their unbelievable way of communication (stomach rumblings). It's a great read and one that will make you want to visit their lodge with game drives – opened so they could keep their beautiful property going for conservation purposes.
Your eyes will be opened to the emotional world animals inhabit as observed by Peter Wohllben, best selling author also of The Hidden Life of Trees – another book I highly recommend.
What he observes is that –
"Horses feel shame, deer grieve, and goats discipline their kids. Ravens call their friends by name, rats regret bad choices, and butterflies choose the very best places for their children to grow up."
If you thought that the size of a bird's brain correlated with their intelligence then it's time to become enlightened. Birds are smart, as Jennifer Ackerman, an award winning science writer shows in her "scientific, richly informative and beautifully written book."
John received this book as a birthday present – and we both devoured it within days. You definitely don't want to raise a barn owl unless you love the thought of sourcing mice and then feeding thousands of them to the barn owl over its lifetime. I learned so much about these fascinating creatures – including the fact that the male barn owl must catch at least 37 live mice a day to feed himself, his partner and a brood of five.
The author, Stacey O'Brien, lived with Wesley for 19 years and details what it's like to give your life over to an owl. Funny, heart-warming and told with both "a scientist's eye and a tender heart."
Books that make you think
Read this book if you want insight on how you end up as a homeless drug addict. I think you'll look at everyone on the streets in a whole new light. As I read the book, I kept cheering Jesse on to make the right decisions. Over and over again he fell back on bad habits. It's not till near the end of the book that he cleans up his life and pens this incredible book.
It seems some people are hardwired to be kind so off Brian Goldman goes on a journey "in search of his own lost compassion." He combs the planet looking for some of the most empathetic people alive – trying to learn their secrets. A particularly important read in a time where each one of us can make a difference in people's lives by showing empathy.
This is an interesting thought-provoking read about China's 30 year old one child policy and the repercussions from it. Now the country faces an ageing population with the number of young workers far too low. Add in the fact that the country has too many males and you have some interesting problems.
The author travels across China interviewing people who have to live with the consequences. Read about "unauthorized second children ignored by the state, only-children supporting aging parents and grandparents on their own, villages teeming with ineligible bachelors, and an ungoverned adoption market stretching across the globe."
Travel themed books
Beryl Smeeton grew up during the Edwardian period when girls didn't have much freedom. That didn't stop her. She became a globetrotter knocking off adventures that most wouldn't touch even today.
This book primarily describes her escapade, before the Second World War of a thousand-mile trek on horseback in the eastern foothills of the Andes. She was able to enjoy even the roughest of experiences- being blown right off her horse in Argentina, and fording dangerous flooded rivers in Burma.
The book also describes her marriage to Miles Smeeton – but before they meet up after a two year separation she says: "Returning to civilisation from primitive conditions always saddens me." That one sentence alone gives you an idea that this is a woman who lives for adventure.
A great read from a women who had such zest for life.
Kate Harris, called one of Canada's top modern day explorers, sets off a second time to bike the entire Silk Road after starting with a 4 month section of it. It's not purely an adventure story but a look at what borders really mean.
The bike ride sounds brutally hard so it's not as though I want to retrace her footsteps living on ramen noodles for weeks at a time, but it does speak to my adventurous spirit.
I read this book years ago and it put Africa on the map for me. This is the story – albeit often a sad one, of what it's like raising a family in Kenya's central highlands in the 1970's.
Kuki came to Kenya as an aristocrat from Italy with her husband and young son with the goal to buy land. They found a beautiful piece of property but it wasn't long before she ended up on her own after her husband died in a car crash – when she was pregnant in 1980. Tragedy has followed her throughout her life but she's one feisty lady, now in her 70's and a committed conservationist.
I'm a Bill Bryson fan and love his dry sense of humour. If you've dreamed about visiting Australia this book is a great place to begin. You learn about the country from all the facts he shares, out of the way places he visits and through the people he meets largely because of his innate curiosity.
I never cease to be amazed by how much joy he could get out of going into some obscure, non-descript museum and ending up with a story that make you laugh out loud.
I read this book at the same time I read No Friend but the Mountains: Writing From Manus Prison by Behrouz Boochani. It paints an altogether different picture of Australia – a particular kind of hell on earth that was hard to read. Think inhumane prison conditions and the exact opposite of anything I experienced over three months of traveling through Australia many decades ago.
Compelling reads
If you don't know Alan Doyle, the front man for Great Big Sea, then you're in for a treat. This is a wonderful read that will make you laugh out loud as you follow Alan's account of leaving a small fishing village in Newfoundland and discovering the rest of Canada.
Much of the time he is with his band-mates in either a van, a bus or a car with broken windshield wipers, moving from doing really well to barely making ends meet – but always moving forward. You'll love his description of playing for the Queen in Ottawa.
I found this book in one of those little lending libraries popular in neighbourhoods. It's a work of fiction about 15 people looking for freedom from poverty and politics in Mexico. They each pay a coyote $2000 to get them across the border via an empty water-tank truck converted to conceal human passengers.
Within a week of finishing the book, almost the exact same thing that the author describes happened in Texas. It's a riveting read and makes you think about the level of desperation to undertake such a trip.
I'm a fan of Pam Houston's writing starting with Cowboys are My Weakness – her first novel in 1994. This book, set primarily on her 120 acre property in the Colorado Rockies is entirely different, speaking to what it means to care for a piece of land and the creatures on it. She also ruminates about how nature has healed her after a "childhood of horrific parental abuse and neglect."
The book begins with a 31 year old chef, Annie. She's having a tough time getting by but still takes the time to make an inexpensive purchase of a shabby old painting that catches her eye in a secondhand shop as a birthday gift for an unsuitable lover. But she gets stood up at his birthday dinner and the painting becomes hers.
In short order she suspects it may have some value – and from there the intrigue of the international art market comes into play. And the chase. A fun read.
Another work of thought provoking fiction that feels oh so real. It's the story of the Other Einstein, the wife of Einstein who is a brilliant physicist and whose "contribution to the special theory of relativity is hotly debated". She ends up in the shadow of Albert Einstein in a marriage that should never have happened.
This book sat on my bedside table for far too long. It's the gripping story about "Wash," an 11 year old slave on a Barbados sugar plantation who is chosen by his master's brother to be a manservant. Instead of being treated cruelly he is taught to read and write.
Wash turns out to be a gifted artist which in turn helps his benefactor, a naturalist, explorer, inventor, and abolitionist. Together they embark on adventures that take them as far north as the Arctic. But within the story there is betrayal, love and redemption – all the makings of an excellent read.
Any suggestions from you?
I'd love your suggestions in the comments on some of the best books you've read in the last year or two.
Further ways to pass the time during COVID-19