20 Holiday Gift Ideas for Outdoor Loving Friends & Family
With the clock ticking down to Christmas, it's time to start thinking about gifts for outdoor loving friends and family. There's no need to break the bank either. Lots of these gifts even fit the stocking stuffer category and all are available either online or in the Calgary Sporting Life stores.
I think (and hope) your friends and family would be thankful to receive any one of these 20 holiday gifts.
For your friends and family tethered to their phones
Forget freezing your hands when you want to send a text or email. A pair of one size fits all Albee touch screen gloves will cover everyone you know. They're a perfect stocking stuffer with a price tag of $15.
Boring but extremely useful
Okay. Grangers Down Cleaner and Performance Wash isn't quite in the vacuum cleaner category for gifts but it comes close. I know it's hard to get excited about detergent, unless perhaps you're OCD about keeping your outdoor gear in the shape you bought it in. But for only $13.99 a bottle why not treat your down and Gore-Tex® gear with a little love. You'll get more life out of it. And besides, they take up a lot of room in a Christmas stocking.
Who can say no to cute socks and handwarmers
Socks aren't boring when you get them in colours like the ones Darn Tough makes. Throw a pair in everyone's stocking and their tootsies will thank you for it. For $4 you can add a pair of toe and hand warmers ensuring one toasty day outdoors.
Last minute hostess gift
There will be times when you're invited to a gathering at the last minute. Stock up on a few hostess type gifts ahead of time. Christmasy dish towels wrapped around a bottle of wine with a big red bow would definitely be a winner. Two dishtowels with two cloths retails for $20.
Sporting Life has loads of options at this time of year from cute Christmas ornaments to pillows with skiers embossed on them to cozy fleece blankets. For $25 and under you'll have no trouble finding a hostess gift.
Après ski – or for anyone who has a cold house
I'm always chilled after I've played outside so this Dex sweater works really well on warming me up. Plus my house is freezing (no insulation in most of the walls) so it's my go to sweater when I'm working at the computer. It's got a great price point too – $99.00
A coat for anyone you know who's sick of wearing basic black
Black makes you look skinny and it goes with just about everything. But wearing only black gets old. I tried on this lightweight, fully insulated Phoenix jacket by Orage – thinking I don't really need another coat – but it was love at first sight. Whoever is the recipient of this gift will marvel at your good taste. Wear it on or off the ski hill.
The Rella Nordic hat is also a winner for $45. It's got a soft liner so it's not scratchy; it comes in lots of colours and the price point is attractive.
For the skier
John is in love with extra warm Hestra leather mitts. I consulted with a skier in Sporting Life to get his top pick for men's mitts (seems to be a lot more choice in gloves) and this was it. On the bitterly cold days add a pair of hand warmers and you'll be good to go till the last chair. They retail for $190.
The North Face Thermoball jacket offers incredible warmth for its weight. It's made of synthetics so it's great for rainy places plus it packs down into nothing. It'll be John's go-to jacket trekking in Patagonia and would make a great gift for any man who loves the outdoors. It's on sale right now for $199.99.
Ski goggles
You don't even have to be a skier to love a new pair of ski goggles. I always have a pair with me in the winter, no matter what I'm doing in case a storm blows in and visibility plummets. These styling Smith I/O Mag goggles come with two lenses depending on the light conditions of the day. (And they pop in and out easily.) For anyone who likes crystal clear vision, especially on those socked in days, these are the goggles to get. They will be a splurge – but worth it at $249.99. Maybe a Christmas present for yourself??
The only bag she'll ever need
I swear by the Lole Quilted Lilly Bag and I guarantee any woman you know will too. When I travel – which is a lot – I stuff it with my computer and cords, DSLR camera in its bag, a book, wallet, papers, and toiletries for carry-on along with a change of clothes. I kid you not. It goes on every trip. I find the bag especially useful when I travel with carry-on only as it also turns into a backpack so I can hike, bike, snowshoe or ski with it on as well. Trust me on this one. I LOVE IT. It retails for $170 and it's worth every penny.
Be cozy and stylish in a backcountry lodge
A cozy pair of fleece pajamas will please anyone with plans to head to backcountry lodges where the temperature can often be a tad frosty. But these would be great at home too. The whole family can be all matchy – matchy with these Royal Stewart two piece pajama sets coming in sizes for kids, men and women. Unless of course you're a Murphy. They retail for $75 for adults, $55 for kids.
Boots that will keep you upright
Pajar makes a great waterproof winter boot that is easy to put on, offers superior traction especially with the option to put the ice grippers to work and great insulation (to -15°C). Say goodbye to going for a loop on the sidewalk because you forgot your ice cleats. They retail for $249.
For the female outdoors lover
For anyone who loves blue pick up the toque made by Spyder for $39. The scarf by Joie for $28 would make a great stocking stuffer for any women in your life. They come in all sorts of colours with more available in store than online.
Underneath my vest I'm wearing a white Bandita fleece by Spyder that makes me feel very sporty. It's got stretch panels so it gives you a great range of movement. Buy one ($169) for someone who could use a little blast of updating in their winter wardrobe. They'll thank you big time.
Lole also makes vests – with hoods which is positively brilliant – at a great price point of $89.99. It makes you feel toasty, layers well and packs into nothing. It would be a great piece of gear for anyone who does a lot of backcountry adventures since it can quickly add warmth without taking up much room in your pack.
Snowshoes are great for all family members
You can rent snowshoes but then you have to pick them up and get them back by a certain time. Snowshoes are one of those timeless pieces of gear that will last for eons and give most people a lot of pleasure. Sporting Life stocks a large range of snowshoes for all ages – but the ones I like are the Tubb's snowshoes for $219.99.
Blow the budget
I am truly in love with my Maui Jim Mavricks. A gift card for a pair of sunglasses that suits the recipient might be the best way to go since everyone's head shape is so subtly varied. As much as the price tag might make you gag ($349), Maui Jim, the company is positively amazing about standing behind their products plus the optics are second to none. Sporting Life has a massive section of sunglasses to choose from.
It took me a long time to clue into the fact that Sporting Life sells GoPro's along with a wide range of GoPro accessories. They've got the Hero 7 in stock for $529.99. I have become a convert taking my GoPro Hero 6 on every trip I do now. The photos can be taken in wide or linear mode; the video quality is amazing and you can do slow motion or burst shots as well. I'm trying to get better at video – and the GoPro rather than my phone has been the ticket. (See my recent video from swimming with whale sharks made from my GoPro footage.) Obviously buying one is a splurge but if anyone is seriously into upping their game on video and you can help them get there, then it's an investment worth making.
Don't forget the dog
I admit that our dog Torrie, a rescue from the island of St. Maartens, is a little spoiled. But she's also old (almost 15) and achy. Sleeping in her cozy Barbour dog bed is what she does best these days. Second is eating and the only thing I think she wishes is that her Yeti dog bowl ($64.99) was filled to the brim at every meal. Her cousin, Rosie a 100 pound Bernese also loves the dog bowl – and can't push it around. Both items can be purchased in store as well as a number of other dog-friendly gifts.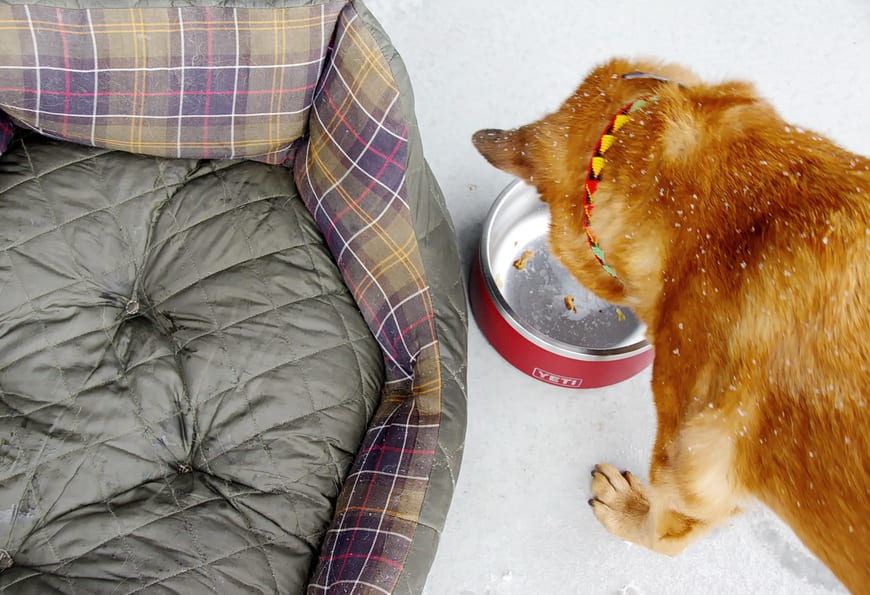 If you've got skiers on your list and have no idea what they'd like, consider getting them a gift card for a ski tuneup. Sporting Life technicians do an awesome job.
Two other gifts, one of which isn't pictured here, would be incredible for skiers, boarders or outdoor lovers whose hands and feet freeze easily. How about some battery heated gloves for $249.99 or heated socks? You'll have to go into the store to buy these. John, my husband swears by the socks as he has frozen his feet one too many times.
These are just some of my favourite things that I think would be great as holiday gifts. Of course depending on interests, there are downhill boots and skis, bikes and bike gear, exercise equipment (low tech) and exercise specific clothes, high end ski wear and much, much more. But for someone like me who wants style and function, mostly without breaking the bank, these holiday gift suggestions should get you started. Both stores in Calgary (Southcentre and Market Mall) are open from 9:30 AM until 9 PM.
Click on the photo to bookmark to your Pinterest board.
Thank you to Sporting Life for making this post possible. I'm proud to be an ambassador for the company and love the store(s)!