We all know that 2020 was an insanely awful year – a year we want to put behind us even if it's one we'll talk about for the rest of our lives. While I was certainly affected, I was also spared the worst of 2020. No one I was close to caught the virus (though my mother was in a long term care home that saw a major outbreak.) I always had food on my table, and my husband who is my best friend, was always there for me. I never had to live with my own company for months on end and I knew I could pay the bills.
Still, I have felt confined, hemmed in like I've been in a cage – and I'm one of the lucky ones who thinks that the great outdoors is the best place to be. Changing my perspective and being grateful for all the things I could do was a useful exercise. In looking back, there were enough highs and goals accomplished to make 2020 a surprisingly good year, though it's not one I care to repeat.
Here are 20 things in 2020 that made for a surprisingly good year.
1. A January Visit to Aravaipa Lodge and Canyon in Arizona
In late January, John and I met up with our best friends, Jo and Ted from Ontario, for a weeklong trip to Arizona. We enjoyed a fabulous stay at Aravaipa Farms Orchard and Inn along with marvelous hiking in the area including a day wading through the waters of Aravaipa Canyon. We'd all go back in a heartbeat.
2. A winter visit to Penticton and Kelowna
I certainly love the Okanagan area of BC in summer, but I was surprised by how much I enjoyed it in winter. On two back to back press trips – one to Penticton and the other to Kelowna, I came to appreciate how much there was to do in the region.
I skied at Apex Mountain Resort one day and Big White another; I mountain biked the Kettle Valley Railway, snowshoed at the Telemark Nordic Club, hiked the fabulous Paul Tomb's Trail and visited numerous wineries and breweries. I also ate like a queen (Bad Tattoo, Wayne & Freda, the amazing Elma in Penticton, and the divine CedarCreek Estate Winery in Kelowna) and drank like a fish – starting the minute I got off the plane via the Great Estates Wine Experience.
It was a wonderful week that exceeded all expectations.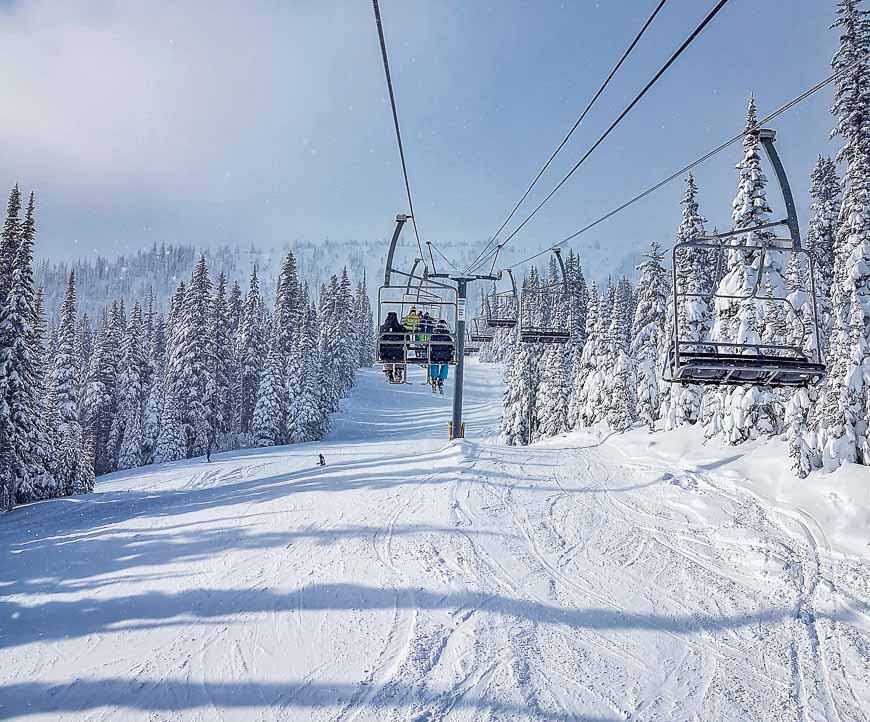 3. A February visit to Quetico Provincial Park in northwest Ontario
On a snowy, cold night in Thunder Bay, Ontario, I met up with my friend Jo who agreed to join me on a three night stay in a ski-in cabin in remote Quetico Provincial Park.
The cabin – while simple with just one bed, a pullout couch, a small fridge, a couple of chairs and a table, turned out to be a total delight. The two of us snowshoed, cross-country skied, dined well with our microwave and outdoor BBQ and simply enjoyed being on a frozen lake in the middle of nowhere with each other. If you're okay with simplicity, I'd recommend a winter visit.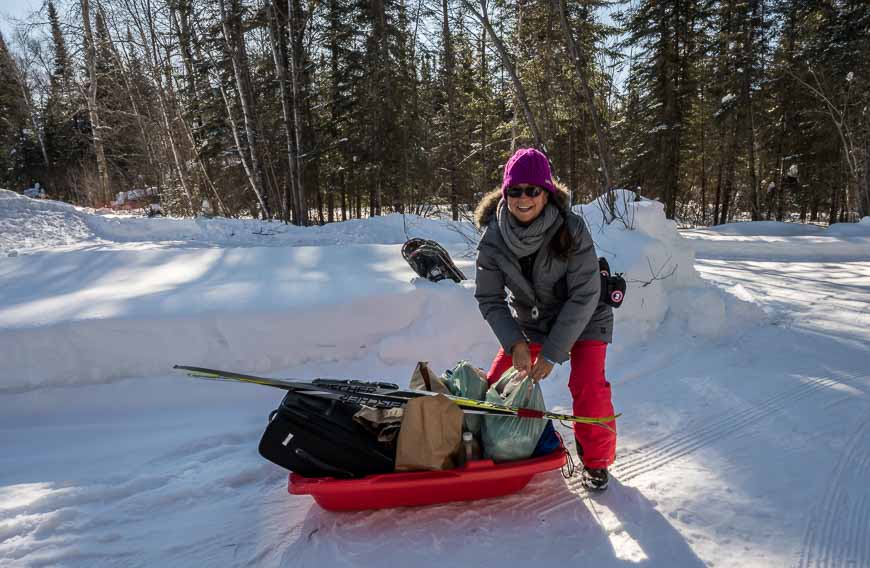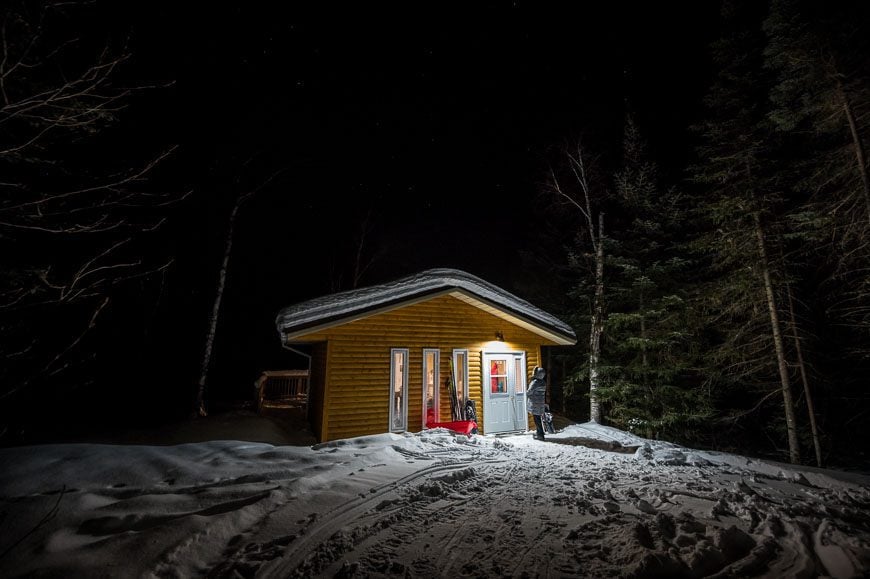 4. Celebrating John's birthday at Nipika Mountain Resort in BC
We had booked a two-night stay at Nipika Mountain Resort to celebrate John's birthday, months in advance of visiting in March. We were lucky we were able to go, as lockdown kicked in about four days after our visit. This is a very self-contained resort as everyone has their own cabin – which is kitted out so you can do all your own cooking. We lounged, ate well, and enjoyed some of the 60 km of cross-country ski trails – with our dog able to run off leash with us.
We've booked again for 2021 and hope that numbers come down enough that we can go.
5. Babysitting our granddaughter during lockdown
Once we went into lockdown, John and I stepped up to look after our 8-month-old granddaughter since daycare centres closed overnight. Over seven or eight weeks, we looked after her for four days a week, 5 hours a day, taking turns over the course of those five hours. It wasn't always easy, especially as she was a terrible napper – and I wouldn't want to do it forever, but it was a great way to connect and help out our family.
6. Our first hike outside of Calgary
Who knew you could get so excited to hike outside of your own neighbourhood? John and I decided to check out the J.J. Collett Natural Area north of Red Deer one spring weekend when we could venture a little further than normal. It was unbelievably refreshing just to drive somewhere new and hike in an area we'd never visited before.
I included this hike – along with several others we did in the summer in my post – 12 Great Alberta Hikes You've Probably Never Heard Of.
7. Our first overnight trip since lockdown
The minute I found out Alberta Parks was opening for reservations in the summer, I was all over it and booked four trips immediately. The first one we took was to Kinbrook Island Provincial Park, a few hours drive away from Calgary. The plan was to spend the night, go for a hike and take a spin in the kayak – all while enjoying a new part of Alberta.
This is a pretty park for sure, but it was the freedom of the road that made this trip so special. I remember feeling guilty for taking our kayaks with us – but in the end I'm so glad we did.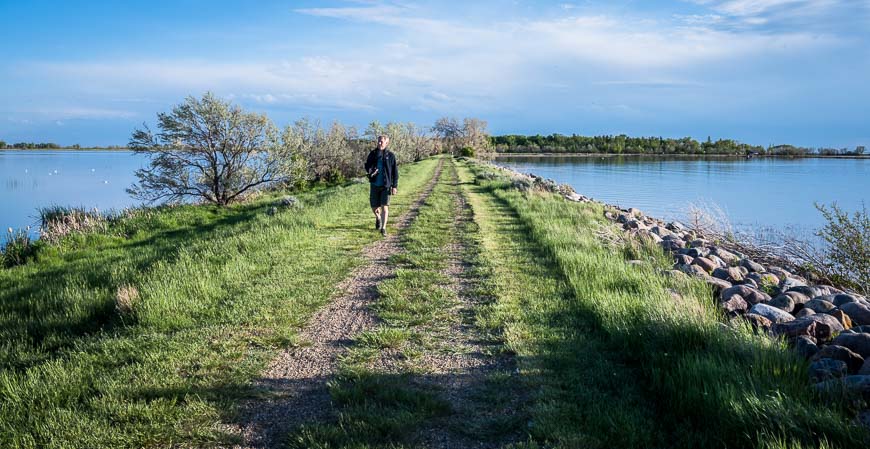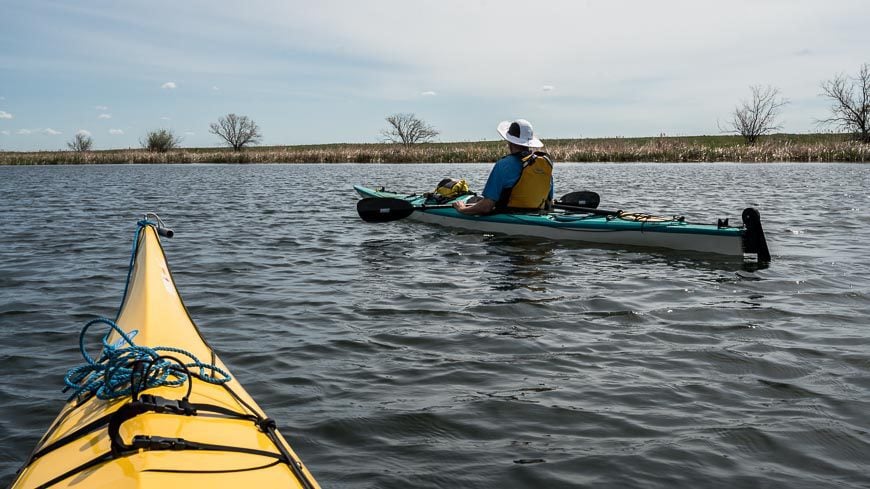 8. Getting a pedicure on my birthday
I'm hard on my feet and it doesn't take long for them to look bad, especially as I always seem to garden in sandals. My birthday coincided with the reopening of nail salons so my daughter kindly gave me a gift of a pedicure. It was an hour of bliss.
9. Our son showed up for the summer
When you have adult children that live thousands of kilometres away, its not likely you spend as much time with them as you would like. Our son lives in a condo in Toronto – and by late May, he was finding the four walls closing in on him. I told him to come out for at least a month and we'd set up a desk in a room so he could work – but he could also get out and play more easily.
He ended up staying with us for 3.5 months – which was a treat considering the most time I'd spent with him in the last 7 years was probably five to seven days per calendar year. He joined us on day hikes, bike rides and on one backpacking trip.
10. A backpacking trip to Glacier Lake, Banff National Park
John and I did an easy, early season backpacking trip to beautiful Glacier Lake in Banff National Park at the end of June. We had booked the campsite in January, but it wasn't until early June we knew Parks Canada would honour our reservation. Again, it was just such a thrill to be out exploring new country in the park – with hardly a soul around.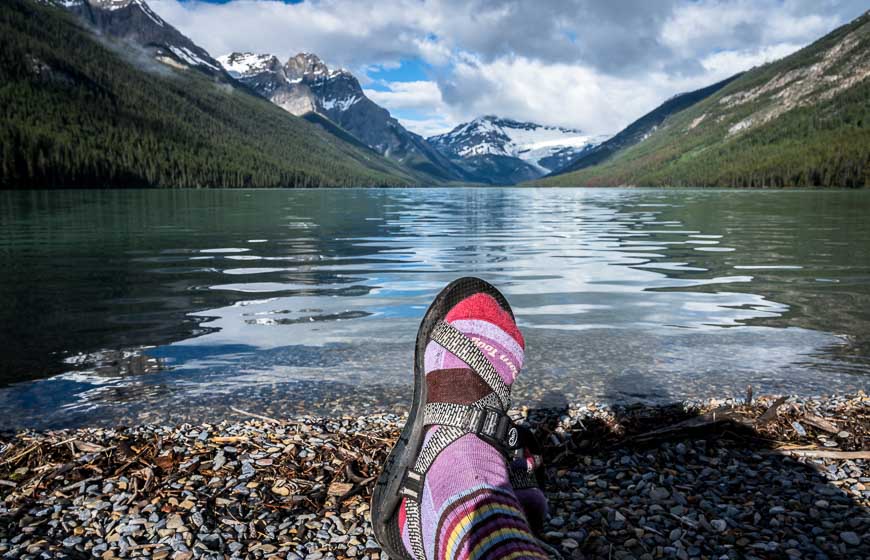 11. Dinner in a restaurant
It was a solid month into lock down before John and I even ordered a latte from a coffeeshop. And it was 2.5 months before we went out for dinner. We'd been given a gift certificate to Ten Foot Henry in Calgary for looking after our granddaughter – so within days of the restaurant reopening, we were there. It was a slice of heaven to take a night off from cooking – and the meal was divine.
12. A two-week canoeing trip on Reindeer Lake
We hummed and hawed about sticking with our plan to canoe the remote Reindeer Lake over two weeks in late July. In the end we decided to go, given the fact we could drive to the launch site and we'd hardly see a soul. Even though it was one heck of a tough trip – with big winds, portages that led nowhere and the fact we had to retrace our steps – we were still happy just to be out doing something adventurous. Over the 12 days on the lake, we saw only a handful of people, and most were in distant motorboats.
13. A press trip to Waterton
Miracle of miracles – I was invited on a summer press trip to Waterton Lakes National Park to see all the improvements that had taken place since the 2017 Kenow Fire. It was just a one night, two-day trip – but it was a real treat to be out with a few colleagues I hadn't seen in ages doing fun things like e-biking, stargazing and hiking Bear's Hump.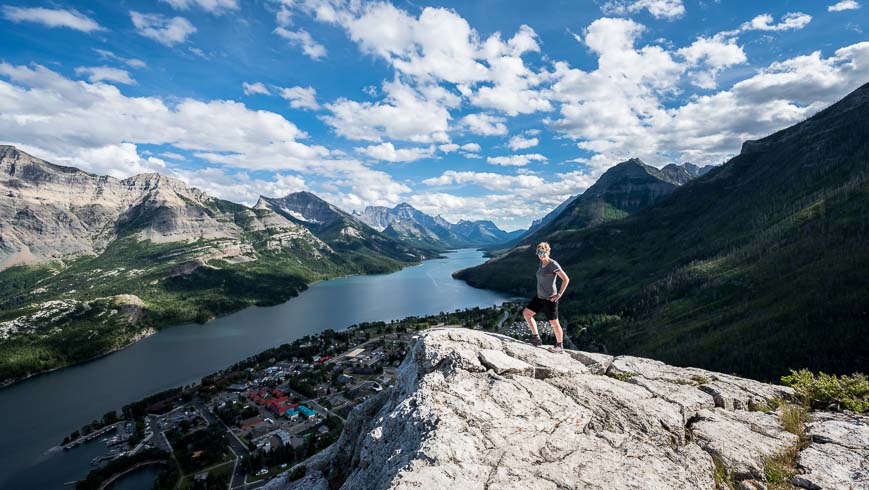 14. The Tonquin Valley hike
One of the biggest disappointments for me related to the virus was cancelling a two-week hiking trip to the Lofoten Islands in Norway followed by a hut to hut hike on the Kungsleden Trail in Sweden. My friend Judy and I had spent ages researching, organizing, and booking it – but we both know it will be there for us to do in the next few years.
The trip was to take place in late August and early September, a time in Alberta when the Tonquin Valley hike in Jasper National Park is at its peak. With Lady Luck on our side (Judy's son on two devices), we were able to nab campsite reservations beginning September 12th. Some years it snows by September, but we got lucky and except for a little smoke, enjoyed great weather.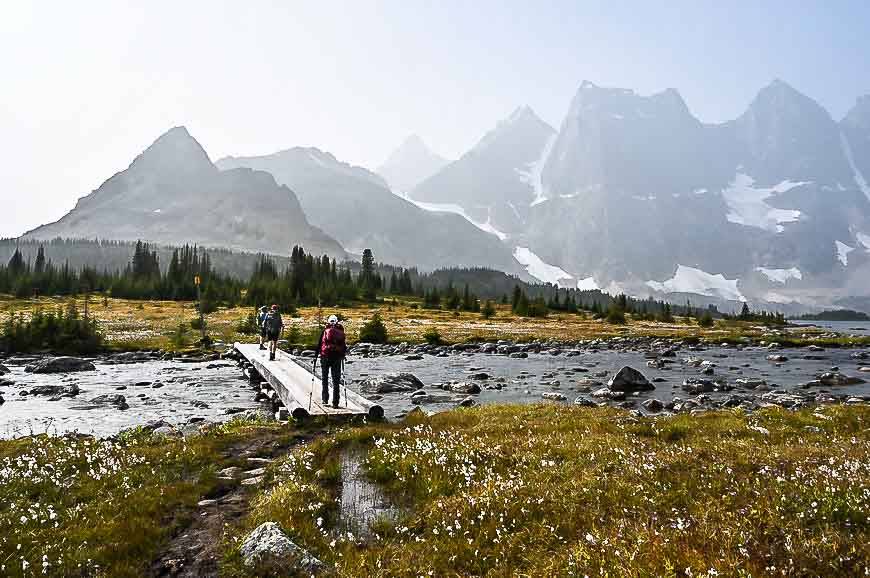 15. Time for house renovations
It's hard to find a block of time to do house renovations when you're running hither and thither and always trying to play catch-up with blogs and social media. In the fall we decided to tackle three rooms – all of which needed thought to maximize their usage along with plenty of painting. We may not be the world's best painters, but it's one of the jobs we usually undertake – mostly to save money and get the job done in our timeframe.
We gave up some beautiful hiking weekends to paint – but it was rewarding to tackle a big house project and knock it off in short order.
16. Celebrating our 40th anniversary at Lake Louise
For our 40th anniversary we had planned to spend 10 days hiking on the island of Madeira with good friends who have also celebrated other significant anniversaries with us – like our 25th on Kilimanjaro. It was disappointing to come up with a Plan B but Madeira will be there for another anniversary.
We elected to spend three nights at the Fairmont Lake Louise. Although the driving wasn't a lot of fun on the way there – even though it was just the third week of October, the sun came out for a couple of days and we enjoyed some wonderful hiking, down time, great wine and some decent meals. Again, we felt lucky we were able to visit such a beautiful place so close to home.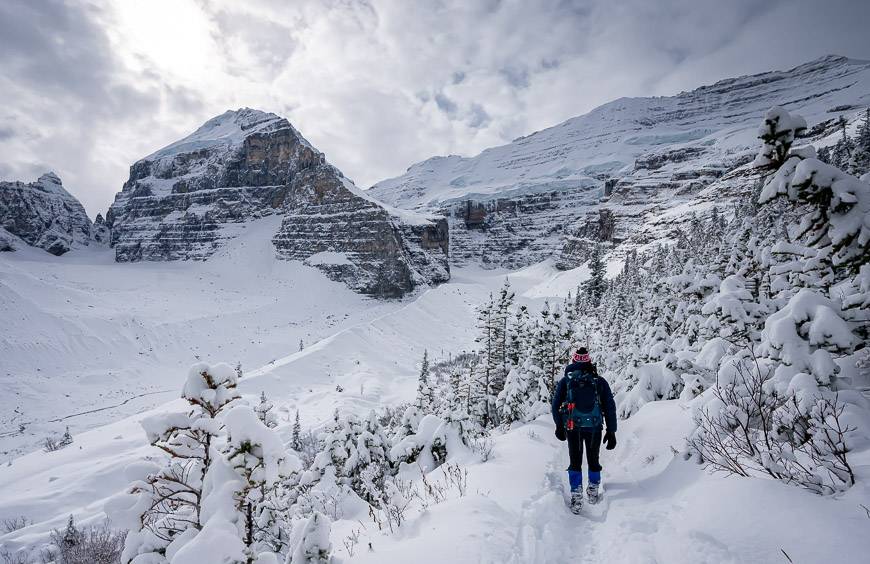 17. Winning a lobster dinner from Tourism Nova Scotia
Some tourism organizations – like Tourism Nova Scotia – have done a great job of staying "top of mind" and updating travel media on what is new and exciting in their province, even if we can't go there yet.
On a Zoom call with Tourism Nova Scotia, 10 out of 14 lucky participants won a couple of lobster, some mussels, and some smoked salmon – flown by FedEx to our home on the day of our choosing. On October 23rd, John and I enjoyed a fabulous meal of fresh lobster with wine. It was memorable – and it totally makes me want to return to the province in person.
18. The birth of granddaughter #2 on Hallowe'en
It's hard to beat the birth of a new grandchild. John and I are lucky to have two granddaughters now – just 14.5 months apart. We have taken them both on several occasions for 24 hours so their parents could sleep.
19. Snowshoeing in Banff National Park
When the virus reared its ugly head again in the fall, John and I were still able to go to the mountains for snowshoeing and/or winter hikes. When it's dark early and the new reality all seems a bit much, it feels so good to go to the mountains, get a workout and to enjoy the beauty of nature. We'll continue to do that all winter to save our sanity. I feel INCREDIBLY lucky that we live in a city with easy access to incredible mountain landscapes.
20. Blog updating
When you have an 11-year-old blog, posts get outdated – and many are best sent to their graves. I spent the better part of 10 months updating my website – and while there will always be updating to do, my website feels way better than it did before I started the project. I worked on rewrites, photos, SEO and affiliate links practically every waking hour from August 2019 – June 2020. The lockdown meant I didn't go anywhere, so it did provide the time to get the job done.
Thank you to all who read my posts and for visiting the website. I know it's been a tough year for many of you, but there is hope and a way forward. Take the time to get your life in order now – the taxes done early, the cupboards cleaned, the to-do list checked off so you are free to travel and explore come the summer. I have been planning my hiking trips over the holidays and am already excited for what lies ahead – even if it isn't a trip to an exotic destination. That too will happen again but for now my sights are still in Canada and hopefully Arizona and Utah come late fall 2021.
Happy New Year. Stay healthy.
Leigh