Wondering what to get the wannabe traveler and outdoor lover for birthdays or holidays this year? I've put together a list of things I personally love – including books, winter gear and games, along with a few random products that I think would make great gifts. This year I'd recommend ordering early because of ongoing disruptions in the supply chain, uncertain demand and longer than normal shipping times.
Keep in mind that this post does include some affiliate links. If you make a purchase via one of these links, I will receive a small commission at no extra cost to you.
Oakley TC Skull Mitts
I tried out the Oakley TC Skull mitt with an inner glove in the Rocky Mountains and loved it. What I especially liked is the neoprene cuff that keeps snow out, and the wrist bands that allow you to hang them from your hands if you're overheating (also means you won't lose them). For their weight, they're very warm – and windproof. The mitts are touchscreen compatible for family members tethered to devices.
Card Cutlery
I know a stainless-steel fork and spoon isn't the most exciting gift but if you or someone you know is very concerned about the environment, then I think it's a brilliant gift.
According to GoSun, the manufacturer, the average American uses 322 plastic utensils every year. Every day there are enough plastic knives, forks and spoons thrown away to fill 3,000 garbage truck – a mind-boggling number.
The fork and spoon along with the case can literally fit in your wallet because the fork and spoon retract. The case is all of 3.3″ long x 2″ wide x 0.15″ thick. They are perfect for travel, camping and take-out food! Order directly from the manufacturer. There are significant discounts if you order more than one set.
Must have outdoor gear
The Hydro Flask Insulated Lunch Box ($53.95) is ideal for day hikes when you want to take more than a sandwich and you want it to stay cold. This lunch box boasts double the insulation of most others! Not only is it exceptionally durable, but the lunch box is a snap to clean and it's BPA and toxin free. We took wet dog food on a 3-day hiking trip with a small ice pack and it worked like a charm.
(Also available through Valhalla Outfitters.)
The Leatherman FREE T4 ($79.95) may come in a small, lightweight package but it sure is useful as a multitool. It's loaded with a variety of sizes of screwdrivers, a knife, spring action scissors, tweezers, a file, a bottle opener and more – in total 12 tools. One of the essentials on any hiking or paddling trip!
Snowshoes
If ever there was a year to be planning outdoor activities, this is it. While you can certainly rent snowshoes, nothing beats spontaneous decisions to head for the hills or local parks, especially after a fresh dump of snow. There are loads of choices when it comes to snowshoes so consider how you're going to use them and what the weight of the person is. I have a pair of Atlas snowshoes similar to those below and have been very happy with how easy they are to put on – and how they perform in deep snow.
Expect to spend in the order of $200 and up but keep in mind snowshoes should last for an awfully long time. Our family has a pair that is over 25 years old that are still in great condition.
Hiking poles are perfect for summer and winter
If you want to splurge on a special somebody who doesn't yet own a pair of hiking poles, I highly recommend collapsible poles made of carbon. They are worth every cent ($189) because of their strength and weightless quality.
Icers or microspikes for winter walks
Everyone can use a pair of icers. It makes winter walking a lot more fun when you know you're not going to fall. Buy icers that stay on and have spikes that are long enough to make a dent in the ice. Something like the Kahtoola Microspikes would do the trick quite nicely.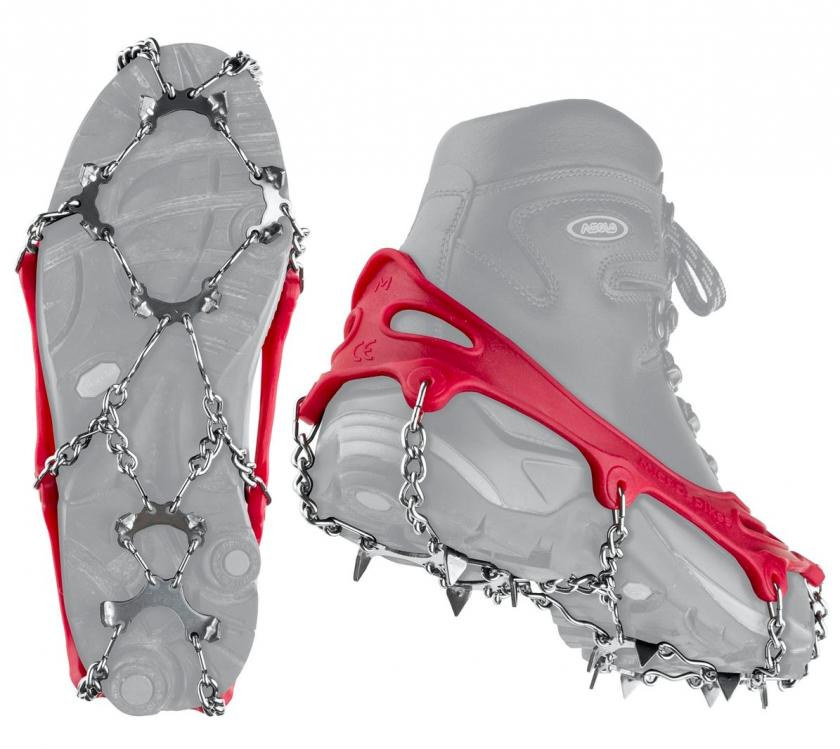 A knapsack with a feel-good story
If there is someone you know who needs a new pack, I recommend that you check out Vancouver based Banana Backpacks. This is a company that is ethically making packs in Vietnam while trying hard to make education more available in the developing world. With every Kiri pack that is sold – a year's worth of school supplies are provided – equal to 8% of the regular purchase price of every pack. For every one of the larger 60 L Kymer packs sold, 12% gets donated to education.
Along with a very well-made pack – with a child's name from Cambodia embroidered on the left strap – you have the option of adding a laptop kit, a camera kit (love it!), a dry bag, a water bottle holder, a weekend kit or a hydration reservoir. Some of these products clip into the inside of the backpack and stay in place.
Waterproof sneakers
When I received a pair of Loom waterproof sneakers, the first thing that came to mind – other than the fact that they're stylish, is that they'd be ideal for travelers as they're so lightweight! They're also super comfortable – in part because of a merino wool layer. In addition they are waterproof and breathable but it is their weightless feel that sold me.
I did find their sizing on the small side and would recommend ordering up to a size larger than normal. They have a Black Friday sale on right now.
A coffee mug that keeps your coffee hot
Easy-to-drink-from coffee mugs – where the coffee stays hot for more than 20 minutes are hard to find. I don't know how many times I've dribbled coffee down my shirt while driving because of the way it comes out. I love the design of the Hydro Flask Coffee with Flex Sip Lid. It's BPA free with double wall vacuum insulation, and comes in 12, 16- and 20-ounce sizing.
They are available at numerous locations including Sport Chek for $39.95.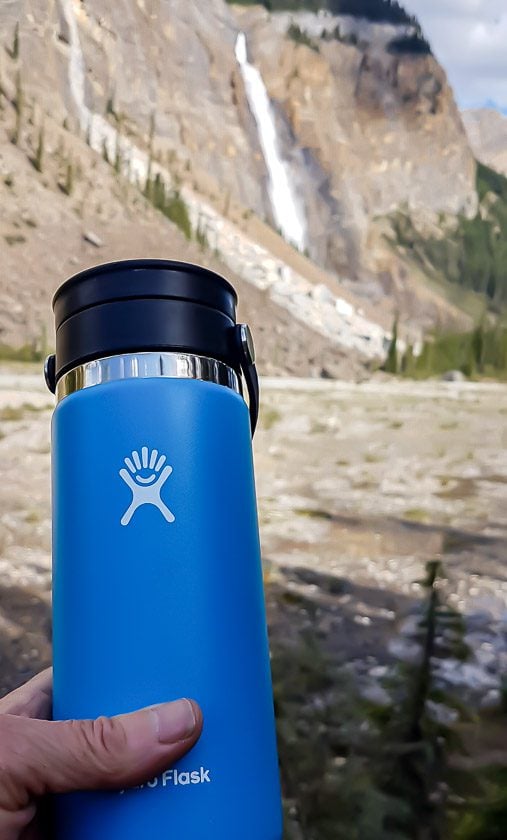 Campfire games
Know a paddler that loves a good game? This canoe cribbage game at $39.95 would be a great choice.
The Campfire Poker Game Set ($39.95) is perfect for those who want a little fun around the campfire. When the weather heads south it would be a great and possibly profitable way to kill some time.
My top 5 book recommendations
My top read for 2020 is this book – The Sun is My Compass: My 4,000 Mile Journey into the Alaskan Wilds by Caroline Van Hemert. She and her partner do the most amazing journey by rowboat and raft, on foot and by skis along with a canoe. It is both an adventure story and a love story – and chances are you won't be able to do anything else once you start reading it.
Rising – Becoming the First Canadian Women to Summit Everest – A Memoir by Sharon Wood.
I've read a lot of books about climbing Everest but this one was a refreshing change – mostly because of the route Sharon and her team climbed and the fact it was written by a woman. I couldn't put it down.
The Elephant Whisperer – My Life with the Herd in the African Wild by Lawrence Anthony
I loved how this book transported me to the Thula Thula game reserve in Zululand, South Africa. The author, Lawrence Anthony devoted his life to animal conservation, doing his best to protect endangered species – and get poachers behind bars.
Lands of Lost Borders – Out of Bounds on the Silk Road by Kate Harris
Kate Harris, has been called one of Canada's top modern-day explorers. She takes you for a long bike ride on the Silk Road – one I always thought I should cycle. It's both a great adventure story and a reflection on what borders really mean.
The Spy and the Traitor: The Greatest Espionage Story of the Cold War by Ben Macintryre
While you know the ending to this book by looking at the photos, it's a riveting read about the life of Russian KGB spy – Oleg Gordievsky who ends up spying for the M-16 in Britain. No spy has done more to damage the KGB than this man – and he alone is responsible for changing the course of the Cold War. While by no means a travel book, I still feel like I gained a lot of insight into the Russian psyche.
Dreaming of beaches?
With so many of the world's finest beaches in Australia, it's no surprise that Tesalate – an Australian company makes one of the best beach towels out there. Think sand-free beach towels that retain twice their weight in water! I love the size of the one I have as it doubles well as picnic blanket. They offer free, timely shipping and respond super quickly!
And who knows – maybe by March we'll be able to hop on a plane to some place with a warm beach.
Support an outdoor clothing company with a difference
I'm sporting the Voormi Women's Run Hoody ($129) which I think I've worn about 10 times in the last 20 days – no joke. I am in love with the feel of the product, its weight, and the way it layers, not to mention the colour. I can see wearing it on every hiking and kayaking trip I take for the next 5 – 10 years. Hands down it's one of my favourite pieces of clothing.
I also love Voormi's dedication to reducing waste in the clothing industry. Did you know that over 150 billion garments are produced annually and over 30% of them are never sold – contributing to a huge amount of landfill? Vroomi does things differently. There are no seasonal collections. Instead they make "season-spanning products, 12-months out of the year, on state-of-the-art production lines dedicated to us." That means no overproduction and no unnecessary waste.
For the photographer
Gorilla pods – whether for cameras or phones can be a lifesaver. They allow you to get shots in awkward places without any blur of the end product. Wrap the legs around any object you can find for some very cool shots. With the Grip Tight Pro 2 Gorilla Pod ($89.95) there is also an attachment point for additional accessories including lights and mics. It allows you to shoot in both landscape and portrait mode.
Whether you're a professional or wannabe photographer you're friends and family will love the options the gorilla pods provide.
My book – Discover Canada
My e-book – Discover Canada – 100 Inspiring Outdoor Adventures is ideal for those looking for some inspiration who don't want to spend more than what it costs to buy a latte. And you're directly helping me too!
More gift ideas