My annual outdoor lovers holiday gift guide is here. My biggest find in 2021 is the Solo Stove – a highly portable fire pit that delivers heat and a clean burn. A couple of new backpacking products I really like are featured along with my perennial brand fave – YETI. I've included lots of books – from guidebooks to adventure reads. I've also included chocolate from a company I very much admire for what they've had to deal with in life and a book penned by my buddy Blake Priddle, on being autistic.
I don't know about you but I really hate shopping unless it's an outdoor store, a bookstore or a gardening centre. I am so glad most things today are available online. Hoping you find an idea or two in this 2021 holiday gift guide.
This post includes some affiliate links. If you make a qualifying purchase through one of these links, I will receive a small percentage of the sale at no extra cost to you. Thank you for your support.
Solo Stove – the hottest holiday gift (literally) for 2021
If any of you are on Instagram, you might have seen Solo Stove advertisements in your feed. This is one stove that lives up to the hype of what it says it can do – delivering heat without smoke and burning logs to ash. It's a great addition to your backyard – or if you want to go car camping as it is totally portable and even comes with a carrying bag.
The design of the solo stove is second to none. There are holes drilled into the top and bottom of the Solo Stove (Ranger version pictured below) that allows air to be drawn up the column for an efficient burn without the smoke. On a cool November night when John and I tried it out, we were thrilled at how much heat it threw off – and this is the smallest model.
The one word of caution I have relates to dogs and kids. The stove itself gets hot (of course) so pets and kids need to be kept some distance away.
Purchase the Solo Stove directly via their website.
Ramble Fluff by Chaco
As many of you know, I live in Calgary. Every winter we seem to get a couple of huge dumps of snow followed by regular snowfalls that drop between 2 and 8 cm – just enough that you still must shovel your walks and driveways. I'm lazy when it comes to putting on boots, so I love the Ramble Fluff made by Chaco. It's called a house slipper with outdoor capabilities. What you get is Chaco's signature comfortable fit (my Chaco sandals are worn daily in summer) with a soft fleece lining.
To buy the Ramble Ruff in Canada and avoid duty purchase them here via Amazon.
Feel good chocolate
When I was in Nova Scotia in the fall, I sampled – as in ate the whole chocolate bar pictured below in one sitting. The chocolate is made by Peace by Chocolate, a Syrian-owned Nova Scotia company. The family had made chocolate in Syria for over 30 years but were forced to flee their homeland in 2012. Their short story is after several years in refugee camps in Lebanon they ended up becoming chocolatiers again in Antigonish, Nova Scotia.
Peace by Chocolate has seemingly embraced the Atlantic Canada theme as you'll see if you scroll through what they offer on their website. If you have family members missing the east coast, I think they might love the Atlantic Canada collection of chocolate bars with names like Fill Yer Boots!, Who's Yer Fadder? Whadda Y'At and G'Wan Wit Cha. There are lots of other fun names they've given the chocolate and their price point is excellent. Check out the Peace by Chocolate website and send them some love.
Waterproof packing cubes by Hillsound
After my hike on the Nootka Island Trail in the fall, I realized that my green garbage bags used for packing my clothes just weren't cutting it anymore. They work well for the first few days on the trip but the more I man-handled them, the more I got small tears in them – which is not cool in a wet coastal environment.
Enter PackStack™ and PackStack™Pro. I have the Pro tall version – which is a waterproof bag meant to fit the shape of a 60L plus backpack. It is made of waterproof, ripstop fabric that has been seam sealed with a handle to make it easy to carry or hang.
I love it because it barely weighs anything, and I can easily fit all the clothes I need in it on a week-long backpacking trip. It's contoured to fit a pack without wasting space. The downside is that it only comes in black – and if you're a couple traveling together, I like to have different coloured packing units, so we know whose is whose.
Hillsound also makes a shorter waterproof version to fit a 40 L pack and a weatherproof version for both pack sizes. I'd vote for the waterproof ones if you're backpacking anywhere in Canada. They can be bought directly from Hillsound.
Yeti Rambler Vacuum Insulated Tumbler and Wine Tumbler
I am a huge fan of the YETI brand. I know what they sell is on the pricey side, but everything I have has stood the test of time – including the Tundra Cooler, the Hopper M30 Soft Cooler and a dog bowl. The recent additions to me YETI collection include a 10-ounce wine tumbler and a 20-ounce stainless steel vacuum insulated tumbler with a magnetic slider lid.
The 20-ounce YETI tumbler is ideal for coffee as it keeps it nice and hot. I can drive to Banff from Calgary and still have hot coffee. It would also be good in the summer for cold drinks – because when they use the word insulated, they really mean it. More good news – it fits in standard-sized coffee holders.
The 10-ounce wine tumbler is just that – a well designed, unbreakable, dishwasher safe, heavy duty wine tumbler that is perfect for car-camping. I enjoyed a glass of wine in it the other night while soaking in a bubble bath – but didn't figure you needed to see those pics as proof. It sure beats using glass. They are available at lots of outdoor stores and online at MEC here.
A book for the hiker in southern Ontario
A completely revised Halton Hikes Loops & Lattes by Nicola Ross is now out. The book features 37 hiking loops ranging from 4 km to more than 20 km in the Halton region of southern Ontario. New hikes have been added as have descriptions of hikes where there were changes. You'll also find accurate maps, local lore, and ideas on where to après-hike.
Nicola has also written loops & lattes hiking guides for Caledon, Hamilton, and Dufferin. The Halton hiking book can be purchased at local bookstores throughout southern Ontario and on Amazon here.
A book for anyone who has a family member with a disability
My very dear friend, Jo is the mother of Blake Priddle pictured below. For years he has wanted to write a memoir – to show that it's okay to be autistic. With some help from his mom, Blake has penned this book over several years to show his journey with autism. I think it will be a useful resource for other families with a child on the autism spectrum.
We have all heard that it takes a village to raise a child. Blake's village is a special one. Helping Blake become an independent adult with a blossoming career in radio broadcasting in a remote northern Manitoba town is high reward and praise for his village.
Our family received a callout for stories related to Blake – as did about 50 others. These stories will provide some insight into how Blake related to non-family members and what he has taught the rest of us. You'll find lots of ideas on how to move forward – but as Jo says – its not "inspiration porn." We hope you enjoy getting to know Blake and how this fine young man is battling his way to the top.
You can purchase his book on Amazon here.
Adventure themed books
Be Free by Angela DeJong
Be Free by Edmonton author Angela deJong takes you to Africa – to places most people never go, let alone travel to as a lone female. She climbs mountains and does treks in Rwanda, Cameroon, the Democratic Republic of the Congo, Kenya and more over the course of a decade and manages to get herself in and out of a lot of sticky situations. It's a marvelous armchair read – but only a few of her adventures would I ever consider doing – and then not alone. Buy it here via Amazon or at your favourite local bookstore.
Trail Mix: 920 km on the Camino de Santiago by Jules Torti
For anyone contemplating hiking the Camino de Santiago – or for those of you who have done it already, I think you'd really enjoy the book Trail Mix by former Harrowsmith Magazine editor Jules Torti. I read a bit every night over a week and loved hearing about the often-hilarious day to day adventures of Jules & her partner Kim – whether it was on the trail itself, off trail trying to find the perfect place to sleep or descriptions of meals and their fellow pilgrims.
You can buy a copy of Trail Mix here.
Tracking Lions, Myth, and Wilderness in Samburu by Jon Turk
Tracking Lions is not a light read. It makes you think. Join Jon Turk in Samburu, Kenya as he explores "aboriginal wisdoms that endowed our Stone Age ancestors with the power to survive – and how, since then, myth, art, music, dance, and ceremony have often been hijacked and distorted within our urban, scientific, oil-soaked world."
It's available on Amazon.
Microspikes
There is nothing new about microspikes but literally everyone in Canada who ventures onto icy roads or trails in the winter could use a pair of these. You don't need a hospital visit, especially with COVID adding to wait times, because you've taken a spill.
Choose from one of these microspikes at MEC. I wouldn't recommend the ones that slip on really easily as they also slip off just as easily and will quite literally drive you nuts.
Now go have fun shopping – and do it early so you don't have to pay for shipping.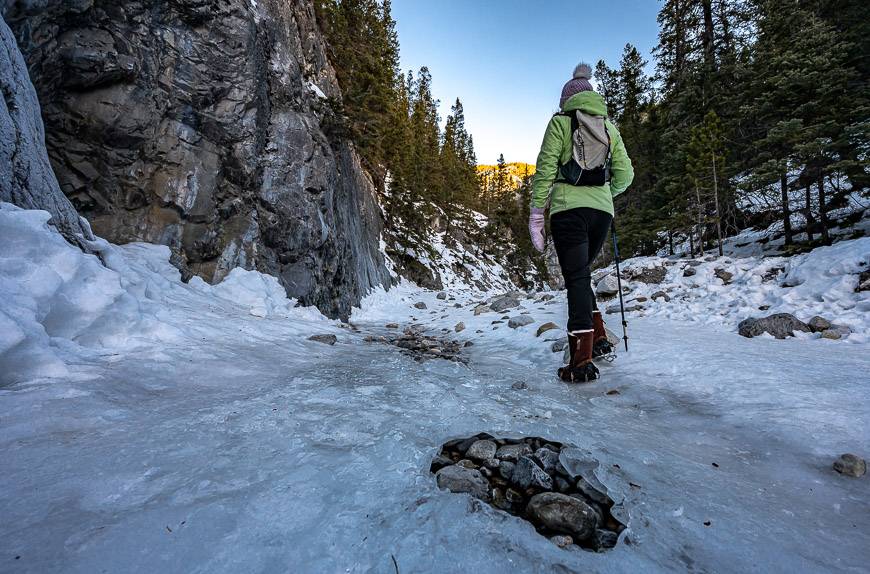 Adventure inspiration as you'll need it after shopping