I lived in Halifax for a year as a kid. I remember loving it because of its proximity to the ocean and all the wonderful trails in Point Pleasant Park. I've still got fond memories of the city, perhaps because that's where John and I got engaged. I'm not sure if that constitutes a fun fact or even an interesting fact but now you know. Here are more than 26 fun and interesting facts about Halifax, Nova Scotia, a city located on the edge of the Atlantic Ocean.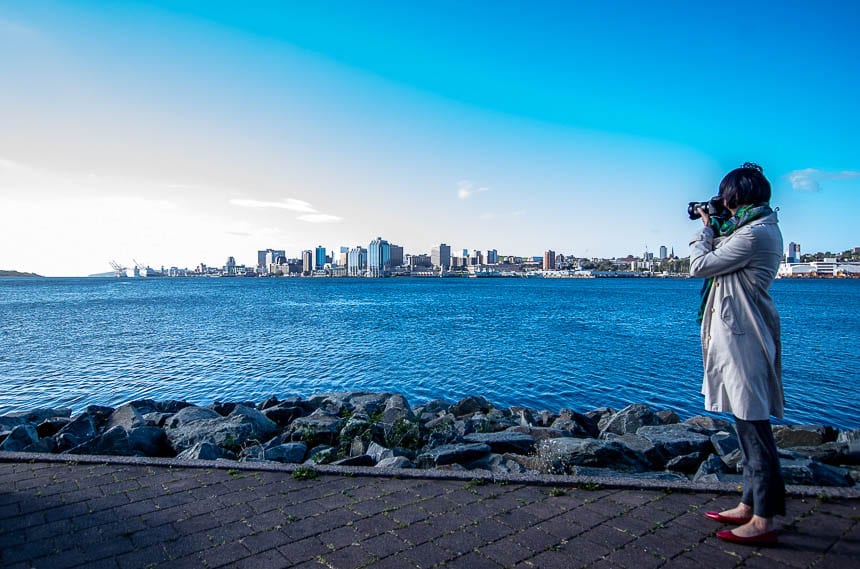 Halifax is the capital of Nova Scotia. It hosts the largest population east of Quebec City – 415,000 people at last count in 2021. The population growth rate is about half a percent.
Halifax has been around for a long time. It was founded in 1749 by Honorable Edward Cornwallis of England. (Not all agree with the honorable connotation.)
The Halifax Explosion in 1917 was the world's largest man-made explosion prior to Hiroshima. About 2,000 people were killed and 9,000 injured when the SS Mont Blanc, a French cargo ship loaded with wartime explosives collided with an empty Norwegian ship. It caught fire and 25 minutes later exploded. A tsunami and pressure wave also occurred and caused considerable damage. As one reader pointed out – this is not a fun fact but a very tragic event and one of the most devastating events Canada has experienced.
The Hydrostone District was rebuilt after the Halifax Explosion destroyed 750 homes – either by the explosion itself or because of fire caused by overturned stoves. Rebuilding happened quickly using a fireproof material called hydrostone made of cement, gravel, crushed stone and water that is molded by pressure. Today you can wander the Hydrostone neighbourhood, admiring houses made of the material. It's considered to be a vibrant village within the city.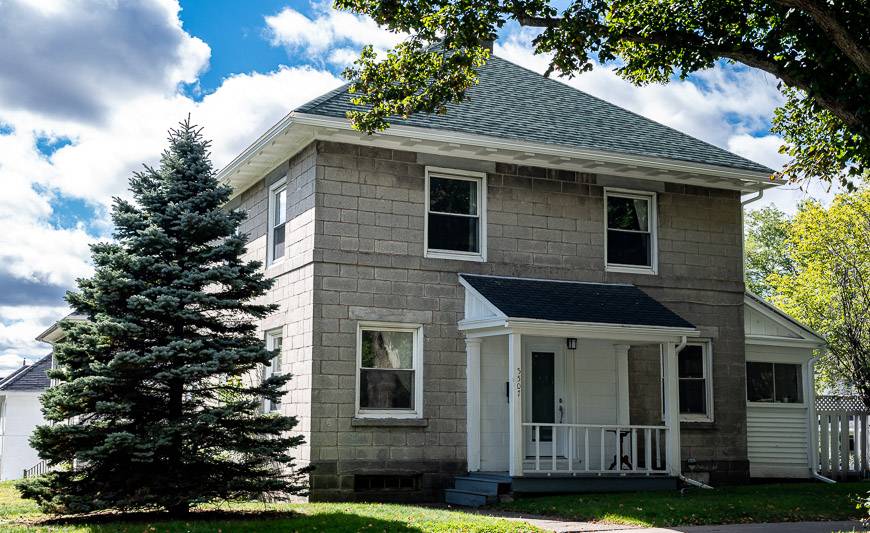 The Cunard Steamship Line was founded in Halifax in 1840. You'll find a statue of Samuel Cunard, the founder of the line, on the Halifax waterfront.
The Halifax Transit Ferry pictured below is the oldest salt-water passenger ferry in North America. The ferry has been running in one form or another for 269 years.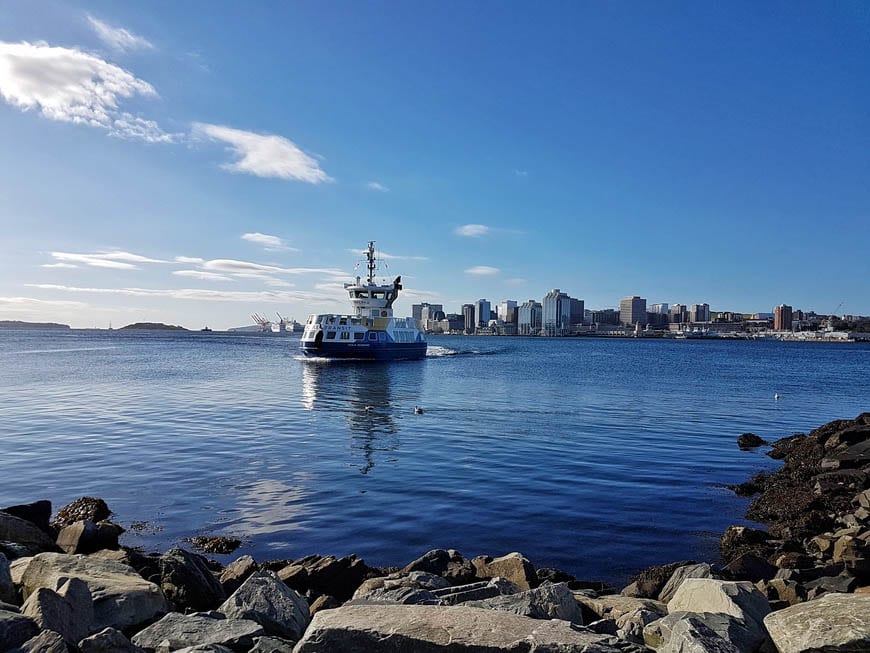 Interesting facts about National Historic Sites in Halifax
The Halifax Citadel National Historic Site is the most visited National Historic Site in Canada. The practice of firing a gun (from the site) at mid-day dates from 1856 and continues today.
There are four other National Historic Sites in Halifax that are collectively called the Halifax Defence Complex Family of Sites. They include Georges Island, Fort McNab, York Redoubt, and the Prince of Wales Tower. On George's Island you can do a tunnel tour.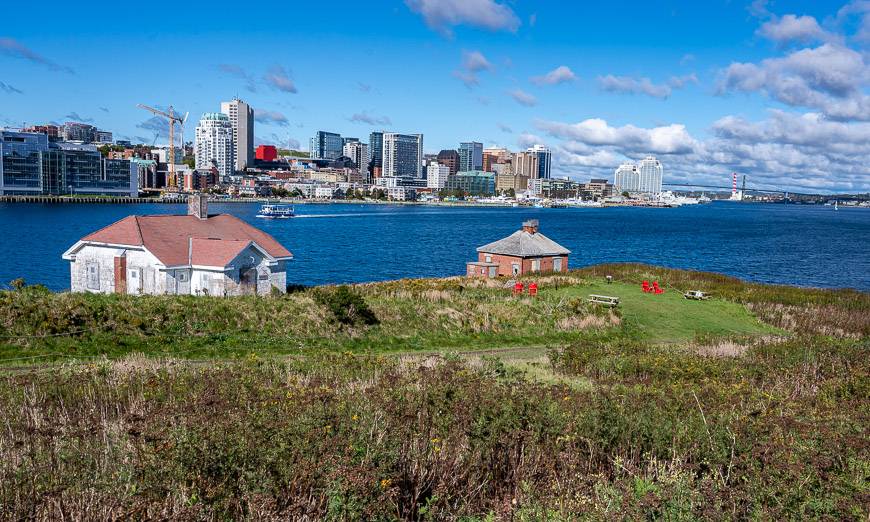 Interesting facts about some of the sights in Halifax
The Halifax Waterfront is one of the world's longest continuous boardwalks, coming in at approximately 4 km long. Enjoy a hammock with a view over to Georges Island, sip a coffee, dine at a restaurant or just enjoy the energy of this colourful, vibrant part of Halifax.
The Old Town Clock, a famous landmark on Citadel Hill, has been keeping time since 1803.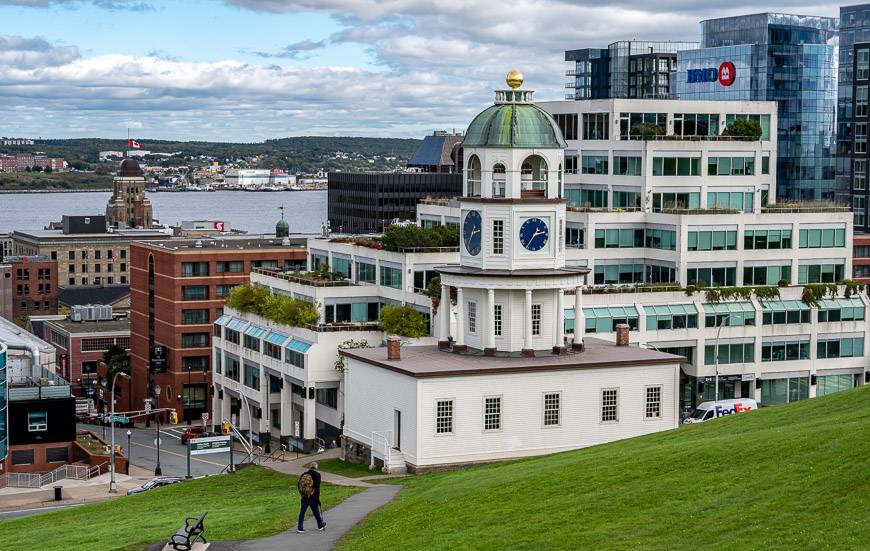 The Halifax Public Gardens on Spring Garden Road are a 17-acre oasis containing fountains, rare flowers, trees and the beautiful red gazebo. The gardens were formally founded in 1867.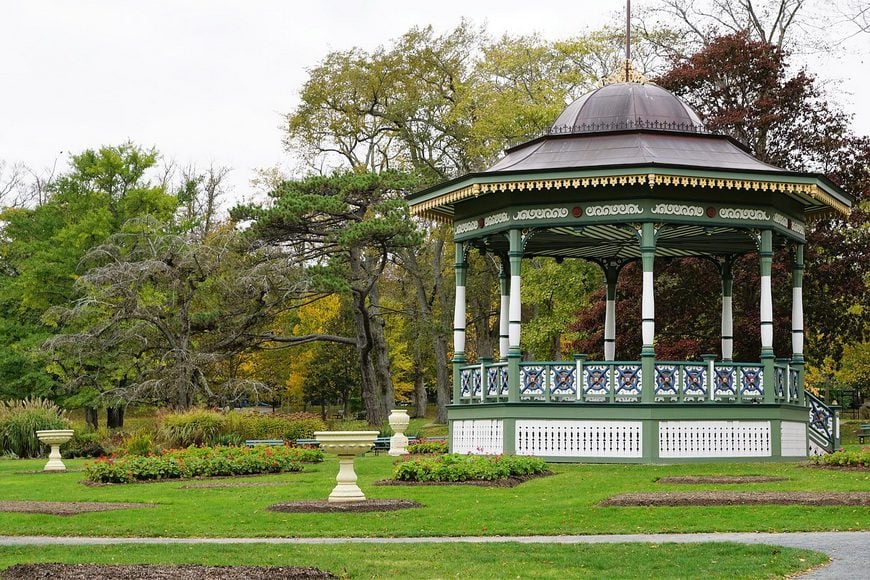 Point Pleasant Park, a 77 hectare park and one of the cities best, is located on the southern tip of the Halifax Peninsula only 2.5 kilometres from downtown. Halifax rents the site from the British government for 10 cents a year and has a 999 year lease.
The Halifax Seaport Farmer's Market, started in 1750, has operated for longer than any other farmer's market in North America. It has now been around for more than 270 years though the location has changed.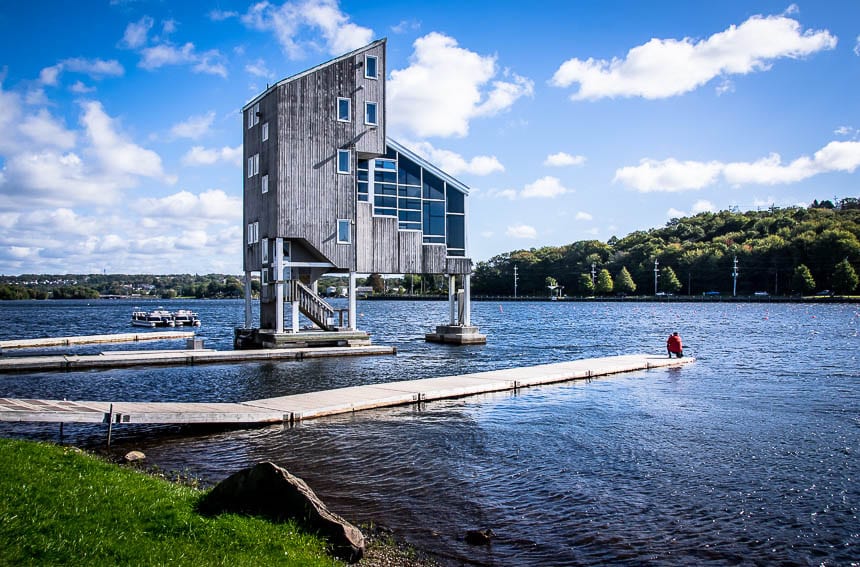 Did you know Halifax is close to numerous beaches?
There are at least 10 beaches worth visiting within one hour's drive of Halifax. Some, like Chocolate Lake Beach are within 15 minutes of the downtown. You'll also find surfing off Martinique Beach as an example.
Halifax is on the Atlantic Time Zone.
One of the interesting facts about Halifax is that it is closer to Dublin, Ireland (4,159 km away) than it is to Victoria, British Columbia (5,805 km away).
Halifax boasts the second largest ice-free natural harbour in the world after Sydney, Australia.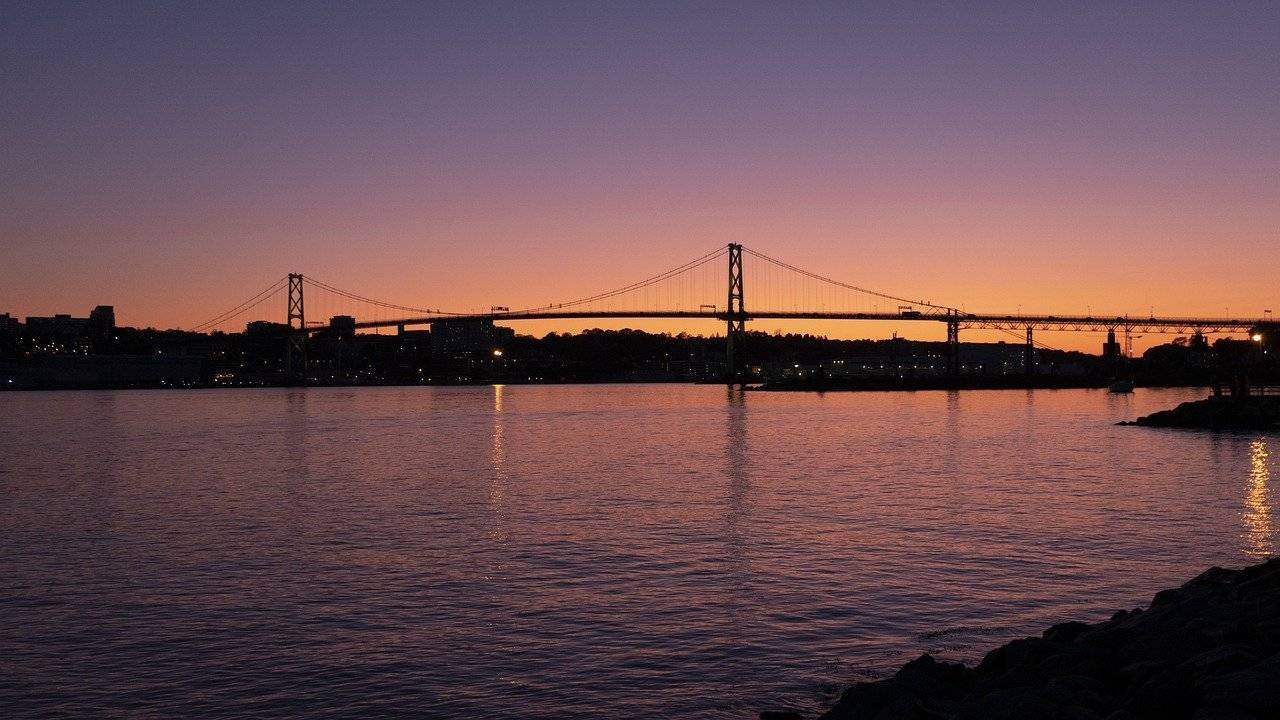 Interesting facts about the weather in Halifax
Halifax enjoys four distinct seasons. Winters are cold and snowy, whilst summer temperatures are usually in the 20-23°C range. Look out for Atlantic Hurricane Season when Halifax can suffer the brunt of tropical storms, depressions and hurricanes. It's normal to see 670 mm of rain over the period from June 1st to November 30th.
Halifax has an average of 171 wet days per year.
The coldest day ever recorded was -29.4°C (-21°F) on February 18, 1922. The highest temperature ever recorded was 37.2°C (99°F) on July 10, 1912.
On the summer solstice the sun rises at 5:29 AM and sets at 9:04 PM. On the winter solstice the sun rises at 7:48 AM and sets at 4:37 PM.
You might like – 25 Things to Do in Halifax, Nova Scotia.
Fun facts about Halifax
The median age is 39. And 59% of the population is under 45.
The average selling price of a house in Halifax in 2021 was $471,746, up considerably from 259,060 in 2011 when it had one of the lowest average prices of homes in Canada.
The three biggest employers in Halifax are CFB Halifax, Capital District Health Authority and the Government – on all three levels.
There are more pubs per capita than any other city in Canada. That might have something to do with the fact below.
There are six degree granting universities in Halifax – Dalhousie University, Mount Saint Vincent University, Saint Mary's University, Nova Scotia College of Art and Design, Nova Scotia Community College and The Atlantic School of Theology. There are 81 post secondary students per 1,000 people, three times the national average.
Titanic connection
Halifax has a strong connection to the Titanic sinking. There is a permanent Titanic Museum at the Maritime Museum of the Atlantic. The Fairview Lawn Cemetery is the final resting place of over 100 Titanic victims. One gravestone is very poignant as it is a mom and all her kids.
Seafood is one of the thing great things you'll find in abundance. Look for lobster, Atlantic salmon and Digby scallops on restaurant menus. Fortunately lobster is in season somewhere in Nova Scotia year round, so it should always be available on menus.
Every August Halifax hosts an International Busker Festival.
The biggest sports event is the Blue Nose Marathon held in November. The full marathon begins and ends in the downtown core, but shorter versions are available.
There are no big time professional sports teams but there are the Halifax Mooseheads Hockey Club and Halifax Rainmen Basketball.
Dave Carroll of United Breaks Guitars fame lives in the Greater Halifax area. Within four days of his music video going live, the stock of United Airlines fell 10%, costing shareholders $80 million dollars.
One of the prettiest sights in Nova Scotia is close to Halifax
Peggy's Cove, home to one of the world's most photographed lighthouses, is just a 45-minute drive away from Halifax. It is also a colourful working fishing village.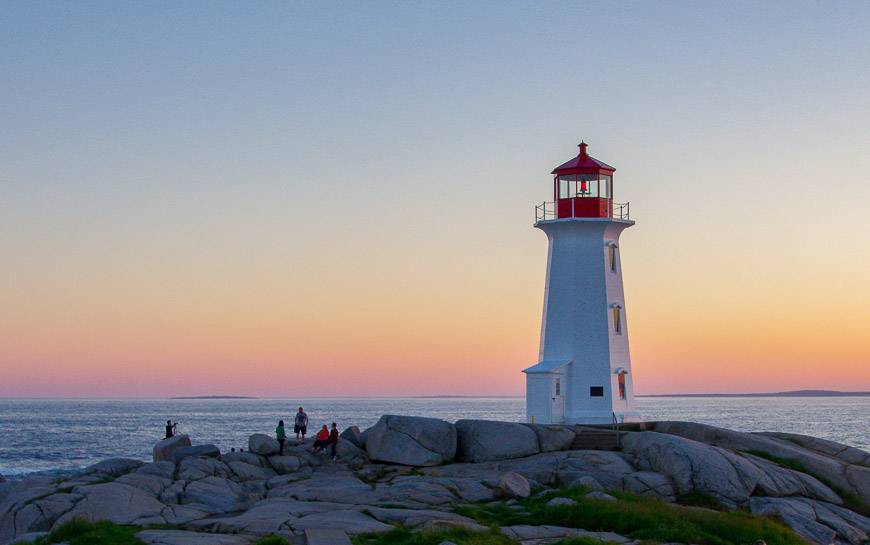 Further reading on facts about cities in Canada
Click on the photo to bookmark to your Pinterest board.