27 Fun, Interesting & Useful Facts About Quebec City
I don't know of anyone who's been to Quebec City who hasn't loved the place. It's got a 400 year history set against the backdrop of a walled city filled with narrow, winding cobbled streets. The place oozes history and charm in a manner reminiscent of old European cities.
The last time I spent any time in the city was back in university days when the Chateau Frontenac was actually the hotel we used for a week long ski trip.
Unfortunately
those prices are long.
If you're heading to Quebec City you might enjoy reading these 27 fun, interesting and useful facts.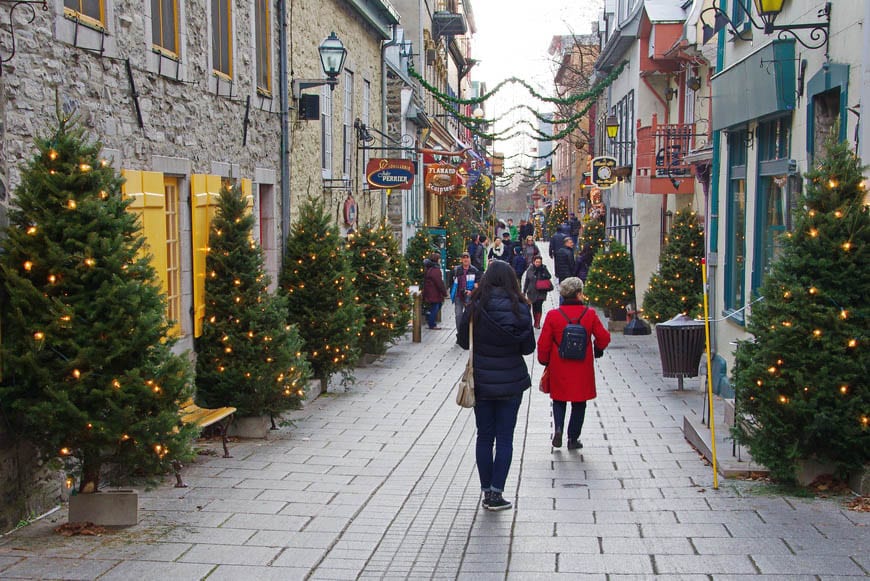 Jacques Cartier, a French explorer landed here in 1535. It wasn't until 1608 when Samuel de Champlain arrived that a permanent wooden fort and fur trading post were set up.
Quebec City – not Montreal – is the capital of the province of Quebec.
The word "Kebec" is an Algonquin word meaning where the river narrows.
Quebec City's location is at the intersection of the St. Lawrence and the St. Charles River.
Quebec City's 400th anniversary was celebrated in 2008. It's the oldest French speaking community in North America.
Quebec City is the only walled city north of Mexico. It has 4.6 kilometres of walls.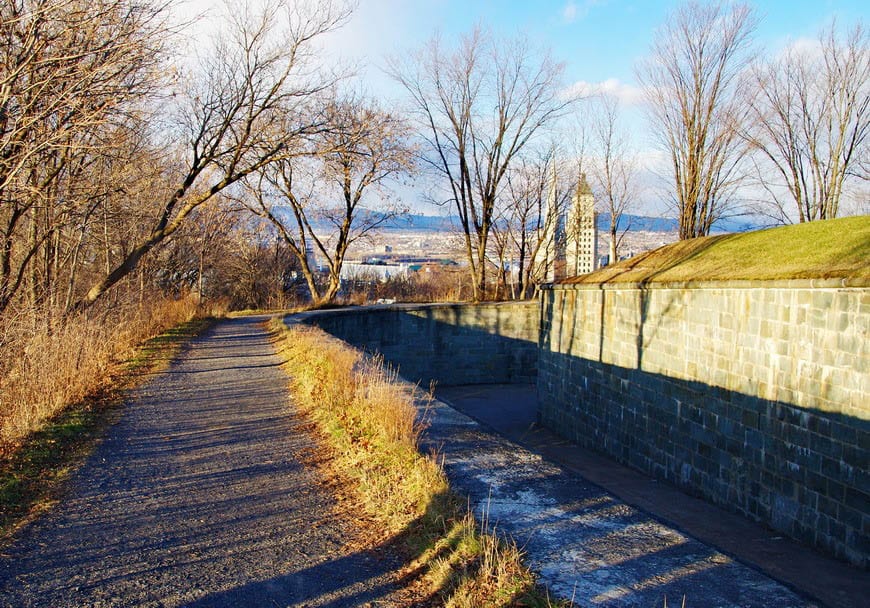 The oldest part of Quebec City was declared a UNESCO World Heritage Site in 1985.
The population in 2020 of Quebec City is approximately 826,109. In 1950 the population was 268, 268.
Only about 1.5% of the population speaks English. Over 95% of the population is French speaking. But more than a third of the population can speak both English and French.
Quebec City's median age is 43.5 – the oldest median age of any major city in Canada.
The city's main event is the Quebec Winter Carnival which takes place every year in February.
The Chateau Frontenac is the world's most photographed hotel.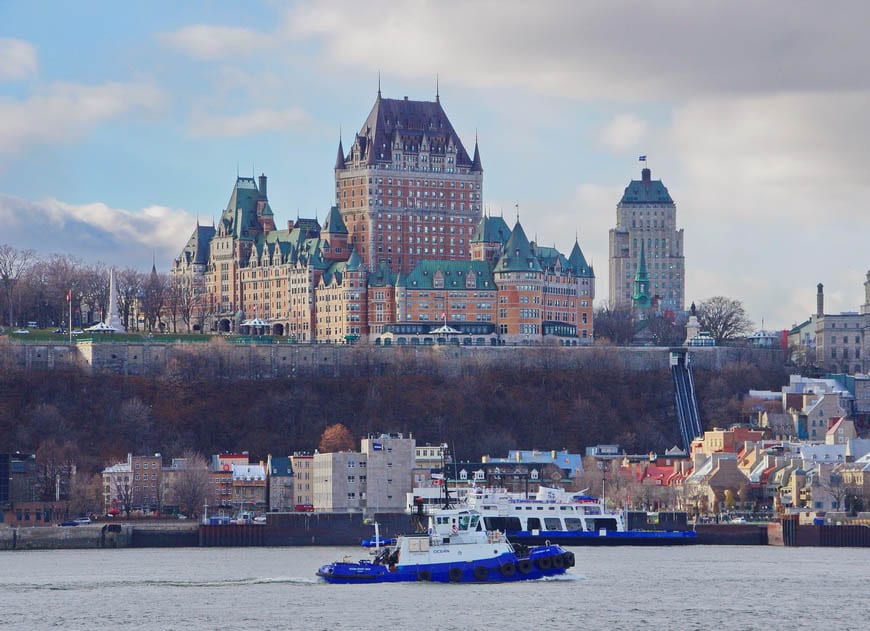 The Plains of Abraham is the site of the 1759 battle between General Wolfe and Montcalm. This is where Quebec's biggest holiday – St. Jean Baptiste Day gets celebrated every year. It's also a 103 hectare park used by tourists and locals alike on a year round basis. It's got a great skating rink in winter.
J.A. Moisan Epicier dating back to 1871 is the oldest grocery store in North America.
Eating is one of the many pleasures in Quebec City.
Read – The Educational and Delicious Quebec City Food Tour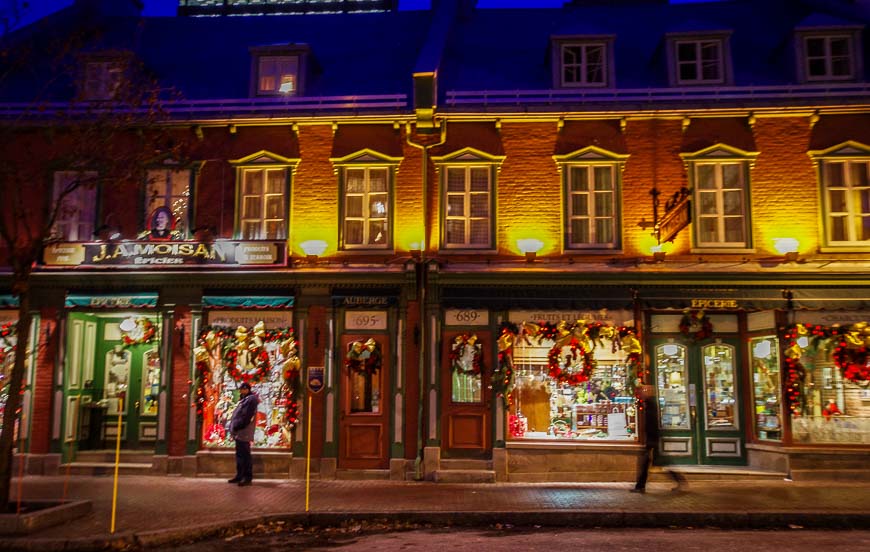 On the winter solstice the sun rises at 7:27 AM and sets at 3:59 PM.
On the summer solstice the sun rises at 4:51 AM and sets at 8:43 PM.
Quebec City has 149 days on average per year when the snow is at least one inch deep.
The average annual snowfall is 342 cm (135 inches) and the average annual rainfall is 86 cms (34 inches).
The average July temperature is 25°C (77°F) and the average January temperature is -7.8°C (18°F).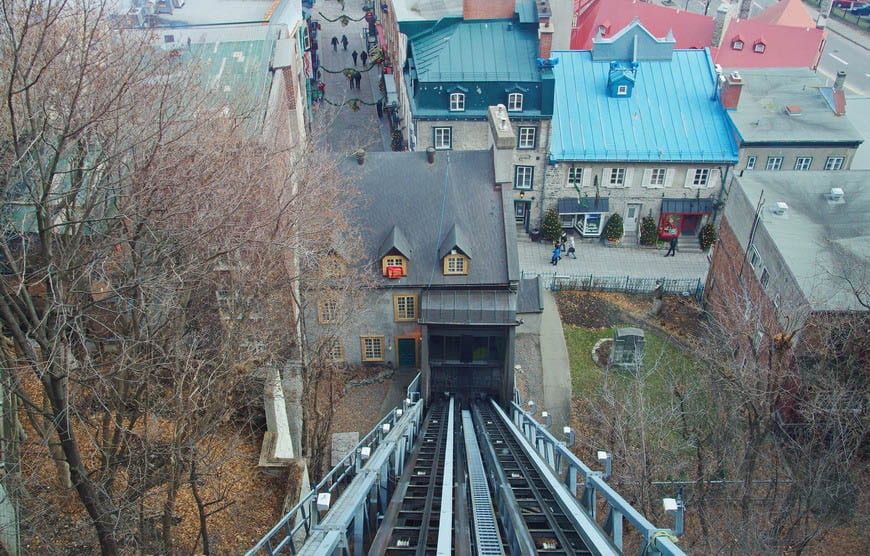 Museums in Quebec City
Quebec City is home to a Chocolate Museum. Other museums worth visiting include Musée National des Beaux-Arts du Québec – an art museum, Musée de la Civilisation, La Citadelle de Québec – North America's largest British fortress and Musée de l'Amérique Francaise – Canada's oldest museum.
There are 85 Roman Catholic parishes in the Quebec City area. The Notre-Dame de Québec Cathedral near the Chateau Frontenac is the mother church of the Roman Catholic Archdiocese of Quebec. Other churches you'll find in Quebec City are one for each of these religions – Anglican, Baptist, Presbyterian, Reformed, United, Greek Orthodox, Jewish, Muslim, Jehovah's Witness and Buddhist.
The legal drinking age in Quebec City – and all of Quebec for that matter is 18.
The provincial government is the largest employer in the city.
Skiing near Quebec City
There are three ski resorts close to Quebec City – Mont. Ste. Anne, Stoneham and Le Massif. Mont Ste. Anne offers great views of the St. Lawrence River and a vertical drop of 625 m. Le Massif boasts the highest vertical east of the Rockies at 770 metres. Stoneham comes in with a 345 metre vertical.
There are 37 National Historic Sites of Canada in and around Quebec City.
Quebec City is home to Laval University – which is recognized as a UNESCO World Heritage Site.
Montmorency Falls
Not far from downtown Quebec City sit the beautiful Montmorency Falls. At 83 metres tall they are a whopping 30 metres higher than Niagara Falls. You'll find lots to do around the falls including ziplining and a walk along a boardwalk that provides some airy views.
Have you ever been to Quebec City? What made your visit memorable?
Other posts in my fun, weird and interesting facts series you might enjoy.
Click on the photo to bookmark to your Pinterest board.