The fertile Sacred Valley in Peru is easy to visit as a day trip from Cusco. There's plenty of things to do in the Sacred Valley from rafting to visiting ruins – as it was formerly part of the Incan empire, but our group of fourteen hikers is here primarily to see what the face of sustainable tourism in the Sacred Valley looks like.
The Sacred Valley in Peru deserved more time that we gave it – as there is quite a bit of hiking to do and we barely touched on it. Don't forget that the Sacred Valley is high and if you're a new visitor to Peru. you'll probably feel the altitude. You don't want to do as much as your normally would until you're acclimatized.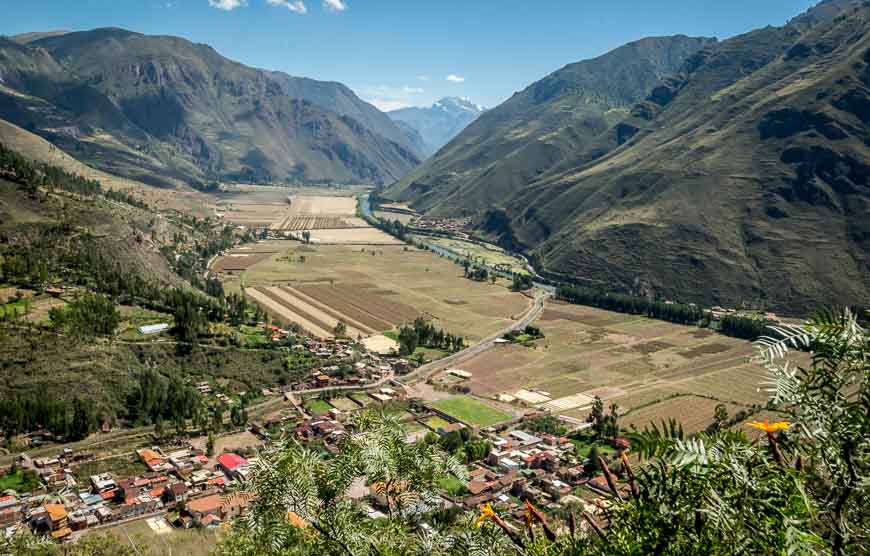 Visit the Ccaccaccollo Community and Women's Weaving Co-Op in the Sacred Valley
For a feel good activity in the Sacred Valley that really does benefit the local economy be sure to visit one of the weaving co-ops in the Sacred Valley. As I was on a G Adventures tour we visited the Ccaccaccollo Community Women's Weaving Co-op – developed by Planterra and G Adventures in 2005 to help empower the local women.
The visit, a true highlight of the day, began with all of us grabbing fistfuls of grasses to feed the alpacas. No manners are in evidence with this bunch. It's a free for all – grab, stuff and munch, but good fun for all of us.
This is followed up with an interesting demonstration of how the women clean the alpaca wool. The wool is rubbed in a bowl with some sort of bark along with a little elbow grease. In short order the wool is transformed, as if by magic, from dirty brown to white.
How to make natural dyes
Learning what it takes to make the natural dyes in a rainbow of colours is next. The tiny cochineal bug that lives in prickly pear cactus is the most important ingredient. Dried and ground cochineal makes the colour carmine.
If you want orange, just add salt and water; lime juice if its red you're after and various local flowers for most of the other colours. Then boil the wool for 45 minutes to set the colour.
After the demonstration we are free to wander around, taking photos, sipping tea flavoured with local herbs and watching the women at work.
There is plenty of time to admire and purchase textiles that include everything from socks and hats to alpaca sweaters, blankets and oven mitts. Every cent spent in the store goes towards helping the 440 community members!
The women's co-op never has to fear a loss of visitors. G Adventures includes a stop here on every trip to the Machu Picchu area and not just my Choquequirao trek. Over the course of a year that translates to 16,000 people.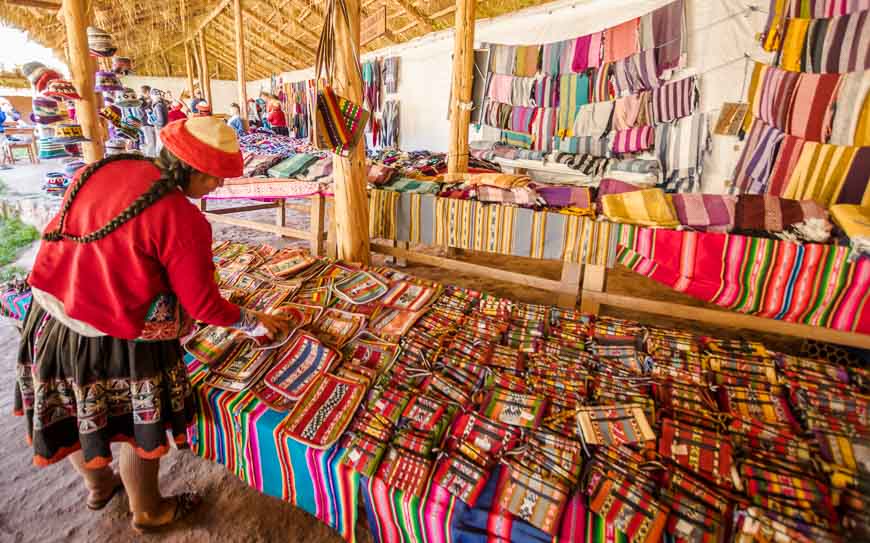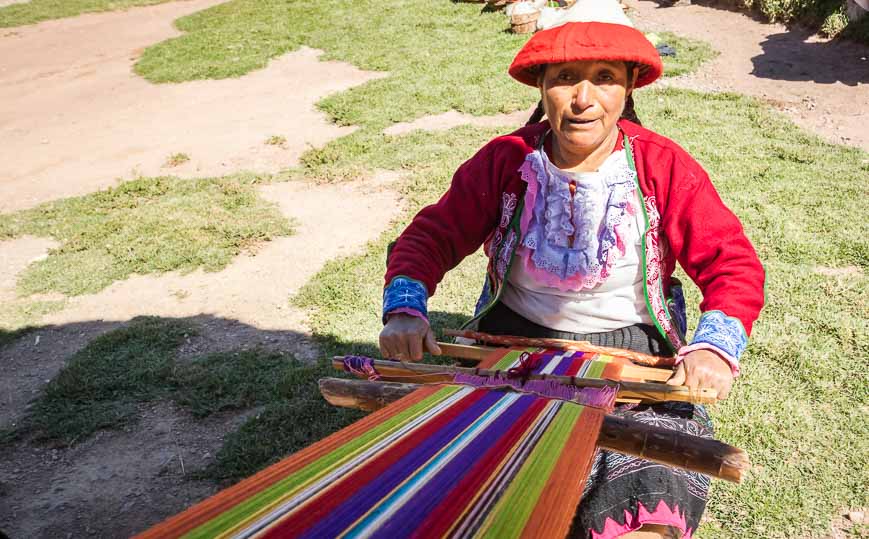 Visit Cuyo Chico Pottery Making in the Sacred Valley
Another one of the must-do stops in the Sacred Valley is the small village of Cuyo Chico for a pottery making demonstration. Have a few Peruvian sols handy so you can buy a couple of delicious empanadas before the demonstration begins.
We watch as a gentleman in bare feet throws straw into a small depression filled with clay and proceeds to stomp it and mix it by hand. Then he forms it into blocks and it's left to dry. I couldn't take my eyes off of the man's poor feet – though he seems completely unaffected by their dryness.
My toes were withering up from lack of moisture just looking at them. He was always smiling and to my eye carried himself with pride for carrying on the traditions of his ancestors.
Under cover of a tarp – as it gets hot in the Sacred Valley – we watch a woman take the clay and make it into useful things like bowls and cups but also into chess boards and decorative items. Another woman takes a fine paint brush – with a child on her lap – and artfully does the decorating.
When the demonstration is over we can purchase the pottery and all the funds raised directly benefit the local families in the Sacred Valley.
Eat at the Parwa Community Restaurant in Huchy Qosqo, Sacred Valley
Arrive at the Parwa Community Restaurant in the Sacred Valley with an appetite. Over the course of lunch we're served a multi-course meal prepared with local ingredients – bought from local farmers. That include potatoes, quinoa, eggs, corn and local vegetables.
Fun fact: Peru is home to 3,500 varieties of potatoes, 200 varieties of quinoa and 150 varieties of corn.
The food is first-rate as the women have been taught well – not just the art of cooking by one of Peru's top chefs, but of presentation and making the 1,500 travelers that visit every month feel like a valued guest.
The results of this cooperative effort with Planterra, G Adventures and the Multilateral Investment Fund of the Inter-American Development Bank Group is a financial spin-off that benefits 1,000 community members.
While you don't have to be on a G Adventures trip to dine here, it's not always easy to get a seat. The word is out that this restaurant serves delicious food with a lovely ambiance.
Hike up to Ollantaytambo and the Storehouse Ruins in the Sacred Valley
The pretty town of Ollantaytambo is home to cobbled streets, a charming town square, cafes and some Incan ruins. Sitting at an elevation of 2792 m (9,160 feet), you may notice the lack of oxygen if you've recently arrived in the Cusco or the Sacred Valley area from a lower elevation.
Our goal on this stop is to visit the storehouses, located high above the city and accessed via a solid 30 – 60 minute hike, depending on the state of your aerobic conditioning. The houses were built to store grain by the Incan emperor Pachacuti in the fifteenth century. The location was likely chosen for security reasons and to preserve the food as it's colder and windier up high.
While the hike is short, pretty and offers some nice views it's also a reminder of how hard I'm going to be breathing on the Choquequirao trek.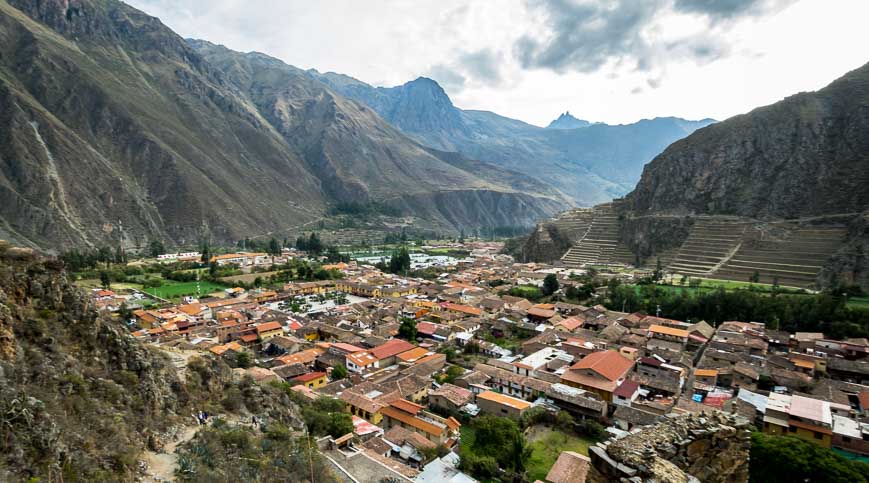 While we only had a day to spend in the Sacred Valley, visiting businesses and co-ops that directly benefited from sustainable tourism was a highlight. Try and include at least a few of these activities when you travel here.
Further reading on things to see and do in South America
Thank you to G Adventures for hosting my trip.
Click on the photo to bookmark to your Pinterest boards.