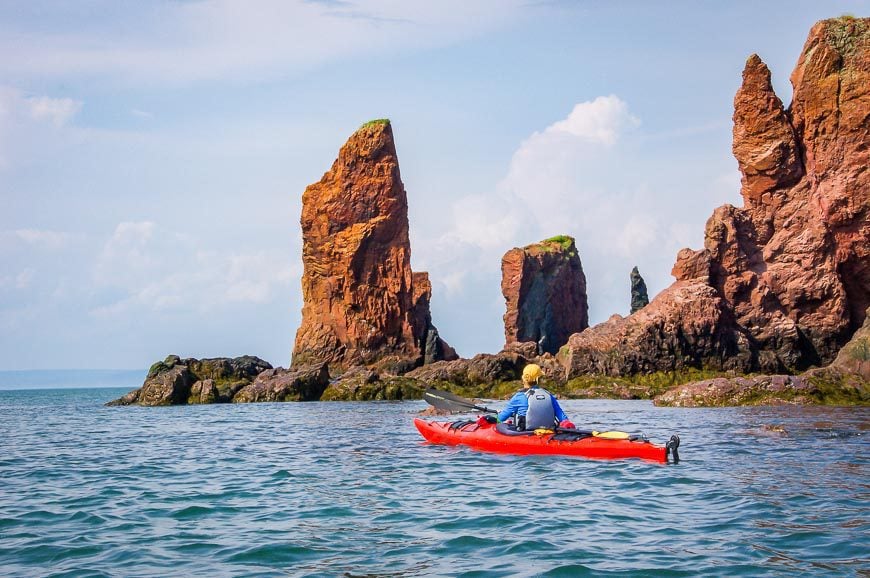 45 Random Observations About Nova Scotia
I have recently returned from two weeks of traveling through Nova Scotia. Apart from biking the Cabot Trail on Cape Breton Island a few years ago, I had not been to what I call mainland Nova Scotia in over 25 years, despite having lived there on two occasions in my life. It was interesting to see the province with fresh eyes – and as a mature adult.
Here are 45 random observations I made about Nova Scotia.
1. People aren't afraid of a little colour in Nova Scotia.
2. The highest tides in the world occur on the Bay of Fundy. That means you have to time your trips by boat with precision or you'll get left high and dry.
3. You can find homemade butter tarts in almost every cafe or even gas station you stop at.
4. In Annapolis Royal there is a 9:30 PM candlelit graveyard tour led by Alan Melanson three days a week from June 1st until October 15th. It was fascinating, entertaining, enlightening and one of the highlights (really) of my trip to Nova Scotia.
5. Tax is high in Nova Scotia – 15% – a combination of the federal 5% GST and the 10% provincial sales tax.
6. Tacky is alive and well in Nova Scotia – though granted these people were trying to sell their tacky stuff.
7. So is craftiness. Over and over again I was surprised at the ingenious items I'd see outside on people's lawns or gates. Incredible creativity is obvious.
8. There is no shortage of antique stores in Nova Scotia. I love the old pieces of Nova Scotia pine that are much in evidence in B&B's.
9. A stay in some beautiful B&B's like the one pictured below in Annapolis Royal will run you a reasonable $99 in low season and as little as $129 in high season.
10. It was a refreshing change to see so few big box stores outside of the Halifax area. I did notice a few in Kentville but that was about it.
11. There are a lot of used lobster traps for sale. Some were offered for as little as $2.5o/trap.
12. There is a timeless beauty to the Peggy's Cove area. It never gets old.
13. The best lobster roll I had was at The Rope Loft in Chester. I savoured every mouthful and went back twice.
14. There are a lot of small cars on the road – partly I suspect as a function of the economy and the price of gas.
15. I've only seen signs like this offering pickled eggs and Solomon Gundy in Nova Scotia. I didn't know people still ate pickled eggs.
16. Oil and wood are primarily used for heating homes unless you live in the Halifax-Dartmouth area. At one B&B I stayed at I hear they went through 40 cords of wood in a winter.
17. All over Nova Scotia I saw people with multi-coloured chairs – definitely a trend at least this year.
18. In June lupines are everywhere. I never got tired of seeing field after field of them.
19. In Halifax I rented the cheapest car on four wheels – and ended up with a convertible Fiat mini. It's the only place in Canada where it's been offered. Did you know it's possible to put a stuffed backpack and a bike in a car this size – if you take both wheels off?
20. Wineries have taken off in Nova Scotia. There are wine tours galore – especially in the Grand Pré region.
21. People in Nova Scotia still hang out their laundry to dry; I think that's great. What a treat it is when you get to a place and sleep between sheets dried by sea breezes.
22. There are some glorious deserted homes that harken back to another era. Some of them look haunted.
23. Backroads are in abysmal shape. On the paved road into Thomas Radall Provincial Park I had to stay in the grooves or I would have bottomed out. Even the highways have some major potholes.
24. Churches are in great abundance. Some small towns boast three or more churches in just a few blocks. Most are white and black.
25. Parks are almost deserted in June so it's a great time to visit. I felt like I had the whole of Thomas Raddall Provincial Park to myself one night. I saw one other vehicle.
26. Gas prices ranged between 1.26 and 1.37 per liter.
27. Some of the most out of the way places have the most incredible food. I think the winner from my experience is the Lighthouse at Cape d'Or. People I met elsewhere swooned in their description of his lunchtime grilled cheese sandwiches. Go now. It may close forever in the fall. There are many runner-ups in this category. If you're in Advocate Harbour don't miss Wild Caraway – a place where I had a giant piece of fresh halibut for $20 – after a three day solo backpacking trip eating granola and peanut butter.
28. There are so many lighthouses all over the province that I'd be hard pressed to pick the prettiest. I sure loved the feeling of desolation though at the one at Cape d'Or. You can stay in the Lightkeeper's Cottage – an experience I'd highly recommend.
29. Inland Nova Scotia – Kejimkujik National Park excepted – is relatively uninteresting. It's heavily forested. Stay to the coast for the scenery – and to avoid the bugs.
30. Kayaking is superb in Nova Scotia – though more challenging than I expected. The half day guided trip to the Three Sisters off Cape Chignecto will thrill you with its beauty.
31. Don't miss a drive of the Cabot Trail – or if you're feeling adventurous try biking it over five to six days. If you want to see a moose head for the Skyline Trail in Cape Breton Highlands National Park.
32. Bear River is a small town where some of the stores/houses are built on stilts because of the tide. This might be an idea for those people in Calgary living along the river.
33. The memorial to Swiss Air Flight 111 where 229 people perished in the cold Atlantic Ocean on September 2nd, 1998 is very moving – still after all these years.
34. There are some beautiful plants in the seaside Kejimkujik National Park including these pitcher plants that I've seen nowhere else but in Nova Scotia.
35. Strawberries are in season in June and July and judging by the number of towns I traveled through there are a lot of strawberry socials on the calendar.
36. The Cape Chignecto Coastal Trail seems to be deserted on weekdays in June. It offers incredible beauty with its fog forests and huge cliffs. I saw no humans for 2.5 days.
37. You can get a big glass of wine in restaurants for $5 – and I'm not talking gut – rot kind of wine here. What a treat to pay those kinds of prices.
38. Teenagers in Nova Scotia are the same as anywhere else I've been.
39. You make think you're in Scotland when you go into cafes looking for food. Oats are big – and oatcakes seem to be de rigeur as an offering.
40. There were glorious fields of flowers, especially in the Wolfville – Halls Harbour region.
41. Walk into a general store and you might just find the local ladies all playing bingo. You feel like you've stepped back in time when the internet didn't exist.
42. You can get amazing bowls of fish chowder in the most unlikely looking places – this one from The Deck – on a rural road near Hubbards.
43. Biking is excellent around Annapolis Royal – and along the south shore. I found drivers to be extremely courteous – which is a good thing since there weren't any shoulders 90% of the time.
44. The houses in Lunenburg are beautiful – colourful and loaded with architectural details.
45. The people I ran into in Nova Scotia were unbelievably friendly – and very proud of their province. It was a breeze to be traveling solo – and surprisingly social, especially since I mostly stayed in B&B's.
Further reading on Nova Scotia