Located two-thirds of the way up the rugged coast of Maine, Acadia National Park is one of the most spectacular destinations in New England. From the islands to the highlands, the park is filled with outdoor adventures. Here are five adventurous things to do in Acadia National Park.
Go hiking in Acadia National Park
If you don't go on at least one hike in Acadia you should leave the park ashamed. Over 100 miles of hiking trails crisscross Acadia, offering tremendous views of the Gulf of Maine. In the summer, sitting on a bare granite peak, you'll watch sailboats glide past historic lighthouses.
In autumn, when the air is crisp, you'll enjoy brilliant fall foliage rippling across the mountains. Some trails are steep and require the use of ladders and iron rungs, but there are plenty of easy and moderate trails with terrific ocean views.
How about a bike ride in the park?
John D. Rockefeller donated much of the land that became Acadia National Park, including 45 miles of roads he used exclusively for horse-drawn carriage rides. Today, you can still find horses on Rockefeller's motor-free "carriage roads," but bicycles are now the most popular way to enjoy them.
Twisting deep into the heart of Acadia, the carriage roads skirt shimmering ponds and pass over beautiful stone bridges. After working up an appetite, follow the carriage roads to the Jordan Pond House for oven-fresh popovers, delicious puff pastries served al fresco on the southern shore of Jordan Pond.
Go sea kayaking off the coast of Maine
The coast of Maine is one of America's top sea kayaking destinations, and Acadia National Park is one of the top sea kayaking destinations in Maine. Spend a few hours paddling along the bold, rocky coastline and you'll understand why.
Just offshore Bar Harbor lie the Porcupine Islands, a chain of pristine islands protected by Acadia National Park. In addition to beautiful scenery, sea kayaking is a great way to see marine wildlife. Look for seals and harbor porpoises in the water, then scan the skies for eagles and osprey flying high above.
Try rock climbing in Acadia National Park
Acadia is the only place on the U.S east coast where the mountains literally meet the sea, and Otter Cliffs, one of the most scenic points on the Park Loop Road, is the only place on the east coast where you can rock climb directly above the water.
If Otter Cliffs is crowded—not uncommon in the busy summer months—head to Champlain Mountain or South Bubble, where sheer cliffs also offer great climbs and terrific scenery. Don't know how to rock climb? Sign up for a climbing lesson with one of the local outfitters in Bar Harbor.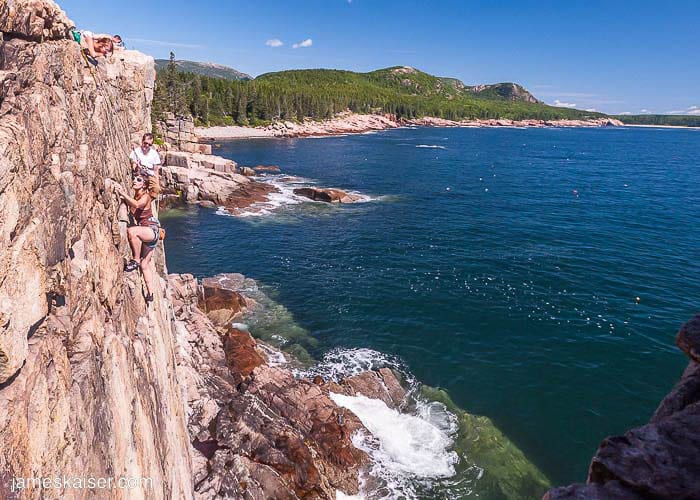 Take a boat trip in Acadia National Park
Acadia is beautiful from all angles, but there's nothing like the view from the water. Cruise offshore and you'll be treated to dramatic views of Acadia's granite mountains towering above the Gulf of Maine. And—this being an island—there's no shortage of boating adventures.
Like sailing? Several beautiful Friendship sloops cruise Mount Desert Island's southern shore, while a historic four-masted schooner departs Bar Harbor three times daily.
Motorized boats offer even more options: whale watching, lobster tours, lighthouse cruises, and—my personal favorite—Diver Ed, who jumps overboard with an HD video camera and projects live images of the seafloor back onboard.
Visit the Acadia National Park website for more information.
And if you want the lowdown on where to eat and additional things to do both Acadia National Park and nearby Bar Harbor, check out this itinerary for 3 days in Bar Harbour.
Further reading on things to do in the US in summer
Click on the photo to bookmark to your Pinterest boards.