I'll admit right off the bat that having volunteered with Quetzaltrekkers Nicaragua that I'm a bit biased on my hike selection. It is a volunteer run organization that supports local children's charities with 100% of their profits, but you'll also find other options located in Leon and throughout other parts of the country.After doing well over 30 hikes in Nicaragua on six different volcanoes and several other routes, as well as talking with fellow guides and hundreds of hikers about numerous others, I've a select few that I'd suggest are worth doing above just about any other hike you can do in the region.
Described are five amazing volcanoes to hike in Nicaragua. While some of the hikes can be done on their own and that's how I'd normally go myself, I've seen solo hikers who've had issues due to navigation, lack of supplies, insufficient water, heat stroke, and poor shelters. Just because it's warm in Nicaragua doesn't mean this region can't be deadly. There is no water at all on many hikes, the winds can be fierce, the rain occasionally relentless, and the ever changing jungle caused even some of the guides to get lost on occasion.
Check out these 5 volcanoes in Nicaragua!
Volcan Cosiguina (medium difficulty)
There was something magical about this hike for me. While the bottom starts off on a rather nondescript road, things really start to change when you get onto the slopes.
Much of the hike to the crater follows a spine up the side of the volcano and is covered in vines that creep over nearly everything bursting with bright purple and pink flowers.
Further along the trail you come across a 50 foot tall fig tree that has completely engulfed and destroyed its original host. The branches and roots wind in so many directions that it nearly creates steps just inviting you to explore up into its canopy.
We've also seen a variety of wildlife on this hike including an anteater, armies of leaf cutter ants, golden orb spiders, and hundreds of birds. (I'm horrible at bird identification, so don't ask me what kinds but they were pretty).
Just as the sun starts to set into the Pacific you find yourself up at the magnificent crater of this sleeping giant. Cosiguina used to be over 3000 m tall until it exploded in 1835 sending chunks of it flying into the Pacific to create small islands and a 2 km wide 500 m deep hole in the beast itself.
The blast was said to have been heard as far away as Argentina and left the volcano sitting no higher than 872 m at the peak of its crater edge.
Upon returning to the small town at the base of the volcano you can clean yourself up while swimming in a freshwater spring with the locals and then head to the nearby beach town of Jiquilillo.
Our favourite way was riding on the top of a chicken bus followed by boat that tours the seabird filled mangroves. Jiquilillo was always a great place to watch the sunset into the Pacific, party it up, and release newly hatched baby turtles after our long days on the volcano.
Volcan Momotombo – one of the difficult volcanoes in Nicaragua to hike
While this hike can be split into two days, I'd suggest it's unnecessary if the peak is all that you're after. Momotombo however, isn't for the faint of heart.
It rises 1297 m above sea level and you start hiking at only 50 m above sea level. It's hot to begin with in Nicaragua and on Momotombo you're 100% exposed within an hour of starting the hike, so be prepared.
The slope starts rather gradual and reasonably packed, but every time you think it can't get steeper or looser the volcano proves you wrong.
Momotombo's greatest challenge, however is also its greatest asset. Nearly every moment of your hike up this barren black slope you're surrounded by a breathtaking view as far as the eye can see.
The volcanoes of San Cristobal, Telica, El Hoyo, Asososca, and Momtombito are all visible as you make your way up to the top.
Making your way to the very peak of this volcano is like stepping onto another planet. Its mind boggling that the ground can sound hollow underfoot yet absorb a hiking pole into its mud foot after foot. The rocky spongy surface is coloured red, yellow, white, and every shade to black. Best of all, you're afforded a 360⁰ degree view which now includes lake Managua. Momotombo is truly spectacular for its views and otherworldly feel.
Volcan Telica – moderate difficulty
There are a number of ways to get to this volcano, over farm land or dirt roads, most of which are generally pretty flat. It's not until the last hour or two when you finally climb up to the view point located at around 800m.
A large portion of the volcanoes throughout Central America are active, Volcan Telica however, is the only one in Nicaragua in which you can actually see lava.
While you might not get as close as most hope to see the lava due to the crater's depth of 120m, what surprises people more than anything else is that you can both smell and hear the vents long before you can see them. At times it can seem as though the mountain is roaring.
It's tough to say what the best season is for visiting Telica. In the dry season from December –August it can get rather hot, but it's nice not to get rained on. In the wet season you can witness some spectacular lightning storms pass by the side of the volcano; however the rain fall can increase the crater's gas venting and make the lava harder to see. Not to mention that in rainy season the heavy storms can sometimes soak you to the bone.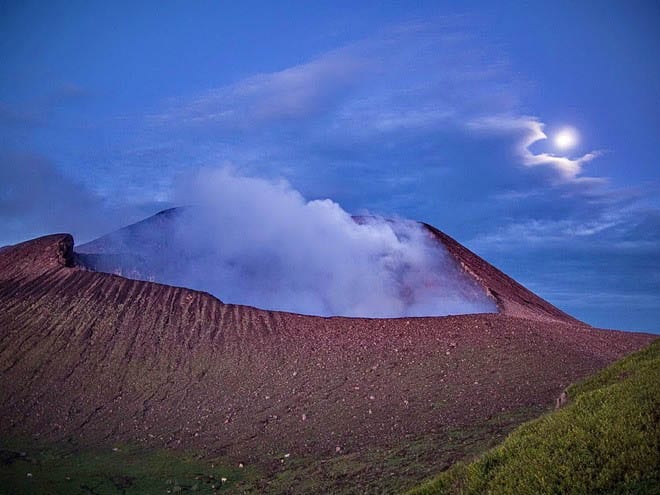 Cerro Negro – one of the easy volcanoes to hike in Nicaragua
This 728m high cinder ash volcano has managed to erupt 23 times in its short 160 year life and the pumice sand that's spewed out of this "Black Hill" has been carried by the wind and deposited on its south west face making it look and act much like a giant black sand dune.
Cerro Negro is by far the most popular hike in Nicaragua, often seeing over 100 visitors a day from various tour companies, as it holds the key to why most people stop in Leon in the first place, volcano boarding.
Though there are a number of arguments of who first started volcano boarding on Cerro Negro, but there is no question that it's a blast. You won't go as fast as Eric Barrone who set a speed record of 172 km/h but you might manage to beat the top speed of a sand board at around 90 km/h.
For those of you averse to speed (like me) you can always go slower. Another option is to do as many of the guides and run down the hill. It's kind of a cross between jumping on the moon, running like an antelope, and looking like an idiot if you wipe out.
Though the simplicity of this hike means it would be easy to do on your own; the location, history, and advice on how to ride the boards make taking a tour well worth it.
When booking this tour I suggest making sure your insurance is up to date as well as asking if the guide company has a first aid kit. Generally no one gets hurt, but I've had to aid other tour companies occasionally.
Things to consider before you hike volcanoes in Nicaragua
There are few things that will greatly affect the quality of your trip greater than your guide and the company they represent.
A knowledgeable guide, well equipped with general gear and first aid equipment doesn't just make the difference when things are going well, but they will be better prepared for problems that can potentially arise. Try to find reviews on Facebook, Trip Advisor, or other sources.
What to ask the tour or guide company in Nicaragua
If you're borrowing gear, can you have a look at it first; see if it will fit and is in good condition.
Can you meet your guide in advance?
What first aid equipment do they carry?
Does the guide speak your language as many only speak Spanish?
What happens if you get sick or hurt and have to get off the hike? (This happens more often than most people anticipate)
Where does the money go or how do they support the local community? Most of the better companies I've encountered are geared to help the communities through which the hike passes.
Other hikes in Nicaragua
Here are a few of the other hikes you can do in Nicaragua and while many are quite good, if your time is limited I'd stick to the ones above.
Volcan San Cristobal (Difficult)
Volcan El Hoyo (Medium)
Sumoto Canyon (Easy)
Northern Highlands (Easy)
Volcan Concepción (Difficult)
Volcan Maderas (Difficult)
Volcan Casitas (Difficult)
Volcan Mombacho
2020 Update
After the recent tragedy in New Zealand, be sure that the volcano you set off to hike in Nicaragua is indeed safe. Don't forget that Mother Nature is in control. If it doesn't feel right, or you've heard rumours, give the hike a pass.
How about a guided trip?
Check out the 12-day Guided Nicaragua Hiking Tour that takes you on an unforgettable journey through the natural wonders of Nicaragua. One of the highlights is pitching a tent near the active Telica Volcano.
Further reading on hikes in Central and South America
Click on the photo to bookmark to your Pinterest boards.
This guest post was kindly written by Chris Vervaeke. He is a hiker, photographer, and blogger who found himself slow traveling after breaking his foot in Guatemala and being forced to see the light. Follow Chris' adventures, musings, and mishaps as he travels the world on Anywhereing.