I am a big fan of cross-country skiing in Banff National Park for many reasons. Even on the coldest days you stay warm unlike my experience downhill skiing. You see some of the most pristine country on the planet – often with few people around.
The backdrop is incredible – snowy mountain peaks, quiet forest trails, silent rivers save for the odd gurgle under the ice, and animal tracks galore. At the end of the day, I highly recommend immersing yourself in the hot steamy waters of the Banff Hot Springs.
Before you go cross-country skiing in Banff National Park
Permits: Be sure to purchase a Parks Canada pass before you head out cross country skiing in Banff. You can purchase it online, at the park entrance or in person at the Banff Visitor Centre at 224 Banff Avenue.
Weather: It's a good idea to look at the weather forecast before you drive to Banff National Park.
Dogs: Most cross-country ski trails in Banff are not dog-friendly. My favourite place to go with my dog is Nipika Mountain Resort.
Go prepared: Pack the 10 essentials no matter what the forecast or trail rating. Choose a cross-country ski trail that is suited to your ability. And let someone know where you are going and when you're due back.
Avalanches: If you plan to go cross-country skiing in Banff in avalanche country, you need to have the gear and know-how. Check Avalanche Canada reports before you go. I personally recommend avoiding avalanche slopes altogether.
Trail conditions: Check Banff National Park trail reports before leaving home! I also recommend looking at the skier generated live grooming reports from SkierRoger. They are accurate.
This post includes some affiliate links. If you make a qualifying purchase through one of these links, I will receive a small percentage of the sale at no extra cost to you. Thank you very much for your support.
Location map of cross-country skiing trails in Banff National Park
My top three picks for cross country ski trails in Banff
The Fairview and Tramline trails are known for their great snow. I love the wintry beauty in this area.
The Cascade Fire Road may not sound that interesting, but there's lots of variety and you can have an epic day if you ski all the way to the ranger's cabin.
The Pipestone Trails near Lake Louise are in a beautiful area. Lots of variety along the trails.
Where can you rent cross-country skiing equipment in Banff
You can rent cross-country ski equipment in Banff at Ultimate Sports Banff and at Snowtips-Bactrax. In Lake Louise rent equipment and buy any last minute clothing you need at Wilson Mountain Sports.
When can you go cross country skiing in Banff?
The cross country skiing season in Banff usually lasts from late November to early April, depending on the year. Snow is almost always better early on the higher elevation trails.
If you're keen to get going in November, Moraine Lake Road, the Great Divide Trail, and the Fairview and Tramline trails are excellent options. I have also skied the Cascade Fire Road under good conditions in late November.
By early April, there may be snow, but people's enthusiasm seems to wane. Often the snow is sticky too, which makes for tough conditions.
Lake Louise area cross country skiing trails, Banff National Park
1. Pipestone cross-country ski trails near Lake Louise
Distance: Variable but up to 13.3 km on the Pipestone Loop.
Difficulty: Easy to moderate depending in how far you ski.
The Pipestone Trails include the easy Hector (3 km one way), Drummond (2.7 km one way) and Merlin Trails (2.3 km one way) as well as the 13.3 km Pipestone Loop and the 3.5 km one way trail from Baker Creek to Protection Mountain Campground.
The trails are accessible via a short road signed for Pipestone just 0.7 km north of the Lake Louise overpass. There really is something for everyone on the Pipestone trail network. The snow is usually very good. I like the outer Pipestone Loop loop as it takes you through the woods and past open meadows with excellent views of the Lake Louise Ski Resort.
2. Fairview and Tramline Trails, Lake Louise Area
Distance: 7.5 km loop
Difficulty: Easy to moderate if you head all the way down and up to Lake Louise Village
The Fairview Trail is a beautiful track-set loop trail that takes you through the forest, but it opens up enough to provide some great views. There are no big climbs – just a series of small ups and downs – enough to make it interesting.
The height gain in total is only 50 metres. It shouldn't take you more than two hours to do it. Start at the far end of the furthest parking lot from Chateau Lake Louise. Look for signs saying Fairview Trail. It's also called the number 2 trail.
Once you're on it, it's very well signed and easy to follow. You can make a longer day of it by adding the Tramline Trail to the Fairview Loop – and that allows you to ski from Lake Louise all the way down to Lake Louise Village – and unless you have a car down there you'll have to ski back up.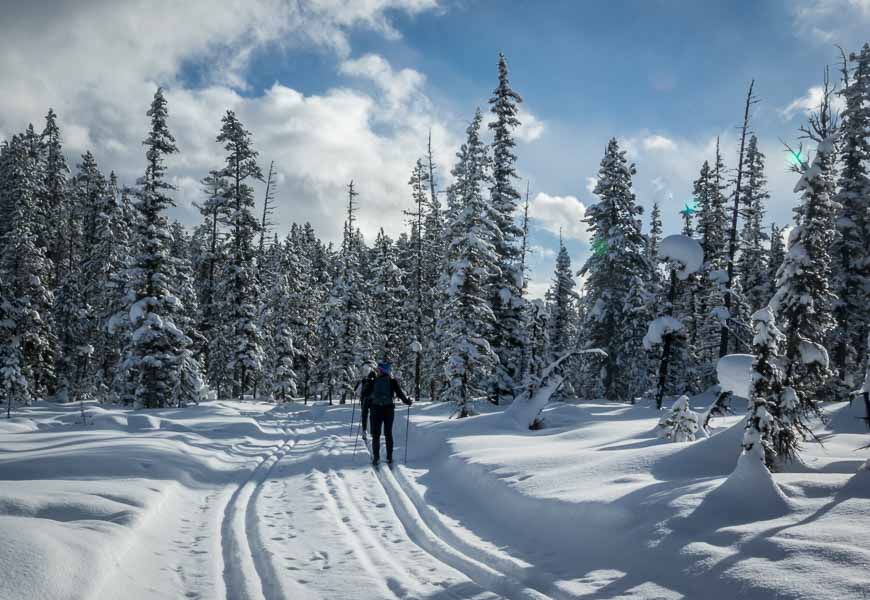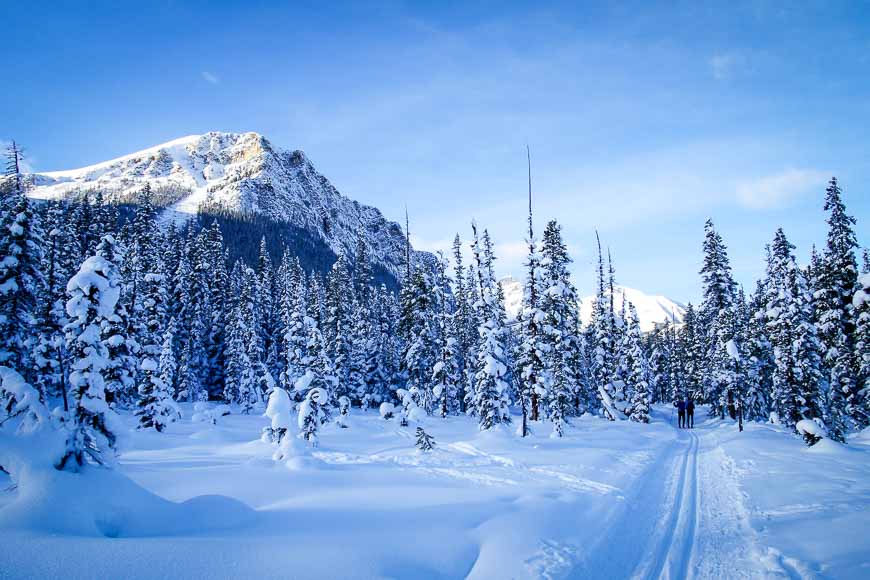 3. Lake Louise Shoreline Trail
Distance: 6 km return
Difficulty: Easy
If you're new to cross-country skiing this is a great trail to do. Not only is it flat, but it's very pretty, even if you don't feel far from civilization. Sometimes you can even ski across Lake Louise, but you'll need to know that the ice is safe if you're going to do that.
More advanced skiers with avalanche gear, training and know-how have the option of skiing up to the Plain of Six Glaciers, adding 10 kilometers to the day. On weekends you will often find ice climbers at the end of the trail.
4. Moraine Lake Road
Distance: 16 km round-trip
Elevation gain: 250 m
Difficulty: Easy
The Moraine Lake Road is always one of the first places you are able to cross-country ski. The snow comes early and stays late, usually into April. It's 16 km round trip with just 250 metres of elevation gain if you go up as far as the lookout. Cross-country skiing to Moraine Lake takes you across avalanche chutes and isn't recommended unless you know what you're doing. It's 22 km round-trip to Moraine Lake itself. It's always a quick ski back to the parking lot.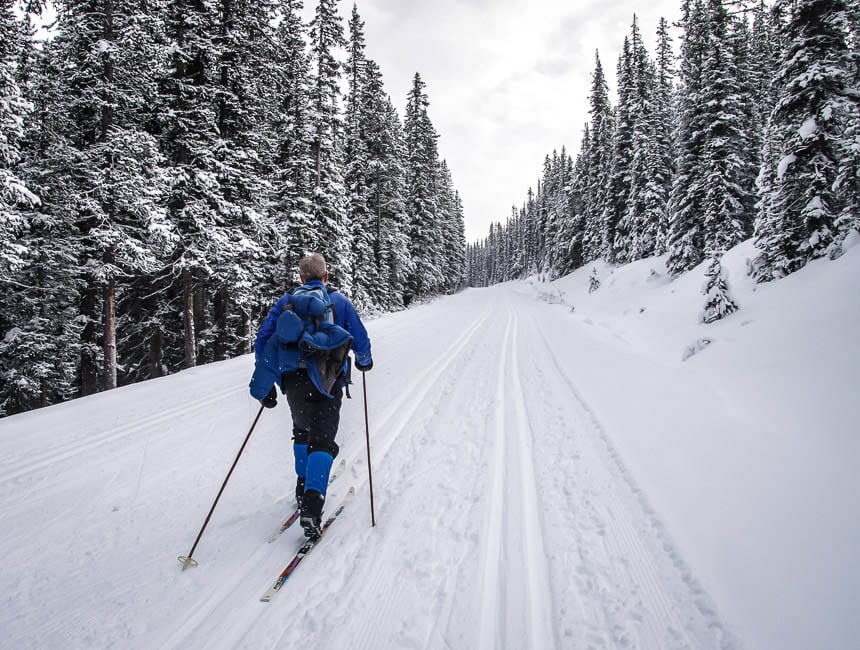 5. Great Divide Trail
Distance: 20 km return but options to go as far as you like and retrace your steps.
Elevation gain: 127 m
Difficulty: Easy to moderate depending on if you ski the whole 20 km return
The Great Divide Trail follows Old Highway 1A so it doesn't have a lot of elevation gain or loss. It's a good one for beginners or families with young kids. It is track-set from Lake Louise all the way to a trailhead and parking lots just above the Lake O'Hara parking lot. It's 10 km one way with an elevation loss of 60 metres. Go as far as feels comfortable and retrace tour steps. From the Great Divide Trail you can ski up to Ross Lake in Yoho National Park.
Expect to see snowshoers, fat bikers and people out dogsledding.
Banff area cross-country ski trails
1. Cascade Fire Road near Lake Minnewanka
Distance: Most people do and out and back to the Cascade Bridge – 10.4 km return. It's up to 30 km return if you ski all the way to the warden's cabin.
Difficulty: Easy to hard depending on how far you go.
The Cascade Fire Road is exactly that – a fire road from the Lake Minnewanka parking lot that doubles as a track set cross-country ski trail in the winter. It gets great early season snow and it's one of the first in the area to be track set.
The Cascade Fire Road is an easy cross-country ski unless you elect to ski out and back to the warden's cabin – and that's 15 kilometres up the road one way. Then you've got a four to six hour day on your hands – but it's lovely – and if you're up for it I highly recommend it.
Otherwise there is only one major hill near the beginning of the trail but it's gradual and swiftly dispatched. The rest of the trail is either flat or offers gently rolling hills. Reach a bridge about 90 minutes into the ski outing – a common place for skiers to turn around. But I'd encourage you to ski at least another 15 – 20 minutes so you can enjoy some really pretty views.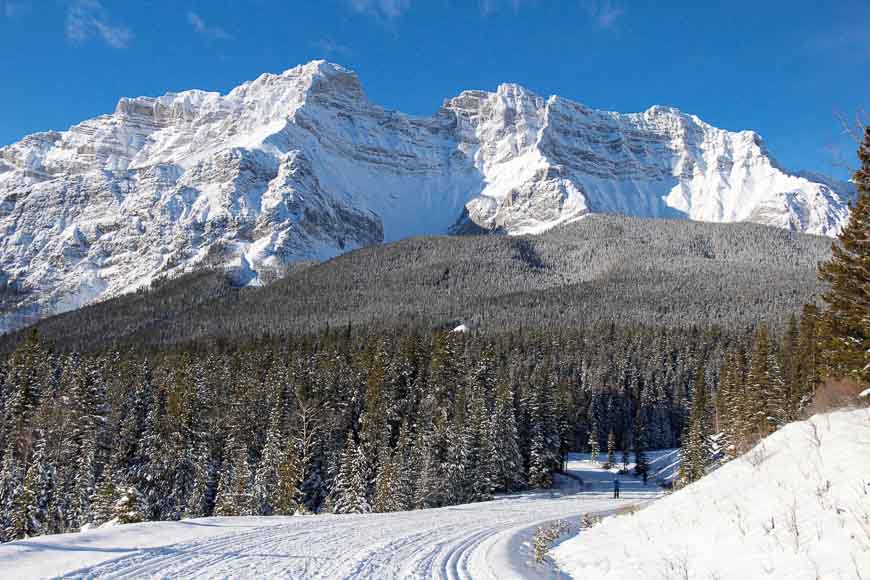 2. Cave and Basin Trails plus Old Healy Creek Road
Difficulty: Easy
Park at the refurbished Cave and Basin National Historic Site in Banff and walk behind the buildings and over to the ski trail. You'll probably get a whiff of rotten eggs as you go – as this is hot springs country. As an aside, garter snakes are fond of the hot springs so there must be a lot of them around this area come the spring.
The Cave and Basin trails can be walked, skied or snowshoed. They are super easy but they are very worthwhile especially after a fresh dump of snow on a sunny day. Mountain views are great and if you have the time it's worth checking out Sundance Canyon. Leave your skis behind and investigate the canyon on foot.
You can also ski a loop trail through the marshlands which is quite scenic around the Bow River.
For stronger skiers it's possible to ski into Sundance Lodge and spend the night – something I highly recommend doing.
It's possible to ski about 16 kilometres in total between the Cave and Basin and Old Healy Creek Trails. There are small hills on the Old Healy Creek Trail but nothing of any note on the Cave and Basin trail.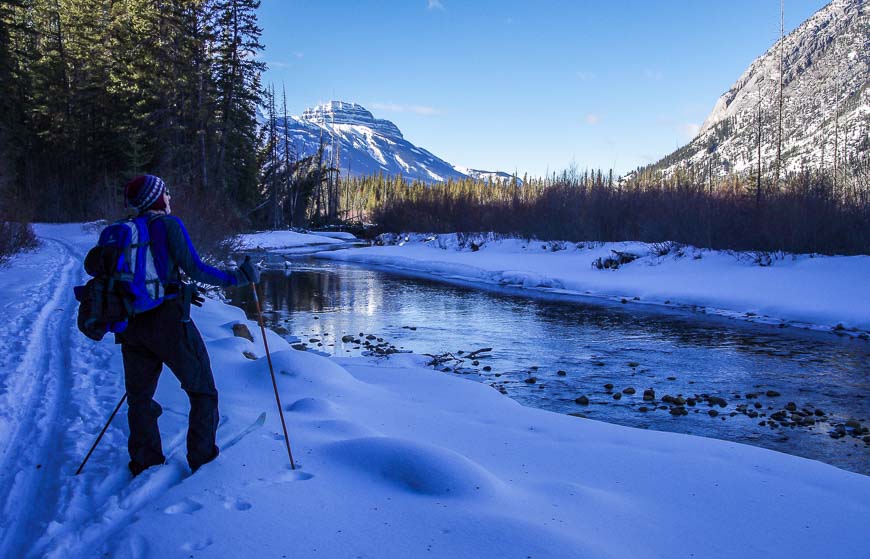 3. Boom Lake
Distance: 10 km return to Boom Lake and more if you ski on the lake
Elevation gain: 180 m
Difficulty: Easy to moderate
The Boom Lake cross-country ski trail is fun. Located in Banff National Park near the boundary of Kootenay National Park, it's a 5 km ski in to Boom Lake with an elevation gain of just 180 m 591 feet).
Once you get to Boom Lake you can ski in either direction BUT make sure the ice is safe and be aware of avalanche slopes that come down to the lake. You can ski the trail in about two hours if you ski fast.
4. Spray River trail
Distance: 11.4 km loop
Elevation gain: 75 m
Difficulty: Easy
The Spray River trail, which starts just past the Banff Springs Hotel, is best skied after a snowfall. It's 5.7 km one way to the bridge over the Spray River. Elevation gain is an easy 75 metres. You can do it as an out and back or as a loop, but the difficulty level goes up a notch with the loop. The trail roughly parallels the river so there are plenty of peek a boo views.
Be prepared to share the trail with snowshoers, winter hikers, and fat bikers.
5. Redearth Creek
Distance: 12.9 km one way to Shadow Lake Lodge but turn around at any time.
Elevation gain: 520 m
Difficulty: Hard
If you cross-country ski up Redearth Creek for 12.9 km you will reach Shadow Lake Lodge. The last three kilometres are NOT track set. While the lodge is a lovely spot to spend a few days, there is the option hardy skiers to ski up and down in a day. If you're going to do that, I'd recommend you continue for a kilometre past the lodge so you can enjoy a great view of Mt. Ball above Shadow Lake. Count on a long but rewarding day if skiing.
6. Goat Creek and Spray River Trail
Distance: 19.8 km one way – and you'll need a shuttle to get back (or a long ski back all uphill)
Difficulty: Moderate
If you like the thought of cross country skiing a one-way trail that ends in Banff, start above Canmore at the Goat Creek parking lot and cross-country ski all the way to the Banff Springs Hotel, a distance of 19.8 km. There is an elevation gain of 435 m and a loss of 160 m. Allow three to five hours one way.
The first part of the trail doesn't normally get track set, but once you meet up with the Spray River trail, you should enjoy track-set trails. It's one of the prime cross-country ski day trips in Alberta, but getting back to your starting point above Canmore may be the crux of the outing.
7. Castle Junction
Distance: 10 km return
Difficulty: Easy
Cross-country ski from Castle Junction to Baker Creek Mountain Resort, paralleling Highway 1A for about 5 km. The trail is track-set and does weave through pretty country, even if it is close to the highway. Allow two to three hours to do the return ski.
What to take cross-country skiing in Banff
You're going to want to stay warm, so be sure to dress in layers. Carry hand warmers, energy bars, and pack a thermos with something hot to drink.
If you're driving to Banff National Park, always go prepared as snow storms can roll in very quickly. Be sure to pack a snow shovel and an emergency car kit.
If you need more ideas on where to cross-country ski in Alberta, I highly recommend the book – Ski Trails in the Canadian Rockies.
Where to stay in Banff National Park
Some of my favourite hotels in Banff include the Moose Hotel – great location, Buffalo Mountain Lodge – excellent restaurant and wood-burning fireplaces plus a huge outdoor hot tub and the Fairmont Banff Springs Hotel when I'm looking to splurge.
If you want to be on Lake Louise itself it will be expensive. The Fairmont Chateau Lake Louise enjoys the best views of the lake but with a price.
Deer Lodge is a more affordable option and just a short walk away from the lake. Their updated rooms are great.
In Lake Louise Village the Post Hotel and Spa is lovely and the food is great but it's not on the lake.
If it's cozy log cabins you're after check out Baker Creek Mountain Resort.
An affordable hostel option is this one in Lake Louise.
Further reading on cross-country skiing
Click on the photo to bookmark to your Pinterest boards.