I am a big fan of the cross-country ski trails in Banff National Park for many reasons. Even on the coldest days you stay warm unlike my experience downhill skiing. You see some of the most pristine country on the planet – often with few people around.
Check out these 5 suggestions for easy cross country ski trails in Banff National Park. Remember to always go prepared with the 10 essentials no matter what the forecast or trail rating. At the end of the day I highly recommend immersing yourself in the hot steamy waters of the Banff Hot Springs.
Check trail reports before leaving home!
This post includes some affiliate links. If you make a qualifying purchase through one of these links, I will receive a small percentage of the sale at no extra cost to you. Thank you very much for your support.
Location map of Banff the cross-country ski trails
Cross-country skiing on the Pipestone Trails near Lake Louise
The Pipestone Trails, accessible via a short road signed for Pipestone just 0.7 kilometres north of the Lake Louise overpass have something for everyone.
Twenty one kilometres of mostly easy skiing is available. The snow is usually very good. I like the outer loop. It's 13 kilometres long and takes you through the woods and then through open meadows with excellent views of the Lake Louise Ski Resort.
Cross-country skiing the Fairview and Tramline Trails, Lake Louise Area
The Fairview Trail is actually a 7.5 kilometre loop. It's a beautiful track-set trail that takes you through the forest but it opens up enough to provide some great views.
There are no big climbs – just a series of small ups and downs – enough to make it interesting. The height gain in total is only 50 metres. It shouldn't take you more than two hours to do it. Start at the far end of the furthest parking lot from Chateau Lake Louise. Look for signs saying Fairview Trail. It's also called the number 2 trail.
Once you're on it, it's very well signed and easy to follow. You can make a longer day of it by adding the Tramline Trail to the Fairview Loop – and that allows you to ski from Lake Louise all the way down to Lake Louise Village – and unless you have a car down there you'll have to ski back up.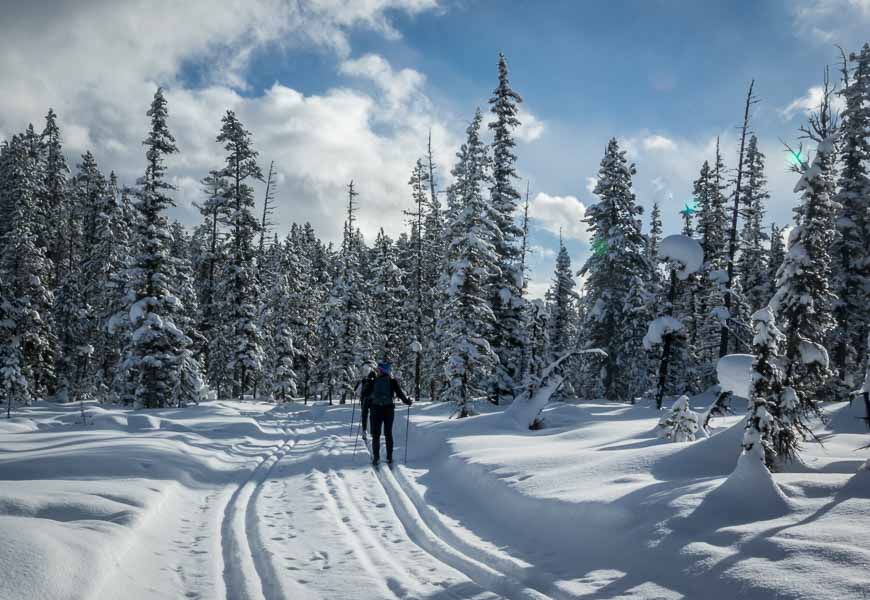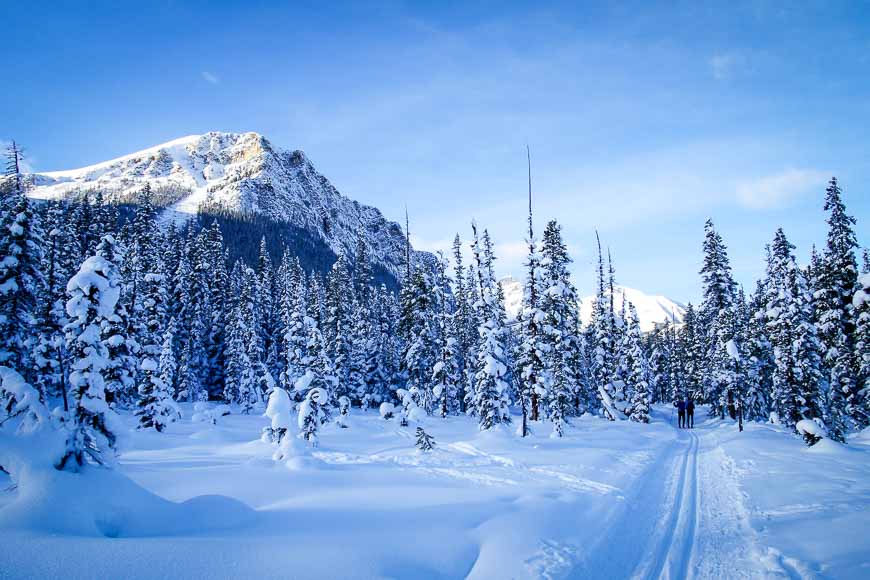 Skiing the Lake Louise Shoreline Trail
If you're new to cross country skiing this is a great trail to do. Its 6 kilometres return. Not only is it flat but it's very pretty, even if you don't feel far from civilization. Sometimes you can even ski across Lake Louise, but you'll need to know that the ice is safe if you're going to do that.
More advanced skiers with avalanche gear, training and know-how have the option of skiing up to the Plain of Six Glaciers, adding 10 kilometers to the day. On weekends you will often find ice climbers at the end of the trail.
Cascade Fire Road cross-country skiing near Lake Minnewanka
The Cascade Fire Road is exactly that – a fire road from the Lake Minnewanka parking lot that doubles as a track set cross-country ski trail in the winter. It gets great early season snow and it's one of the first in the area to be track set.
The Cascade Fire Road is an easy cross-country ski unless you elect to ski out and back to the warden's cabin – and that's 15 kilometres up the road one way. Then you've got a four to six hour day on your hands – but it's lovely – and if you're up for it I highly recommend it.
Otherwise there is only one major hill near the beginning of the trail but it's gradual and swiftly dispatched. The rest of the trail is either flat or offers gently rolling hills.
You'll reach a bridge about 90 minutes into the ski – a common place for skiers to turn around. But I'd encourage you to ski at least another 15 -20 minutes so you can enjoy some really pretty views.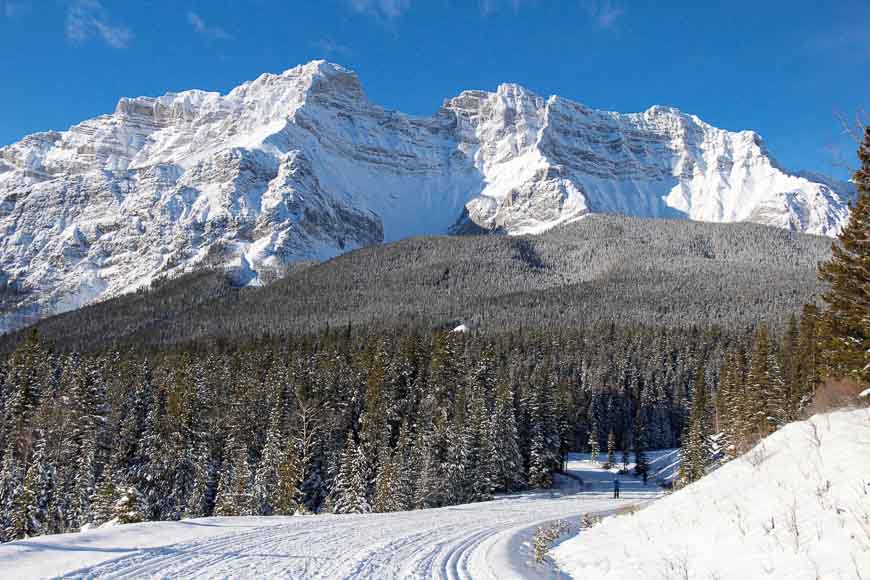 Cave and Basin Trails plus Old Healy Creek Road – one of my favourite cross country ski trails in Banff
Park at the refurbished Cave and Basin National Historic Site in Banff and walk behind the buildings and over to the ski trail. You'll probably get a whiff of rotten eggs as you go – as this is hot springs country. As an aside, garter snakes are fond of the hot springs so there must be a lot of them around this area come the spring.
The Cave and Basin trails can be walked, skied or snowshoed. They are super easy but they are very worthwhile especially after a fresh dump of snow on a sunny day. Mountain views are great and if you have the time it's worth checking out Sundance Canyon too.
Leave your skis behind and investigate the canyon on foot. For stronger skiers it's possible to ski into Sundance Lodge and spend the night – something I highly recommend doing.
Continue all the way to the Sunshine Road though back in 2013 floods made a mess of the trail just 300 metres before you reach the road. Still it's possible to ski about 16 kilometres in total between the Cave and Basin and Old Healy Creek Trails.
There are small hills on the Old Healy Creek Trail but nothing of any note on the Cave and Basin trail.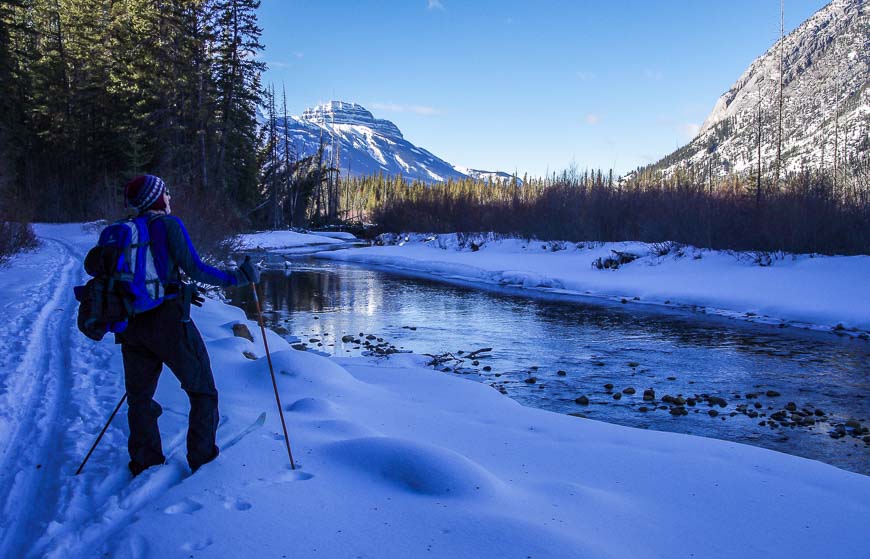 Where to stay in Banff National Park
Some of my favourite hotels in Banff include the Moose Hotel – great location, Buffalo Mountain Lodge – excellent restaurant and wood-burning fireplaces plus a huge outdoor hot tub and the Fairmont Banff Springs Hotel when I'm looking to splurge.
If you want to be on Lake Louise itself it will be expensive. The Fairmont Chateau Lake Louise enjoys the best views of the lake but with a price.
Deer Lodge is a more affordable option and just a short walk away from the lake. Their updated rooms are great.
In Lake Louise Village the Post Hotel and Spa is lovely and the food is great but it's not on the lake.
If it's cozy log cabins you're after check out Baker Creek Mountain Resort.
An affordable hostel option is this one in Lake Louise.
Further reading on cross-country skiing
Click on the photo to bookmark to your Pinterest boards.