Fall is a marvelous time in Alberta for hiking. The crowds are gone, so are the bugs and even though the wildflowers have died back, there's usually some colour left in the woods. Plus it's always a treat to have a Rocky Mountain backdrop.
I've chosen these five fabulous fall hikes near Calgary (okay within a two hour drive of Calgary) to get you outside having fun until the snow flies and in some cases even after the snow has stayed. One of them, Prairie Mountain, you can do year-round and Upper Kananaskis Lake is usually fine until sometime in November.
This post includes some affiliate links. If you make a qualifying purchase through one of these links, I may receive a small percentage of the sale at no extra cost to you. Thank you for your support.
Prairie Mountain near Bragg Creek
This is my year-round go to hike that delivers a great workout and killer views – with the trailhead just 45 minutes from my Calgary doorstep. Its 7.6 km return over a 726 m elevation gain.
The hike is relentlessly steep until you pop out of the woods so it's a great one to do to get into shape – or to stay in shape. If there's snow on the ground take some "icers" and hiking poles to make the going a little easier. Fit hikers should allow two to three hours.
You'll find the trailhead about 15 minutes from Bragg Creek across from Elbow Falls by the winter gates. (The gates are closed from December 1st until May 15th.) There is a parking lot with room for about 15 cars directly across from the trailhead, and parking along the highway is permitted.
You can also park in the large lot used to access Elbow Falls. There is an outhouse there as well.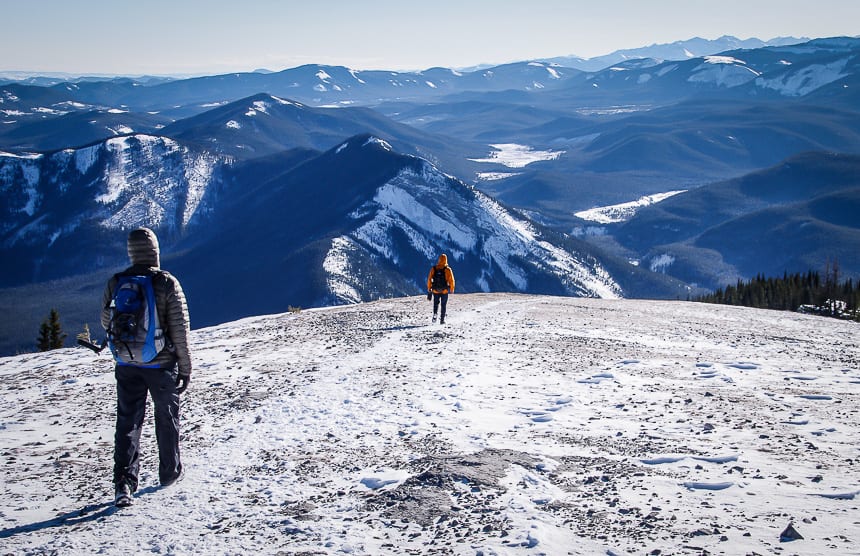 Fairview Mountain, Lake Louise area
It's a steep 1,014 m climb from the shores of Lake Louise to the summit of Mount Fairview but it's worth doing for the superlative views over Lake Louise and the Bow River Valley.
The 10.6 km return hike will take fit hikers between four and five hours to do. Many people opt to turn around at the Saddleback – 600 m up, a worthy turn around point if you're short on time especially in larch season.
Otherwise I recommend continuing – and just slowing down if you find it aerobically challenging. In October there's a good chance snow will already be on the ground as it was for us. (Continue only if it's a small amount.) Take a pair of "icers" to make the final few hundred metres of hiking both safer and easier.
The trailhead is easy to find. After parking at Lake Louise, head for the lake itself and look for the building that rents canoes. You'll see signage around there.
Read: A Hike to the Summit of Fairview Mountain
Buller Pass, Kananaskis Country – one of the exceptional fall hikes near Calgary
All you need is four hours to do the 7.3 km one way hike to Buller Pass. The trail climbs 670 m but at a moderate angle.
Even the first hour through mossy woods is extremely pleasant. In mid-September you'll encounter larches – nothing on the scale of Larch Valley in Banff National Park, but enough to kick up the beauty of the hike a few notches.
The pass itself offers incredible views down to Ribbon Lake, a popular camping spot in the summer and over to Guinn Pass. Look the other way and you'll see unmistakable Mount Assiniboine.
You'll find the trailhead along the Smith Dorrien – Spray Lakes Trail, 31 km up from the Canmore Nordic Centre. The trail starts directly across from the Buller Mountain day use area.
Read: The Stunning Hike to Buller Pass in Kananaskis Country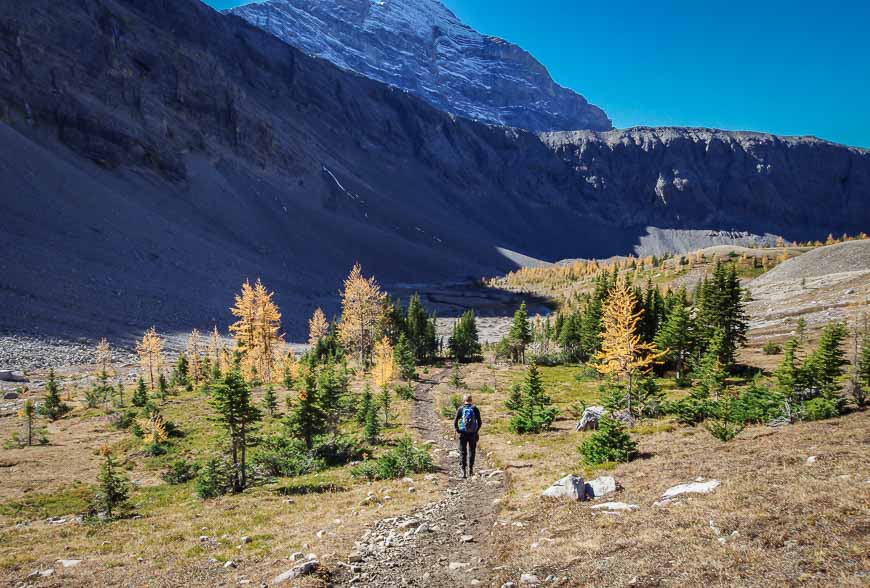 Chester Lake, Smith Dorrien Road
Chester Lake is an awesome hiking destination come fall. Catch it after a light snow and it's even prettier. The hike is a moderate 4.5 km one way with an elevation gain of approximately 290 m, most of which happens at the start of the hike.
Circumnavigate the lake for a real mix of views, including that of Fortress Mountain. In summer the trail doesn't open until the beginning of July – but always check the Kananaskis Parks website for closures. I went up in early July and it was temporarily closed because of bear activity.
Once the snow sticks visit Chester Lake on snowshoes or cross-country skis. It's a real winter wonderland.
The Chester Lake trailhead is easy to find. The large parking lot is 46 km south of Canmore on the Smith Dorrien/Spray Lakes Trail across from the Burstall Pass parking lot.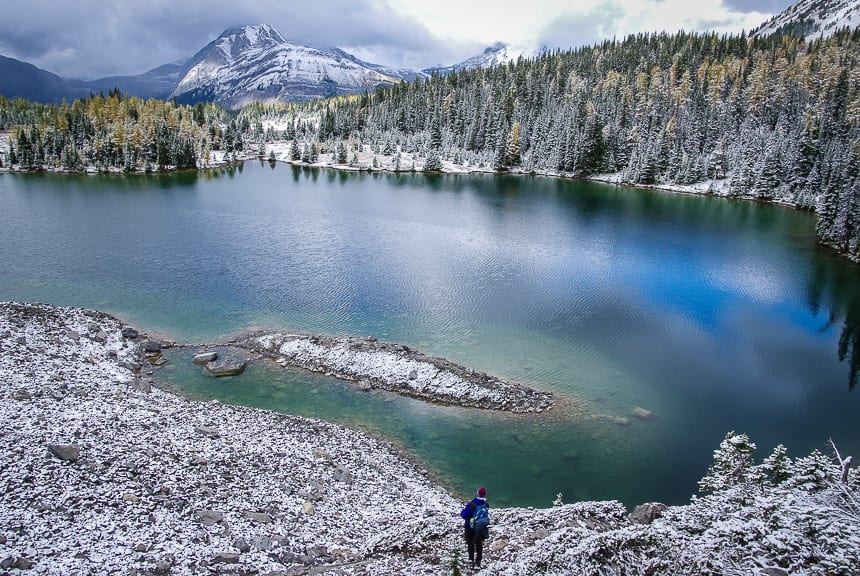 Upper Kananaskis Lake, Kananaskis Country
I'd rate the 15.8 km hike around Upper Kananaskis Lakes as a moderate hike, only because of its length. There isn't a lot of vertical gain – at most 60 m above the lake but the trail is undulating so by day's end you certainly feel like you've had your exercise.
The views are ever-changing and quite glorious, especially if you've scored a sunny day. Aim for a lunch stop at the lovely Point Backcountry Campground, one of the nicest campgrounds I've seen in Alberta offering private campsites with awesome views, tent pads, picnic tables and plenty of firewood. We took five hours to do the hike with lots of stops for photos and lunch.
You'll find the trailhead via Highway 40 and Highway 742. There are a couple of parking options but if you're planning to circumnavigate the whole lake it doesn't matter where you start.
Read: A Loop Hike Around Beautiful Upper Kananaskis Lake
What to wear in the mountains on a fall hike
Layering is key when you head to the mountains for a fall hike. You may start off needing a down coat and by mid-afternoon you're in a t-shirt.
I usually wear an Icebreaker merino wool t-shirt and then throw a warmer long-sleeved quick-dry shirt on top. For added warmth early in the morning I'll include a fleece. My go to outer layer that can be mixed and matched with short or long-sleeved shirts is a Patagonia down jacket with a hood. It weighs nothing so it's always in my pack. I always like to have a buff too as it takes up almost no room.
For footwear my Salomon GoreTex hiking boots are my new go to hiking boots. They were awesome and super comfortable on an 18 day trek in northern India. Always throw in a hat and mitts or gloves along with your 10 hiking essentials.
Read: Tips on How to Break in Hiking Boots
A few other fall hikes to consider
Click on the photo to bookmark to your Pinterest boards.