The five best hikes near Boulder, Colorado described in this post were chosen from my experience living in the city and hiking extensively over a 10-year period. My love of mountain hiking got its start with a move to Boulder in the early 90's. I couldn't get enough of the mountains and high alpine scenery – plus it was a cheap way to get out and enjoy a new landscape with my young family.
I have written very little on Colorado, partially because the pictures I took in those days are awful. But these are all trails I have hiked repeatedly and are near and dear to my heart. Most trailheads – save for the ones in Rocky Mountain National Park, are within an hour of the city. I think these are the best hikes near Boulder, appreciating that any hiking around the Boulder Flatirons is pretty darned great.
This post includes some affiliate links. If you make a qualifying purchase through one of these links, I may receive a small percentage of the sale at no extra cost to you. Thanks you very much for your support.
Arapaho Pass and South Arapaho Peak hike near Boulder
Two of the best hikes near Boulder include Arapaho Pass and South Arapaho Peak. These two destinations share a common trailhead – the Fourth of July Trailhead, accessed via a rough five miles of dirt road that starts after you get through the small hamlet of Eldora – shortly after the turnoff to the Eldora Ski Resort. The trailhead is hopping busy so get there early to get a parking spot.
I have been told that the trailhead gets its name from the red, white and blue wildflowers that bloom in abundance around July 4th. It's a magnificent sight and truly one of the best times to hike the trail.
The hike climbs steadily for 1.8 miles until you reach the Fourth of July Mine – and the intersection to the Arapaho Glacier Trail – that takes you towards South Arapaho Peak.
The views if you climb South Arapaho Peak (13,400 feet) are nothing short of spectacular. Be warned that thunderstorms are common in summer so you should plan to be descending by noon.
The peak does require a bit of route-finding – nothing major – but you should be comfortable picking your way through boulders. There is the option of traversing to North Arapaho Peak as well but that's not for novices.
For those not inclined to climb a peak, continue on the obvious trail past the Fourth of July Mine to reach Arapaho Pass at an elevation 11,906 feet. Enjoy lunch here before returning or descend 750 feet to reach Caribou Lake. It's another nine miles through the trees to reach Monarch Lake – but I've never done that section of the trail.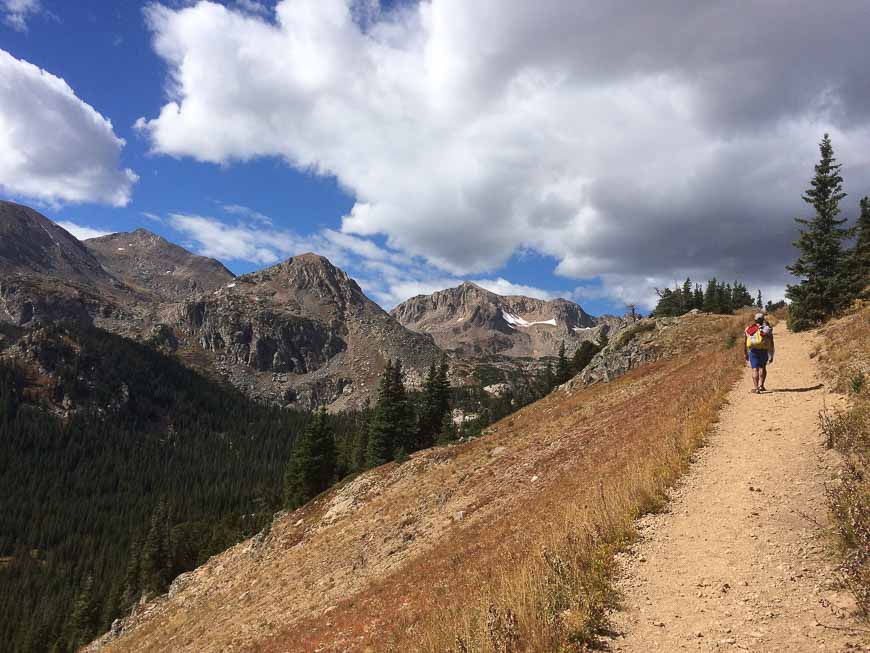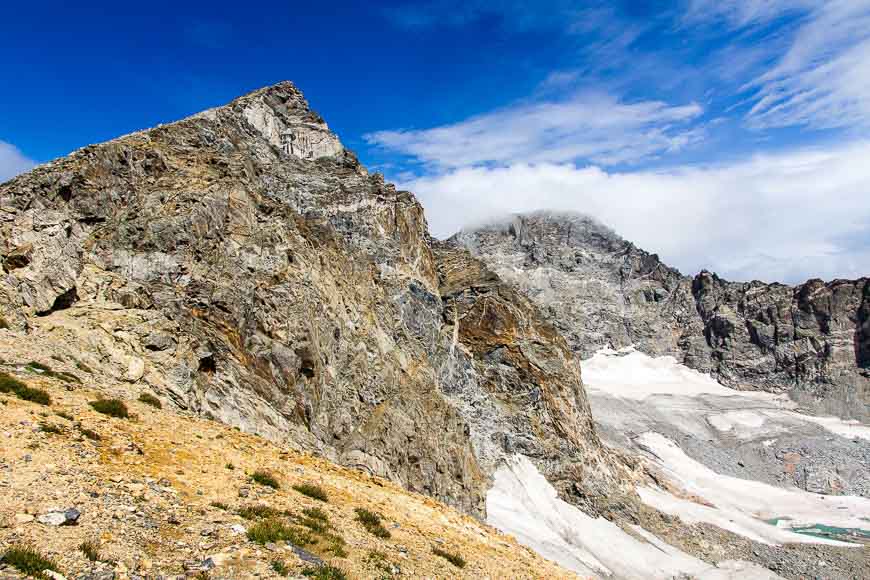 Brainard Lake Recreation Area hikes
Blue Lake in the Brainard Lake Recreation Area is a great destination, accessed from the Mitchell Lake Trailhead The hike is only 5.1 miles return and there's less than a thousand feet of elevation gain.
It's under a mile to hike in to Mitchell Lake. From there cross the Mitchell Lake Inlet and work your way up to Blue Lake. The wildflowers can be out-of-the-world spectacular on this hike. The alpine scene at Blue Lake is also lovely.
From the shore of the lake you can see four peaks – Mt Toll, Mount Audubon, Little Pawnee Peak and Paiute Peak.
The Brainard Lake Recreation area can get busy and as this is a popular trail, so arrive early. There's a fee to enter the Brainard Lake area. Check their website for up to date pricing as well as opening and closing times. Access is via Brainard Lake Road off the Peak to Peak Highway.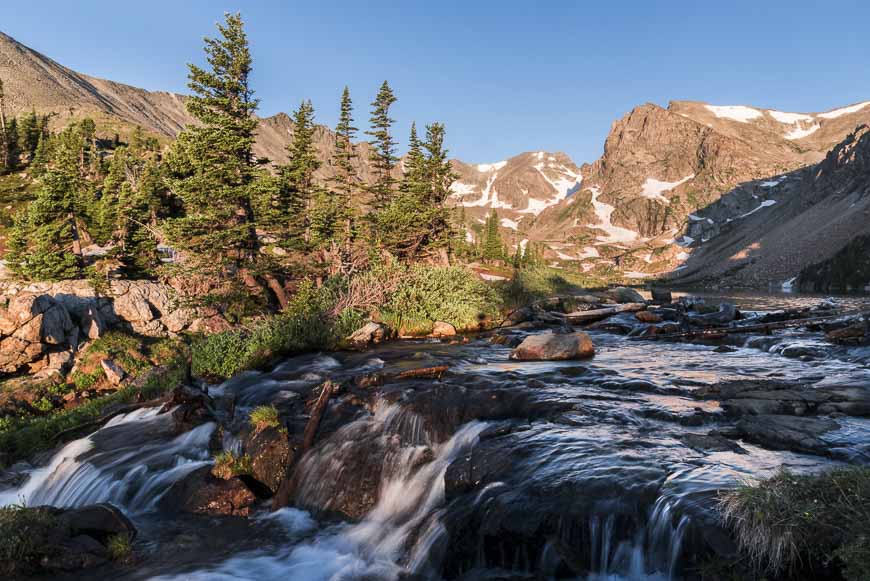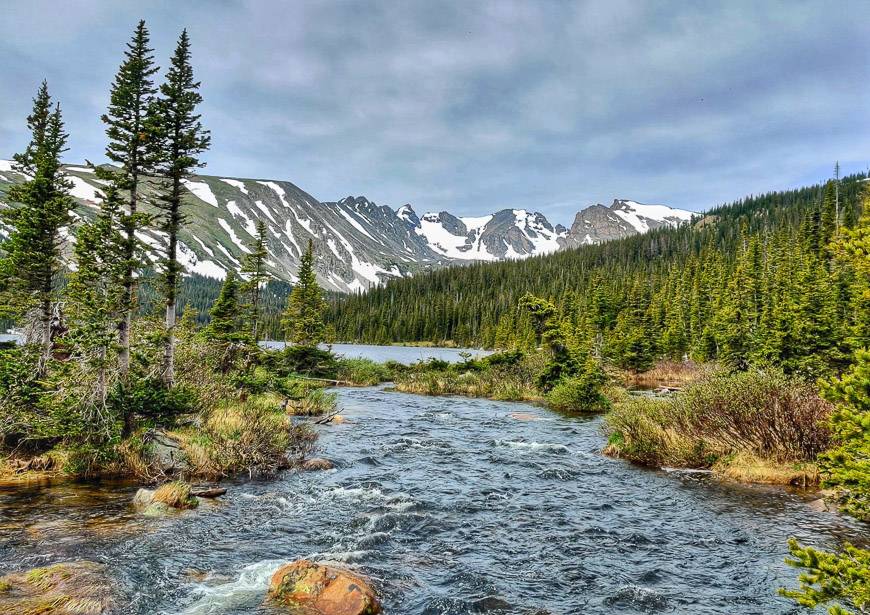 Bear Lake to Fern Lake in Rocky Mountain National Park – one of the best hikes near Boulder
This is one of my favourite hikes in Rocky Mountain National Park. The beauty of it, is that you can do it as a one way, 9.2 mile hike (with an elevation gain of 1,230 feet) if you use the shuttle.
Start at the Bear Lake Trailhead if you prefer a lower elevation gain – and park your car at the Fern Lake Trailhead. Carry a map with you so you know exactly where you're going as there are a number of trail intersections along the route.
Start on the heavily used Bear Lake trail but head for Odessa Lake. Along the route enjoy fantastic views of Long's Peak, Chief's Head Park, Pagoda Peak and the Keyboard of the Winds – and that's just in one of the areas.
Beware of the slopes on Joe Mills Mountain. They can hold snow and ice well into July. Poles may come in handy here. Near the end you follow the Big Thompson River – a cooler spot in the heat of the summer.
To reach Rocky Mountain National Park, take Highway 36 through Estes Park and follow the signs. Arrive early at the Fern Lake trailhead so you can get parking. Read about Park and Ride plus what you need to know about the shuttle buses.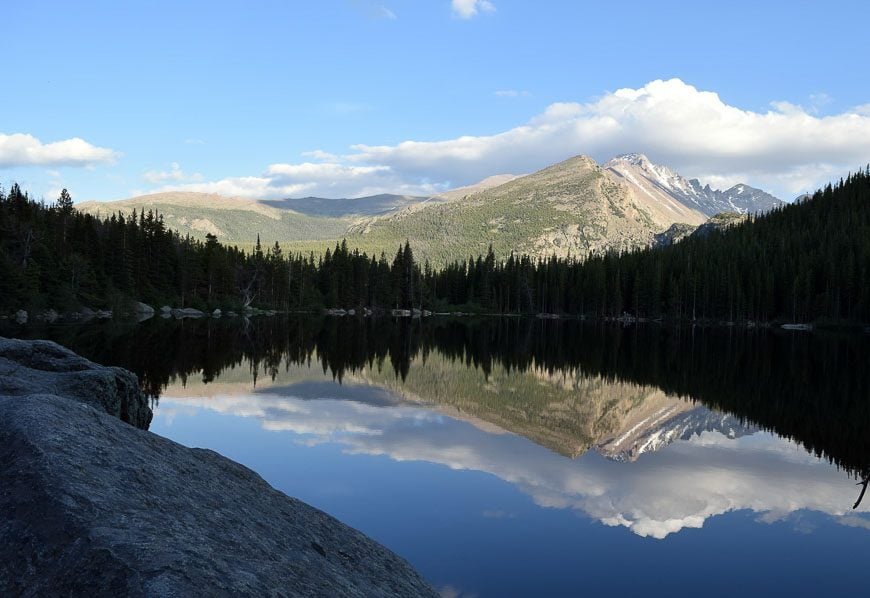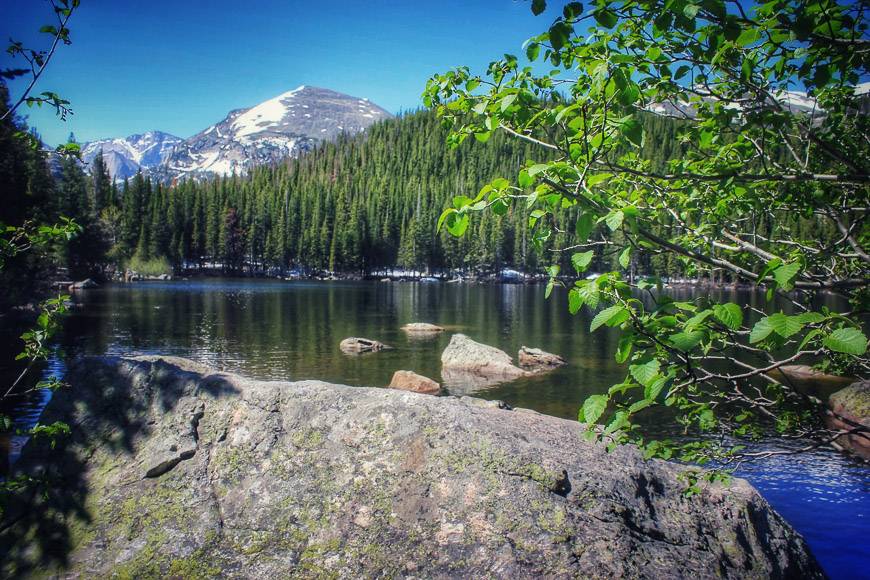 Chasm Lake hike in Rocky Mountain National Park – one of the exceptional hikes near Boulder
This is another favourite hike in Rocky Mountain National Park. I love the view of the east face of Long's Peak known as the "diamond" that you get from Chasm Lake.
It's an 8.4 mile round-trip hike with an elevation gain of 2,450 feet. You start at the same trailhead that you'd use if you were going to climb Long's Peak – labeled as one of the world's 20 most dangerous hikes by Outside Magazine.
Again, the parking lot can be nuts, as people who plan to climb Long's Peak usually start by 3 or 4 AM so as to be off the summit before any storms arrive.
The Chasm Lake trail shares the first 3.5 miles of the Long's Peak Trail. Then it splits and follows a gorge with views of Peacock Pool and Columbine Falls. Chasm Lake itself is beautiful but beware of the aggressive marmots who will practically rip your sandwich out of your hands.
The trailhead is most easily reached via Highway 7 to Lyons – then continuing on Highway 7 all the way to the trailhead, a distance of about 42 miles from Boulder, Colorado.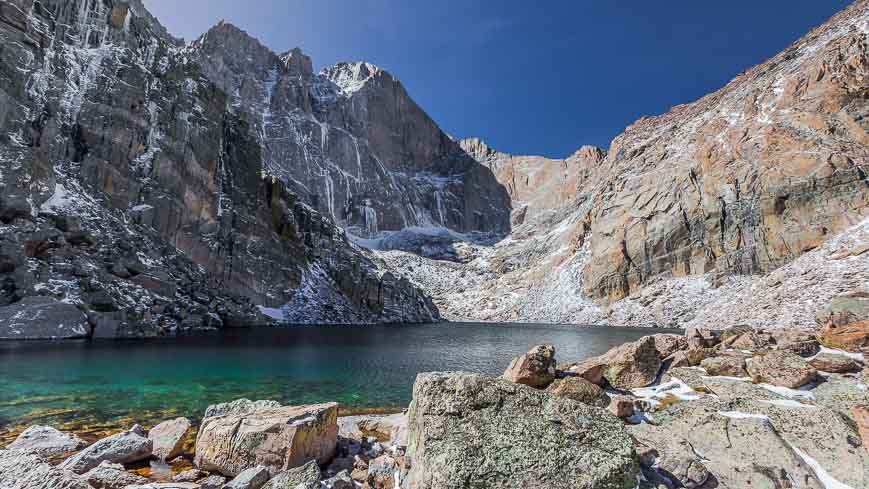 South Boulder and Bear Peak Hike – one of the top hikes in Boulder
These two peaks, located just west of Boulder can easily be hiked together. Parking at the NCAR trailhead (accessible via Table Mesa Drive) is free. I have usually hiked the Shadow Canyon Route via Towhee, Mesa or the Homestead trails.
The first few miles are easy but once your reach Shadow Canyon, it's a very steep climb of 1,800 feet in just 1.1 miles to reach the saddle between South Boulder Peak and Bear Mountain. From the saddle its 0.3 miles to each peak. The easier peak is South Boulder but they are both very doable.
If you do Bear Peak second, then you can return via Fern Canyon. All told be prepared to hike 5 to 6 hours. Fortunately the views of Boulder and the mountains in the west make the tough climb worthwhile.

Location map of the Boulder area hikes
Where to Stay in Boulder, Colorado

One of the nicest places to stay in Boulder, conveniently located close to the Pearl Street Mall is Hotel Boulderado.

For a green hotel powered by solar in a great location choose Basecamp Boulder.

The Bradley Boulder Inn, rated superb, is in the city centre, so it's perfect for walking and biking.
Further reading on hikes in the Unites States
Click on the photo to book mark to your Pinterest boards.