Best Himalayan Treks to Add to Your Bucket List
Himalayas, meaning "abode of the Gods" in Sanskrit, is a massive, absolutely awe-inspiring mountain range straddling five countries – Nepal, India, Bhutan, China and Pakistan. Not only is the Himalayan range home to Mount Everest, the highest mountain on the planet, but to another 100 peaks that exceed 7,200 metres (23,600 feet) in height.
Experience otherworldly splendour on the best Himalayan treks described below. While they are all breathtaking and beautiful, these words don't even begin to do these treks justice.
The Mount Everest Base Camp Trek and the Annapurna Circuit are perennial favourites, but there are many other treks that deserve to be on your bucket list. I have spent close to a month on a trek around Manaslu, and the others described are on my wish list.
They made it there because of the stories I've heard, the films I've seen at the Banff Film Festival and the slideshows I attended when I lived in Boulder, Colorado. I was a regular on Thursday nights as the biggest names in mountaineering swept into a store called Neptune Mountaineering and regaled and inspired a rapt audience with their tales – people like Joe Simpson of Touching the Void fame, Chris Bonington, Ed Webster and even Reinhold Messner.
Who should you choose as a tour company?
In this part of the world you will want to use a reputable tour company. The logistics of doing your own trek are daunting. World Expeditions is a highly reputable company with superior expertise when it comes to trekking experiences in the mountains is an excellent choice.
They provide quality local teams including guides, cooks (so important!!) and porters. The treks themselves enjoy exclusive campsites (a real bonus) and unique itineraries.
World Expeditions also takes the role of running the treks in a socially and environmentally responsible manner with programs like "1o pieces litter collection" and by providing three cooked meals a day to porters in Nepal as an example. (This was never done on my Manaslu trek with a different company.)
I for one have decided to celebrate a milestone birthday with my husband on the Zanskar trek in September 2017 and I will use this company.
Best Himalayan treks – 5 described below
Manaslu Trek in Nepal
Manaslu is the seventh highest mountain on earth. On the day of the trek when you finally see Manaslu staring you in the face, your jaw will drop and you will stand in awe of this magnificent peak. But it's not the only reason to do the trek.
The route follows the roaring Buri Gandahki River through blooming rhododendron forests if you hike in the spring. You pass through remote Buddhist villages close to the Tibetan border where snotty nosed kids will offer giant smiles; where time has stopped and the wheat is still separated from the chaff by hand and where yaks with their clanging bells are the beasts of burden.
You'll pass mani walls and chortens and climb high passes that leave you breathless with exertion. And always you will feel so privileged to see this remote part of the planet.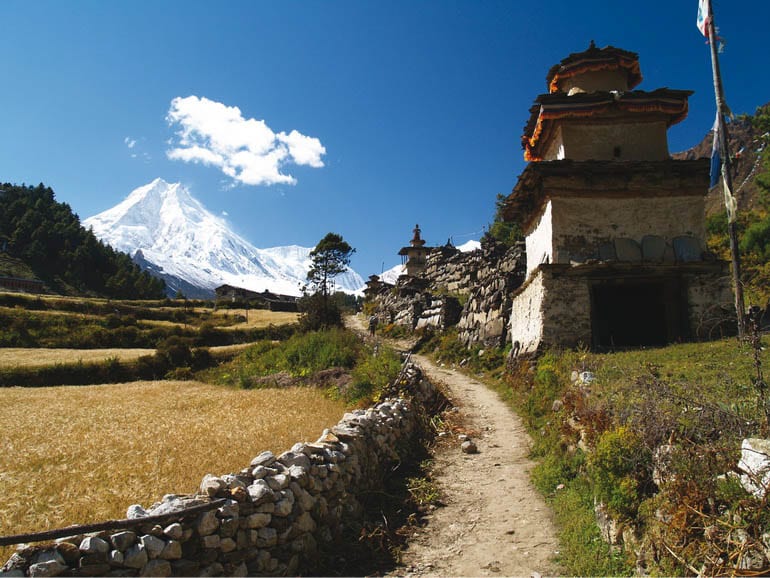 Hidden Valleys of Ladakh
Imagine what it would be like trekking through a region noted for its turquoise-blue high mountain lakes and lonesome valleys with steep gorges and stupendous views of the peaks in the Zanskar range.
That's what you get on a trip through the valleys of Ladakh, high in the Indian Himalayas. Starting in Leh, after an acclimatization period and attendance at the annual Hermis Festival you journey for 11 days, climbing the gorges of Ganda La, following the trails of the Markha Valley with the high point at 5,050 metres before finishing by the waters of the Tso Morari, called a mystical, magical lake by some.
With a low rainfall you are almost guaranteed good weather, but only the extremely lucky will catch sight of the snow leopard that roams the high mountain ridges.
Zanskar to Indus Traverse
If you're looking for solitude, then this is the trip to take. Zanskar is one of the rarely visited regions in India and one of the last Tibetan Buddhist societies. (Check out the film – Journey from Zanskar.)
On this challenging 17 day trek, called an "all encompassing Himalayan experience," you follow age-old trails linking isolated Buddhist villages via high passes to enter the spectacular gorge country of Zanskar.
Most of the time you're in a high altitude desert with mountains, a collage of browns, yellows and reds. Cutting through the landscape are magnificent rivers – a ribbon of blue in an otherwise austere setting. Part of the trek takes you into the whitewashed settlements of the Markha Valley before you complete the trip in Leh.
Read: The Exceptional 3 Day Markha Valley Trek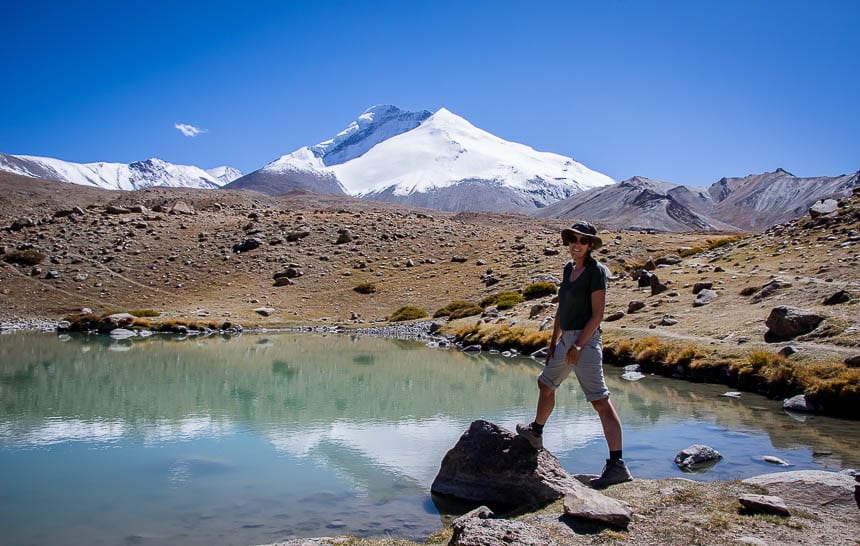 Bhutan High Trails via Laya
Bhutan, with a population of under one million, is called the happiest country in the world and appears on most serious trekkers' wish lists. Often it's the price that puts people off – but in speaking with anyone who has visited, all would say it was worth every penny.
On this challenging 13 day trek into the heart of Bhutan, one starts by following forest trails thick with a dazzling array of plants and animals through Jigme Dorje National Park to camp beneath Chomolhari, a sacred peak.
After a day off for acclimatization, there are four passes to be climbed over a five day period. All offer fabulous views of snowcapped peaks. From time to time you encounter remote settlements, providing a cultural component to the trip.
That is augmented with a visit at the beginning of the trip to the famous Tigers Nest Monastery perched on a cliff. With stops on many nights in villages, this trek offers the best of both worlds – a fine mix of culture and mountain solitude.
Kanchenjunga Base Camp Trek
Kanchenjunga, the third highest mountain in the world, sits in a remote corner in eastern Nepal, and the peak itself shares a border with Sikkim in India.
The trek to the base camp is challenging with many trekking days lasting 6 to 7 hours in conditions that can be harsh and include snow.
It's a 20 day trek with camping on 18 days, so it's only a trip for the hardy, fit adventurer. The reward is alpine grandeur on the highest scale with views – weather permitting, of not only Kanchenjunga but of Pyramid Peak, Jannu, the Twins and even Makalu, the fifth highest mountain the world.
There isn't much in the way of cultural interaction on this trip; it's all about the mountains.
Further reading on other superb treks in the world
Thank you to World Expeditions for sponsoring this post.