If you're looking to get outside and make the most of winter why not hit one of these five cross-country ski trails, all within an hour of Calgary.
Described are five of my favourite places to go cross country skiing near Calgary – appreciating that suggestions take you as far as Kananaskis Country. Before you head out, always check the weather forecast – so you're fully prepared. If snow is in the forecast, it also pays to be get an up to date highway report. And lastly, check out the trail conditions either before you go or at the Visitor Centre in Kananaskis Country.
If you're heading to Banff National Park, then try one of these 5 easy cross-country ski trails.
West Bragg Creek – one of the best places to cross country skiing near Calgary
You are spoiled for choice with well over 40 km of cross-country ski trails in the West Bragg Creek area just 45 minutes away from Calgary. When there's fresh snow this place is magical.
Personal favourites include the Telephone Loop if I want a long day of skiing with lots of ups and downs without running into many people; the Iron Springs/Elbow Loop for meadows, stands of aspen, and some fun hills and the Moose Loop – considered the most scenic trail with expansive views, plenty of hills, meadows and views of course of Moose Mountain.
Dogs are allowed but must remain on a leash. There is lots of free parking.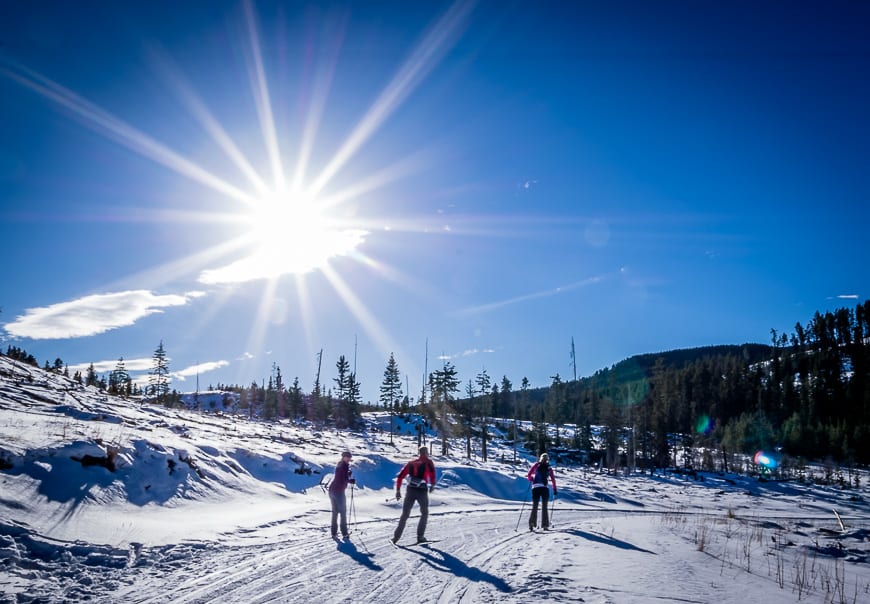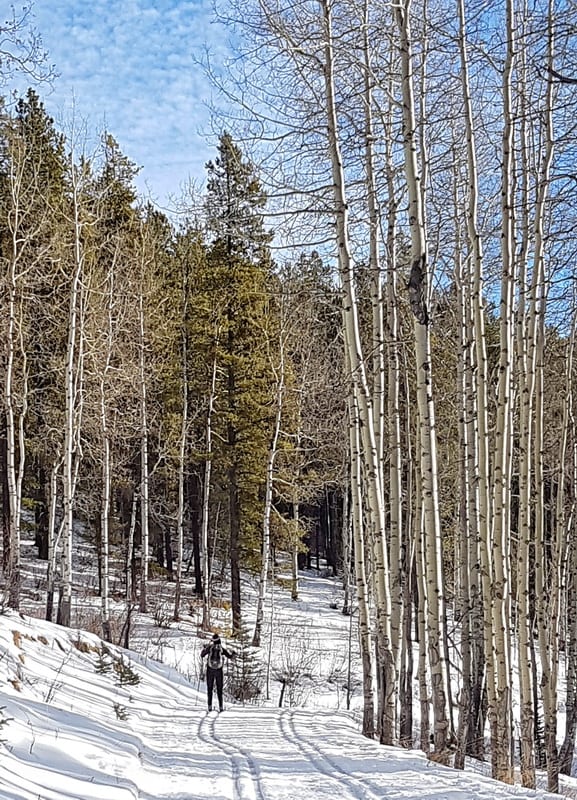 Shaganappi Point Golf Course cross-country skiing
There are times, especially after a big dump of snow that you don't want to drive far but you do want to get outside. The Shaganappi Golf Course in Calgary fits the bill.
The trails aren't long – up to about 7 kilometres in length – but you can do several loops and feel like you got a great workout. Of course you can drive but you can also ride the C-train to Shaganappi. Don't bring your dog.
Skogan Pass from Ribbon Creek cross-country skiing
Ski to Skogan Pass if you want a big workout and a fast, super fun descent. Its 21 km return with an elevation gain of 625 m. You will need a Kananaskis Conservation Pass to ski here.
Expect it to take approximately three hours to climb to the pass and under 90 minutes to return. There is also the option to ski to the Hummingbird Fire Lookout – as a side-trip or on its own.
The views from the pass are excellent as are the Nakiska Ski Resort views along the way. Start at the Stoney Trail parking lot off of Mt. Allan Drive.
You can rent gear at nearby Kananaskis Outfitters.
Read my post about the area here.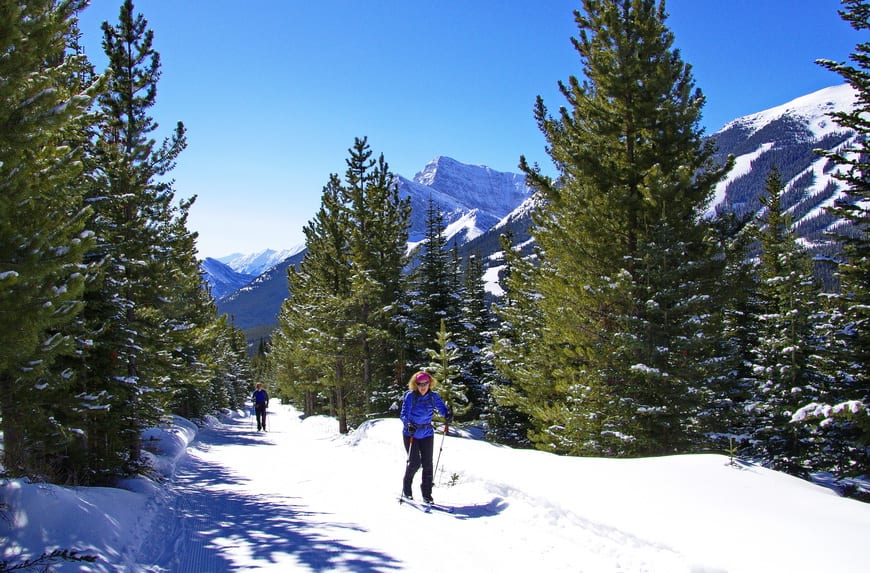 Cross-country skiing Skogan Pass from the Dead Man's Flat area
There is also the option to ski to Skogan Pass from near Dead Man's Flats. Drive up the road towards the Banff Gate Mountain Resort and start there. It's also a long return ski – about 19 km in total – and it is never track-set so you'll have to break track. If you're not used to doing that, I wouldn't recommend it.
Bill Milne Trail cross country skiing (for something easy)
The flat and easy Bill Milne Trail (a bike path in summer) follows Ribbon Creek from Kananaskis Village all the way to Wedge Pond.
It's 9.7 kilometres one way – but because it's an out and back trail you can turn around at any point. Enjoy the mountain views no matter what direction you're going. Again you'll need a Kananaskis Conservation Pass.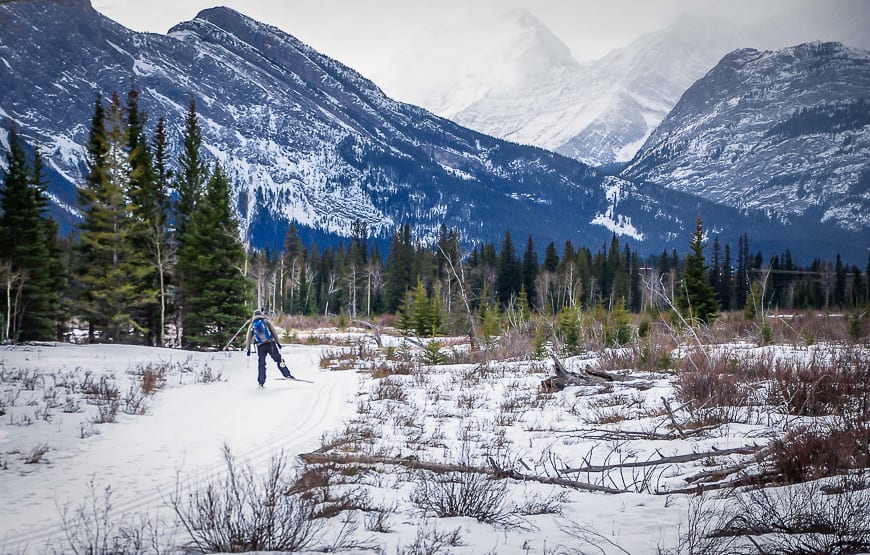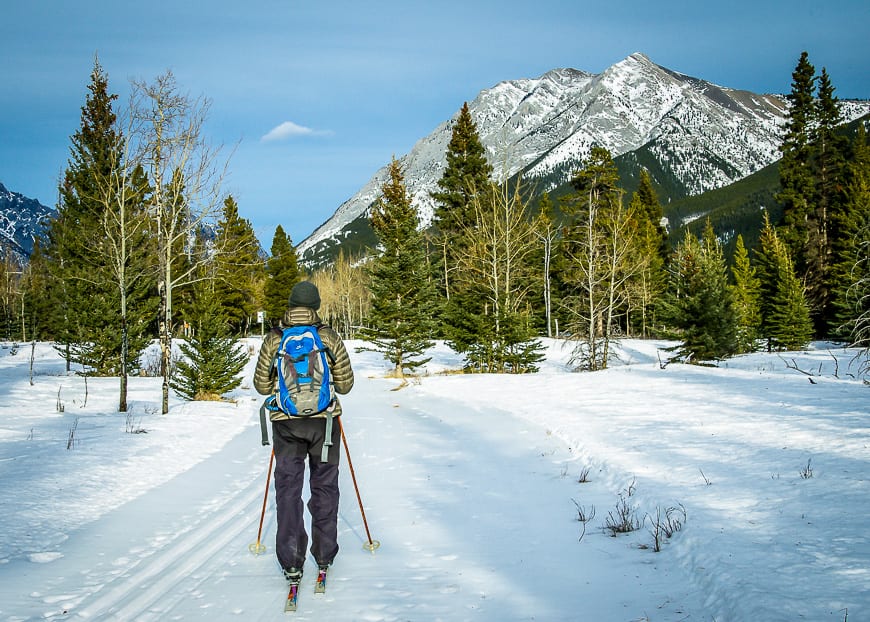 Canmore Nordic Centre cross country skiing
For skate and classic skiers who like well-groomed trails and all the services – including a well-stocked rental shop along with an onsite restaurant, head to the Canmore Nordic Centre, just minutes from downtown Canmore.
You'll find approximately 65 kilometres of trails, 6.5 kilometres of which are lit at night. While there are enough easy trails to keep a beginner happy, there are also loads of intermediate and difficult trails.
If you need to warm up, look for the beautiful hut that is centrally located. There is a fee to ski here – ranging from $9 for kids to $15 for adults.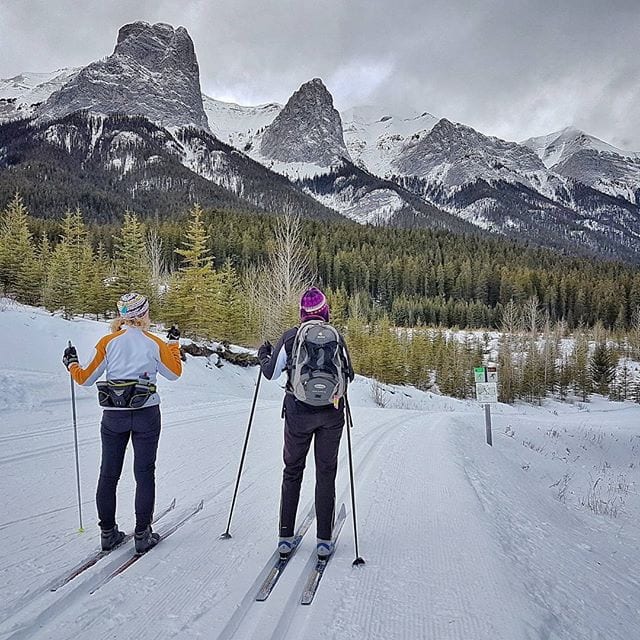 Location map of places near Calgary for cross-country skiing
This post includes some affiliate links. If you make a qualifying purchase through one of these links, I will receive a small percentage of the sale at no extra cost to you. Thank you very much for your support.
What to wear cross-country skiing
I have a tough time when it comes to dressing for cross-country skiing. It's such an aerobic sport that I warm up quickly even though I'm often starting off in temperatures as low as -25°C. There's no way I can wear Lycra tops and bottoms (like the skate skiers I see) when it's like that. I prefer to start warmer and peel off layers as necessary. Here's what I would suggest.
Socks
I like a slim fitting thermal winter sock like these ones from MEC.
Best cross country ski pants
I discovered the most incredible pants made by Arc'teryx – the women's Sentinel AR Gore-Tex Pant. They are completely waterproof with a warm flannel backing.
I tried them out in Ontario under very cold conditions over an eight hour snowshoeing trip and they did the trick. I have been looking for exactly this kind of pant for literally years. They don't bag in the crotch, like most I've tried. They flatter and they have two thigh zips for venting.
Tops and base layer
I like merino wool as a base layer. Choose a zippered top if you have a tendency to overheat. Lots of choice here.
On top of that my preference is a Patagonia fleece – because once I'm warm enough I can peel off my light-weight down jacket and cross-country ski or snowshoe in the two layers.
Outer jacket
It depends on the temperature but ideally I like to take my light-weight Patagonia down jacket with a hood. It weighs next to nothing and is one of the best long term investments you'll make as it's perfect to take on summer backpacking trips as well.
Hats, mitts and neck warmers
I rarely need a neck warmer when I'm cross-country skiing unless it's bitterly cold – and then I'll wear a fleecy one for softness. For hats, pick one that covers your ears and offers lots of warmth without being scratchy.
Wear the right clothes, carry the 10 essentials and go have fun cross-country skiing.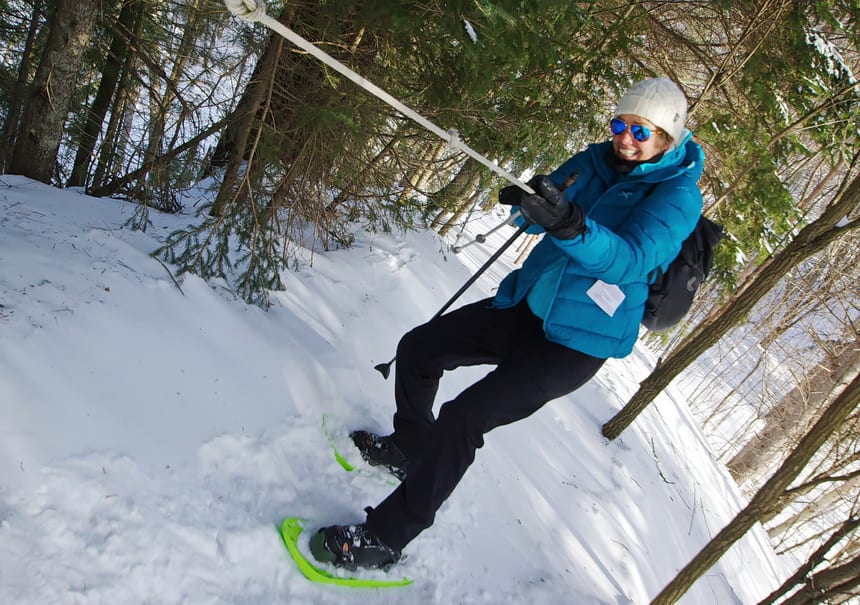 Further reading on outdoor things to do in winter in Alberta
Click on the photo to bookmark to your Pinterest boards.