Off the Beaten Path Bike Trips I'd Love to Do
I don't think I'll ever lose my desire for adventure – especially for truly off the beaten path tours. I've done a few of them in my lifetime – biking from Tanzania through Malawi and Zambia to the border of Botswana; hiking with my husband and a friend with a Quechua speaking guide and two donkeys through Peru's Cordillera Blanca and backpacking with a girlfriend through the Cradle Mountains of Tasmania decades before the area was "discovered." My adventure wish list gets longer, never shorter.
Recently I was approached by a representative of Exodus Travels and asked to have a look at the trips they offered.
Running tours in over 100 countries with the motto – Go Wild, Go Responsibly, I in short order came up with a list of five off the beaten path bike trips I'd love to do with them. In order of preference they include Albania, Jordan, Cuba, Morocco and Sardinia.
Biking in Albania
What is it about Albania I find so appealing? Isolated for decades from the rest of the world, yet in an enviable location on the Adriatic and Ionian Seas immediately west of northern Greece, I imagine the country would feel like you've stepped into a time machine and traveled back several decades.
I'd really like to go before the rest of the world learns what it has to offer. The mix of biking – from spectacular rides along the Albania Riviera to stiff climbs in the shadow of snow-capped mountains, with stops at UNESCO sites sounds amazing.
And from all reports, the people are super friendly and the farm fresh food with Mediterranean overtones, simple yet delicious. I like the price too – $Cdn 1675 for 7 nights and 6 days of cycling.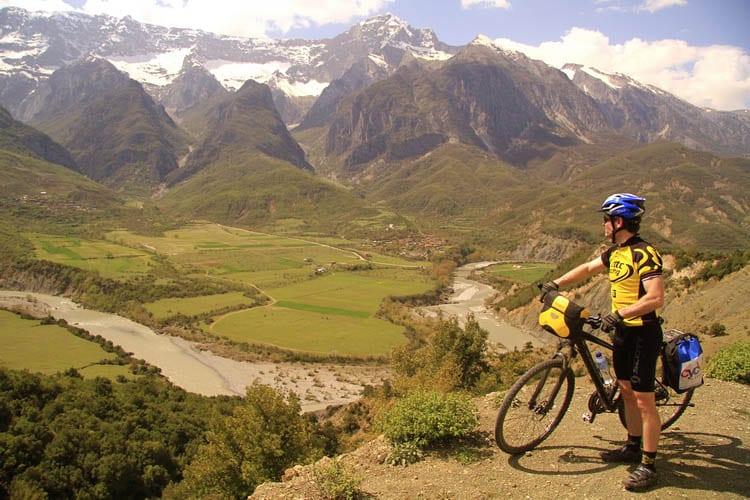 Biking in Jordan
Jordan has been on my radar since reading the biography of Queen Noor, an American born woman who married King Hussein in 1978. Photographs in the book of the two of them motorcycling through riveting desert scenery have stayed with me all these years.
Then about three years ago there was a rush of travel bloggers visiting the country and the images that came out of those trips further fueled my imagination. I love exploring a country by bike – for the interaction it affords with locals (and a trip in the Middle East would be especially interesting) and for the full on sensory experience.
On the trip offered by Exodus, the bike rides take you from a region of olive groves near Jerash to the Dead Sea via Mt. Nebo. Two full days are given over to the famed UNESCO site of Petra before heading to the Red Sea and finally to Wadi Rum – a spectacular valley cut into sandstone and granite rocks.
The trip ends with a night camping in the desert. Bring it on – preferably when Jordan is at its coolest.
Read: The Highlights of a Week Long Bike Trip in Jordan
Biking in Cuba
I love winter but when you live in a city like Calgary and winter can sometimes seem interminable, the appeal of a bike trip in a warm country filled with beaches and palm trees can be particularly appealing.
Again Cuba is a country I've thought about for a long time – but never as a resort destination. I've only ever wanted to see it by bike especially after reading My Seductive Cuba by Chen Lizra who describes the music and dance in especially vivid detail.
I love the idea of mixing a bike trip with culture and relaxation – though I'd go with low expectations when it comes to the food. I like the fact that the two week itinerary covers the whole island from Havana all the way to Santiago with a full day off the bike to explore Trinidad.
Biking in Morocco
I throw Morocco on my wish list with some regularity and then just as quickly decide it should be removed after hearing horror stories, especially of women being hassled.
I have finally come to the conclusion I need to see the place for myself but on a guided tour. The southern Morocco tour starts in Marrakech and then heads into the Atlas Mountains, with some epic sounding climbs and descents.
Eventually it winds through Paradise Valley and along the coast to Essaouira before returning to Marrakech.
Biking in Sardinia
Sardinia is the most mainstream of my choices yet it seems exotic as a cycling destination from my position in Canada. With nearly 2,000 kilometres of coastline there will be plenty of time to enjoy the beaches for which this Mediterranean island is so famous for.
The tour follows the southwest coast with stops at fishing villages, ancient Phoenician sites and interesting geological formations.
Food and wine of course will be amazing. It's been described as like Amalfi without the cars – always a bonus for the cyclist.
I'm very impressed with the variety and the pricing of the bike tours offered by Exodus Travel. The company has a long track record as it's been around for 42 years. They take their responsibility as tourism operators very seriously – engaging local guides, staying at locally owned hotels and eating at locally owned restaurants at every opportunity. As such they are long listed for the World Responsible Tourism awards.
With my ongoing wanderlust I'm happy to have found a company that offers interesting trips to unusual places at affordable prices. Have you ever traveled with Exodus Travel? A big thank you to them for making this post possible.