Winnipeg is the butt of many a joke in Canada. In fact when I returned from a recent visit to the city, the first thing out of one fellow's mouth I met up at Mount Engadine Lodge was – "You visited Winterpeg? How were the mosquitoes?" It does have a reputation for cold winters – albeit sunny ones. And in summer, the mosquito is "jokingly" called Manitoba's provincial bird. But after I told him what I did he was actually eager to visit!
Winnipeg is changing and there's a lot to love about the city. On a three day visit to Winnipeg I was actually blown away by what I experienced. These 6 things to do in Winnipeg will change your mind about a visit to Canada's prairie city.
This post includes some affiliate links. If you make a qualifying purchase through one of these links, I will receive a small percentage of the sale at no extra cost to you. Thank you very much for your support.
Visit the Assiniboine Park Zoo in Winnipeg
You might wonder why a middle-aged woman would find a zoo so thrilling – and I mean that in every sense of the word.
It comes down to polar bears. Their land-based habitat looks beautiful and natural – reminiscent of what you'd see in the wilds of Churchill with native grasses and plants. But what makes the experience so special is the polar bear tunnel.
Its awe inspiring to watch the polar bears swim – and this is a zoo. I can only imagine how incredible it would be to see them in the wild. I could have spent the entire day in the tunnel.
Don't bypass the zoo because of your age. It's fun, educational and eye-opening with loads of cutting edge research happening onsite.
Check out Le Mol Sculpture Garden
Near the zoo check out the Leo Mol Sculpture Garden. Loaded with bronze female nudes and beautiful flower beds, it's a place for quiet contemplation.
Spend hours in the Canadian Museum for Human Rights
The first national museum in Canada built outside of Ottawa opened in 2014. Not without controversy (and quite frankly what isn't these days), the Canadian Museum for Human Rights is worth a visit for the architecture alone.
Built on four stone roots and boasting a 100 metre Tower of Hope, the building grounds the space near the confluence of the Red and Assiniboine Rivers.
Outside the museum, look for 15 species of Prairie grass while inside 800 metres of luminous Spanish alabaster ramps guide you through darkness to light. Glass is everywhere – 1,300 panes of it. Reportedly it's an eight minute ride for a raindrop to slide from top to bottom.
This is a tactile museum, loaded with interactive displays and mobile apps; it's purposefully short on artifacts though some visitors feel unsettled by that. In theory, a blind person should get as much out of a visit here as a sighted person.
You need at least 90 minutes here, much more if you're prepared to interact and hear the stories.
Relax at Thermëa by Nordik Spa-Nature
You may want to relax after being both wowed by the museum and numbed by the atrocities humans have committed.
There is no better place than a visit to Thermëa by Nordik Spa-Nature. I knew I was in for a treat before I visited. The reason – there is another spa in Chelsea, Quebec operated by the same company that I have been lucky to visit on a couple of occasions.
Divine is the only way to describe the experience. Imagine heating up in a sauna for 10-15 minutes and then plunging into a cold water pool. Invigorating.
Then relax perhaps by swinging in a hammock under the trees, or gently rocking in an aerial chair – whatever your pleasure. Repeat the process until both body and mind feel free. It may take a few hours – and in between, you can dine outside or in. I guarantee you will leave in a state of bliss.
Recommended reading: Fun & Interesting Facts About Winnipeg
Do the Hermetic Code Tour at the Manitoba Legislature Building
Another who-would-have-guessed-this-would-be-so-awesome experience is the Canadian Signature Experience Hermetic Code Tour of the Manitoba Legislature Building.
Before you stifle a yawn, consider that the mysteries of the building were hidden for close to a century. It wasn't until Frank Albo, a local historian, spent 10 years getting into the mind of a dead architect that its secrets were unveiled.
On the tour, led by Don Finkbeiner, a man who seems to know everything about Winnipeg, we learned the roles that numerology, astrology, alchemy and geometry played in the design of the building.
Fascinating only begins to describe the secrets revealed through Freemason codes, hieroglyphic symbols, Egyptian sphinxes and even the Golden Boy.
Another highlight was a practical demonstration of what a voice could do standing on and off the centre of the star in the photo below. Your voice resonates down the halls if you stand on the centre but goes nowhere once you step aside. Fascinating stuff!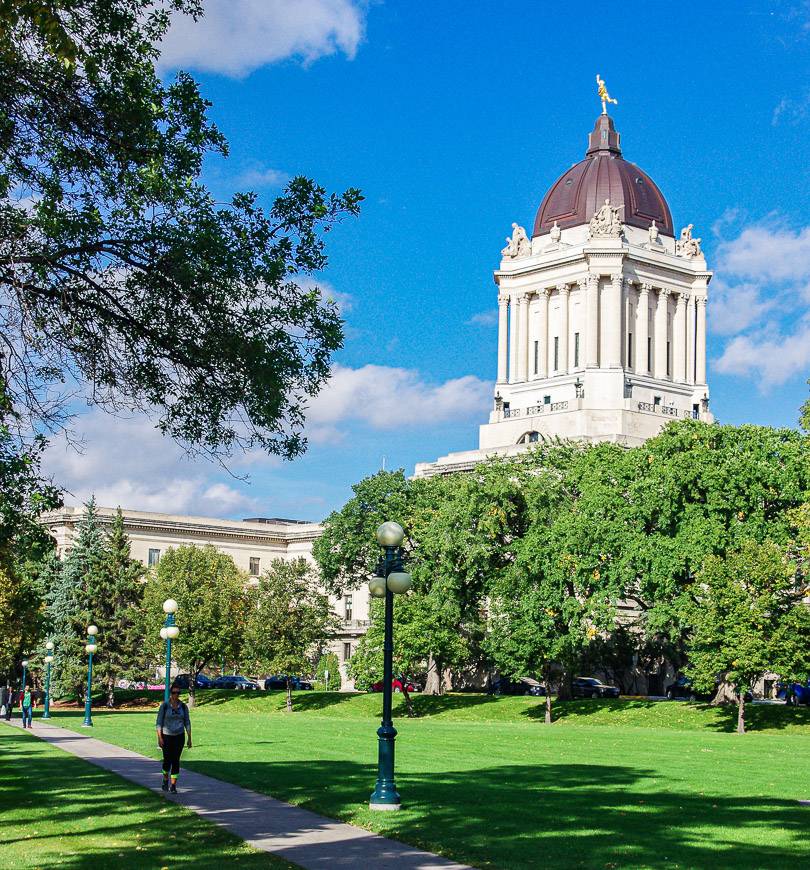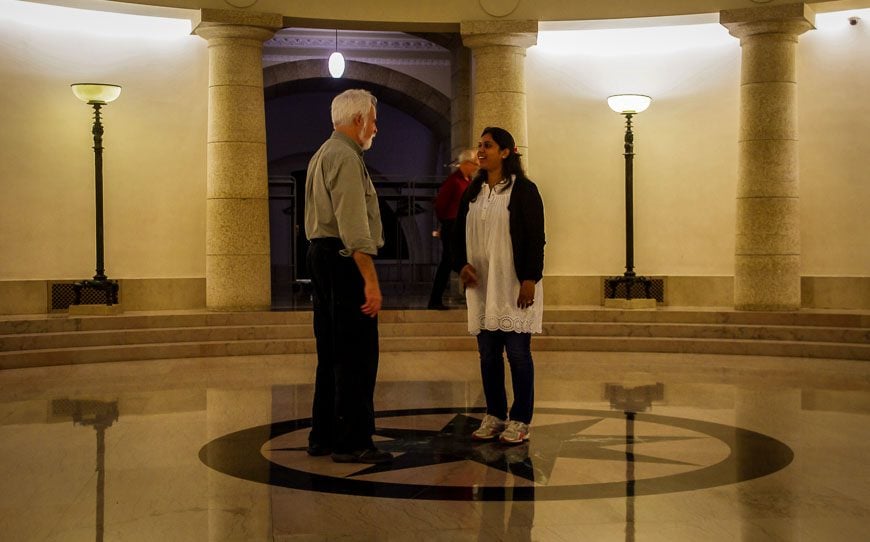 Explore Winnipeg's happening neighbourhoods
Check out the Osborne neighbourhood, named the best in Canada by the Canadian Institute of Planners. Covering just a few blocks and filled with funky local stores and great little restaurants it's just over the bridge from the Legislative Buildings.
Cooks will want to visit The Happy Cooker – The Hardware Store for Cooks at 464 Stradbrook Avenue.
Where to eat in Winnipeg
Winnipeg's restaurant scene is creative, eclectic and delicious. There's a big focus on regional foods. You'll find wild rice, pickerel, Arctic char and bison on menus.
Burger lovers can chow down at Nuburger – known for healthy, gourmet and awesome. I'm told there are line-ups starting most nights at about 5 PM. Here's why – the coolest burger toppings including free-range, nitrate free bacon, Boursin cheese, Hot Damn Mushrooms, Omega-3 egg…the list goes on.
If you love cake then test your decision making ability at Baked Expectations at 161 Osborne Street.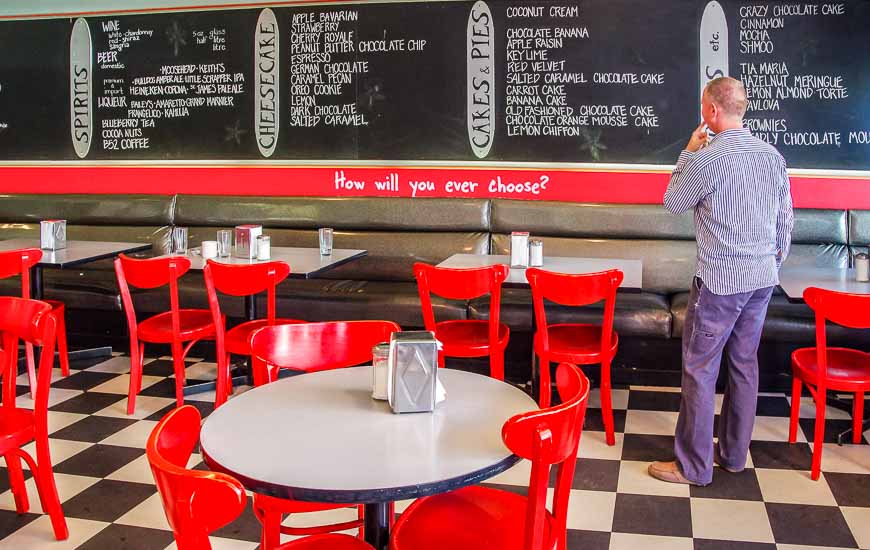 Fusion Grill
I walked into Fusion Grill and fell in love – and I hadn't even eaten. The art work – big, bold canvases of land and sky by artist Kirsten Britt Hanson spoke to me. I felt like I was in a gallery and would very happily have any of these pieces in my home.
And then we got to the food. I was part of a group so a four course tasting menu had been prepared. We started with a delicious Arctic char tartare on crostini, followed by chicken fried cauliflower with a spicy sweet and sour rhubarb dip; then a Braman tomato salad with tempura avocado, honey and a basil vinaigrette. We finished with the piece of pike shown below.
From start to finish this was an outstanding meal. Everyone had their favourites – and I'd say mine was the cauliflower.
I found the menu interesting with a big focus on organic and regional cuisine. Meals are on the pricier side but from my experience they delivered big time on both presentation and taste.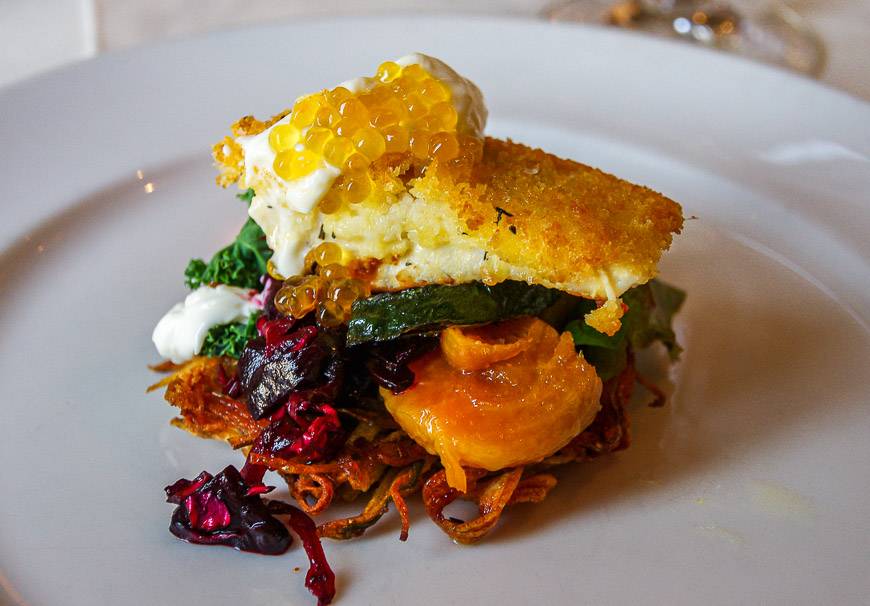 Miss Browns
A great spot for breakfast and lunch in Winnipeg's Exchange District, you'll find Miss Brown's to have a warm and cheerful atmosphere and comforting food to go along with that – items like brisket hash, French toast, and mushrooms on toast.
As a nod to Miss Brown's (named after the daughter of the owners) Australian father, you'll find long black and flat white coffees – known to North American's as Americanos and lattes.
Promenade Café and Wine
Located just across the Red River from the Forks District in the French part of town, this charming Promenade Brasserie offers French food at prices that won't scare you.
Although we didn't have a full meal here, what little we had was delicious – and beautifully presented. Look for French favourites like duck confit, tourtière and beef bourguignon along with a decent wine list.
Stella's Cafe
Don't miss a stop for a coffee and a baked good or pick up a jar of jam made with berries, sugar and love at Stella's Café – a fixture for over 20 years. The original café open on Osborne Street in 1999 and is still there today.
If you're interested in spending a lot more time in Manitoba trying out experiences you won't find anywhere else in Canada, read 15 Things to Do in Manitoba to Experience the Heart of Canada.
Where to stay in Winnipeg
One of my favourite places in the city to spend a night or two is the Inn at the Forks. It's a beautifully appointed boutique hotel with views out to the Red and Assiniboine Rivers in one direction and the Canadian Museum of Human Rights in the other.
Other recommendations based on personal experience include the Alt Hotel Winnipeg and The Fairmont Winnipeg.
Further reading on things to do in Manitoba
Click on the photo to bookmark to your Pinterest boards.
Although I was a guest of Tourism Winnipeg and Travel Manitoba my thoughts about the city are totally my own. Basically my eyes were opened!