6 Things to do in Red Deer, Alberta
I had never given Red Deer a chance. I always thought of the city as the halfway point between Calgary and Edmonton and a good place to fill up the car. But there are so many great things to do in Red Deer if you give it a chance. Don't let a strip of highway – aka Gasoline Alley – define the city. Once you move away from the highway Red Deer has plenty to offer, especially for cyclists and nature lovers.
I highly recommend these
5 things to do in Red Deer, Alberta
Bike the backroads around Red Deer and Lacombe
The biking in Red Deer is fantastic, even more so when you have a guide for the day which we did in Jim Woychuk. He knows the area like the back of his hand so we didn't have to spend any time looking at maps.
Over a day in the Red Deer area, John and I cycled over 1oo kilometres of backroads and cycling trails with long stops at the Ellis Bird Farm and the Lacombe Agricultural Research Centre.
The first part of the ride got us onto a network of bike paths. In short order we were out of the city. Although we cycled on the highway in a few places, there was always a good shoulder and cars were few and far between.
After climbing a couple of bigger hills in the vicinity of the Red Deer River, it was back into rolling countryside – with a mix of farming and petrochemical facilities. It may not sound pretty but the facilities were well kept up and the surrounding landscape was green.
With cooperative winds we were able to cycle 57 kms to the Ellis Bird Farm in about 2.5 hours, including photography stops.
From the Ellis Bird Farm it was almost 20 kilometres to Lacombe – and though the riding was easy I ended up ass over teakettle as the saying goes when my tire clipped Johns. Next thing I knew I was in the ditch but only my pride was wounded.
From Lacombe we got on a mix of trail and road to continue the 45 kilometres back to the Holiday Inn – our home for the night. It was all pretty easy going, though there's some signage still needed. Without Jim we may have ended up door-knocking in neighbourhoods trying to find our way back.
On the way back to Red Deer we made one side trip into the interior of the Abbey Centre – a recreational complex in Blackfald. We carried our bikes up the stairs and then rode along a short stretch of the Trans-Canada Trail inside the building – on the second floor – the only interior section of the Trans-Canada Trail in the whole country. You ride out on grade and continue to Red Deer.
Visit Ellis Bird Farm
I am always shocked when I speak with people in Calgary that have never heard of the Ellis Bird Farm. It's a phenomenal place to go on a day trip – and perfect for people of all ages.
There's a long history to the farm that starts with a brother and sister – Charlie and Winnie Ellis – who dedicated their lives to conservation, native birds and their farm. Interestingly on my Facebook page one reader made the comment that they were relations he'd never had the privilege of meeting.
Not only can you see a lot of birds like swallows and hummingbirds but you can learn about a geo-tagging program. It tracks purple martins down to South America and back. It's just one of a couple of cutting edge research programs taking place at the farm.
The farm hosts the "world's largest outdoor collection of functional bluebird boxes." According to some of their literature, they are usually lucky if one pair of bluebirds nests near the farmyard. More often than not tree swallows and house wrens give their stamp of approval and call them home instead.
Visit in the height of the summer if possible. The gardens will wow you as will the birds. Ne sure to include plans for lunch at the cafe.
Read: A Fun Day Trip to the Ellis Bird Farm in Alberta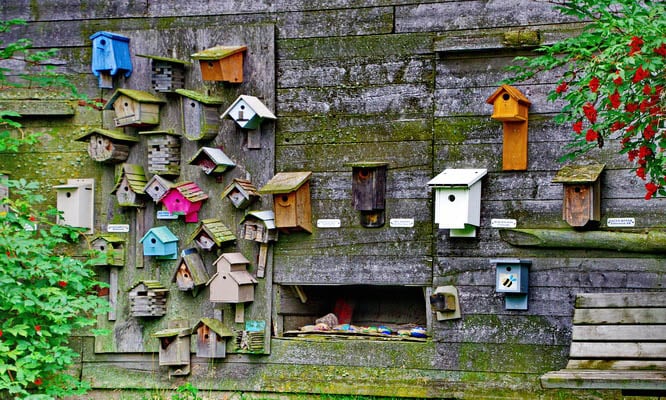 Check out the Weed Garden in nearby Lacombe
In Lacombe we stopped in at the Agricultural Research Centre to see the weed garden — and as my host for the weekend Debbie says – "it's probably the only deliberately planted weed garden in Canada."
I wasn't sure what to expect at such a place. But in talking with Dr. Neil Harker, a world expert on weeds, I learned so much of what I was doing wrong with weeds in my own garden that it turned out to be informative, fun, and incredibly worthwhile.
Did you know that some roots of weeds go down deeper than six feet?? Unfortunately we were past peak weed season when everything is blooming so the annuals in particular were looking a little sad though the perennial weeds by and large were still going strong.
I didn't even know there were annual and perennial weeds before this side-trip.
If you're in Lacombe in summer, check it out. Weeds are all labeled and I'm sure you can get plenty of helpful advice.
Dinner that night was at the Boulevard Restaurant inside the Holiday Inn. I guess I'm a snob at heart as Holiday Inn's don't usually figure on my radar. I was pleasantly surprised at how nice the rooms were in this hotel (the best in the city!) – and dinner with Chef Emmanuel David at the helm was truly excellent. If you're driving between Edmonton and Calgary and need a meal this is a convenient and great place to stop.
Explore the city of Red Deer by bike
There's nothing like starting out on a bike ride in the rain. It's hard to get up the enthusiasm but John and I and our guide Danielle, the owner of Pursuit Adventures, started off with the right attitude.
The plan was to cycle through a section of beautiful Waskasoo Park, with a side trip to see the historic downtown before continuing onto Heritage Ranch where we planned to exchange our bikes for kayaks.
From driving Highway 2 between Calgary and Edmonton I have to confess – and John is with me on this – we thought the city of Red Deer was west of the highway when it is in fact east. I wonder who else has the same impression?? Red Deer has done a terrific job of running trails for miles along the length of the Red Deer River with connections to other parks across the city.
Red Deer's downtown is compact and on a rainy Sunday morning rather empty. In season, there's normally a piano anyone can play – but it was covered up.
A lovely brick patio beckons coffee drinkers and diners and a few statues inform me of the past. One is of Hazel Braithwaite – a farmer's wife with six children who believed strongly in equality and justice for women and family rights – and who worked hard to change the laws.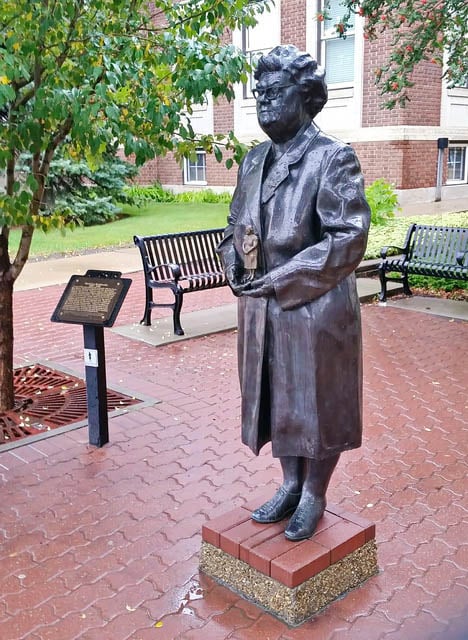 I'm sorry it wasn't a better day to explore the extensive system of trails that make up Waskasoo Park. The ones we did ride gave you the feeling of being removed from a city.
Read: Biking in Red Deer, Alberta: What's Not to Love
Go kayaking from Heritage Ranch
Heritage Ranch rents kayaks and rafts – and will pick you up at an agreed upon rendezvous point. On the day we visited the ranch I was seriously having doubts about what we were doing – but only because it was so chilly.
Fortunately once we put on a PFD and started paddling, we had a lot of fun kayaking on the Red Deer River. On a sunny day it would be a fantastic adventure.
Because of the weather we elected to paddle only an hour to a pullout near the Civic Yards. Along the way we saw ducks galore and plenty of songbirds flitting in the trees along the shore.
A few hardy fisherman were out but I think we were the only kayakers. I'd like to return in the future on a warm, sunny day and paddle another hour down the Red Deer River where I've been told it feels like you're in the wilderness. Paddling offers a fun and unique way of exploring the city of Red Deer.
Read: A Weekend Canoe Trip on the Red Deer River
Eat at Heritage Ranch
Heritage Ranch offers a great lunch in a pretty setting. John and I warmed up after kayaking with steaming bowls of soup and homemade sandwiches. We finished our stay in Red Deer with another slice of Saskatoon berry pie. Thank heavens we were exercising as much as we were.
Once again I have had my preconceptions about a city blown away. Red Deer is not only worth an extended stop between Calgary and Edmonton, it's a destination in its own right for cycling, hiking and nature lovers.
The other must do activity we'll save for next summer is Man Tracker – but that's another story.
Our one night, two day visit to Red Deer greatly exceeded my expectations. And although I was hosted by the city, I can genuinely say that John and I had a great time – even with less than ideal weather.