If you are a traveler with an adventurous spirit then you'll love Jasper in winter. For a diverse selection of things to do in Jasper in winter, you'll be thrilled at what's available both in town and in Jasper National Park. You don't have to be a downhill skier to have a good time. In fact, there's so much to do you might be challenged to fit in day of skiing. You also won't find the town to be nearly as busy as Banff in winter.
This post includes some affiliate links. If you make a qualifying purchase through one of these links, I will receive a small percentage of the sale at no extra cost to you. Thank you very much for your support.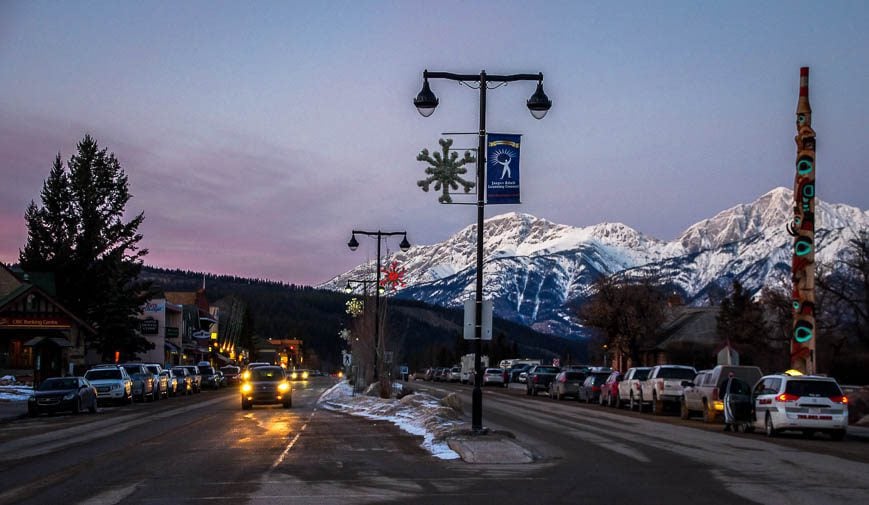 Go downhill skiing or snowboarding at Marmot Basin
Marmot Basin is a ski and snowboard resort close to Jasper. Some hotels offer a shuttle service or you can pay approximately $15 and take the worry out of getting up the mountain on a snowy day.
The downhill skiing at Marmot is superb. I was very pleasantly surprised by the mountain, the layout and the diversity of terrain. It's a particularly good place to ski if you're with a group of varying abilities. Every lift apart from the Knob Chair, offers an easy, moderate or difficult run to the bottom, so families and groups can ski the run of their choice and meet again at the bottom.
If you're an intermediate or better skier don't miss Highway 16 – a run that Milt Gilmour, my mountain host for the morning, says is groomed to perfection. Other musts include McCready's Choice with a nice, soft long pitch, Solace and Charlie's Bowl.
There is a shuttle service from the town of Jasper for $18 return per person.
Go snowshoeing in Jasper National Park
In a typical year the trails near the town of Jasper like those in the Patricia Lake and Pyramid Basin area are excellent for short duration outings. Another area with great snow is Medicine Lake.
Medicine Lake is very popular – but if you're after a less well-known trail, leave Medicine Lake after approximately a kilometre and head up Watchtower Canyon to the frozen falls.
Other options for snowshoeing in Jasper include Wabasso Lake, Valley of the Five Lakes, Bald Hills and the trails in the vicinity of Fairmont Jasper Park Lodge.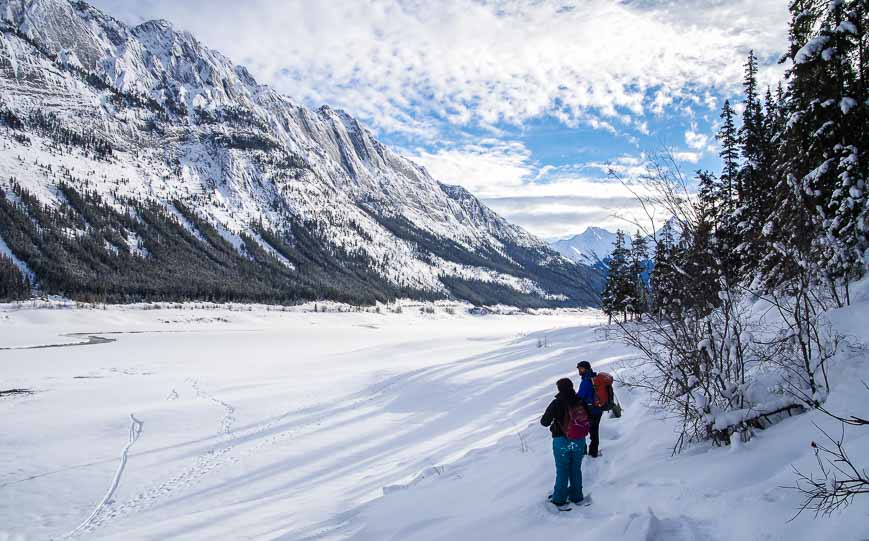 Try ice climbing in Maligne Canyon
It might not be the first thing you think of – it certainly wasn't for me but it turned out to be a huge thrill and a whole lot of fun. Most people explore Maligne Canyon on foot, wearing a pair of crampons.
While I highly recommend that activity, for those who want a real adventure, sign on with Max Darrah, founder and guide of Rockaboo. For people new to the sport, he'll safely take you through all the steps – from gearing up, to rappelling down a frozen waterfall to climbing said waterfall.
By the end of a half day outing, you'll probably feel a little cocky having tested your limits. Trust me on this one – it's absolutely worth trying even if you have a fear of heights.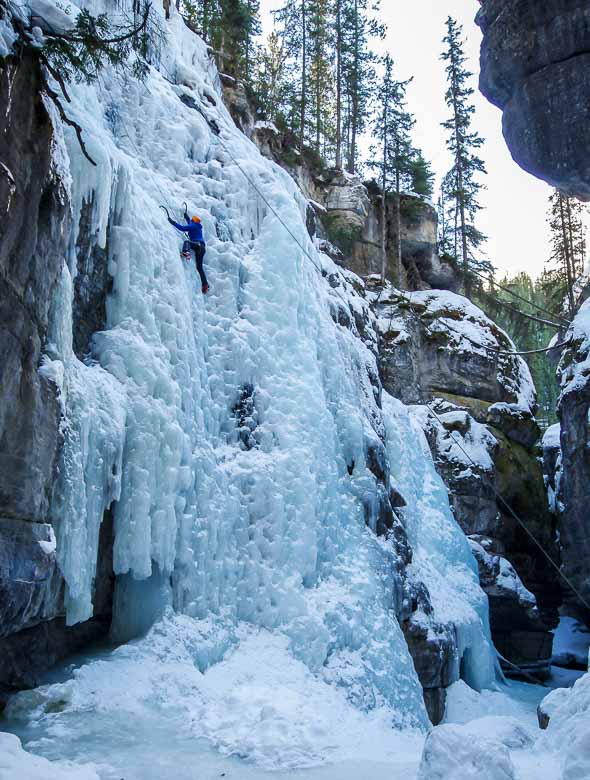 Skate on Mildred Lake
If I lived in Jasper, I would take advantage of the one kilometre skating loop on Mildred Lake on close to a daily basis. Located near the Fairmont Jasper Park Lodge, the rink is open to the public with skates available for rent at the Golf Clubhouse.
To me nothing beats skating outside – and warming up after by the fire when the toes go numb.
Wild skating on frozen lakes is gaining in popularity. If you don't have skates you can rent from the Winter Rental Shop at the Fairmont Jasper Park Lodge.
Check out the winter activities at Fairmont Jasper Park Lodge
There are loads of fun winter activities to try at Fairmont Jasper Park Lodge – but the lack of snow and warm temperatures put an early end to them one year I visited.
Most winters you can look forward to curling on Lac Beauvert, fat tire biking and cross-country skiing on a network of trails in the area. I did walk one of the trails to Edith Lake – and walking was definitely the way to explore.
Don't miss the Maligne Canyon Ice Walk
Experience the Maligne Canyon Ice Walk from December until early April. While you don't have to go with a guide, I'd recommend it. No matter how you decide to explore Maligne Canyon, allow a few hours to get the full experience.
They provide the "icers" you need to safely walk up and down the canyon. But the biggest thing they offer is some background information on why it's even possible to go – along with some activities you'd probably miss on your own.
Book the Maligne Canyon Ice Walk Tour: Reserve the ice walk well in advance as the experience typically sells out on weekends.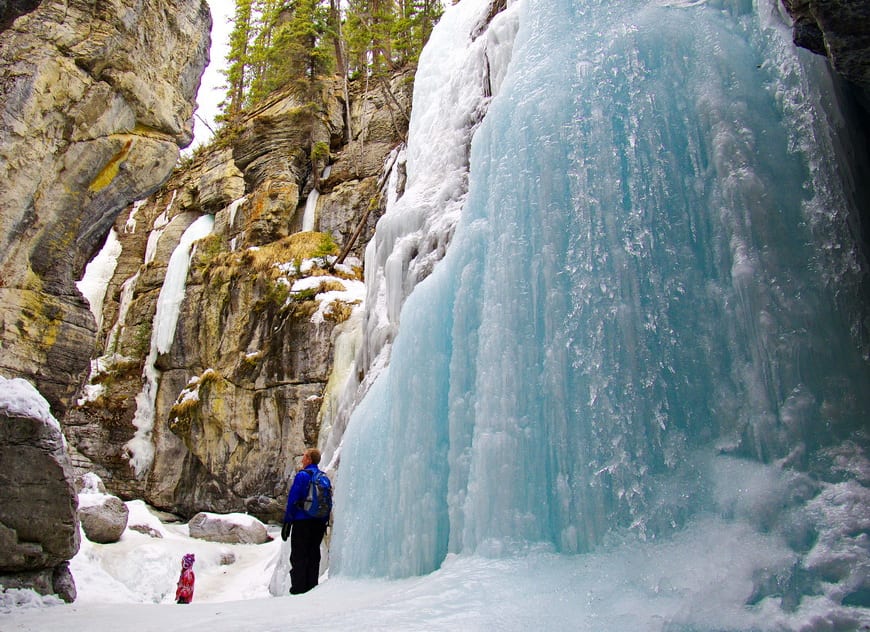 Where to stay in Jasper National Park
I've stayed in a couple of dodgy hotels in Jasper and I wouldn't recommend the experience. Plan ahead so you don't get caught.
In winter you can't beat the Fairmont Jasper Park Lodge for its location with a gorgeous skating rink nearby.
Choose the Maligne Canyon Hostel for an affordable option.
I have checked out The Crimson Jasper and liked what I saw. I'd happily stay here.
For an out of town choice the Pyramid Lake Resort would be an excellent option.
Whistler's Inn offers a convenient location with nicely renovated rooms – despite the appearance of the somewhat worn lobby.
Eat well in Jasper
Before or after your adventures you need some fuel. Here are a few restaurants/cafes I can personally recommend.
The Bear's Paw Bakery (4 Cedar Avenue) – it opens at 6 AM and The Other Paw on Connaught opens at 7 AM
Famoso's Neapolitan Pizzeria (607 Patricia Street) Exceptional pizza in an unpretentious setting.
Jasper Brewing Company – 624 Connaught Drive for on-site brewed beer in a sports bar setting.
Evil Dave's Grill – 622 Patricia Street for delicious Asian inspired food. Make a reservation.
Terra – inside the Crimson Hotel on Main Street is the newest restaurant in Jasper. Great vibe and a huge focus on local and foraging.
The Emerald Lounge at the Fairmont Jasper Park Lodge – Cozy up in a chair with a view and enjoy the casual atmosphere. Food is pricier but the setting is fabulous.
I now understand why people who go to Jasper to work for a season end up staying for years. If you truly love the outdoors, it's hard to beat this Alberta mountain town.
Location map of things to do in Jasper National Park
Further reading on winter in Alberta
If you like snowshoeing, check out the trails in Jasper National Park, Banff National Park and Kananaskis Country.
Visiting Lake Louise in winter? You'll find loads of ideas of what to do in winter in Lake Louise.
Interested in checking out the bubbles in Abraham Lake? I highly recommend the experience.
Did you know there are numerous ice walks in Alberta? Just strap on a pair of microspikes and away you go.
If you're into downhill skiing, these seven ski resorts across Alberta should give you plenty to smile about.
Hiking season doesn't end when the snow flies. These winter hikes in Banff will get the happy hormones racing.
And if you want a backcountry lodge experience in Banff National Park that you can reach on a fat bike, cross-country skis or snowshoes, book a night or two at Sundance Lodge.
Click on the photo to bookmark to your Pinterest boards.