Why visit Québec City in winter you might ask? The city receives up to 400 cm (13 feet) of snow per year and the average daily high in December, January and February is only -5.9°C (21°F). It's not quite the Caribbean vacation many envision. And yet Quebec City in winter is a wonderful spot to visit. The city has an infectious joie de vivre and there's plenty to do from outdoor adventures to amazing dining experiences to the famous Quebec Winter Carnival.
This post includes some affiliate links. If you make a qualifying purchase through one of these links, I will receive a small percentage of the sale at no extra cost to you. Thank you very much for your support.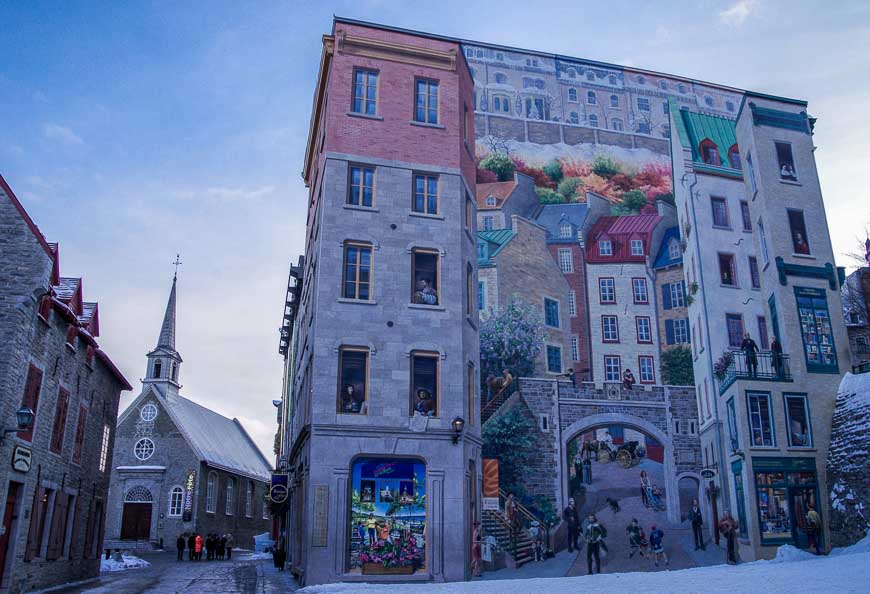 7 things you'll want to do in Quebec City in winter
1.Wander the historic district of old Québec in winter
As the only city in North America to have preserved its ramparts, Québec is in the enviable position of showing today's visitors what a fortified city looked like several centuries ago. In fact, it's a UNESCO World Heritage site.
The Upper Town sits on a cliff with terrific views of the Saint-Lawrence River. It's still a religious and administrative center – as you'll soon see when you walk around. Look for convents, churches and monuments.
Walk the cobblestones streets – especially Rue de Petit Champlain, stop in a café and take a horse-drawn carriage ride. You'll feel like you've been transported to a European city.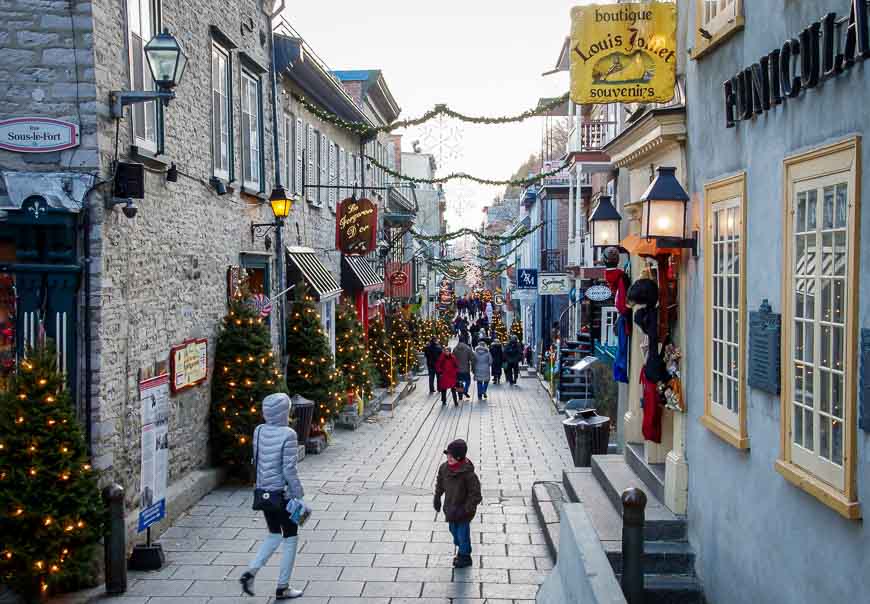 2. Ski or skate on the Plains of Abraham
The Plains of Abraham was the site of the Battle of the Plains of Abraham in 1759. With some of the finest views of the city overlooking the Saint-Lawrence River, the area is now a giant park offering super accessible skiing, snowshoeing and skating near Old Québec.
In total there are 12.6 kilometres of ski trails, a 3.8 km out and back snowshoe trail and 5.6 km of walking trails.
Throw in a fantastic skating rink that's open from 10 AM until 10 PM, and you have a veritable winter wonderland. The rink is also the site of a Winter Pentathlon. John declared his night-time skating experience sheer magic.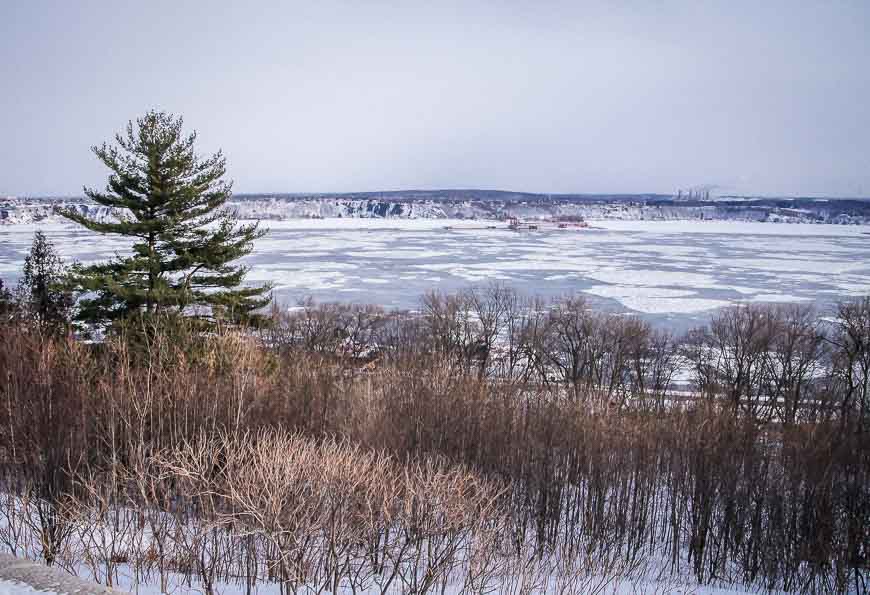 3. Take a tour of the Hôtel du Glace – or spend the night
Just 10 minutes from downtown Quebec City, sits the Hôtel du Glace (or Ice Hotel). You don't have to stay overnight to have a tour and trust me, it's a very interesting place to see.
Since it opened in 2001, it has hosted approximately 43,000 overnight visitors. And yes it's chilly inside. Fortunately for guests you can spend some time in a hot tub before dashing to your room and slipping under thick, warm covers.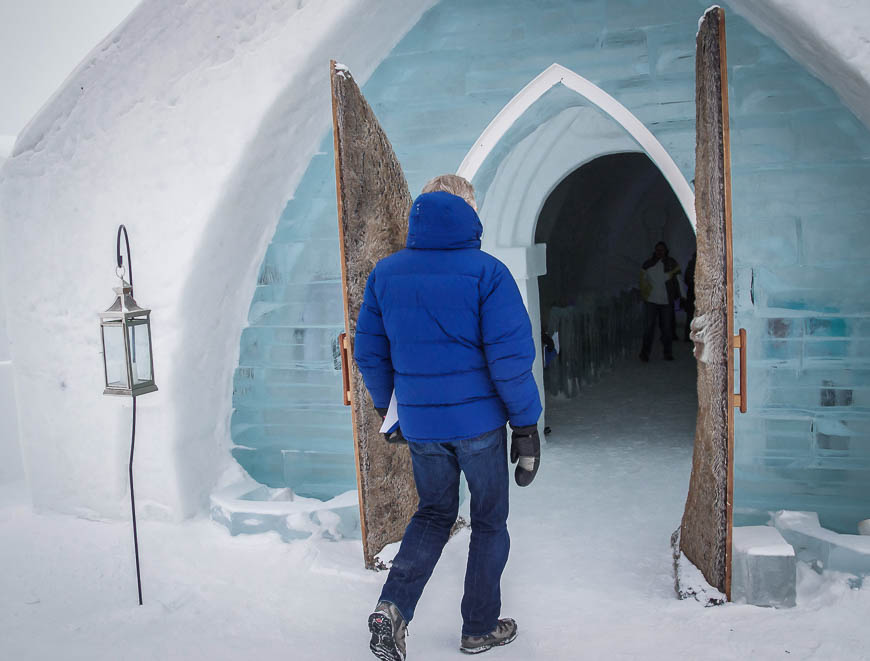 4. Take the ferry between the historical centers of Québec City and Lévis
If you're looking for photos of the Québec City skyline or you want to get a taste of the St. Lawrence River then you can do a quick turnaround trip in about 40 minutes via the ferry between Quebec City and Levis.
You could also hop off in Lévis and walk a section of Le Parcours des Anses if it was a nice day and not too cold. The ferry runs from 6 AM until 2:20 AM.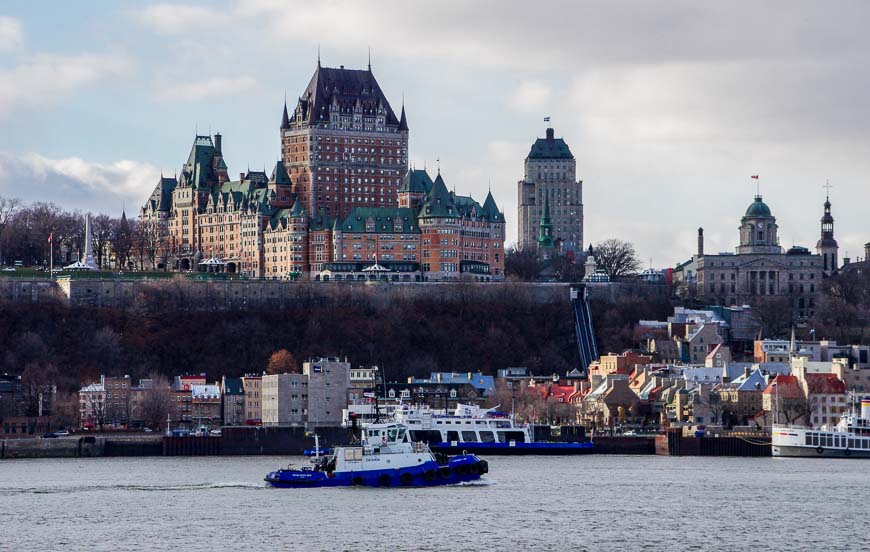 5. Attend the Carnaval de Québec (Quebec Winter Carnival)
In 2024, the winter carnival kicks off on February 2nd and lasts until February 11th. What you'll find are sleigh races, canoe races, snow sculptures, nightlife, fireworks and loads of family activities.
I have yet to go but would love to one year. Go meet Bonhomme Carnaval, a 400 pound, 7 foot tall giant snowman – the official mascot of the carnaval and holder of the keys to the city.
6. Go downhill or cross country skiing near Quebec City in winter
Keen skiers should know that Mont Sainte-Anne is only 40 minutes away from Quebec City. Look for superb downhill skiing with stupendous views long with some of the best cross-country skiing in Canada. Over 200 km of beautifully groomed hills – with the possibility of seeing a moose await the Nordic skier.
7. Visit Montmorency Falls in Quebec City
On the way to the ski hill and just 20 minutes from downtown Quebec City, you'll drive past 83 metre high Montmorency Falls – a particularly beautiful site at night. If you choose to stop, you can explore the area around the falls via a cable car – and it's also possible to climb stairs to the top of the falls.
In the winter the area is a veritable winter wonderland – and one of the top things to do in Quebec City in winter.
8. Check out the German Christmas Market in December
Old town Quebec City places host to an authentic German Christmas Market – which is going into its twelfth year in 2019.
Look for wooden kiosks selling a range of locally made products like local food, children's toys, cozy woolen slippers and of course traditional Germany crafts. As you're wandering through the market sip glühwein (a delicious hot mulled red wine) under a backdrop of holiday lights. Grab a bratwurst and follow it up with some gingerbread.
It's a fun way for the whole family to get into the spirit of Christmas.
Where to stay in Quebec City
If you are planning to visit Quebec City in winter over the Quebec Winter Carnival book accommodation as far in advance as you can.
Up for a splurge? Then stay in what is called the most photographed hotel – Fairmont Le Chateau Frontenac.
I personally recommend the Hotel Marriott Quebec Centre-Ville and Hotel Chateau Laurier near the Plains of Abraham.
Further reading on Quebec City and nearby
Click on the photo to bookmark to your Pinterest boards.
Thank you to Québec City Tourism for showing John and I your beautiful city. All thoughts and opinions as usual are my own.