Looking for fun things to do in Invermere, BC in winter? Head to this small town in the Columbia Valley, an area that bills itself as the "warm side of the Rockies." Temperatures are often warmer than the eastern side of the Rockies – a bonus in winter, especially when there are so many exceptional both downhill and cross-country, skating, fat biking and long soaks in the Radium or Fairmont Hot Springs. Invermere, BC and the Columbia Valley are only a three hour drive from Calgary – and an unbelievably scenic drive at that through Banff and Kootenay National Parks.
Summary of things to do in Invermere, BC in winter
Plan to downhill ski or snowboard at either Panorama Ski Resort or the Fairmont Hot Springs Resort Ski Area.
Cross-country ski on the Lake Windermere Whiteway, on the trails at Panorama Mountain Resort, or on the Lillian Lake loop.
Skate the Whiteway – perhaps all 30 kilometres of it.
Fat bike the trails at Panorama Mountain Resort or the Lake Windermere Whiteway.
Go snowmobiling with Toby Creek – even if your are new to it.
Give paragliding a go over the Columbia Valley.
Pick a hot springs to soak in – either Radium or the Fairmont Hot Springs.
Enjoy some relaxation time in a slopeside condo or hotel.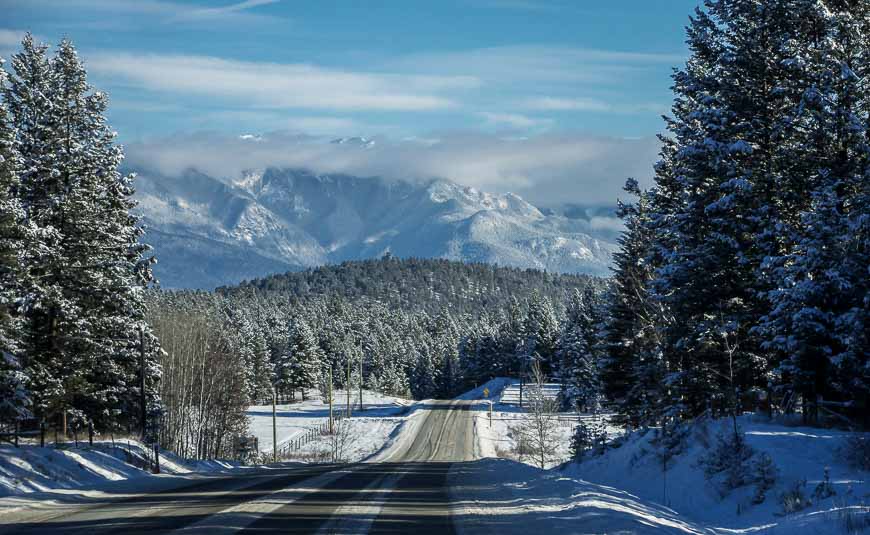 Things to do in Invermere and nearby
Meet the sheep
When you drive the Columbia Valley always keep a close eye out for bighorn sheep. They're abundant and blend into the landscape unbelievably well.
We had a chance to get up close to the bighorn sheep at one stay at our Bighorn Meadows condo. There were plenty of them around with many of them busy licking the salt off the cars. We'd hoped for a thorough cleaning of our car but it wasn't one of the chosen ones.
Go downhill skiing at Panorama Mountain Resort or Fairmont Hot Springs Ski Area
Boasting one of the largest verticals in North America with 4,000 feet, there really is something for every type of skier at Panorama Mountain Resort. Approximately 75% of the runs are geared for beginner to intermediate skiers while expert skiers will love Taynton Bowl. It offers powder hounds 750 acres of bliss, in an area that was once the preserve of heli-skiers only.
I think Panorama is one of the prettiest resorts I've ever skied, especially on one of its frequent blue bird days when the views of the Purcell Mountains are nothing short of spectacular.
Go cross-country skiing near Invermere
There are many excellent choices for track-set cross-country skiing and even more options if you're prepared to break trail. The Panorama Nordic Centre offers 20 km of trails. Head for Hale Hut if you're looking for a pretty destination and a place to warm up.
Lake Lillian, accessed on the way up to Panorama Mountain Resort offers an easy 3 kilometre track as does Radium Resort – though it's on a golf course. Fairmont Resort also offers 6 kilometres of groomed trails.
The piece de resistance is the Whiteway on Lake Windermere. Once Lake Windermere freezes solidly enough to be walked upon the Toby Creek Nordic Ski Club gets to work. A 30 km, 6-metre wide path is cleared around the lake for skating. The snow that is cleared is used for skiing. Once there's enough the club track-sets the whole loop. It's a great way to spend a big chunk of a day.
I haven't skied the Fairmont Hot Springs Ski Area but if I had kids that were just learning to ski, I'd take them here. It's an affordable alternative to bigger resorts – and after you finish skiing you can immediately head for Fairmont Hot Springs.
Skate the Whiteway
The Whiteway, a Guinness World Record holder with the title as the longest naturally frozen skating trail in the world with 29.8 km of cleared ice is a great place to skate no matter what your age.
There are shorter loops if you don't want to skate the entire length. Near one of the entrances you'll also find stand-alone rinks – though without any boards. I believe there are curling events here every winter.
Try fat tire biking
Panorama Ski Resort has added fat tire biking to its options of non-skiing activities. Not only can you rent fat tire bikes right on the hill, but you can bike all 20 plus kilometres of the Nordic trails. Just don't bike in the tracks.
The roads around the resort are also perfect in winter for biking – and may provide a welcome respite from some of the hillier sections.
The other main option for biking is on the Lake Windermere Whiteway. If you decide to bike it, don't forget to bring something to protect your face from the wind. It can be bitter – even on the warm side of the Rockies!
Go for a snowshoe in the Columbia Valley
Panorama Mountain Resort offers several kilometres of snowshoeing trails. But you can also check in with the Columbia Valley information centres and get their up to date opinions on where best to go. And if you can walk you can snowshoe so just about everybody can enjoy this activity.
Try snowmobiling with Toby Creek Adventures
I'm a wimp when it comes to anything recreational with an engine; motorboats and snowmobiles both fit in this category. So it was with some reluctance that I headed out on a half day trip with Toby Creek Adventures.
I had been on a snowmobile many times but I'd never actually driven one. Child's play many would say but not me. After a few practice loops, my guide Mike "Tucker" pronounced that I was ready to roll.
And roll we did – about 16 km and 4,000 feet one way to a gloriously perched hut in the Purcell Mountains called Paradise Hut. It was a former blacksmith shop for the Atlas Silver Mine. Although I'm not about to go out and sink $15K into a snowmobile I do now understand the appeal of getting to places that would probably take a few days to access on cross-country skis.
The people running Toby Creek Adventures offer all sorts of tours from family friendly to adrenaline pumping backcountry jaunts. You'll find them a kilometre before Panorama Mountain Resort.
Go paragliding over the Columbia Valley
I was supposed to try paragliding on a recent trip to the Columbia Valley but between poor weather and "Flying Max" out of town on business I missed my chance. Max offers tandem experiences over the Columbia Valley and Windermere Lake.
Most flights are 10 – 25 minutes in length depending on thermals and air currents. For a bird's eye view of the area and a chance to get your heart rate up, sign on for one of his rides. Most are done in the morning when valley winds are more predictable.
Soak in Radium or Fairmont Hots Springs
I think the best way to warm up after you've been outside in winter is to soak in the hot springs. The Columbia Valley is blessed with two developed hot springs. (There are more undeveloped ones that probably aren't very accessible in winter).
I visited both on a recent trip and would have a hard time choosing a favourite. Fairmont Hot Springs has a big pool adjacent to the real "hot springs" which is great if you want to swim lengths outdoors in the depths of winter. Their hot springs pool isn't as deep but it offers lovely views.
The Radium Hot Springs named for the trace but harmless amounts of radon in the water are located just inside the Kootenay National Park boundary in a dramatic and rocky setting. They see on average 270,000 visitors per year.
Don't forget that you must have a park pass to use the Radium Hot Springs. Should you forget anything, even your swimsuit – you can rent one. On weekends the springs are open between 10 AM and 9 PM. It can get busy but it too is in a magical setting. You'll have to be the judge and try them both.
Renting gear in Invermere
If you need gear – like skates or skis – check out Inside Edge Boutique and Sports in downtown Invermere.
Getting to Invermere, BC
It's only a three hour drive from Calgary to get to Invermere via a drive through two of Canada's most beautiful national parks – Banff and Kootenay National Park. Continue south from the town of Radium via a spectacular rock cut just south of Radium Hot Springs and you'll be in Invermere in about 15 minutes.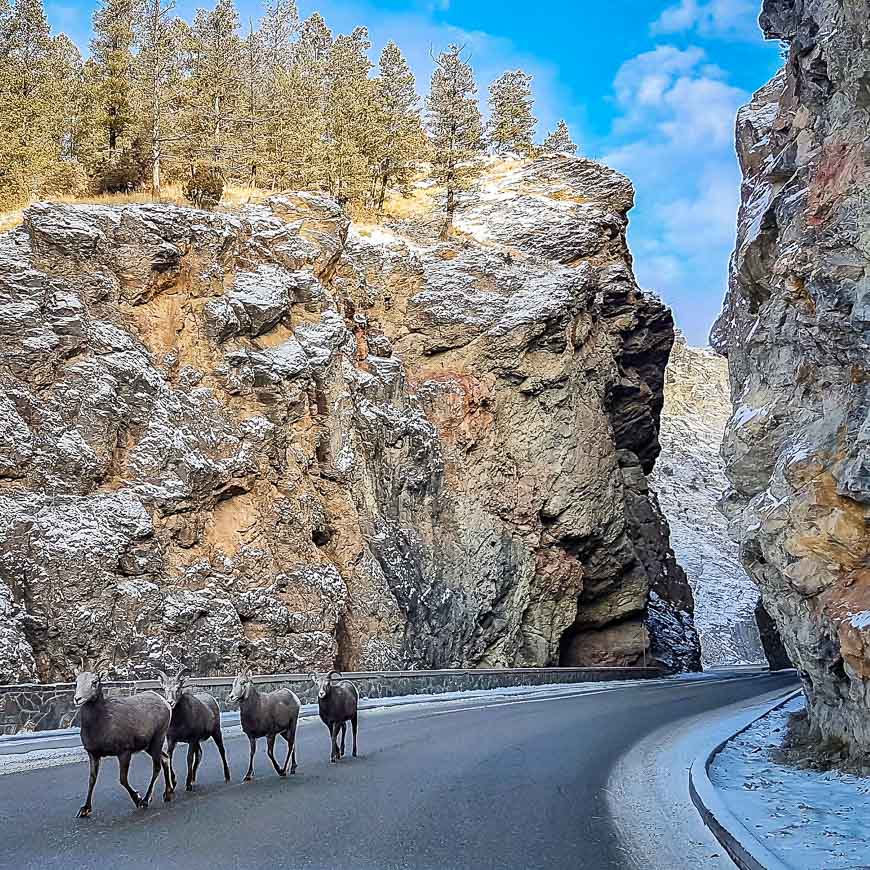 Location map of things to do in and near Invermere
Click on the three dots in the top right hand corner to email a copy of the map.
Where to stay in the Invermere Area
This post includes some affiliate links. If you make a qualifying purchase through one of these links, I may receive a small percentage of the sale at no extra cost to you. Thank you for your support.
In Radium Hot Springs, Prestige Radium Hot Springs Resort would be a great choice.
On another occasion we stayed at Bighorn Meadows Resort – a luxury condominium complex in the town of Radium Hot Springs. From the comfort of our room we enjoyed awesome views of the Columbia Valley.
On one occasion I stayed at the Copper Point Resort in winter and thoroughly enjoyed it. It's one of the nicest places to stay in the area.
The Kanata Inns Invermere is called a superb choice.
Another option is to stay at the Fairmont Hot Springs Resort 13 km south from Invermere so you can easily enjoy the hot springs.
Up at Panorama Resort check out the newly refurbished Approach Hotel, located right at the base of the slopes.
Further reading on things to do in British Columbia in winter
The Fernie area
Golden – Invermere – Kimberly area
Kelowna – Penticton area
Click on the photo to bookmark to your Pinterest boards.