With my love of adventure, I'll usually say yes to most things saner people would avoid. A bike race in the dead of winter across Lac Saint-Jean in Quebec is one such adventure. The brainchild of David Lecointre, La Traversée du Lac Saint-Jean à Vélo is a 32 km bike race from Peribonka to Roberval across the vast expanse of white, frozen Lac Saint-Jean. I never planned to do this as a bike race; for me it was all about survival and trying to be a finisher.
Unlike much of Canada this past winter, the Saguenay-Lac Saint-Jean area of Quebec had a real winter with snowbanks higher than your average adult and days if not weeks on end of temperatures in the -20°C range. The combination of snow and cold temperatures ensured that the race would be a challenge for everyone.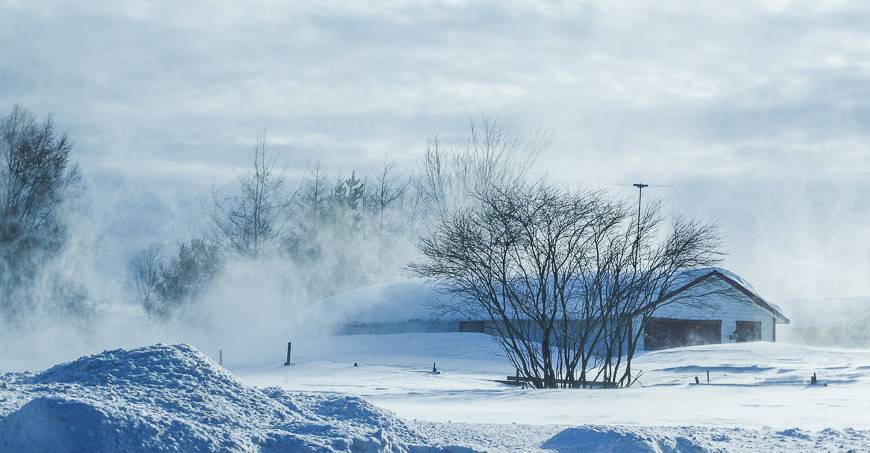 Some people treated the bike ride as a race – others merely wanted to survive
Approximately 132 people signed up to participate including many high level athletes who have competed in the Olympics and on the World Cup circuit. Intimidating – absolutely!
Fortunately, I had my husband John with me. Not only was he keen to participate and stick with me – he defaulted to translator whenever it was required.
This was part of a press trip and the other participants, who hailed from Belgium, France and Brazil, spoke either French, Portuguese and/or English.
The day before the race – after spending the night with the wolves in nearby Parc Mahikan, most people had a chance to try out their bikes and check out the course. We also got a lesson in how warmly we needed to dress.
As one of the Brazilian guys said – WTF – as he made his way to a warming hut on the ice. He was planning to fly a drone and challenging temperatures (-20°C and winds from 20-70 km/hr) freeze hands quickly.
The day of the bike race across Lac Saint Jean
Even though the race didn't start until 9:30 AM, we were in a van and driving to the starting point at 6 AM. By the time breakfast rolled around 90 minutes later, I was starting to feel pre-race jitters.
Looking around at the make-up of participants didn't help. Most people were young – almost half my age, male and very fit looking.
But I had one thing going for me – the coolest bike of all!
The race was suppose to start with Tom de Dorlodot, a world-class paraglider flying in but unfortunately the winds prevented that – so he ended up on a bike instead.
I somehow was included with all the high caliber riders at the start of the race. There's nothing more depressing than watching a pack of bikers fly by you. But within 15 minutes of riding – and walking, the pack was spread out over many kilometres.
A challenging bike course is an understatement
Most of the course that I rode had deep snow or narrow tracks where exquisite balance was an asset. In the end I'm guessing that I hopped on and off my bike at least 100 times.
The first few kilometres weren't too bad but then it got to the point where I'd ride a 100 feet and walk 200 feet. So despite temperatures starting at -20°C, I was sweating for most of the bike race.
On the bright side, I had lots of company. The elite athletes were visible as specks in the distance, while the rest of us dragged our sorry asses from checkpoint to checkpoint.
The first checkpoint was at the 9 km mark but then they increased in frequency with four more before the finish. All checkpoints had friendly, smiling volunteers, hot drinks and high calorie foods.
Over 3¼ hours I walked more than I biked and only made it as far as KM 14. They called the race at that point because of whiteout conditions and 70 km/hr winds. Secretly I wasn't so sad though I really don't like to give up.
To the finish line by snowmobile
Then volunteers transported all of us on snowmobiles back to the finish line. I don't know how long that took as I was bundled deep into my coat just trying to stay warm, but I'm guessing about 40 minutes.
By the time I arrived at the finish, I was thoroughly frozen. It was a real treat to step inside a warming hut filled with blankets and hot drinks.
I know I shut down after the event and couldn't be bothered to run out and take any photos of people coming across the finish line. I only wanted to stop shivering.
But once we did get changed into dry clothes and warmed up, the fun started anew. Food and beers were produced in a warm building near the Ice Village in Roberval. There were a number of speeches made by local politicians including Philippe Couillard, the then premier of Quebec. Awards were given out and what was interesting were the finish times.
The fastest male – Erick Auger did the course in 3:34:43. Julien, a fellow from France who was part of our group declared the ride to be the "toughest bike ride he's ever done." This is coming from a man who is sponsored by the country of Monaco and races on the World Cup Mountain bike circuit. I was starting to feel a little better.
Then I saw that only three women finished in total. The first place finisher, Caroline Boyaud, did it in 4:00:06 while the third place finisher did it in 5:04:44. Hats off to these ladies!
The bike race across Lac Saint-Jean is truly a one of a kind adventure
There were times when there'd be a break in the clouds and the scene was unbelievably beautiful; and even when the wind picked up and reduced visibility to one stake ahead, there was a feeling of being fully alive and that's not something you get very often sitting in front of a computer.
To sign up to bike across Lac Saint Jean visit La Traversée de Lac-Saint-Jean website.
A big thank you to David Lecointre for all the work he did organizing the event, to Hugues at Équinox Adventure for being great fun to be around and lining up my ultra-cool bike and of course to Nancy at Tourism Saguenay Lac Saint-Jean for inviting me in the first place.
Further reading on winter adventures in Quebec