I admit to loving anything with the word heli in it. For some bizarre reason, this year the universe has decided it's to be the year of the helicopter for me. Back in May I tried heli-yoga – and I can tell you its much more fun doing it in the mountains than in any gym. It's definitely a treat to be whisked to a mountain ridge in mere minutes when you go heli-hiking in the Bugaboos. And a 1000 Islands helicopter tours are way more exciting than anything you'll do in a motor boat.
1000 Islands helicopter tours provide a bird's eye view
But excitement is not the only reason to do the 1000 Islands helicopter tour. It's the best way to get an overview of the area – especially when you're going out on a three day kayaking trip. You get a mental picture of where you're going. And if you're short on time, you can't beat a helicopter tour.
When you're in a boat – be it a kayak, a sailboat or a small cruise boat you'd don't get the full sense of the beauty, size and sheer number of islands in the 1000 Islands. But in a helicopter, cruising at 180 km/hour you are good and truly wowed by it all.
What are the 1000 Islands?
The 1000 Islands, are actually a group of 1,864 islands in the St. Lawrence River located between Brockville and Kingston on the Ontario side and running across the river to include a similar distance on the New York State side.
In Canada, Gananoque is the major base for accessing the islands. If you want to see Boldt Castle (built "as a display of love for the wife of George Boldt," the owner of New York City's Waldorf Astoria Hotel.)
On a boat tour you need to allow five hours – two hours are for the tour of the castle and you must have a valid passport to visit.
On a 1000 Islands helicopter tour you'll get the lay of the land and a good aerial view of the castle within eight minutes of flying on a 20-minute tour. For some people that's enough.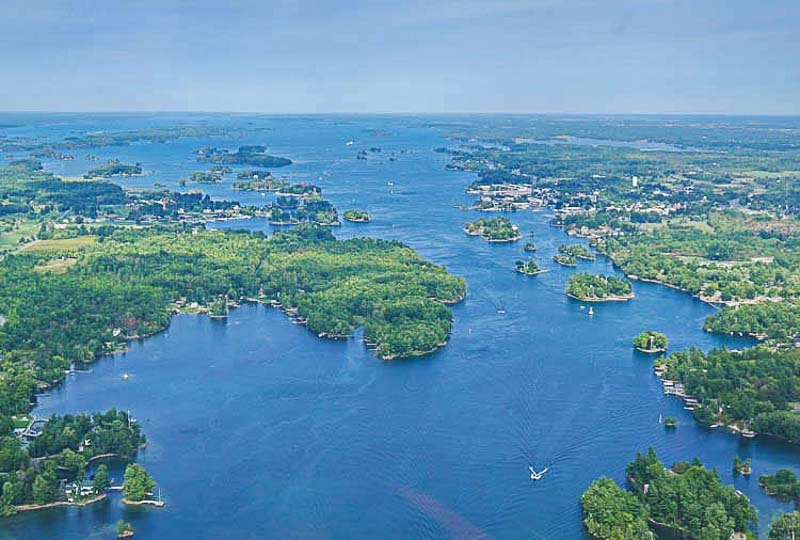 Pick how long you want the helicopter tour to be
Although you can reserve a helicopter flight, it's also possible to drive up to the heli-pad and wait for the next flight. You can book a 10, 20, 30 or 60-minute tour. Jordan, our pilot told me the 20-minute tour was the most popular one.
It was the one we did and the right amount of time to get a good overview. The helipad is located just off Highway 401, at the Highway 32 exit, just minutes from downtown Gananoque.
Thank you to Jordan for answering all our questions and to 1000 Islands Helicopter Tours for the complimentary flight.
For more information on booking a flight visit their website.
Further reading on things to do in southern Ontario
Click on the photo below to bookmark to your Pinterest boards.