A Boat Trip to Bonaventure Island and Percé Rock
If you are a bird lover, then put the boat trip to Bonaventure Island on your wish list. The island is home to an astounding 200,000 seabirds, of which 116,000 are gannets.
The gannet colony on Bonaventure Island is one of the largest and most accessible in the world. On the boat ride out to the island you'll also get a chance to get some photos of Percé Rock – likened to a "ship under sail from a distance."
Unfortunately Mother Nature did not cooperate on the day I visited. It was a day of thick fog, rain, thunder and lightning. Still I'm very glad I had booked a day in my schedule to go.
The Boat Tour to Bonaventure Island
There are a number of companies in the town of Percé offering boat tours. Most take you by Percé Rock – a monster sized natural arch and one of the largest in the world.
Then they continue on a tour around Bonaventure Island – a four square kilometre speck of an island in the Gulf of St. Lawrence. You're supposed to see (and we did a bit) thousands of birds nesting on the cliffs – and loads of grey seals swimming or basking on rocks – before being discharged on the dock of Bonaventure Island.
Then you can take as much time as you like to explore the island – as long as you're back for the last boat at 5 PM.
Our boat offered the chance to sit up on deck exposed to the elements or below where the rain couldn't get you. I was looking for the whole experience and opted to enjoy what view I could. The entire trip is narrated in French and English with descriptions and names of birds given that you pass by.
Parc national de l'île-Bonaventure-et-du-Rocher-Percé
Once you get to the dock on Bonaventure Island a very different – almost civilized world greets you. Bonaventure Island was inhabited until as recently as 1971.
At that point the Quebec government evicted the remaining 35 families living on the island and in 1985 it and Percé Rock became Parc national de l'île-Bonaventure-et-du-Rocher-Percé.
What should you do once you've landed on Bonaventure Island?
Once you've landed on Bonaventure Island you have to decide how you want to spend your time. If it's a nice day then perhaps one of the longer hikes might be in order. None are that difficult or require much hill climbing but you do have to be mindful of the fact that the boats return every hour on the hour.
Since I didn't have a lot of time – and thunder was crashing overhead – I chose to hike the Sentier des Colonies, the easiest and most accessible of the trails. I ended up doing a round-trip hike in just over an hour – though I was moving. The trail takes you through lush forest on a gradual climb to reach one of the high points on the island.
You know you're getting close to the gannet colony when …



You've arrived when you see a shelter and you can barely hear yourself think for all the noise the gannets make.
Stand behind a rope barrier, mere feet away from the gannets. It's a magical place. I certainly felt privileged to get so close to the birds. If the weather had been better there would have been tremendous appeal in watching the comings and goings of the birds for an hour or more. As it was I enjoyed observing a bird with a six foot wingspan find a landing spot on a crowded piece of real estate.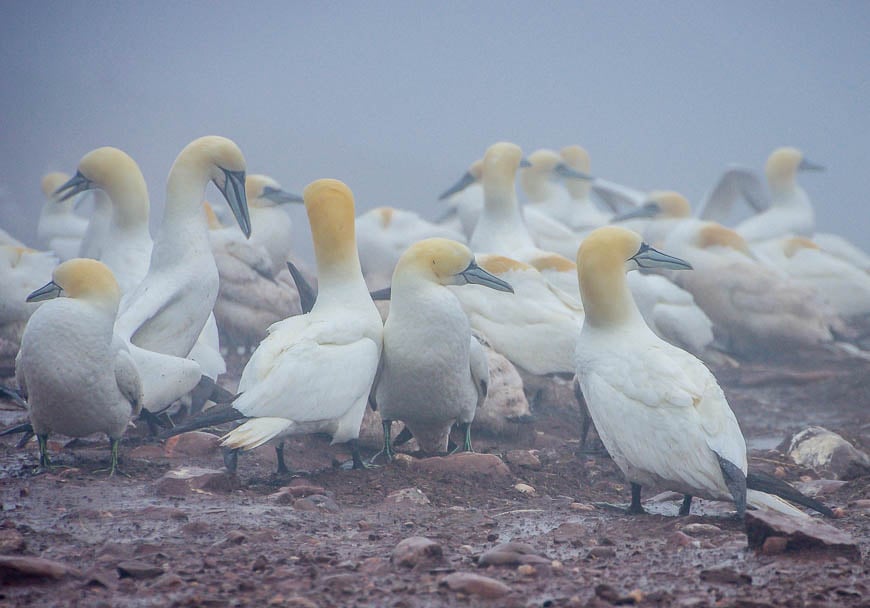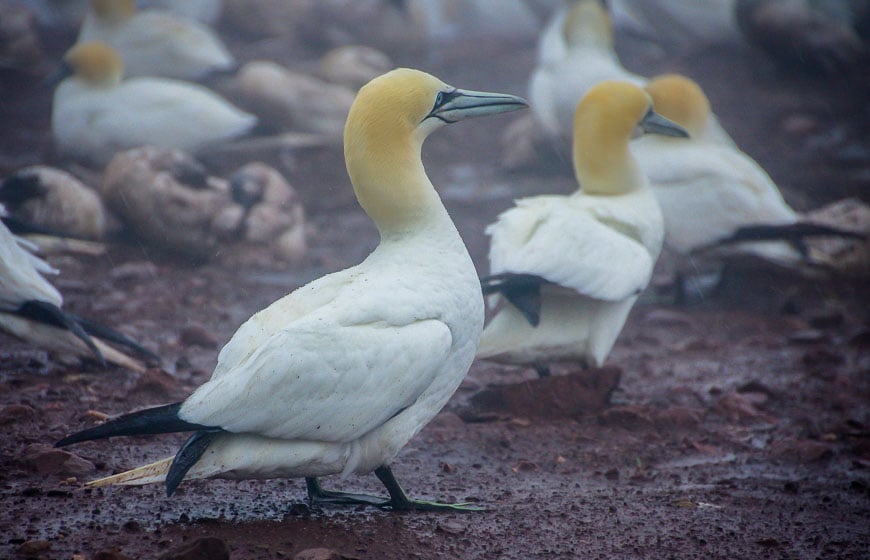 It was pouring rain when I was in the viewing area so I didn't linger. But by the time I got back to the area near the boat dock the rain had stopped. It gave me a chance to get my bearings. I was actually a bit surprised to see Percé Rock off in the distance.
While you're waiting for a return boat, stop in at the cafe for refreshments. Finish your stay on Bonaventure Island, admiring the wildflowers, listening to the birds and enjoying the landscape.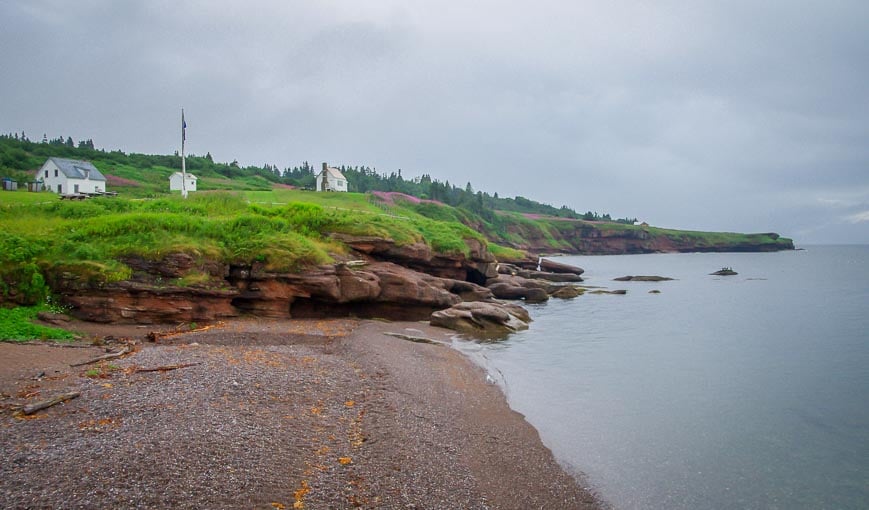 Most of the boat trips in 2019 costs around $38 for an adult. While they can be reserved you can also arrange one when you arrive in Percé.
Did you know that Bonaventure Island is home to so many thousands of birds?
Further reading on mostly nearby places to visit in Quebec
Click on the photo to bookmark to your Pinterest boards.
A big thank you to Quebec Maritime Tourism for a complimentary boat ticket.