Volcano Toco Day Hike in Chile
You can do this, it will be easy, just take one step at a time and breathe deeply!
So there we were, Ted and Jo, novice hikers, with world-class mountain hikers Leigh and John, in the middle of nowhere – ok it was the Chilean Atacama Desert. Hot beyond belief, sunny and arid (it rained 11 months ago for an hour). Hey while we're staying at this 5 star resort (Tierra Atacama) let's go climb 18,645 foot Volcano Toco.
Sure we're up for a challenge – just wondering if our will is up to date mutter Ted and Jo to each other as we start the climb up Volcano Toco, gasping for air from the get go.
Updated March 2020. This post includes some affiliate links. If you make a purchase via one of these links, I may receive a small commission at no extra cost to you.
Our guide on the Volcano Toco hike
The most perky friendly guide we have ever met, Pamela from San Pedro de Atacama, meets us at the van and an hour flies by as she highlights life in rural Chile.
While she has yet to live with electricity Pamela was instrumental in creating an academically successful public school in San Pedro to ensure her son becomes an astrophysicist – but Jo digresses.
Only once did the van actually stop and buck – the altitude of 16,000 feet was too much for a Chevy van (so Ted and Jo were thinking – what have we gotten ourselves into?)
What the Toco Volcano looks like
Toco Volcano's peak we are told is 18,645 feet (5,683 metres). The highest Ted and Jo have ever been is Pikes Peak in Colorado at just over 14,000 feet and we went up in a train!!!
OK, so out of the van we get at 16,000 feet and Pamela puts on her mitts and pink down jacket (a steal for 2000 pesos = $2 US dollars), John is in shorts, Jo and Ted are gasping for a air – only 2,000 feet to go. Well the scenery is out of this world.
No vegetation – it is simply too harsh for anything to live. Rocks, sulphur cones, mountain ranges 360 degrees around. Licancabur volcano is to our north, a massive beast shared by Chile and Bolivia (secretly Ted and Jo are gleeful that we aren't attempting that one!)
Switchback trails save our lungs. Faking interest in rock formations allows for more deep breaths because we have to stop (no really we are interested!).
As we climbed very slowly upward we were blown away with the desolate yet absolutely mind-blowing vistas – salt flats, volcanos, an astro observatory, off-road paths, sand, desert, did we mention sand and desert?
The summit of Volcano Toco
About two hours pass and we make it to the summit. Pamela hugs us with so much enthusiasm it makes us giddy – or maybe it was the lack of oxygen?. Coca tea, chocolate bars and a short sit and picture taking and then the descent begins.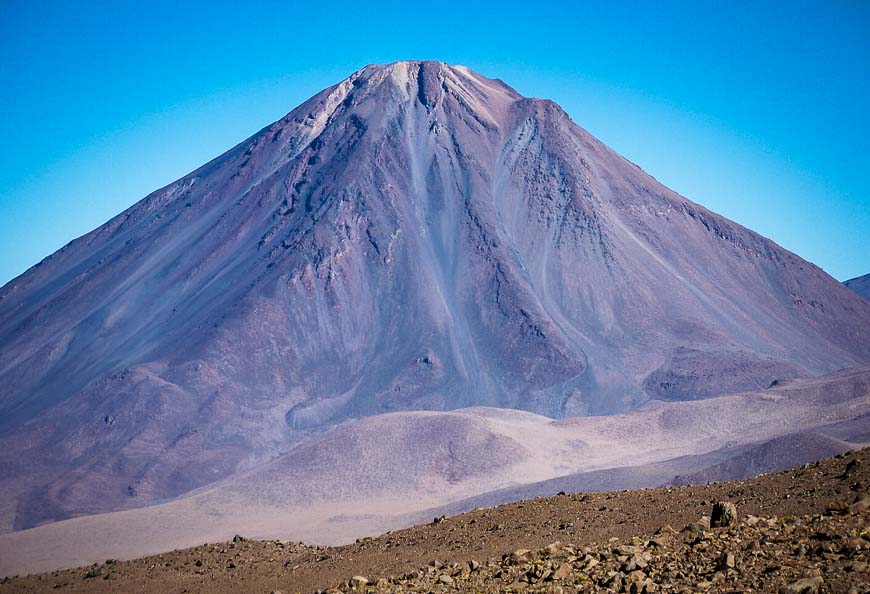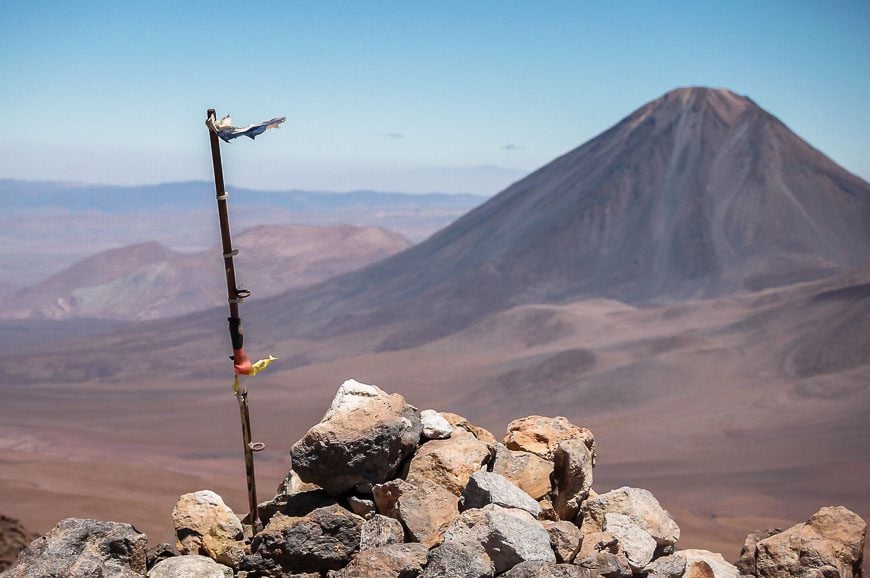 John advises us to use our heels as we step down and to take a lot of time going down to prevent altitude sickness. It works. We love this pace and reach the van with no headaches and an amazing sense of accomplishment – not bad for a couple of old fogies from northern Ontario who live 500 feet above sea level.
Volcano Toco climbing survival tips
Acclimatize for 3-4 days at least, before attempting a climb (we did this by doing hikes a few days before at lower altitudes).
It doesn't hurt to take Diamox (prescription) 2-3 days before (anti-high altitude sickness med).
Some folks take Advil before and during the climb.
Sip lots of water on the ascent and descent.
Dress in layers – it was probably 35° C in San Pedro but Jo wore wool socks on her hands while climbing since the wind was wickedly cold, and after all you are exposed. She also wore a gaudy scarf around her head since her hat kept blowing off (ok so that's another tip – make sure your hat has a chin strap/string on it).
Mentally prepare yourself that it is not a race to the top. Slow and steady wins the race.
Take pictures, especially if you can get contrast in the shot eg a lone hiker on a switchback illustrates the enormity of the mountain
Stop lots, not just to deep breathe but to take in the earthly wonder of your surroundings.
Where to stay in the Atacama Desert
While there are loads of hostels in San Pedro de Atacama we splurged and stayed at the Tierra Atacama Hotel & Spa. To this day it is one of my all-time favourite hotels. One of the excursions they offered was the climb of Volcano Toco.
Further reading on things to do in Chile
If you're visiting San Pedro de Atacama check out their website for more information on things to do in the area.
Click on the photo to bookmark to your Pinterest boards.
This blog was kindly written by Jo Beyers – our long time northern Ontario friend who was a very good sport when it came to climbing the volcano.