You won't go wrong at any time of the year with a hike on the Whyte Lake trail in 306-acre Whyte Lake Park in West Vancouver. It's the perfect outing if you have one to three hours. The Whyte Lake trail takes you through beautiful old-growth forest with a lush under-story. Often you can hear the wrens singing away and you may even spot a barred owl. Though there are bears in West Vancouver I never saw so much as bear scat let alone a bear on the dozens of occasions that I hiked this trail. Nonetheless be bear aware.
I usually hiked the Whyte Lake trail alone and never once felt scared but before you hike it, I'd suggest reading Tips for Staying Safe in Bear Country .
This post includes some affiliate links. If you make a qualifying purchase through one of these links, I will receive a small percentage of the sale at no extra cost to you. Thank you very much for your support.
Whyte Lake Trail information
The Whyte Lake trail is only 2.9 km one way. But you have to access the trail via the Nelson Canyon Trail or via the steep trail from the Horseshoe Bay trailhead.
If you hike via the Nelson Canyon Trail – which is signed as the Trans-Canada Trail, then hike up the rough road and turn right at the small trail near the water tower (well signed). Continue up for about 10-15 minutes through second growth forest. At the first junction turn left onto the signed Whyte Lake Trail. That's where the 2.9 km starts. You can actually do a loop and return to the Horseshoe Bay trailhead if you've left a car there.
Access to the Whyte Lake Trail via the Seaview Trail
Alternatively walk east along Marine Drive to the Seaview Trail all the way to the end. Go north up and under the big bridge, turn right onto the old highway that is only used by hikers now, and cross the old bridge. Voila – you're at your starting point of the trail. Allow at least two, perhaps three hours to hike the complete loop.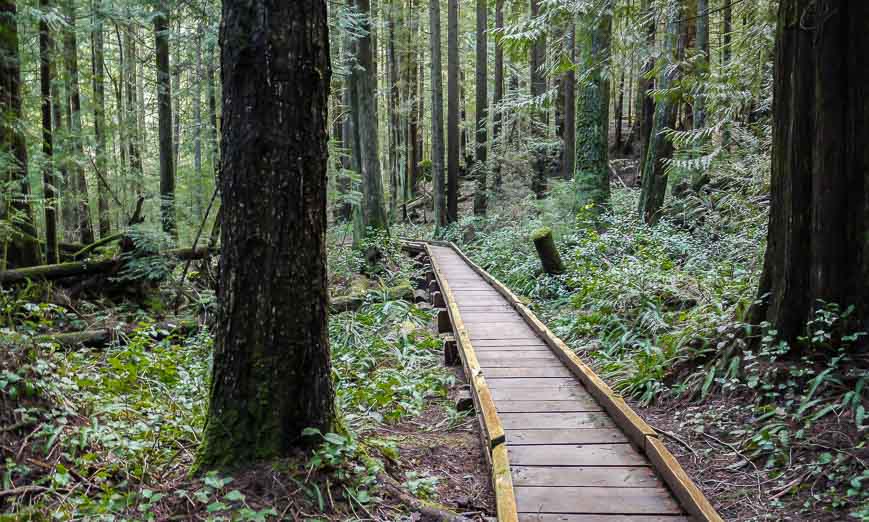 Getting to the trailhead
There are several options depending on what direction you want to hike. The trail can be accessed from Westport Road just south of the Upper Levels Highway via a hike up Nelson Canyon – but parking is limited. Or you could park at the trailhead close to Horseshoe Bay at Exit #1. That's not as pretty an approach and it's extremely steep.
Whyte Lake fishing
I've seen lots of fisherman over the years and plenty of fish at surface but fishing is no longer allowed as the Westslope Cutthroat trout are a threatened species.
Dogs on the trail
Dogs are allowed but they are supposed to be on a leash on the Whyte Lake Trail. When we lived in Vancouver, they were not – hence the off-leash photos.
More hiking options from the Whyte Lake trail
The Whyte Lake trail links up with the Baden Powell Trail to the north and west and with the Trans-Canada Trail to the east. If you hike past Whyte Lake, you can meet up with the Baden Powell Trail and hike all the way to Eagle Bluffs in Cypress Provincial Park. Eagle Bluffs can also be accessed by beginning at the Cypress Mountain ski resort.
Location map
A few things to consider on this hike
If you plan to hike in West Vancouver, this trail is an excellent choice.
Pack out what you pack in and leave no trace.
There is an outhouse near Whyte Lake but take your own toilet paper just in case.
Always go prepared with the hiking essentials– taking water, a few energy bars, and some extra clothes. Carry a rain jacket, ideally with a hood.
Where to stay near West Vancouver
North Vancouver
You can't go wrong with a stay at The Pinnacle Hotel at the Pier. It's close to excellent restaurants and the sunsets from the rooms are fantastic.
The Holiday Inn in North Vancouver is a solid choice.
West Vancouver
Choices in West Vancouver are in homes. There's a waterfront cottage with coastline views that looks amazing and a duplex house providing full city views is rated as exceptional.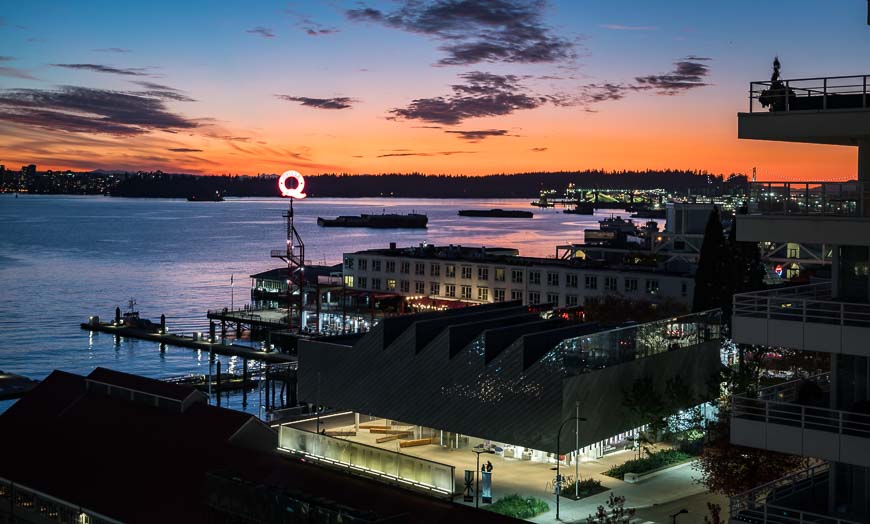 Further reading on things to do close to West Vancouver
Don't forget to check out Tourism Vancouver's website for more information.
Click on the photo to bookmark to your Pinterest boards.