I have driven past the entrance to Mount Revelstoke National Park without stopping at least a dozen times. This past weekend, I made the park my destination with the plan to hike the trail to Eva Lake.
I had planned for a visit in early August specifically to try and catch the wildflowers. I'd say they are just about at their peak so the next few weeks are definitely a great time to visit.
Access to the beautiful, turquoise coloured Eva Lake is via a trail at the top of the 26 kilometer Meadows in the Sky Parkway. The road switchbacks over 10 times as it climbs up the side of a mountain, gaining 1,600 meters (5,249 ft). Pop out at a parking lot by Balsam Lake, in a beautiful landscape of sub-alpine tundra. From there you have the option of hopping on a shuttle beginning at 10 AM but it's an easy one kilometer walk to the actual Eva Lake Trailhead via the Upper Summit Trail.
All told it's a 12 kilometer return hike to Eva Lake. Add an extra two kilometers if you don't take the shuttle. (Dogs are not allowed on the shuttle bus.)
The trail to Eva Lake changes character as you hike. Initially, it takes you through forest broken by meadows filled with wildflowers.  There are intermittent views of the Columbia River, thousands of feet below.
After you pass though the last of the meadows, you enter a world of rock and boulders, home to marmots and pikas. At the 5.4 kilometer mark, look for the first trail intersection. You have the option of doing a short (0.4 km) side trip to Miller Lake. One minute later there's another intersection – with the option of doing the longer, harder hike to Jade Lake. But if you continue then in roughly 15 minutes you'll arrive at the stunning Eva Lake.
It's possible to camp overnight at the lake although there are only four backcountry campsites available on a first come, first served basis. Prices are $9.80 per person per night.
Even without the wildflowers, the hike to Eva Lake is a pretty one.
And cyclists who like a good leg burn might want to bike up the Meadows in the Sky Parkway. The downhill would be worth the effort.
The Meadows in the Sky Parkway is accessed off the Trans-Canada Highway, a few kilometers east of Revelstoke. Revelstoke is roughly halfway between Vancouver and Calgary.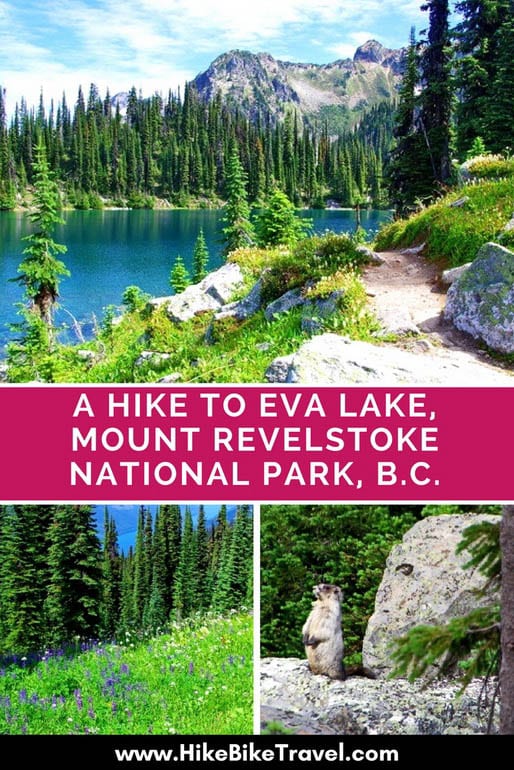 Leigh McAdam
HikeBikeTravel
Facebook
Twitter
Pinterest
Instagram