A Lillian Lake hike in Alberta's Kananaskis Country was a visual and surprisingly, an auditory treat when we first did it. It seems that Lillian Lake under the perfect storm of circumstances is really a singing lake. (Keep reading to find out why …)
The Lillian Lake hike is primarily in the trees – with the really good views starting on the way up to the Galatea Lakes. But it's still a very pleasant outing and a means to an end if you want to hike to Guinn Pass and the Ribbon Lake backcountry campground. Be sure to purchase an Alberta Parks conservation pass before you start the hike.
This post was updated in January 2022. Included in this post are some affiliate links. If you make a qualifying purchase through one of these links, I will receive a small percentage of the sale at no extra cost to you. Thank you for your support.
Lillian Lake hike (Alberta) details
Distance return: 12.6 km
Elevation gain: 492 m
Level of difficulty: Easy to moderate depending on your fitness level
Dogs allowed: Yes on leash
Time needed: 4 – 5 hours
Map: Gem Trek Canmore and Kananaskis Village
Lillian Lake can sing
Let me explain about the singing. We arrived at Lillian Lake about noon on an October day. The sun was shining but it was still freezing outside – probably about -5°C and Lillian Lake was covered in about two inches of ice. Initially all was quiet but as we got about halfway around the lake, there was what sounded like the echo of kids hollering. And since there was a big group camped at the far end of the lake, this initially made sense.
But when we stopped to intently listen, the sound seemed to echo off the far side of the lake. It transfixed us. We literally couldn't believe our ears. For the next 20 – 25 minutes we listened to the lake singing. Sometime it was musical, other-times highly discordant – akin to a ricocheting bullfrog sound if you could imagine that. And then it abruptly stopped.
My husband figures it was the perfect storm of sun heating the ice-covered lake with the energy being released as sound. It didn't hurt that the setting was a bit like an amphitheatre with a huge rock wall to bounce back the sound.
This was truly a once in a lifetime and a very unique experience. And perhaps that's why some lakes are called Singing Lake.
Lillian Lake hike – Alberta trailhead location
Lillian Lake is a very popular day hike in the Kananaskis area of the Rocky Mountains. The trailhead is only about 70-75 minutes from Calgary. The trailhead is just off Highway 40, about 33 km south of the Trans-Canada Highway. It's on the west side of the highway and is signed Galatea Lakes.
By mid-October the crowds have disappeared. Until we reached the lake we saw only seven other people – perhaps because at 10 AM when we started it was still cold, -8°C , though it did warm up nicely.
Route description to Lillian Lake
The trail to Lillian Lake heads down and over the Kananaskis River on a well-built suspension bridge. Once you've across the bridge turn left and follow Galatea Creek, basically all the way to the lake – a distance of 6.3 km with an elevation gain of 492 m (1,614 feet).
Along the way there are numerous small bridges to cross – all rock solid, as well as many avalanche path to cross. That's why this hike is not recommended for winter touring.
Expect snow on the ground if you hike to Lillian Lake in October
The ice was just starting to form at lower elevations on the stream in early October. By the time we were roughly two thirds of the way up to the lake there was snow on the ground.
Some was so hard packed that it was icy and a pair of icers or microspikes would have come in handy. I won't venture again this fall into the backcountry without a pair. I did a bit of bum sliding yesterday but that was tough on the rear.
There are lots of pretty vistas and sights along the way – beautiful yellow-leafed poplars with snow- covered mountains in the distance, rushing streams with fantastic shaped icicles, the last of the elderberries which are much loved by the bears and one three-toed woodpecker. Trees with unusual bark and juniper bushes loaded with berries were also to be seen.
No bears or even bear scat was spotted but I always carry a can of bear spray that is easily accessible.
At the far end of Lillian Lake there's a campsite – and a backcountry permit is required.
There was plenty of snow around when he hiked it but that didn't deter the Outdoors Club from the Cochrane High School. A few teachers and about 15 kids spent the night out here. The ice was surprisingly thick close to shore though our dog wasn't so keen on it. Dogs are allowed on this hike though they must be kept on a leash.
Lillian Lake is very pretty though Galatea Lakes, which are just a bit higher, are even prettier. We decided to forgo Galatea Lakes because of the icy trails.
Guinn Pass is also accessible from the Lillian Lake Trail with the turnoff near the campground – something that changed after the 2013 floods. If you continue past Lillian Lake be sure to also include a pair of gaiters. The hike to Guinn Pass is particularly beautiful and another reason to return to the area.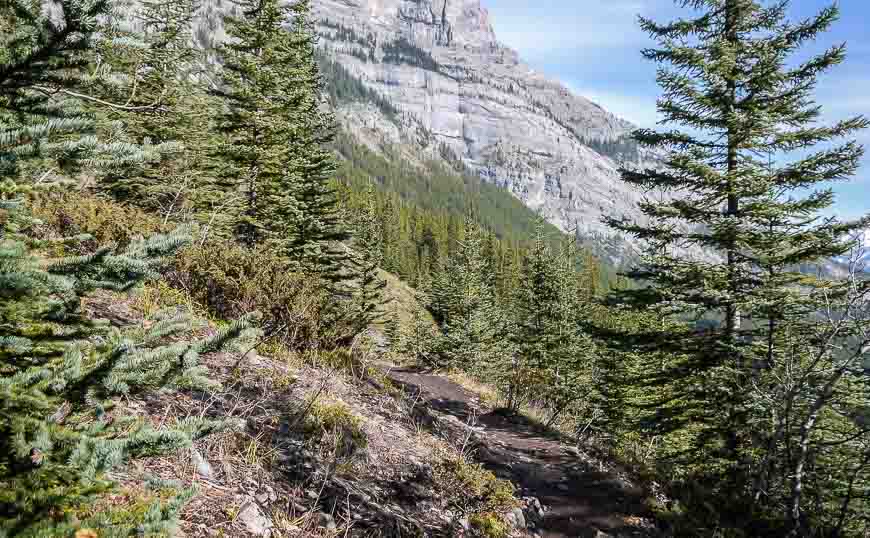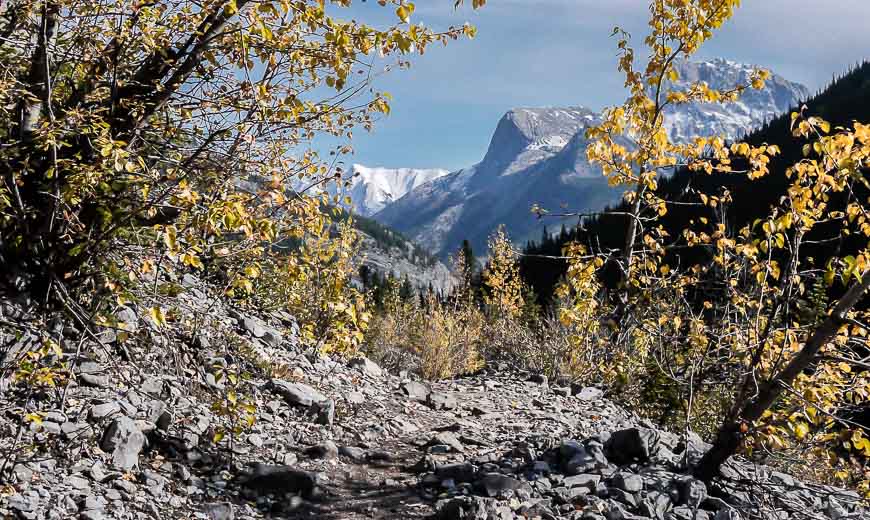 Further reading on hiking in Kananaskis Country
Click on the photo to bookmark to your Pinterest boards.