Ski Trip to Sundance Lodge, Banff National Park
Every year, John and I book cross-country ski trips into backcountry lodges in an effort to make the winters fun and enjoyable. Our most recent trip took us to Sundance Lodge in Banff National Park, just days after the winter solstice. The lodge has primarily been used in the summer as a place to stay while on horseback trips. But, with a recent change in ownership, there's a push now to welcome visitors throughout the winter.
The year we visited Sundance Lodge Banff opened on December 18th. It remains open until late March depending on snow conditions and that varies from year to year.
It's the only lodge that I'm aware of that permits one night stays (most have two night minimums) – so it is truly the perfect destination for a winter weekend getaway. Unlike many backcountry lodges, this one is open seven days a week.
Getting to Sundance Lodge
Sundance Lodge is in Banff National Park.
The trail begins at the Cave and Basin National Historic Area – the birthplace of Canadian national parks. It's also an area with natural thermal springs, so don't be surprised if you get a whiff of rotten egg as you head out.
Accessed via a ski (or snowshoe) in from the Cave and Basin area on the outskirts of Banff or the Healey Creek Trailhead off the Sunshine Valley Road, it takes the average guest 2½ – 4 hours to reach the lodge, 13.5 km from the trailhead.
Although it's not a difficult ski in, it does get the blood flowing especially on the long but gentle hill on the final turn-off to the lodge (signed for Allenby Pass).With light fading by 4 PM, you really should plan to arrive by 3 PM so that no one has to come looking for you via snowmobile.
The trail follows the Bow River, past the turnoff to Sulfur Mountain. There's another turnoff to Sundance Canyon you want to avoid – unless you have extra time as it adds 1.6 kilometres round trip.
About 5 kilometres into the trip, you reach another junction with signage pointing in the direction of Sundance Lodge. Typically the snow gets better at this point as you start to climb.
The total elevation gain to the lodge is 400 metres (1,310 feet).
Most of the time you're skiing in the trees but occasionally there are peek-a-boo views. There is one section that was badly flooded in 2013, but new bridges make the area easy to navigate. From here, you're less than 30 minutes to the lodge.
It took us three hours to ski to Sundance Lodge and 2.5 hours to ski out.
What it's like inside Sundance Lodge
Before we even set foot in the lodge, we were warmly welcomed by Mike Christensen, the foreman. And once inside, we were in for a treat.
Sundance Lodge is beautifully outfitted in a cowboy theme. Furnished with western themed blankets and chairs, horseshoes re-purposed into candle holders and enough artwork around that really suited the place, I felt instantly at home. Wander around the property and you'll see the hitching posts and tack room shrouded in snow.
As there was only one other family spending the night (though the place can sleep 34), we had our choice of rooms on the second floor. Most bedrooms have a set of bunkbeds but there are quite a lot of configurations with single and double beds also available.
Bathrooms and sinks are on the main floor – as is indoor plumbing and hot showers – a real bonus for a backcountry lodge. There is solar powered lighting but it's not too bright so don't forget headlamps.
The common room is perfect for lounging. There are games and books in the lodge and people to chat with. It's here that Linda, the cook, sets up a mid-afternoon welcome spread with crackers and cheese, chips and salsa, muffins and fruit. Cold and hot drinks are also offered on arrival.
Family style dining at the lodge
All the dining is done family style. On our stay, a family had skied in pulling two sleds with a 1, 3 and 5 year old. We were told that these kids were the youngest visitors ever.
I'd say the lodge is great for kids five and older but with really young ones, you have to be vigilant around the fireplace and the stairs. Still, hats off to a family for making the trek in.
Meals aren't fancy but they're filling and delicious. On our stay it was lasagna and salad for dinner with homemade applesauce and a hot chocolate pudding with whipped cream for dessert. In the morning you can choose from traditional eggs and bacon, hot or cold cereals and home baked muffins.
Although the lodge now has a liquor license, it seems there is still some confusion over what they can serve. I'd say, if you want alcohol, bring your own.
What's around Sundance Lodge?
Sundance Lodge and the adjacent 10 Mile Cabin is located halfway to Mount Assiniboine. Back in the olden days, these places were stopovers as they were on the only route into Assiniboine via horseback.
The 10 Mile Cabin got its name because its 10 miles (16 kms) from the railroad station in Banff. It also explains the confusion around the distance into the lodge. On the website and even on the map given out, the distance is recorded as 16 kilometres (10 miles) but when you add up the mileage via the trailhead signs its closer to 13.5 kilometres.
For people planning to spend more than one night, it's good to note that Sundance Lodge will never be a destination for downhill skiers looking for turns – the surrounding terrain just isn't great for that.
Fortunately though, you could if you wanted to leave the comfort of the lodge explore further up the valley on snowshoes, and they are provided.
You can also stare into the fire and simply relax. There are games and books to read. (Don't forget a headlamp for reading in bed as the solar powered lights aren't very bright.) Stargaze. It's an incredible spot and fun to photograph star trails if you're into photography.
Before you even show up you may want to check the Northern Lights Forecast. Sometimes you'll be lucky and see them here too.
Wildlife sightings from the lodge
I asked about wildlife sightings when I was there and both Linda and Mike broke into broad smiles. Just four days earlier, they had heard the howling and barking of wolves – four of them as it turned out, within a stone's throw of the lodge at night time. Apparently, the wolves had taken down a deer and were battling over the carcass. You can still see clumps of wolf hair from the orgy of eating and fighting.
Typically though, you'll be lucky to see a pine marten – so don't give the wolves a second thought on your ski in! They also mentioned they had caught sight of an owl with a squirrel in its clutch, but alas we didn't see a single animal.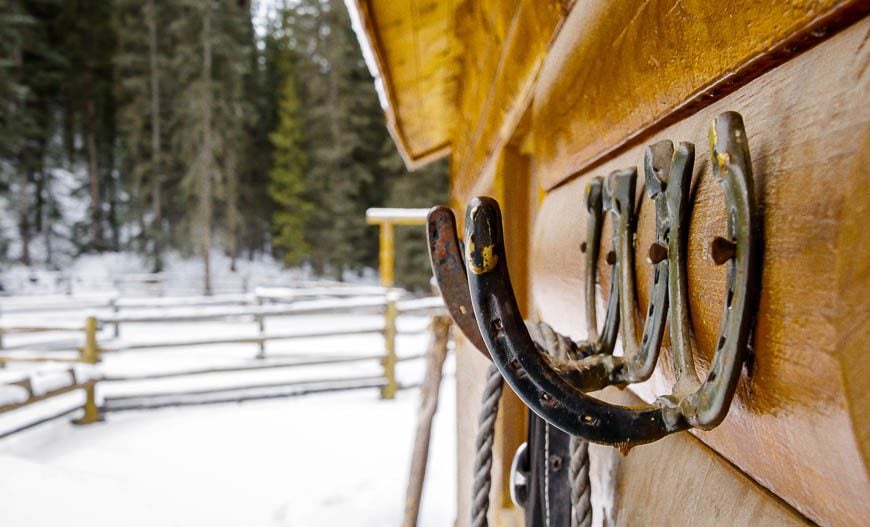 You don't have to cross-country ski into the lodge
Sundance Lodge is a great winter destination. Even if you're not a skier, you could make it to the lodge on snowshoes, fat bike or even on foot as the trails get packed down. Just don't walk in the ski tracks.
Although, it's not a difficult ski in, you should still go prepared with extra warm clothes, high calorie food and something hot to drink. Always carry a first aid kit, a headlamp and matches and firestarter as well.
If you want to book a stay visit Banff Trail Riders. Prices are $239 per person and include all meals.
Further reading on things to do in Banff National Park in winter
Click on the photo to bookmark to your Pinterest boards.
This post was sponsored by Travel Alberta but all thoughts and opinions as always are strictly my own.