I admit to being clueless on occasion. I had no idea until this past summer when I hiked into Sunshine Meadows, that there was in fact a ski-in/ski-out lodge at Sunshine Village. My excuse is that I hadn't lived in Calgary for long. And the last time I skied at Sunshine was four years ago, on a -25°C day so all I could think about was staying warm. I obviously didn't bother to take in any of my surroundings.
That all changed last weekend. I had the pleasure of spending a night at Sunshine Mountain Lodge and I can tell you that it is a total treat to be on the mountain overnight. The whole lodge experience actually starts in the parking lot.
Sunshine Mountain Lodge – even the check in experience at the parking lot is a dream
John and I didn't arrive to go skiing until late morning so the main parking lot was close to full – and as a result it's a bit of a slog, especially with gear to reach the gondola.
However, when you stay at the lodge you're permitted to drive to the hotel check-in area right beside the gondola. You can unload your bags and then park your car just a few minutes' walk away. This is also where you can pick up a lift ticket so there are no lines to deal with – and as a bonus, there's a nearby washroom.
The hotel staff will have your bags waiting in your room by the end of the ski day. All you have to do is throw on your ski boots and enjoy a day in the mountains.
The Skiing at Sunshine Village
If you've never been to Sunshine Village, you should know that you have to first take a gondola to reach the ski resort itself. A bonus to a late morning start is the fact we didn't wait for one second to get on the gondola – and that turned out to be our experience for the rest of the day.
We skied for about four hours, mostly in the Goat's Eye area because it was the sunniest spot. The snow was great, the lift lines were non-existent which surprised me considering how many cars were in the parking lot and it was only a few degrees below freezing – balmy compared to my last experience.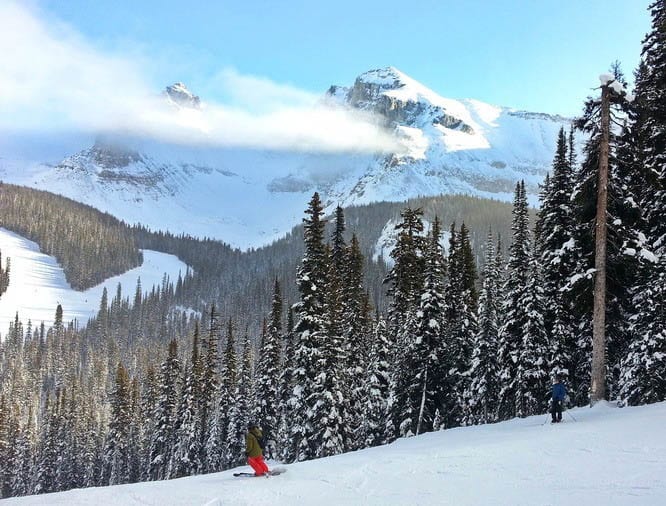 Our stay at the Sunshine Mountain Lodge
What a treat it is to close the lifts down and then walk only a short distance to a hotel. There's no trying to stay awake while driving back to Calgary. There's no traffic. All you have to do is think about how you'd like to relax.
John and I checked into our room. Located on the third floor, it was large and well-appointed with a king sized bed, a bathroom sporting a big soaker tub and shower as well as little luxuries like cozy bath robes, designer toiletries and a flat screen TV.
As a bonus, the assistant manager had provided us with a half bottle of wine and a cheese tray. (Thank you!!)
That actually derailed us as we were hungry – so the soak in the hot-tub was left until after dinner.
In the outdoor hot tub, the biggest in the Banff area, it was just us, one other group and the stars. There's also the option of a sauna though we were cooked after 20 – 30 minutes and couldn't take any more heat.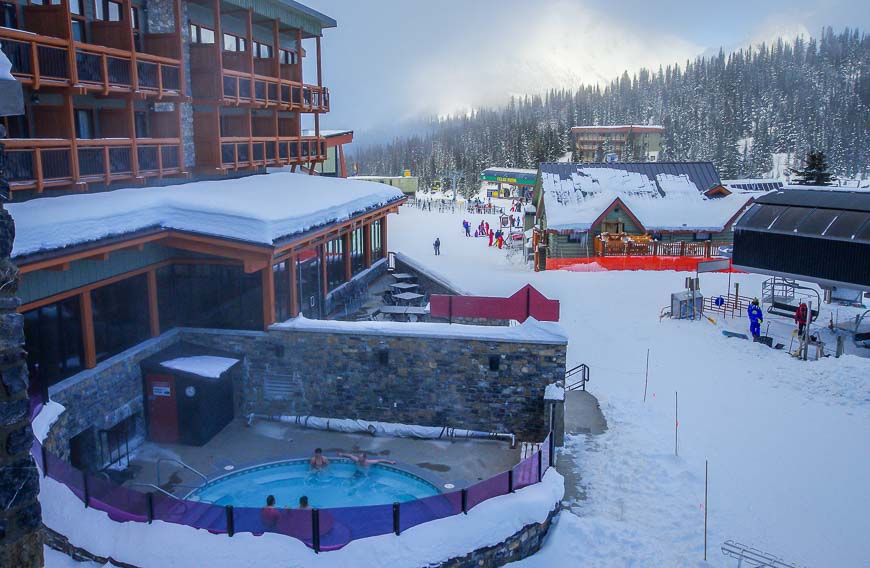 Dining at Sunshine Mountain Lodge
There are several dining options in the lodge – casual in the Chimney Corner Lounge and Sports Bar and slightly more formal in the Eagle's Nest Dining Room. John and I were treated to a great dinner in the Eagle's Nest Dining Room. I can never pass up mushroom ravioli and John had sockeye salmon on a bed of sweet potatoes with edamame.
The next day for breakfast, I dug into a hefty serving of banana bread French toast (fabulous) and he had the pancakes pictured below. The dining room looks out over the mountain so it's easy to become lazy and enjoy an extra-long breakfast.
This post includes some affiliate links. If you make a qualifying purchase through one of these links, I may receive a small percentage of the sale at no extra cost to you. Thank you for your support.
Other amenities at Sunshine Mountain Lodge
Other amenities that made our stay easy were ski lockers and a coffee shop on the main level. There's also a ski shop though we weren't really in shopping mode on this short trip.
Overall, it was a total treat to stay overnight on the mountain. There's something very magical about having the place to yourself once the majority of the skiers have left.
Snowshoeing from the lodge – a Canadian Signature Experience
Even if you're not that into skiing, but your family is, the lodge is still a relaxing place to hang out. And don't forget, there is the option of doing a snowshoeing tour with a fondue finish. It's a lot of fun and on a bluebird days the views are incredible.
Booking a room at Sunshine Mountain Lodge
The lodge is open during their long ski season. While prices are higher than many places in Banff there is something truly magical about being up here after the skiers have left.
And nothing beats a soak in the hot tub under the stars. Note that the gondola and your bags moved to your room are all included in the price. And there's WIFI. To book a night click here.
For more information about Banff National Park visit their website.
Further reading in things to do in Banff National Park in winter
A big thank you to Sunshine Village Ski and Snowboard Resort for hosting my stay.
Click on the photo to bookmark to your Pinterest boards.