John and I spent a week on a holiday in Utah early one year in April – a great time to visit as it's not too hot yet. After meeting up with friends in Denver, we drove six hours to reach Moab, Utah. Our plan was to hike in Arches and Canyonlands National Park before heading to Torrey, Utah where we'd spend some a few days hiking in Capitol Reef National Park.
Here's an account of our sunset hike to Balanced Rock in Arches National Park.
This post includes some affiliate links. If you make a qualifying purchase through one of these links, I will receive a small percentage of the sale at no extra cost to you. Thank you very much for your support.
Arches National Park in 2023
There are changes afoot in Arches National Park thanks to a 66% increase in visitor traffic over 10 years. Timed entry tickets are being tried to alleviate traffic congestion and help with the flow of visitors. From April 3 to October 31, 2023 you'll need to have a timed entry reservation to enter the park. It's a pilot program and entries will be needed between7 AM and 4 PM daily.
Timed tickets are not required for those with camping, backcountry, Fiery Furnace, or special use permits. Fortunately, you should still be able to do the Balanced Rock sunset hike without any reservations but you'll still need a park pass.
Our day in Arches National Park
We had spent all afternoon hiking the Devil's Garden trail – the best hike in my opinion in Arches National Park. At the end of the day rather than rush back to Moab for dinner, we decided beforehand that we'd find a spot to watch the sun go down.
We had loaded up on nibblies and packed a Nalgene bottle full of Malbec – a perfect way to end the day in our view. We chose to watch the sun go down at Balanced Rock in Arches, considered one of the best places in the park to view the sunset.
Balanced Rock defies gravity. Weighing in at 3,500 tons, you can't help but wonder when it will topple. The bottom layer is a mudstone that erodes at a faster rate than the cap rock – described as a hard slick rock member of the Entrada Sandstone. Eventually the mudstone will erode enough to cause the toppling of the Balanced Rock.
The total unit is 128 feet high, with the Balanced Rock contributing 55 feet.
Balanced Rock had a neighbour named Chip Off The Old Block Up until the winter of 1975/1976 when it toppled over at some point.
It's a short, easy, family-friendly 0.3 mile hike in to Balanced Rock. The area around it affords magnificent views of the La Sal Mountains.
Balanced Rock trail details
Distance: 0.3 miles on a well-maintained and often very busy trail
Rated: An easy hike that will take just 10 – 15 minutes one way
Trailhead elevation: 5,160 feet (1,573 m)
Best time to hike it: Year round – particularly at sunset
Note: There are bathrooms at the trailhead.
More places to catch the sunset in Arches National Park
Other places you might want to catch a sunset depending on where you are in the park at the time include Delicate Arch (expect crowds), the Windows, Courthouse Towers, and Tower Arch.
Here's a look at the area around Balanced Rock in Arches National Park at sunset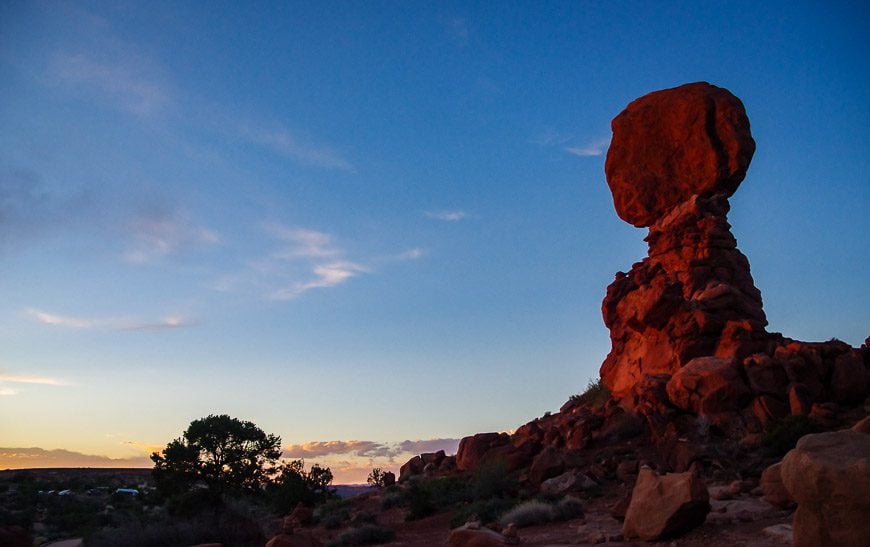 Finding the Balanced Rock trailhead in Arches National Park
Drive 5 miles north out of Moab to the well-signed entrance to Arches National Park. Get a map as you enter and locate the Balanced Rock trailhead or ask a ranger at the entrance.
Continue for 9.2 miles to the signed parking lot on the right hand side as you drive in. The Balanced Rock is visible in the distance.
If you're planning to be there for sunset arrive early to get a parking space.
Where to stay in Moab
The Best Western Plus Canyonlands Inn is a solid choice if you prefer chain hotels.
I love the Sunflower Hill Inn (rated exceptional) and have stayed here on at least four occasions with our whole family. There grounds are lovely and their breakfasts are fantastic.
The Red Cliffs Lodge is not in Moab itself, but I love its location on the river.
Balanced Rock location map
Further reading on things to do Arches
Click on the photo to bookmark to your Pinterest boards.