How much do you know about Frank Lloyd Wright? I certainly knew of him but if my life depended on it I wouldn't have been able to provide more than a handful of facts – that is until I did Taliesin West tour, his winter home in Scottsdale. It's a remarkable house and the tour – even if you're not that into architecture, is fascinating.
Our guide – Skylar was truly outstanding – perhaps in part because he actually spent a few years as a small child on the Taliesin West property when his Dad went to the onsite architecture school. It still offers Masters Degrees to 35 students per year.
About Frank Lloyd Wright
Frank Lloyd Wright was 70 years old when he first came to Arizona. The location, now very much a part of Scottsdale, was out in the boonies and much undeveloped when he arrived.
Interestingly he never spent one day in summer on the property. He would end up spending seven months a year in Arizona and five months at his home and school in Spring Green, Wisconsin.
Taliesin West was built according to his design philosophy called organic architecture whereby buildings are designed in harmony with humanity and its environment.
Stones were used from the property but never rebar. Glass wasn't used originally – until lots of living creatures moved in during the period the place was uninhabited – and Mrs. Wright suggested glass would be a worthwhile addition.
He didn't consider grass organic but he added it when families came to live on the property so children had somewhere to play.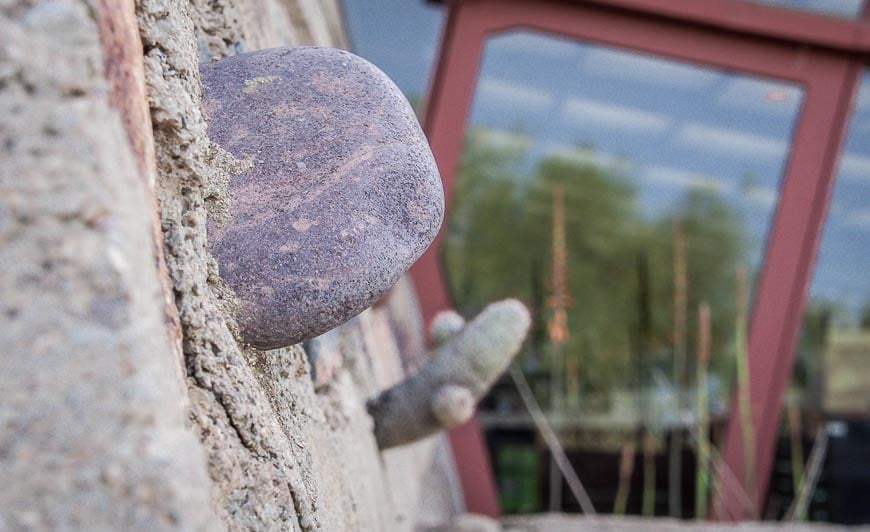 Taliesin West tour
On the Taliesin West tour the first interesting piece we discussed were the Chinese Theater scenes. There are 13 of them scattered around the house marking transitions from one area to another.
One stop on the tour was his office. To get inside you had to duck, but once through the door there was a sense of space. A canvas roof stretched onto redwood planks provided solid light but no shadows.
He used the term compression and release to refer to the ducking to get into the room and then the feeling you got once inside.
When it came to drawing in this office Wright liked a long, low drafting table; his table is still there and the one we sat around. He liked a low table as it forced people to look at his design from above and not at eye level where they might get a little nit picky.
As we wandered past the fountain you could really see his use of triangles and half triangles, hallmarks of the design of the building.
When he first bought the property there was no water. With the aid of a dousing rod and a lot of drilling – to a depth of 482 feet, water was struck and it is that aquifer today that still provides all the water for the property.
The property sits on a knoll with an excellent view of Scottsdale. On his return one winter, Wright was appalled to find power lines ruining his view (as I would be too.) He offered to bury them but couldn't because of the type of soils. Instead of enjoying the view every night with his wife he changed the design of the room and looked towards the hills instead.
In some of the private rooms like the living room, bedroom and bathroom you couldn't take photographs. But they were very interesting rooms. For example his bathroom is very modern by today's standards as many of the surfaces are made of brushed aluminum.
Other design features in these rooms I appreciated were the way he managed to hide the lighting, the use of interior rain gutters and the long, low horizontal lines he used repeatedly to make a room look larger.
His living room was well used. Every Saturday he would invite past clients and celebrities and have a very formal evening with many of his students serving food. Because of his sociable nature he was very good at getting clients.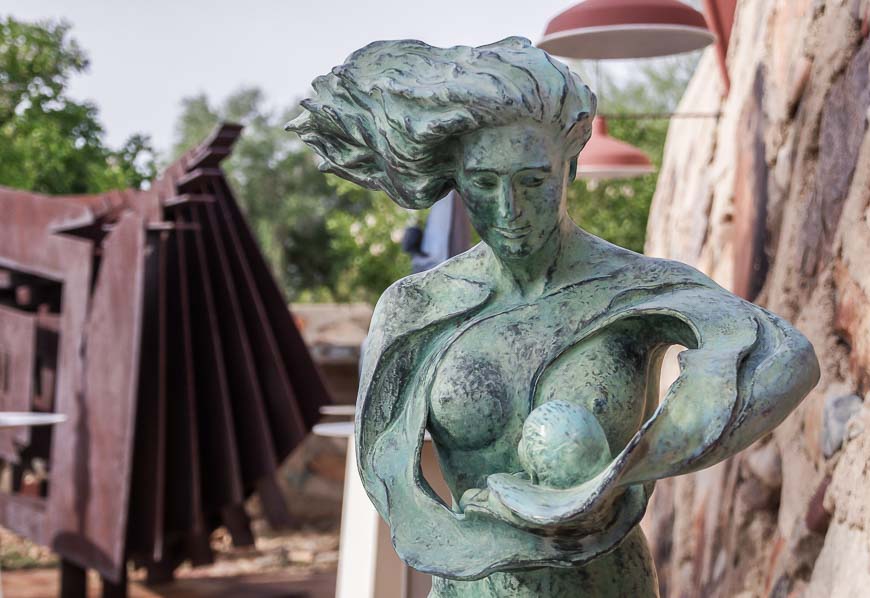 The concert room at Taliesin West
One room used as a concert hall is considered to be 97% acoustically perfect. Our guide demonstrated by playing notes on the piano – which is tucked into an alcove, and I think it is safe to say that we were all blown away by the quality of the music.
Other interesting facts we learned about Frank Lloyd Wright
Frank Lloyd Wright was always carefully attired in a custom three piece suit in case a client ever showed up.
He came up with the design or concept of 1,200 buildings and actually completed 532 of them.
Red tiles were provided to clients whose design wasn't altered in any appreciable way. Very few were given out.
The tools of his trade only included a T-square, a triangle and sharp pencils.
At the time of his death in 1959, at the age of 91, he had 100 projects on the go.
His architecture school is very communal and requires that you live on campus in Scottsdale for part of the year and in Wisconsin for part of the year. Some students still sleep in tents or small shelters that have been approved and that they have designed.
His design for Fallingwater has been called the best of American Architecture.
Reserve a tour at Taliesin West
If you want to visit, it is advisable to book a tour ahead of time. The tour I did was a 90 minute Insights Tour and the most popular one. The cost is $35 if purchased in advance.
There are also desert walks, a desert shelter tour, a behind the scenes tour and even more.
Visit the Frank Lloyd Wright Foundation website for more information and to book a tour.
Further reading on things to do in Arizona
Click on the photo to bookmark to your Pinterest boards.