My husband John is a very good sport about joining me on adventures, whether they interest him or not. Fortunately most do. But like any marriage there needs to be give and take so since he is an avid birder I agreed to several hours of birding – mostly to see the sandhill cranes in Arizona.
Sandhill Cranes in Arizona at Whitewater Draw summary
When do the sandhill cranes show up? Sandhill cranes begin arriving in Arizona late in September and stay till March – at which point they return to their nesting area.
Where do they come from? Cranes that visit the Sulphur Springs Valley come from the Rocky Mountains and the mid-continent. Up to 30,000 cranes can be seen every winter.
What are the specific sites where sandhills cranes can be seen in Arizona? The cranes can be seen in four roosting areas within Arizona's Sulphur Springs Valley – Whitewater Draw, west of Cochise Lake in Willlcox, the Willcox Playa Wildlife Area and the AEPCO viewing area north of the power station along Highway 191 north of Sunsites.
What is the best time of day to see sandhill cranes? The best time to see the sandhill cranes in Arizona is at least 15 minutes before sunrise, when they fly to the fields or between 11 AM and 2 PM when some of them return to the roosting areas. Sandhill cranes generally forage in fields of corn, alfalfa or milo between 7:30 – 11 AM and 2 – 5 PM.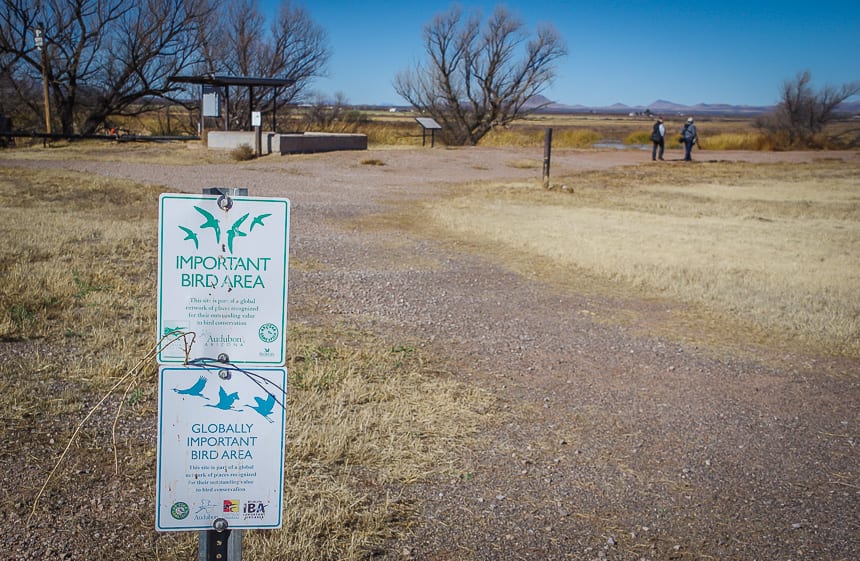 Look for sandhill cranes in Whitewater Draw, Arizona
Specifically we visited Whitewater Draw, a globally important bird area in the southern part of the state. Don't get me wrong. I love birds and have a good eye for new species.
But I don't have nearly the patience to watch them for hours the way he does. At least with sandhill cranes there is no mistaking their presence and you don't have to wait for them to flush from the bushes.
We had traveled to Cochise Stronghold, almost due east of Tucson to hike in Chiricahua National Monument and in the Dragoon Mountains. With extra time we were able to fit in a trip to Whitewater Draw.
It's about an hour's drive south of Wilcox, the largest town of note in the area. Finding Whitewater Draw wasn't obvious. It was almost as though they didn't want hordes of people showing up. We saw perhaps another half dozen people when we visited.
Sandhill cranes usually begin to arrive in the area in October and most of leave by mid-February to mid-March. According to an article in the Arizona Range News "the Arizona Game and Fish Department estimated more than 23,000 sandhill cranes in the valley earlier this year, with the largest concentration of 15,343 at Whitewater Draw".
Usually cranes hit the skies at dawn to feed on grain from farmer's fields and return somewhere between 11 and 4 PM. I don't know how many sandhill cranes were in attendance when we visited around noon, but whatever their numbers it was a sight to see them on masse squawking away.
Location map to see the sandhill cranes
Take Highway 191 to Davis RD. Make a right turn onto Coffman RD, then a left turn and finally 2.5 miles.
A few interesting facts about sandhill cranes
Sandhills are the most common of the cranes.
The average lifespan in the wild is 20 years.
Sandhill cranes have a five to six foot wingspan and weigh between 3 – 6.3 kilograms.
Visit Nebraska's Platte River in spring if you want to see as many as 50,000 sandhill cranes at one time. The San Luis Valley in Colorado is another major stopover.
It can get very noisy during mating season when pairs vocalize.
Sandhill cranes live in freshwater wetlands.
Cranes begin nesting at about four years of age. Older birds are more successful nesters.
Nests are situated in shallow marshes or wet meadows.
Cranes lay two eggs but usually only raise one young per year.
Food ranges from plants to mice, snakes, worms and insects. Grain is also part of their diet and they've been known to cause significant damage to farmer's fields.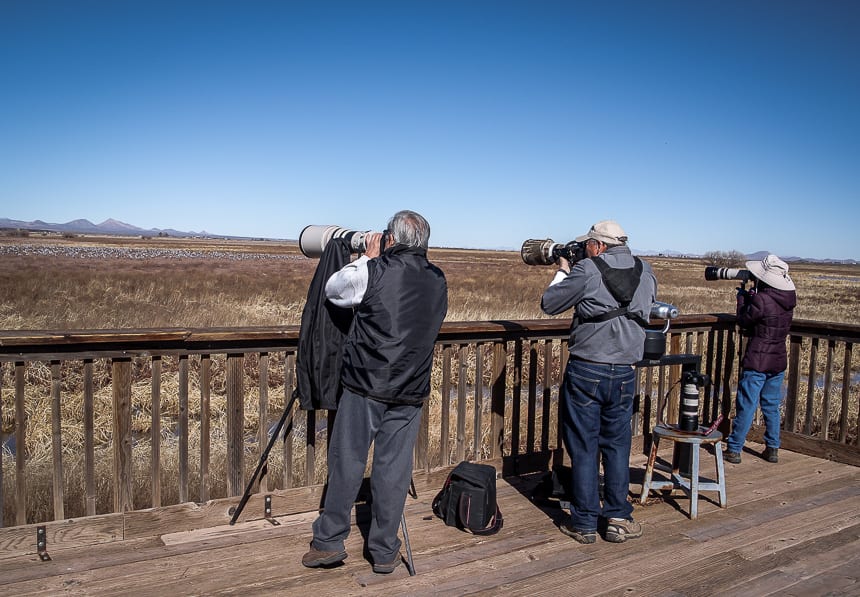 When you've had enough of watching the sandhill cranes in Arizona take a walk on the trails in the area, especially around the ponds and you'll see a very large number of bird species.
Further reading on things to do in Arizona
Click on the photo to bookmark to your Pinterest boards.