It's hard to describe what the Yukon Northern Lights do to you. Of course the northern lights are both beautiful and magical and will stir your soul in a way few things can. Likely you will thank the universe or perhaps even God for intervening and showing you the beauty of a dancing night sky.
If you see them you might clap, scream or even cry. Descriptions and photos will never capture what you see – or what you feel. You have to experience the Yukon northern lights in their full glory to get it.
This post includes some affiliate links. If you make a qualifying purchase through one of these links, I will receive a small percentage of the sale at no extra cost to you. Thank you very much for your support.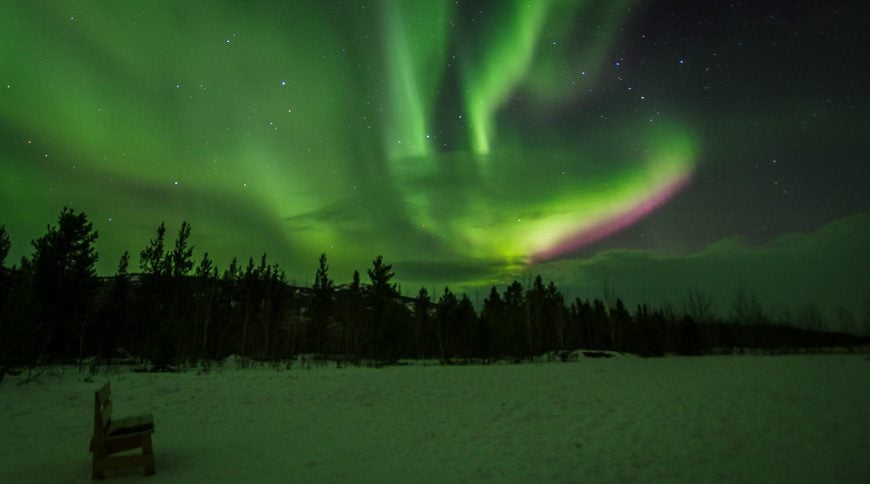 The Yukon Northern Lights cannot be summoned
I had horseshoes on my trip to the Yukon. But if you travel only to see the northern lights in the Yukon you must also be prepared for disappointment. They cannot be summoned.
You need Lady Luck and a great weather and aurora forecast on your side. I had both – and in fact I heard it was one of the best displays in weeks.
Here's a look at what it's like to spend a night looking for the Yukon northern lights
Our group of three women were picked up at 9:45 PM, about the time I would have liked to go to bed. Especially when it's cold outside.
In total, three school-buses, including one filled only with Japanese tourists, drove from Whitehorse to a meadow – in the middle of what felt like nowhere – about 30 minutes away from the city.
In the meadow are a number of warming cabins. Each busload of tourists is assigned a cabin. You can spend as much or as little time in the cabin as you want. On cold nights with no Yukon northern lights they're going to be full of people, though there's a second cabin for each group for the overflow. Outside, there are roaring bonfires.
While you're waiting for the northern lights in the Yukon to show up, you can sip on hot drinks, munch on cookies and chat with your friends or fellow guests. When they do make an appearance you'll know it. Word will go out and in an instant everyone will be outside.
For the first hour, a couple of us hung about in the cabin. Then the rumour mill started and we heard there were some lights visible so out we ran.
On the horizon my camera could pick up the green of the aurora but my naked eye could not. But since I was outside and my camera was all set up, I figured at the very least I could practice my night photography. (Northern Tales, the tour company we used provides heavy duty tripods with a universal screw to attach to your camera.)
The next hour I had fun playing around with my camera, though I kicked myself for forgetting a headlamp.
Viator offers northern lights tours in Whitehorse, so be sure to check out their Aurora Viewing Tour.
When time disappears
At some point I saw a star and felt a light wind in my face. I took that as a good sign for up until then the sky was completely cloud covered. Over the next hour more stars would show – but by 1 AM I was numb with cold and ventured back inside the cabin to warm up.
I was ready to give up. Sleep was calling but the buses don't usually return to Whitehorse until 1:30 or 2 AM.
Then suddenly everything changed and sleep was the furthest thing from my mind.
Stepping outside – wondering when the bus would leave – I saw the beginning of the Yukon northern lights dance.
In a mad panic I grabbed a tripod, got set up again and then took a deep breath – and just watched. Floating, dancing, swirling – the display was breathtaking. Pictures capture the colours but not the feeling. Time disappears. An hour floats by. I try to capture a little of what I was see.
And then they're all but gone. I feel a deep sense of gratitude inside that I've seen the Yukon northern lights. I'm riding a high.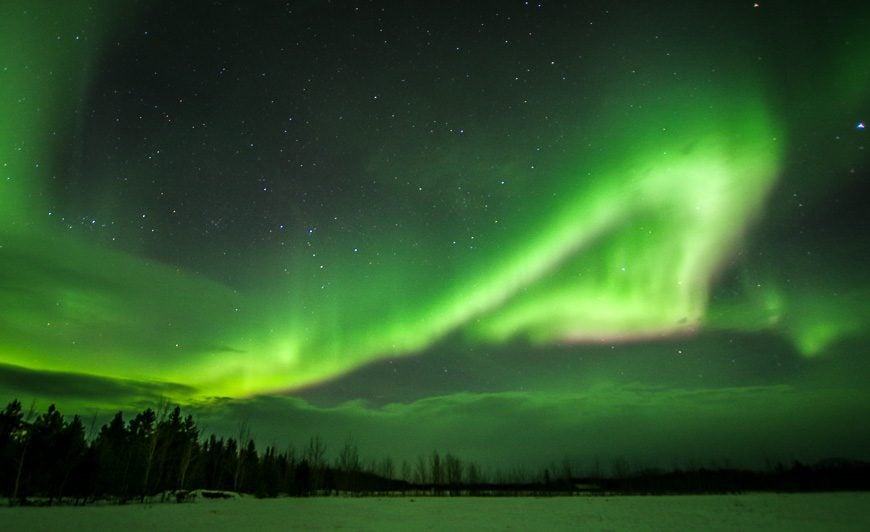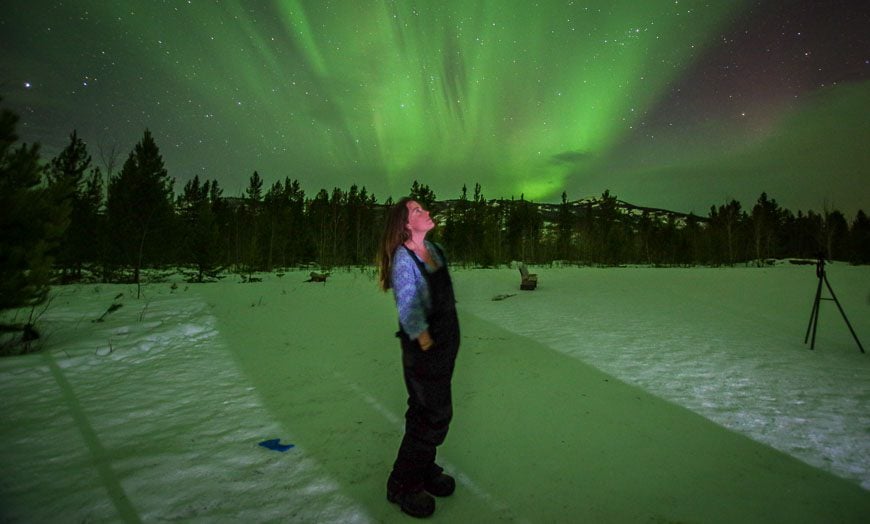 If you want to see the northern lights in the Yukon
Be prepared to stay up until at least 1 AM. The display we caught didn't get going until 1:30 AM.
There were many people on the tour who were attempting to see the lights for the third night running. Sleep deprivation comes with the territory.
Tours are run from the third week of August until mid-April. From mid-April until late in August there is too much daylight to see the lights.
The best time to see the northern lights in the Yukon is from November until March when the nights are long and the skies are black.
Check the aurora forecast.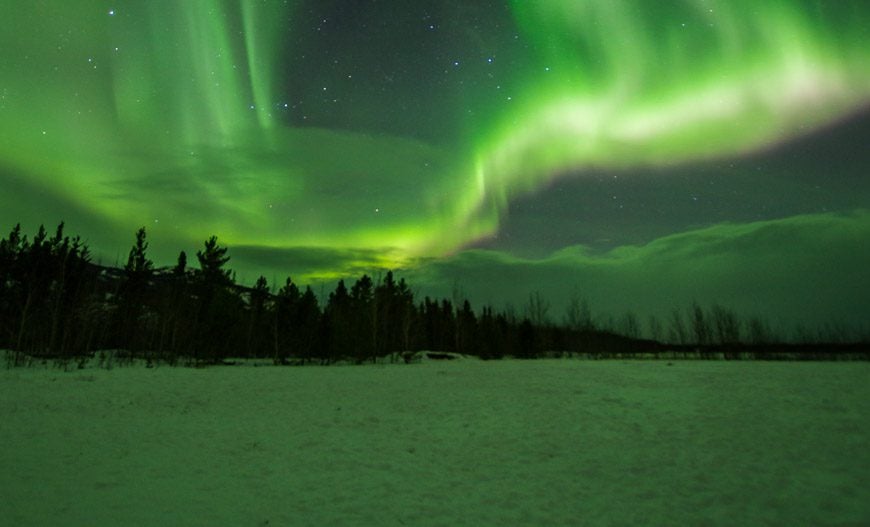 For northern lights photography the following are useful or necessary. It takes a lot of practice.
Tripod
Headlamp
Fully charged battery
Wide angle lens
A shutter release is helpful to avoid any movement.
Shoot in manual
ISO between 800 – 1600
Set shutter speed to infinity.
Set the aperture to about 3 – but play around depending on moonlight.
At ISO 800 with an aperture of 4, I exposed for 30 seconds.
Have fun. Stop and look up or you'll miss the full Yukon northern lights experience.
Where to stay in Whitehorse
Many hotels can help set you up with northern lights tours. On a couple of occasions I stayed at what is now the Sternwheeler Hotel & Conference Centre conveniently located close to restaurants and the main shopping area. The bus picked up people in the evening here for a northern lights tour.
If you want to stay outside the city limits check out Northern Lights Resort & Spa.
Looking for a B&B option? Check out Hidden Valley Bed & Breakfast rated fabulous.
Further reading on things to do in the Yukon
Click on the photo to bookmark to your Pinterest boards.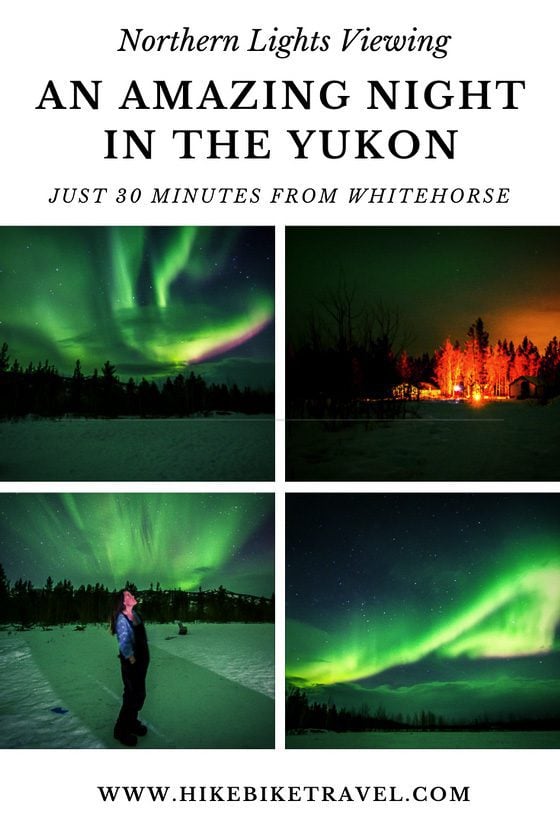 Thank you to Travel Yukon for hosting my trip. I feel privileged to have experienced the Yukon northern lights.