Wellness Retreat Alberta You'll Want to Try
Last weekend I set out on one of my favourite mountain walks, one that I've taken uncountable times over the years, in every season. Whenever I have a visitor from another part of the country—or of the world—I insist that we make this pilgrimage. It requires no special equipment—one of my friends did it in heels and her business suit. It won't make much of an impression on your FitBit. You won't need a shower when you get back.
It's the Lake Louise Shoreline Trail, it's all of 4 km return, and it will take you, at most, an hour.
Just the same, I love this stroll as much as I love many of the local options that involve elaborate wayfinding and heart-pounding elevation gains. And that's because this well-trodden path offers simple, immediate insight into how the mountains have the power to change people.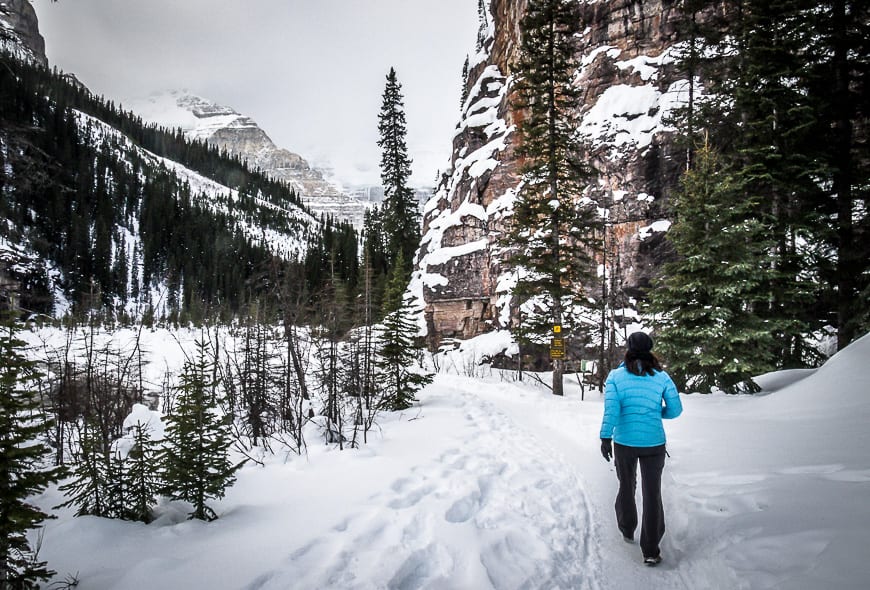 This time, it was a cold and snowy spring day, indistinguishable from a cold and snowy winter day except that it took place in late March rather than mid-January.
Visitors from England, Japan, Germany and Florida were taken off-guard by the snow and the still-frozen lake. They had expected that they would spend their vacation canoeing in the famous blue-green waters, photographing alpine wildflowers, trekking up to the Lake Agnes tea-house, perhaps seeing a moose or a bear.
Some people chose to take in the exquisite view from behind the luxurious Chateau's huge windows, it's true, but the vast majority were outside.
They put on skates, snowshoes, cross-country skis and ice cleats—many for the very first time—and out they went. There are only a few benches around the lake but they weren't full. The lakeside path was teeming with people slipping, sliding, and toiling through the snow toward Victoria glacier and the end of the lake.
In the city, such a walk would have been grim business, but out here, everyone was smiling, almost giddy with the pleasure of being outside and surrounded by such austere beauty.
"What a beautiful country!"
"What is that gorgeous bird?" (It was our national bird, the grey jay.)
"Would you take my picture?"
"The air tastes so good."
"You're so lucky to live here."
Those were just some of the things people told or asked me as I set off to the west. As we got farther from civilization, however, a hush set in. Deeper breaths. Stopping to gaze up at the tops of the cloud-shrouded peaks.
Examining animal tracks (deer, hare, perhaps a lynx?). Listening to the first signs of spring, as water trickled unseen beneath the banks of snow. And at the very end of the trail, open-mouthed marveling at the feet of a massive frozen waterfall.
From the end of the lake, you can look back at the Chateau Lake Louise, with its hundreds of rooms and busloads of day trippers—and hear absolutely nothing but the wind in the trees. It looks like a postcard from another world, far away.
Just two kilometres on a well-trafficked, groomed path through the woods and you can achieved a kind of tranquility that calms the mind, soothes the soul and re-energizes your body for hours to come.
Some people will warn you off Lake Louise, saying that it's just a tourist trap and that you should seek more isolated places with lakes nearly as turquoise if you want to get a real Rocky Mountain experience.
But for my money, the unassuming and often crowded walk along the lakeshore offers a surprisingly potent dose of what we come to the mountains for, whether we know it or not.
Go, if you can, and scale the grander heights around you, see those breathtaking alpine meadows—who knows, maybe you'll sight an elusive moose or a brown bear. But if you don't have a lot of time, or if the season isn't right, or if you're elderly or on crutches, don't miss out on what you can do. You won't regret it.
A wellness retreat in Alberta Rockies
For experiences like this and so much more, you can sign up for a full retreat with Evolve Retreat Co.
Each retreat is led by a team of world class experts, integrating a personalized approach to fitness, nutrition, wellness and outdoor adventure.
Unlike anything else available in the Canadian Rockies, the Evolve experience includes group workshops, expert speakers, one-to-one lifestyle mentoring and fitness coaching, and before/after private consultations to help each guest achieve and sustain their wellness goals.
The highlight for many guests will be the daily guided outdoor recreation in the Rockies—from mountaineering to rafting, horseback riding, yoga, hiking and even golf.
If you want to jump-start your road to wellness, why not sign up for one of these five day health and wellness retreats and enjoy a Rocky Mountain backdrop at the same time.
This guest post about a wellness retreat in Alberta was kindly provided by Evolve Retreat Co.
Further reading on hikes in the Canadian Rockies around Lake Louise
Pin this image to your Pinterest board for future reference.