One winter I was fortunate to have a few days to visit Mont Tremblant Quebec. Despite growing up just two hours away in Ottawa, it took me over five decades to visit this part of the province. It was love at first sight.
My love affair with the Quebec Laurentians in winter started well before I reached the village of Mont Tremblant Quebec. As you head north from Montreal on Highway 15 you pass through the towns of St. Jérome, Ste-Adèle, Val David and Ste-Agathe-des-Monts. Each one seems prettier than the next. Church steeples seemingly dot the landscape everywhere. So do ski hills. Each town seems to have a ski hill they call their own.
The drive itself is glorious – as long as it's not a winter snowstorm – as it takes you through rolling hills and snow-clad mountains. I felt like I'd been dropped into New England. It wasn't the Canada I was used to seeing.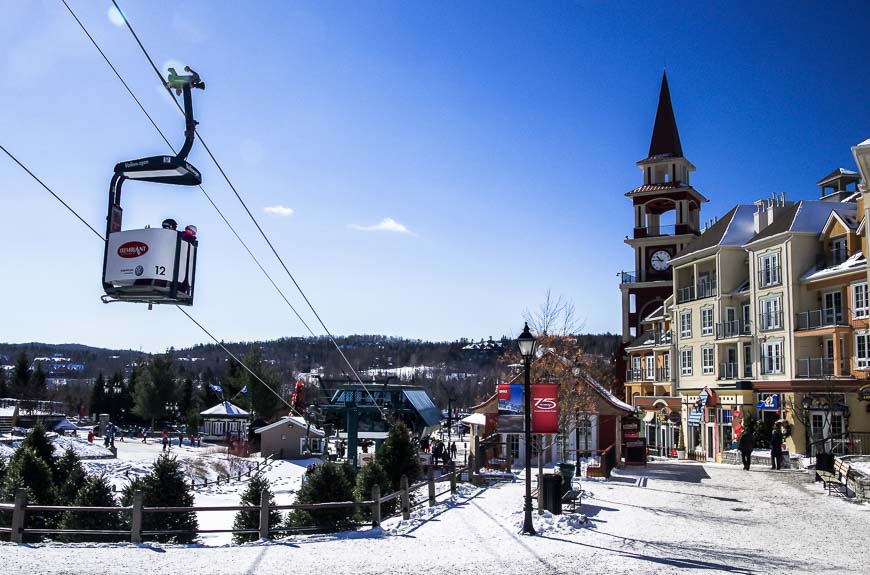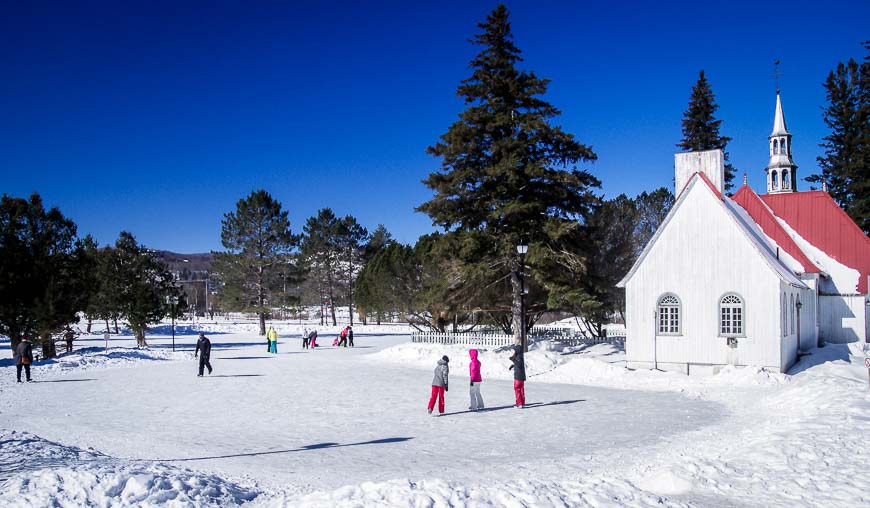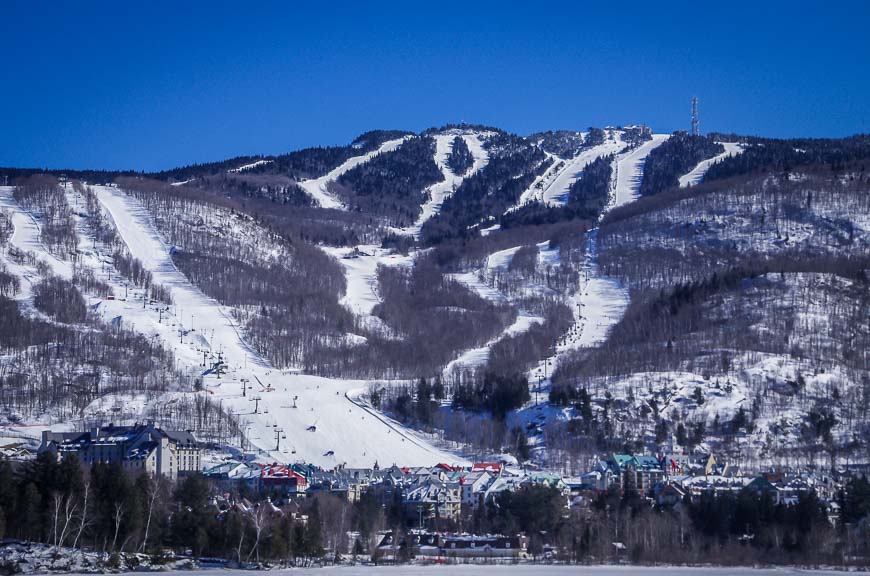 Unfortunately on this trip, John and I just didn't have the time to explore the way we like to. There were no fine meals in the village of Mont Tremblant and nor did we poke our noses into the shops in the pedestrian-friendly village.
Skating too was left for another time though conditions were perfect. We had really come for the cross-country skiing or ski du fond as it's called in French.
Cross-country skiing at Mont Tremblant Quebec
Superlative cross-country skiing awaits anyone who visits the Laurentians. The number of opportunities for skiing is mind boggling. You can choose to backcountry ski in Mont Tremblant National Park. Or you can ski the old railbed known as Le P'tit Train du Nord.
Note: In summer and fall I highly recommend spending 3-4 days Biking Le Petit Train du Nord through the Laurentians.
We ended up skiing a delightful 25 km loop at Ski de Fond Mont Tremblant. What impressed me was the cross section of ages that were out on skis – from 2 year olds to 80 year olds. Families were everywhere.
The skiing was excellent. Trails were well groomed, signage was very good except on one of the backcountry trails we explored, but the biggest takeaway from skiing here was how pretty it was. Rolling hills, big vistas, beautiful mixed forests and a certain joie de vivre combined to provide an outstanding experience. If I lived nearby I would be a frequent visitor here.
Here's what cross-country skiing looks like at Mont Temblant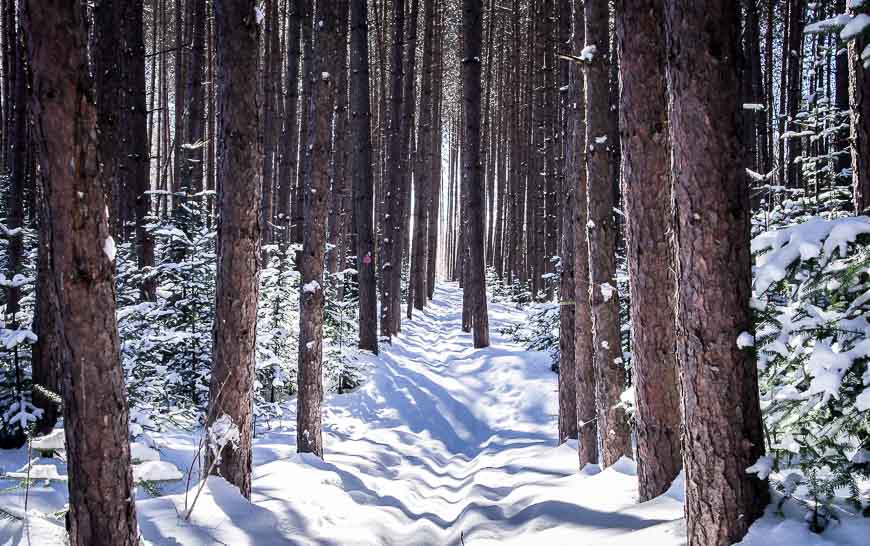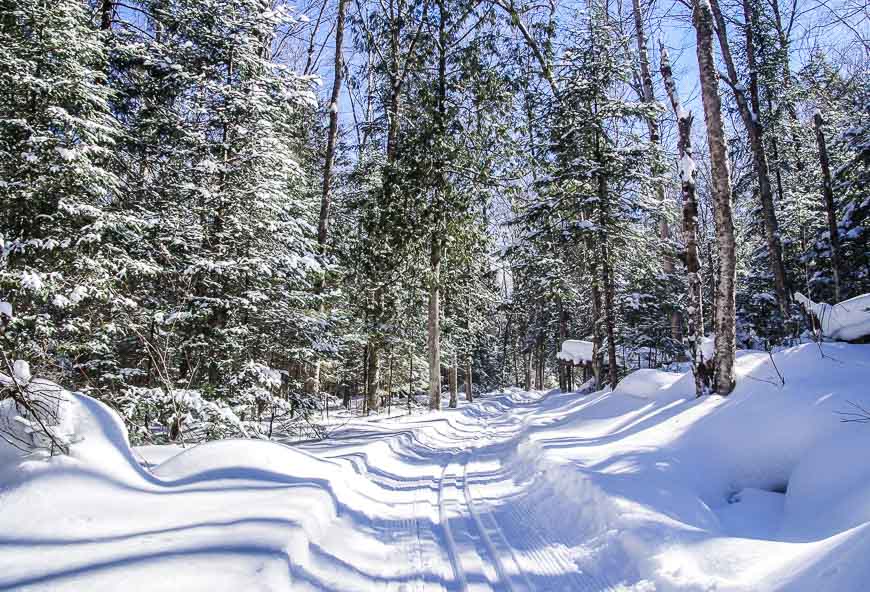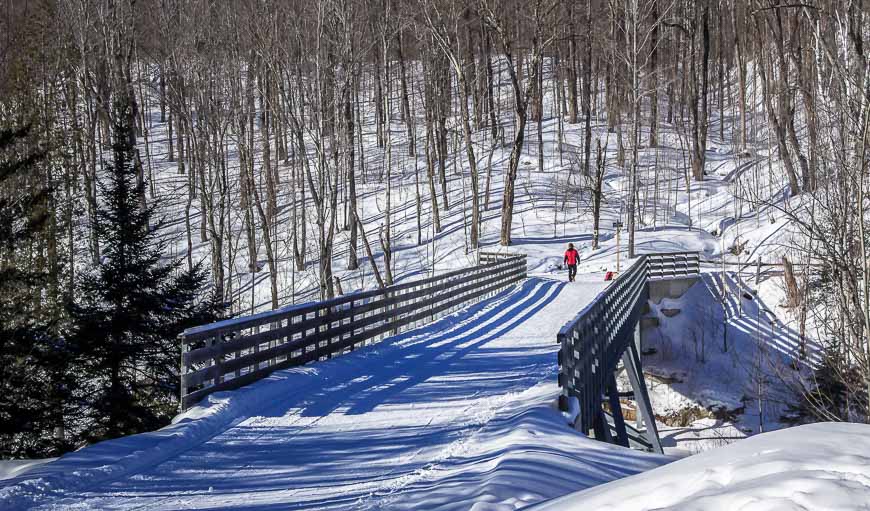 This post includes some affiliate links. If you make a qualifying purchase through one of these links, I may receive a small percentage of the sale at no extra cost to you. Thank you for your support.
Where to stay in Mont Tremblant Quebec
We stayed at Le Grand Lodge Mont Tremblant, a large complex on the shores of Lake Ouimet. Views are terrific and its location, about 10 minutes away from the Village of Mont-Tremblant is ideal if you are there for Ski du Fond Mont Tremblant. The trails are quite literally within spitting distance. And at the end of the day you don't have to leave the hotel. Enjoy a meal in a timbered great room that's full of old skiing memorabilia. The food is very good too.
In the village of Mont-Tremblant a splurge at the Fairmont Tremblant would be lovely if your budget could handle it.
If it's value you're after the Holiday Inn Express & Suites would be a great choice.
Further reading on things to do in Quebec in winter
Click on the photo to bookmark to your Pinterest boards.
Disclosure: Tourism Laurentian assisted me with my stay. All thoughts as always are my own.