If there's one place you must visit in Manitoba its the Forks in Winnipeg, named for its location where the Assiniboine River meets the Red River. Archaeological digs prove that people have been visiting this area for 6,000 years including Aboriginal bison hunters, fur traders, railway workers, immigrants and tourists.
The Forks in Winnipeg ranks as the number one tourist attraction in the city, hosting around four million visitors per year. You'll quickly see the appeal when you visit.<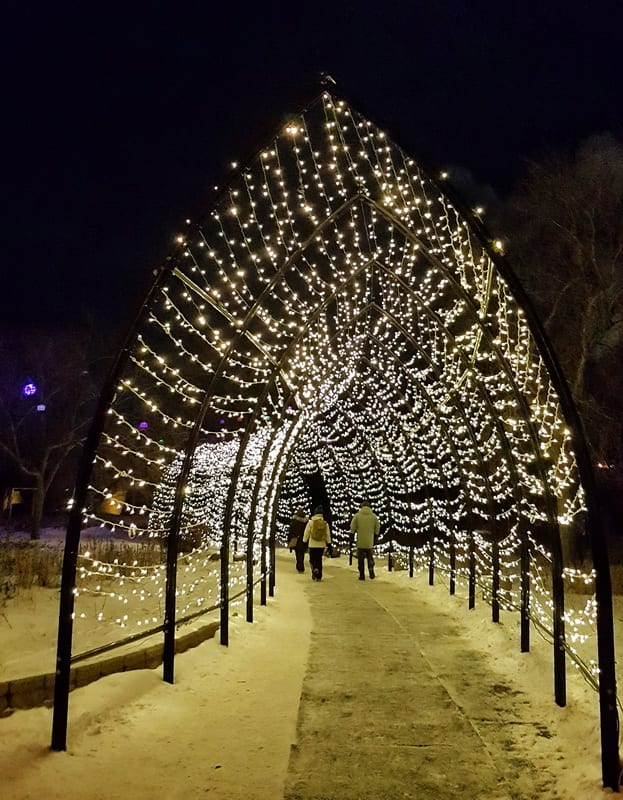 This post includes some affiliate links. If you make a qualifying purchase through one of these links, I may receive a small percentage of the sale at no extra cost to you. Thank you for your support.
In any season there are a lot of reasons to check out The Forks but in winter the place is truly magical, at least if you dress for the conditions.
A great way to start your visit to The Forks is in the company of a Parks Canada interpreter. As you wander the area around The Forks, you'll hear stories that will bring the area to life. Interestingly it was La Vérendrye, an early European settler who we have to thank for the naming of The Forks.
In reality where the two rivers meet is the confluence but in this age of social media and hashtags #MeetMeAtTheForks is shorter and sounds better than #MeetMeAtTheConfluence.
Over the course of the walk you'll come face to face with past and present history. A park interpreter will produce artifacts from the archaeological dig that took place from 1989 – 1994. During this period researchers were able to uncover catfish bones, stone tool flakes and a 6,000 year old hearth.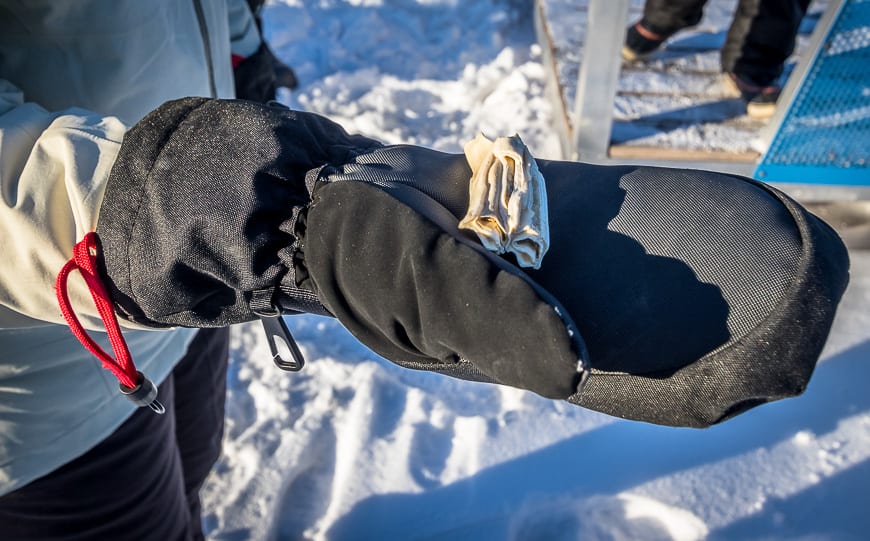 After almost 150 years as an important hub for fur trading, The Forks reinvented itself as a vital site in railway development. Many of the buildings you see at The Forks today date back to that time.
When you wander The Forks Market check out the store fronts. Look up at the brickwork and you'll notice that they look like stables – left over from the days when they were part of The Grand Trunk Pacific Railway stable and the Great Northern Railway stable.
Another interesting feature you'll see is the pole indicating the various levels the rivers have reached during floods – a sobering reminder of the power of these two rivers.
Don't miss a stop at the Oodena Celebration Circle, an amphitheatre located near the confluence of the two rivers that celebrates the 6,000 year history of Aboriginal people with sundials, interpretive signage and a ceremonial fire pit.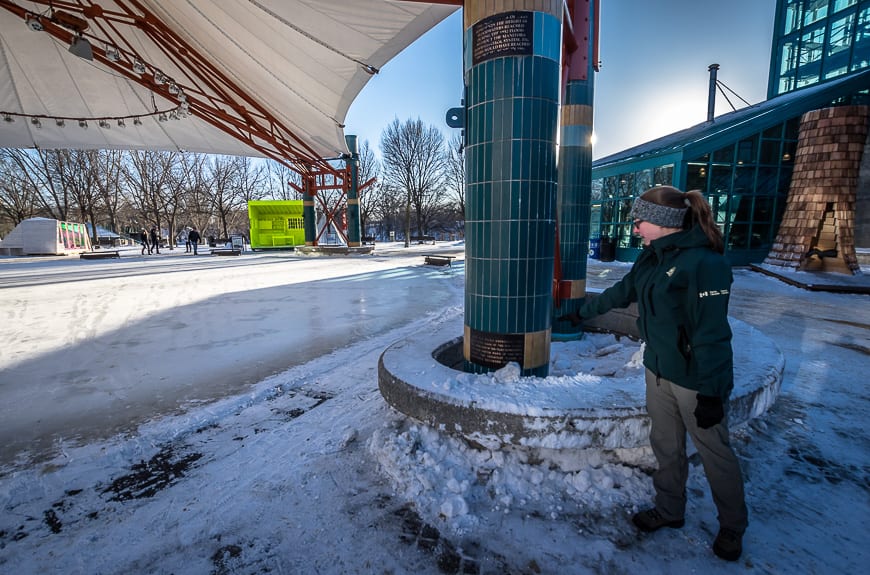 What you want to do at The Forks in Winnipeg in winter
Meet people at The Forks and enjoy a host of outdoor activities. My favourite is skating on the Red and Assiniboine Rivers. (Local knowledge: The Red River has smoother ice.) Every year the rivers are cleared of snow and flooded with river water so that you can skate for up to 11 kilometres one way, though the distance varies by year.
Rent skates at The Forks if you don't own any. The other option is to skate the trail that winds on paths near The Forks, a pretty and less windy alternative on a cold day.
Don't miss your chance while you're skating to check out the warming huts designed by architects from around the world in an annual competition.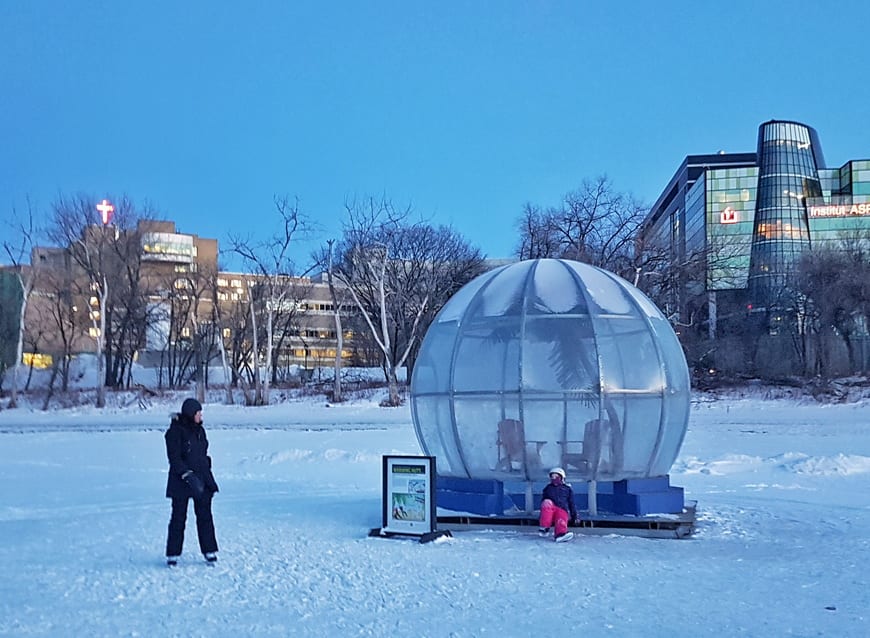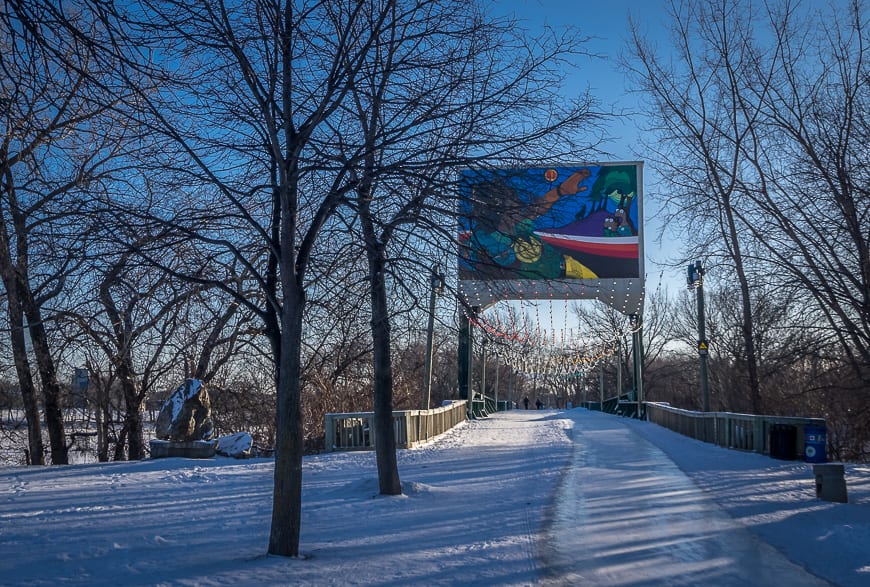 Play a curling – crokinole combo at the Forks in Winnipeg
Just outside The Forks Market you might notice what looks a bit like a circular curling rink. It's actually crokicurl, a curling-crokinole combo (remember playing crokinole as a kid?) and it's free to try. We had four of us at it – and in no time the competitive juices were flowing. Allow 30 minutes for some winter fun here.
Check out the Ice Castle
One of only six North American locations, Winnipeg's Ice Castle sits in view of the Canadian Museum of Human Rights just a few minutes' walk from The Forks in Winnipeg.
Wander around admiring the ever-changing lights, the incredible icicles and feel like a kid again as you zip down the ice slide. On cold nights warm up by the fire. Reserve your tickets in advance.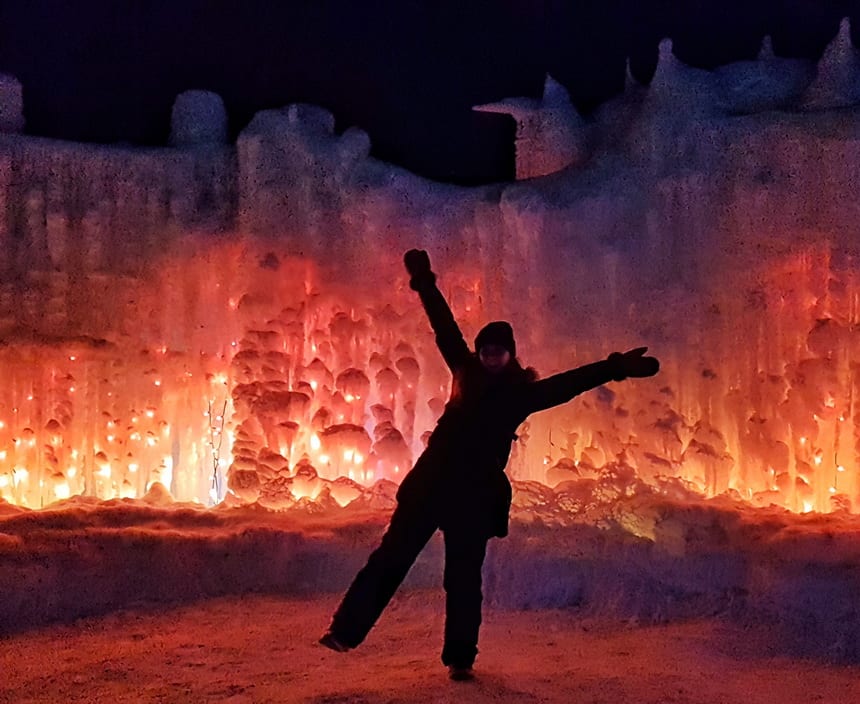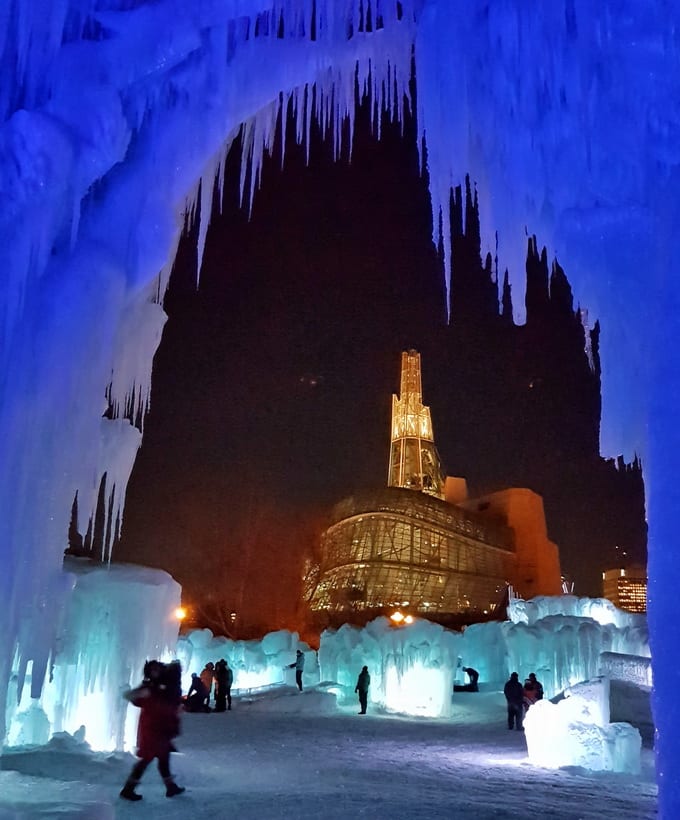 Eat at The Forks in Winnipeg
Of course you can eat at the Inn at the Forks (see below) but you should definitely save room for an assortment of food at The Forks Market.
I can recommend Fergie's Fish 'n Chips for deep fried Manitoba pickerel, chips and house-made tartar sauce.
Check out Nuburger for their yam fries and Passero for delicious roasted beets with added flavourings like smoked cambozola, pistachio and blood orange. The combo of tastes will turn you into a beet lover.
Red Ember serves awesome Brussel sprouts (this is coming from someone who usually refers to them as poison balls) because they are nicely camouflaged with pancetta, roast garlic, blue cheese & crème fraiche.
If you like tofu (and I don't) check out Kyu Grill. One of our group swooned over their braised Tofu Heroshima.
From past visits I would highly recommend picking up baked products from Tall Grass Prairie Bread Co. Wash it all down with a flight of craft beer.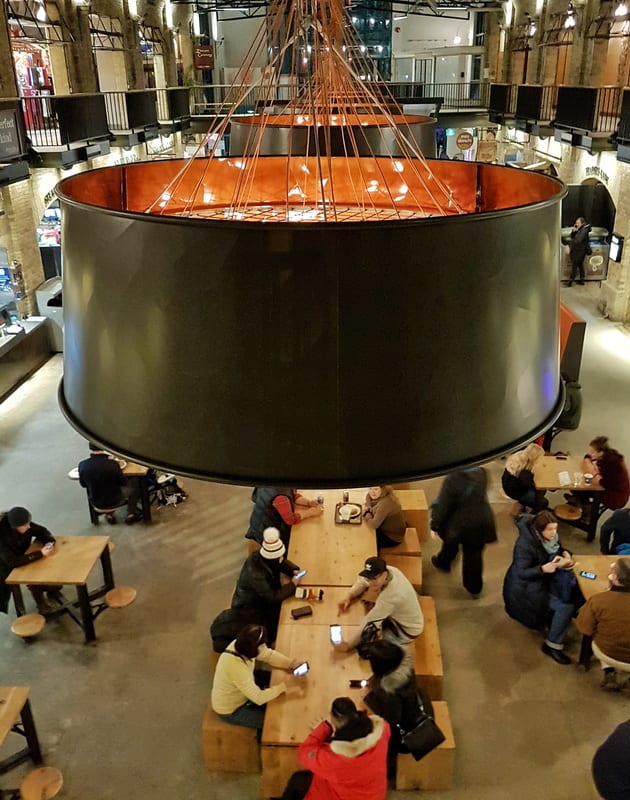 Fun fact: According to Tourism Winnipeg "The Forks uses fryer grease from its onsite restaurants and food kiosks to power a truck, reefer, ice resurfacer and three gators."
The other place you can eat at The Forks is RAW:almond – a fine dining experience that sells out very quickly. It's housed in this pop-up building that looks like a snow cave, adjacent to the frozen Assiniboine River.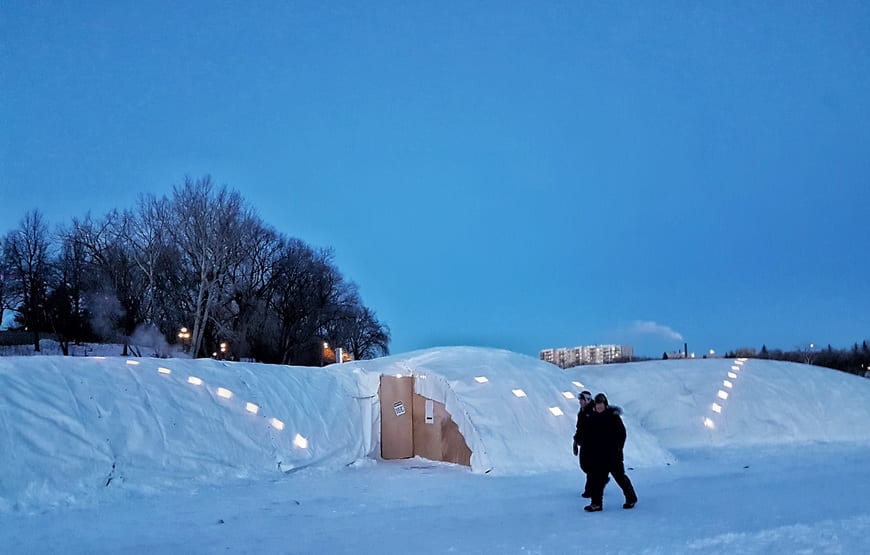 Where you'll want to stay at The Forks
Hands down book a room at the Inn at the Forks. It's a beautifully appointed boutique hotel with views out to the Red and Assiniboine Rivers in one direction and the Canadian Museum of Human Rights in the other.
The skating trail is within a minute's walk as is the The Forks Market.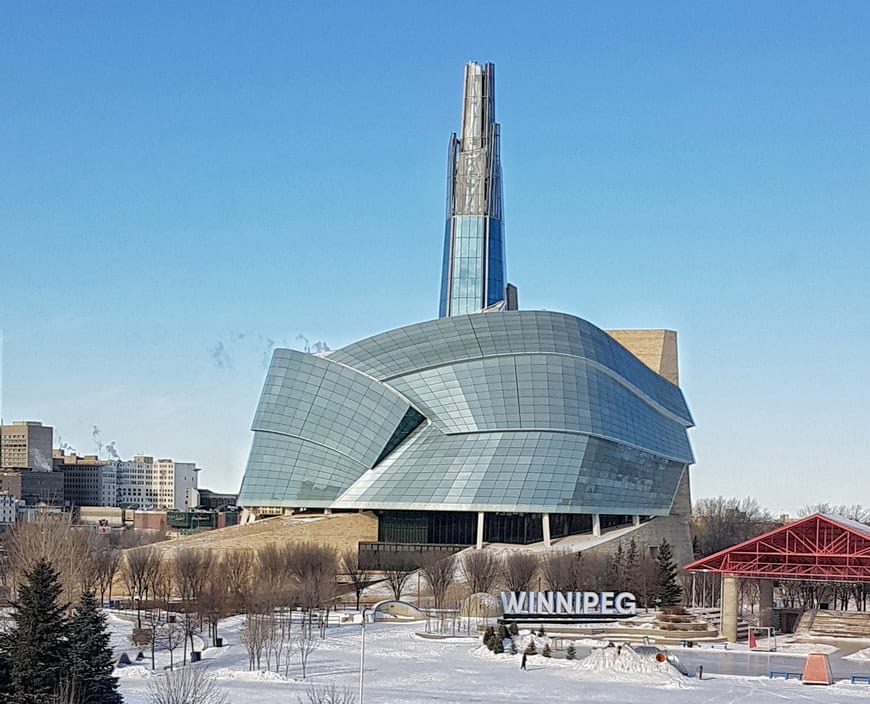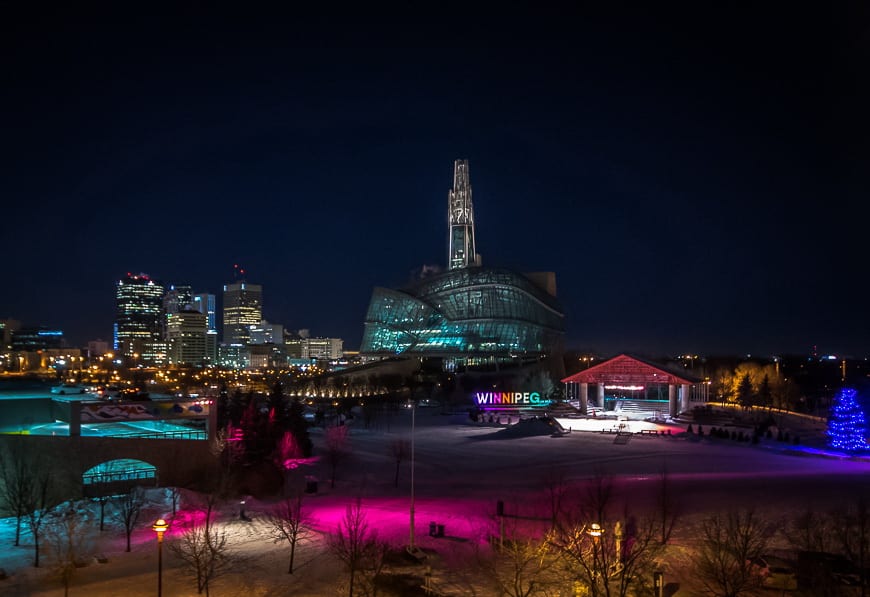 As a Calgarian I admit to being a tad envious of Winnipegers access to The Forks. It's hard to find such a great mix in one small area that combines loads of fun winter activities with numerous delicious food choices in a space that seamlessly mixes locals with tourists. Don't miss it on your next visit to Winnipeg.
If you're looking for additional ideas on what to do in Winnipeg in winter check out this blog – 10 Unique Winter Activities You Have to Try in Winnipeg.
Further reading on what to do in Manitoba in winter
Click on the photo to bookmark to Pinterest.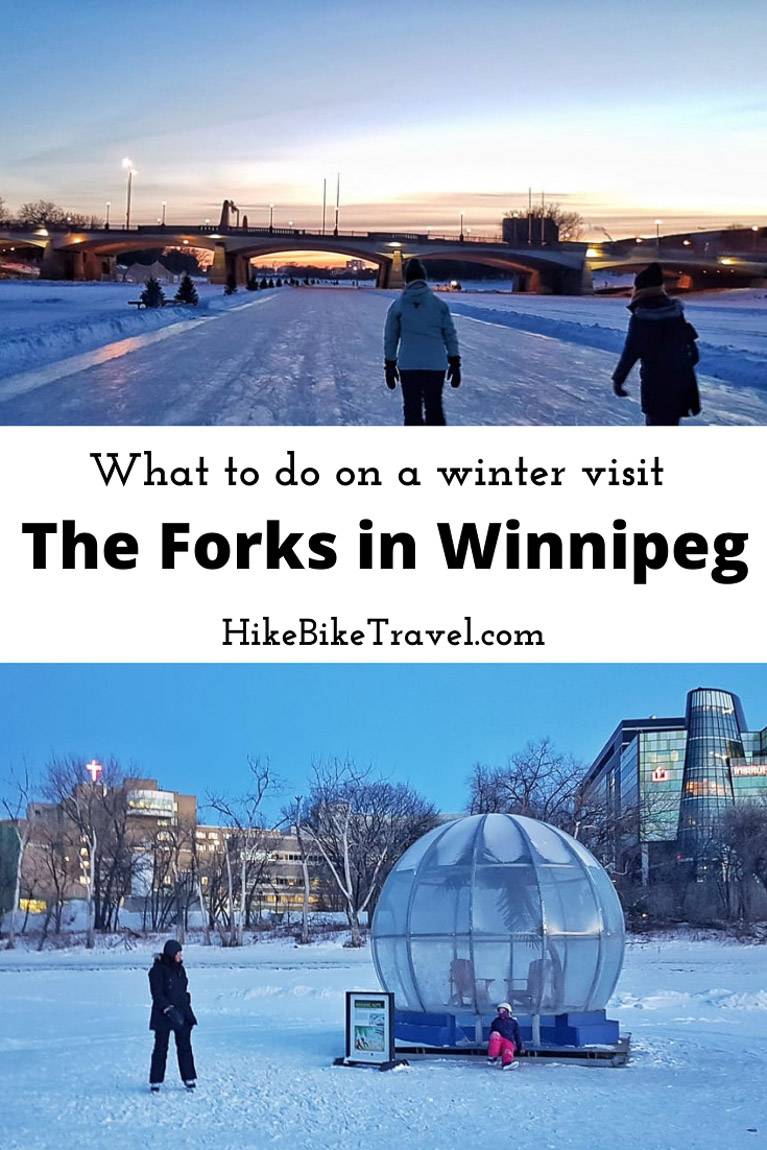 A big thank you to Parks Canada, Travel Manitoba and Tourism Winnipeg for hosting my visit. I've visited Winnipeg in winter on my own dime and enjoyed one of the best winter weekends of my life. You will too.