Adventures Dogsledding in Kananaskis Country
There is something truly magical about dogsledding. A large part of that is due to the engaging dogs but it's also about communing with nature in a manner that is unfamiliar to most of us.
Dogsledding in Kananaskis is a great mix of dogs, fun, mountains and winter. And it's only an hour's easy drive from Calgary to get to the start of the tour.
Dogsledding is exploding in popularity – I think in large part because it makes you feel so happy. It's a great activity to do as a family but it's equally wonderful as a couple. With Valentine's Day just around the corner it would be a great gift and a lovely surprise for your significant other.
I have been dogsledding several times now – including in the Yukon and in Alberta's Kananaskis Country. On the most recent adventure I started at Boundary Ranch – just a few kilometres away from the Nakiska Ski Resort.
Mad Dogs and Englishmen Expeditions run a number of different tours with the most popular ones being the 90 minute Husky Dreamcatcher Tour and the two hour Mountain Musher.
If I had my druthers and was doing another tour I would opt for something longer – either the full day or the overnight tour. On both dogsledding adventures I have felt that two hours just gave me a taste of dogsledding and left me wanting more.
Meet and greet with the dogs on the Kananaskis dogsledding tour
The tour starts with a dog meet and greet. The company has some 97 dogs and certainly all the ones we met were lovely – friendly and engaging and the sort of dog you want to take home with you.
What I found interesting is that the dogs aren't very big and they are a bit of a motley crew. Expect to see the odd pure-bred husky but also plenty of mixed breeds with lots of shepherd and border collie blood.
We had a small tour so there was the option of mushing the dogs right from the very start. Our guide Ricky provided a quick lesson and we were off. Well actually the dogs rather plodded up the first hill but then they hit their stride. I love the thrill of the downhill, especially on a sharp turn!
Warm up in a tipi when you're dogsledding in Kananaskis
Part way along we stopped to warm up in a teepee. Hot chocolate is served as is a type of baked bread you can dip in maple syrup. This would be a welcome break – on really cold days, especially for kids.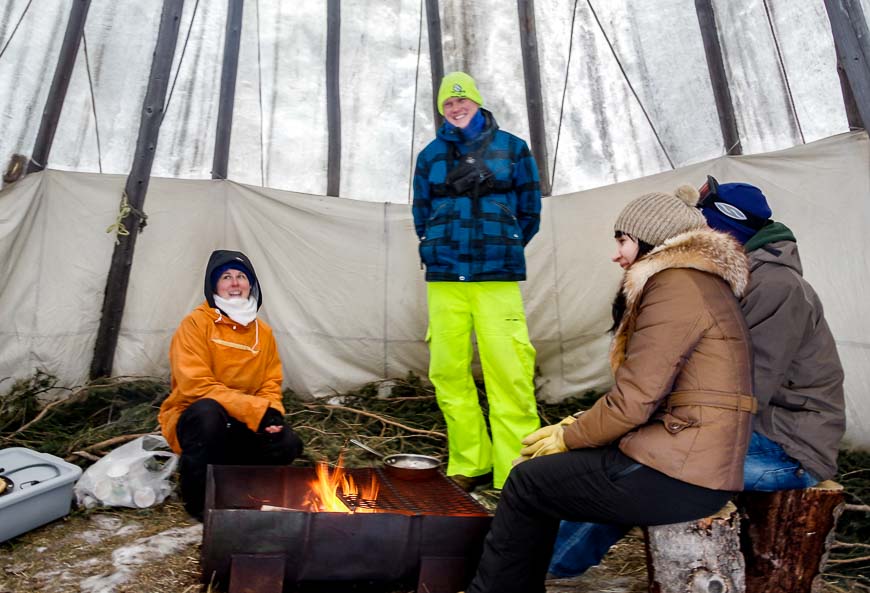 There's another stop and photo opportunity at the bison paddock. These big guys were on the far side of where we were standing so I couldn't get the close-ups I'd hoped for.
Longer tours available out of Canmore
The tour I did was quite short and ideal for families with younger kids. The couple who joined us both lamented the fact it was over too soon. If you love the outdoors you'd probably enjoy a longer tour and those are only available in the Spray Lakes area in Kananaskis Country. Try a Snowy Owl Dogsledding Tour.
These dogs get fed and watered back in Exshaw where they live. But at the end of the day they must get loaded into the truck – which can be a tough go with a heavy dog and four legs going every which way. The dogs seemed very cozy on their wood shavings bed.
Dress for dogsleddding in Kananaskis
If you're going dogsledding for the first time you really do need to dress for the day. If it's cold and windy wear face protection and consider a hand warmer for your mitts. You'll be tucked inside the dogsled but you may find that you warm up more by mushing the dogs or running alongside the sled.
Dogsledding is such a fun outing that everyone should try it. You don't have to be in shape – you just need to have a sense of adventure. The dogs will do the rest.
Further reading about winter activities in Alberta
Click on the photo to bookmark to your Pinterest boards.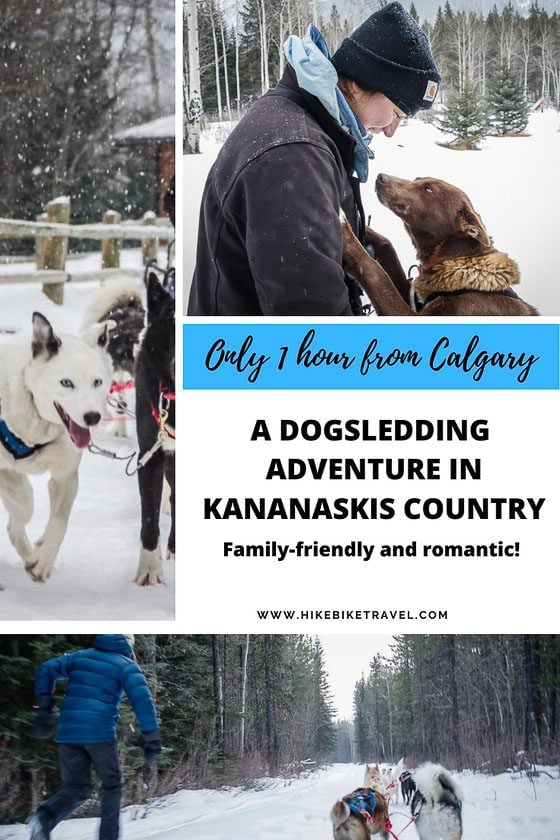 A big thank you to Travel Alberta for making this post possible.