Some people roll their eyes when you say Saskatchewan – thinking it's only flat with nothing to do. But it has a lot more to offer the outdoor adventurer than meets the eye. Here are eight exciting outdoor adventures in Saskatchewan to get you started on exploring the province. Be prepared to hike, paddle, backpack and be amazed by the landscapes you encounter.
What you'll find on most any of the adventures in Saskatchewan is a distinct lack of people. On some of these, you're going to have to be self-reliant as help isn't always close by.
Location map for adventures in Saskatchewan
Canoe the Churchill River
Check out a detailed map of the Churchill River and what you'll find is a series of lakes connected by rapids and waterfalls. It's an ideal river for people with some whitewater experience.
The 150 km between Sandfly Lake and Otter Rapids is one of the best to paddle. You can expect to have the river to yourself until you're within a day's paddle of Missinape. Campsites are beautiful, bears are rare and walking the portage trails will take you back in time.
For help in planning a trip contact Ric with Churchill River Canoe Outfitters. From my experience, I'd highly recommend flying in and paddling out to Missinipe.
Read: Canoeing the Churchill River in Saskatchewan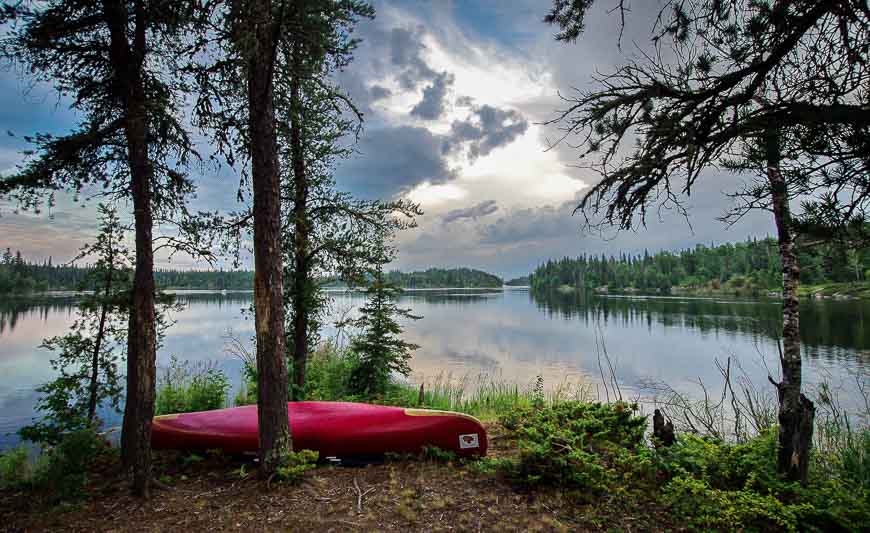 Solitude and beauty meet hiking in Grasslands National Park
With only about 10,000 visitors per year, Grasslands National Park doesn't win any popularity awards. That's okay. It means you get the park to yourself.
What you'll find are a number of front-country and backcountry trails. Don't miss the the 70 Mile Butte Trail that should take a few hours at most. From the highest point in the park it offers sweeping vistas of badlands country.
This park is for people who like solitude and quiet, understated beauty.
Read: Hiking in Grasslands National Park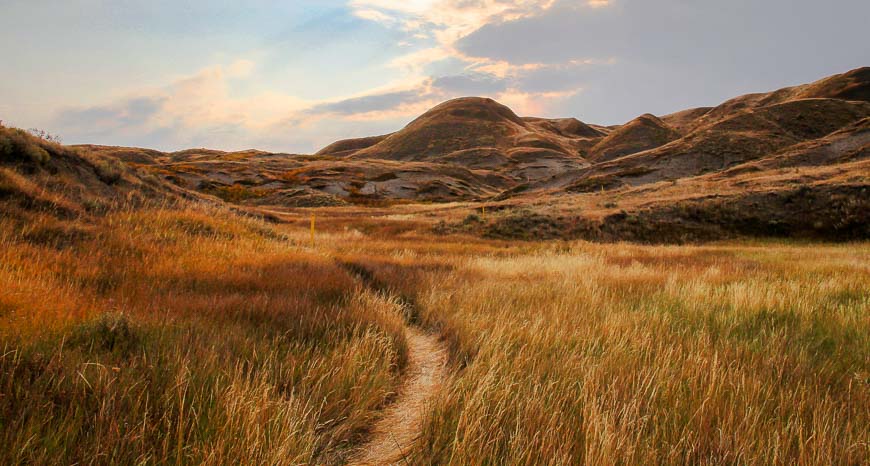 Play in the Great Sand Hills
Head for the small community of Sceptre in western Saskatchewan and look for the Great Sandhills Museum on the main street. It's not hard to find. Check out the map – maybe even take a picture because it's a little confusing finding them despite the fact they cover 1,900 square kilometres.
Once there head out and explore – basically wherever the wind blows you. There are no formal trails or services – just sand and sky. Your kids will love rolling down 15 m sand dunes and chances are you will too.
Read: A Trip to the Great Sand Hills in Saskatchewan
Backpack the Boreal trail in Meadow Lake Provincial Park
With a length of 120 km the Boreal Trail is Saskatchewan's only long distance backpacking trail. You'll find it in Meadow Lake Provincial Park in the western part of the province.
The trail shows off the beauty of the Boreal forest. Let yourself be awed by huge swaths of aspen interspersed with bands of pine and spruce trees. Hike the eskers – long, sinuous ridges of sand and gravel, past kettle lakes that beckon you to swim come the summer. There is lots of birdsong, and it is here we saw a wolf on a fresh kill.
Running east-west through the park, the trail links eight front-country campgrounds with nine beautifully situated backcountry campsites. You'll find all a bear locker, composting toilet and a fire pit in the backcountry. It's easy to just do out and back day hikes if you don't have time to do the whole trail.
Read: Hiking the Boreal Trail in Saskatchewan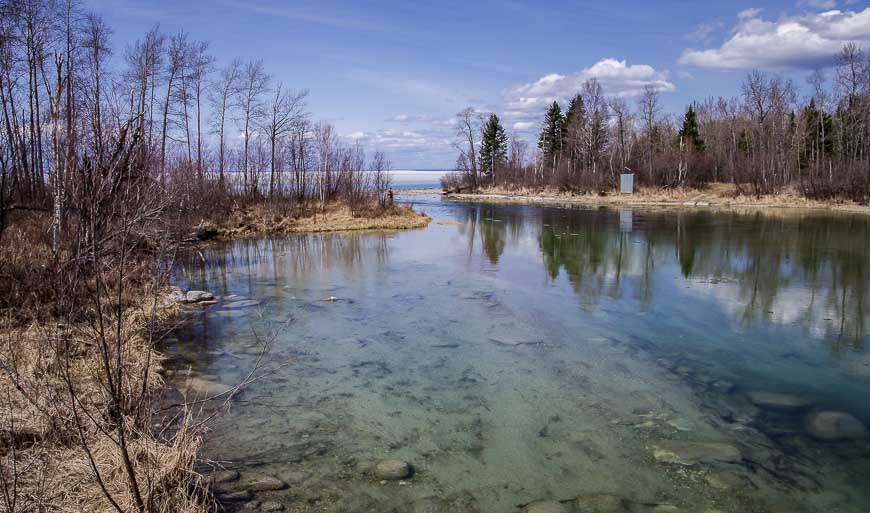 Get a taste of Shield Country hiking in La Ronge Provincial Park
Just minutes from the town of La Ronge, the 15 km one way Nut Point Trail provides a taste of classic Canadian Shield scenery – exposed bedrock and photogenic windswept pines. We did the trail as an out and back hike – which I wouldn't recommend.
Instead, schlep a tent and enjoy the campsite at the far end. Pick a weekday and you'll probably have it to yourself.
The swimming and fishing are both excellent and it would be a stellar place to enjoy a sunset. There are a few places where the trail seems to die but just keep marching down the spine of the peninsula and you'll be back on it again in no time. Bring a head net in July.
Read: A Hike on the Nut Point Trail, La Ronge Provincial Park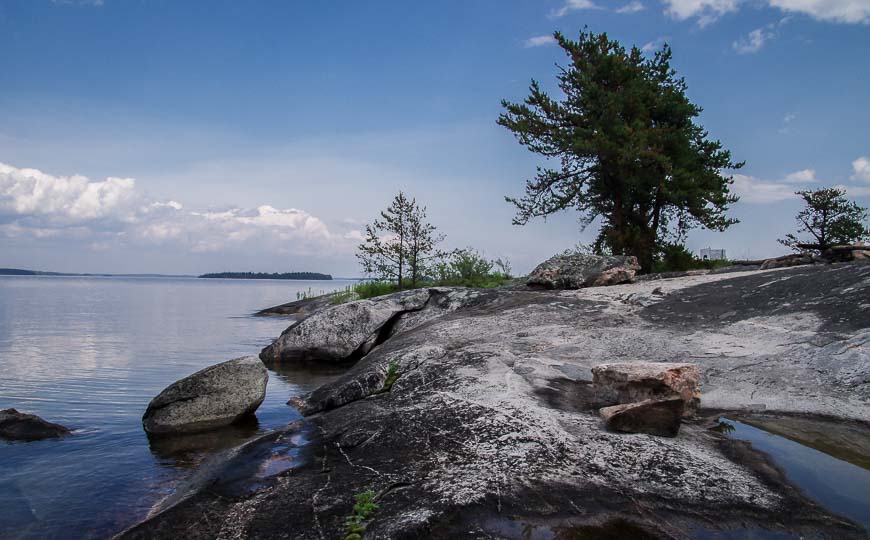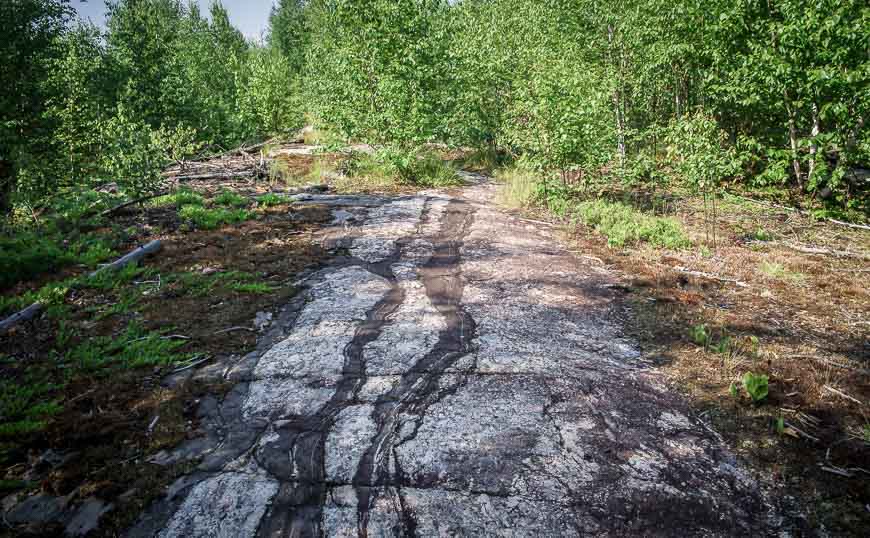 Hike to Grey Owl's cabin in Prince Albert National Park, Saskatchewan
Visit Grey Owl's cabin at the southern edge of the Boreal forest via a long day hike, a 2-3 day backpacking trip or a combination of canoeing/boating and hiking. Just don't do it in mid-July when bugs are at their worst.
The hike offers a look into the life of Canada's first naturalist, Grey Owl. He was a riveting speaker, the author of three bestsellers and a controversial fellow considering he was actually born in England as Archibald Belaney.
We did the trip as a day hike via a shuttle across Kingsmere Lake. Returning to our car, we paralleled the lake for 17 km (and did and out and back to the cabin from Kingsmere Lake that added another 7 km.)
The trail is easy and pretty with open woods where you'll likely see many deer. There are plenty of places to stop for a swim as well. The cabin itself is interesting, especially as it was also the home of two beavers, Rawhide and Jelly Roll.
Read: A Hike to Grey Owl's Cabin in Prince Albert National Park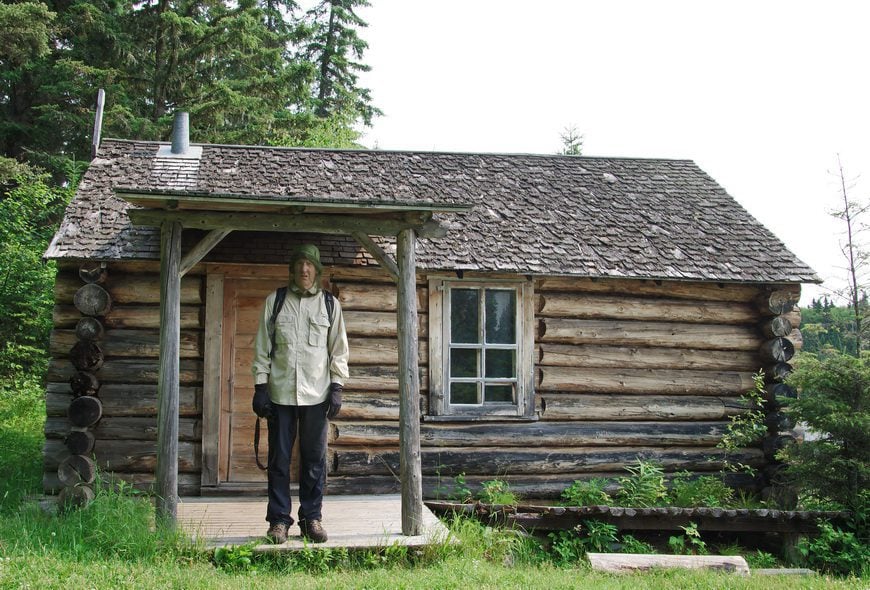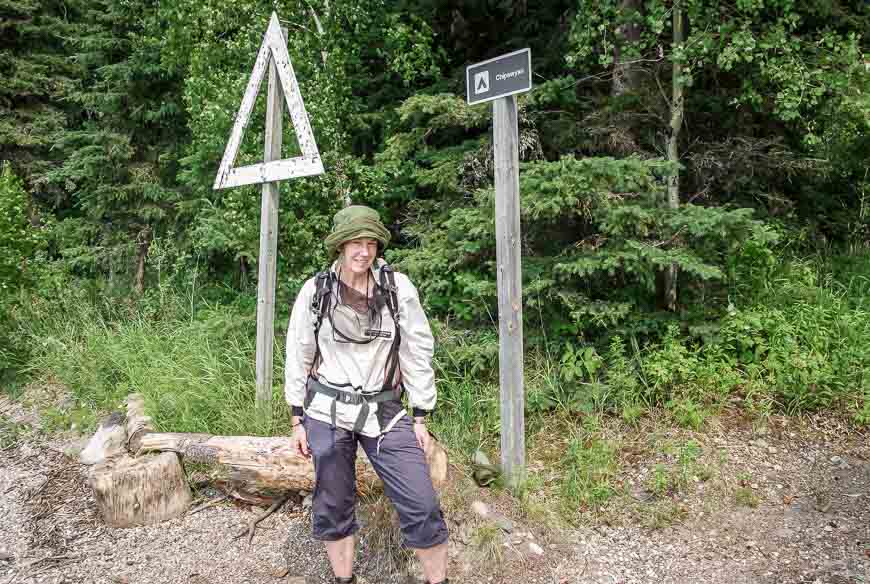 Hike the Athabasca Sand Dunes – one of the 'out there' adventures in Saskatchewan
This is a trip I haven't done but it's very much on my radar. The dunes are the largest in North America but they're hard to get to – and it's expensive. Rising up to 90 m above the surrounding landscape, they can be hiked for days.
Paddle Reindeer Lake in Saskatchewan
But there are world-class rivers aplenty should you be competent and adventurous. I can also recommend a two week paddling trip through the archipelago of islands on Reindeer Lake – providing you don't follow our exact route.
What are the best outdoor adventures in Saskatchewan in your opinion?
Click on the photo to bookmark to your Pinterest board.