Arc'teryx Clothes Review and Backpack Giveaway
I've been a big fan of Arc'teryx clothes for years. I love their feminine cut and durability to the point where I wish the occasional piece of clothing would die because I'm so sick of it. But that's a happy problem in my books.
Arc'teryx clothes for men are equally good. John recently tried out the Perimeter Pant and the Phasic Evolution Crew T-shirt.
The Arc'teryx Perimeter Pant
The Arc'teryx Perimeter Pant is a mid-weight pant made of what is called air permeable Cresta™ stretch nylon so there's plenty of give when you're hiking or jumping off rocks as the case may be. And you don't heat up inside them.
The pants are comfortable and I think flattering. With three front pockets, including one that is zippered, there's enough room to safely store your phone. There are also two pockets in the back.
These pants weigh all of 320 grams and dry quickly, a bonus if you're caught out in bad weather or you're traveling and trying to pack light. These pants will definitely get a lot of use on out upcoming trekking expedition in the Zanskar Valley in India.
The pants offer good value at $160. They're very similar to a pair I've had for 18 months that look as good as new despite being heavily worn both in the mountains and around town.
The Arc'teryx Phasic Evolution Crew T-Shirt
The Phasic Evolution Crew T-shirt, apart from having a saying I love – Evolution in Action is a great shirt for a long term trip because it doesn't get stinky and it weighs next to nothing – just 94 grams.
It works well on tough treks when you're sweating hard – as we were on a humid hike to the Top of the Giant in Sleeping Giant Provincial Park.
The shirt is made of a material called Phasic™ – an engineered polyester that does a superb job of wicking the moisture away from your skin. It's also got protection from exposure to UV rays. This will be a shirt John will wear until he either loses it or ruins it.
Enter to win an Arc'teryx Cierzo 18 Backpack
I don't have clothes to give away but I do have one Arc'teryx Cierzo 18 Backpack to contest out. It is available in yellow, blue or slate grey (value $120). To be entered to win please leave a comment telling me where you'd most like to take it hiking. The contest is closed.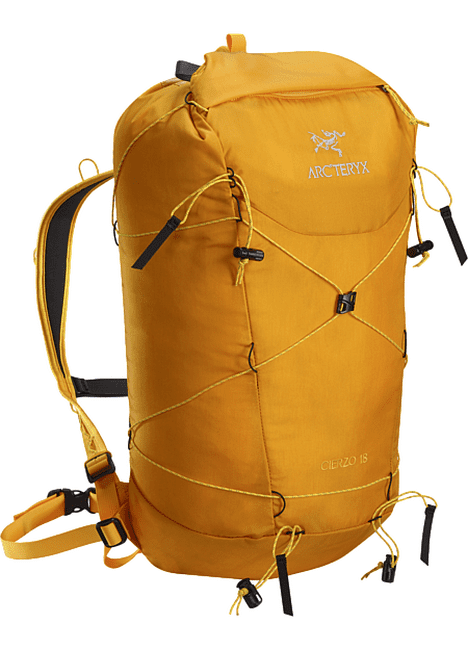 ***Karine Gelinas is the winner of the backpack.***