Web cam views are the next best thing to being there. As I write this, smart-thinking governments have clamped down on recreational air travel—a good thing. It's springtimeas I pen thiswhen I'd normally be putting into place my outdoorsy travel plans but not this time around.
Downside: I'm at home glued to my computer. The upside: I'm at home glued to my computer enjoying a myriad of web cam views from around the world.
You see, just because I can't hike the Swiss Alps or ramble the beaches of Tofino or ramble the coasts of Great Britain, there's no earthly reason I can't get my dose of nature hot spots from around the world. My go-to-fix? Live web cams. As a longtime hiker who's lost without his regular nature fix, I'm using modern technology to plant me in some of the most scenic and wonderful outdoor spots on the planet.
10 nature-themed web cam views for outdoorsy types
Henningsvær, Lofoten Islands, Norway
Web cam: Click here to see Henningsvær
What you'll see: The camera is fixed on the tiny fishing village of Henningsvær (population: 500), spread over several small inlets in Norway's Lofoten archipelago. Henningsvær is sometimes called the "Venice of Lofoten." It's an ideal base for hikers and those keen on fishing.
You'll see the snow-covered Vågakallen mountain in the background which is popular with hikers and rock climbers. And, of course, log in at the right time and you'll see the Aurora Borealis, a.k.a. the stunning Northern Lights.
If you go in future: Winter is the best time to view the Northern Lights.
Pacific Sands Beach, Pacific Rim National Park, British Columbia
Web cam: To see what's happening on the beach right now click here.
What you'll see: Click on the web cam and suddenly you're on Cox Beach, at the south end of Tofino, part of Vancouver Island that's known to surfers from around the world. It's part of the 511-square-kilometre Pacific Rim National Park Reserve. You'll gaze upon beach scenes, verdant coast lines, the Pacific Coast Mountains – and waves. Huge waves.
If you go in future: The best time to see the most dramatic waves is November to end-of- February.
Brooks Falls Brown Bears, Brooks Falls, Katmai National Park, Alaska, U.S.A.
Web cam: You'll feel like you're in the river with the bears if you click here.
What you'll see: Brown bears fishing for salmon—and having a feast as they catch the fishing heading upstream. The "falls" are only about six feet tall (1.8 metres), a height the salmon can leap as they head toward Brooks Lake to spawn. The bears feed along a 2.4-km street of Brooks River but the falls is their favourite place to congregate. It's a veritable buffet.
If you go in future: Always practice BEAR Smart Safety. Avoid going alone (or unaccompanied by experienced guides) to any area frequented by bears. Gold Creek Lodge in Alaska operates a bear-viewing tour.
Mountain views from Grindelwald, Switzerland
Web cam: Click on the link to follow the change of seasons in the Swiss Alps.
What you'll see: I first hiked through Grindelwald in the mid-1990s. I recall spending much of my time on the trails stopping to look off into the distance at the surrounding mountains. I've always longed to return to Grindelwald in the peak of winter when I could see snow on those mountains.
This web cam fulfills that dream. Click on the cam for a panoramic view that includes Schwarzhorn (part of the Bernese Alps), Wetterhorn (which towers above Grindelwald in the Swiss Alps) and Mattenberg mountains. Note: Because it's live, the snowy vista will change as warm weather approaches.
If you go in the future: there are plenty of well-marked trails for hikers — and an excellent option for cyclists. The Bike Tour To Grindelwald allows you to go up by train and cycle down (1,100 m). Ensure your bike's brakes are in good condition!
Polar Bears Cape East, Wapusk National Park, Manitoba, Canada
Web cam: Great fun to see the polar bears in real time here.
What you'll see: This web cam, operated by Polar Bears International, in Wapusk National Park (45 kilometres south of Churchill, on the shores of Hudson Bay) captures close-up views of the Ursus maritimus, otherwise known as the great polar bear, in its natural habitat.
An adult can weigh as much as 450 kg while adult females range from 150 to 250 kg. The scenes change according to season and life stages of the bears. Viewing baby cubs is popular.
If you go in the future: Visit the Churchill Northern Studies Centre for day tours or consider a stay at one of the remote wilderness lodges in Northern Manitoba that are operated by Churchill Wild.
African wildlife, Mpala Research Centre, Laikipia, Kenya
Two web cam views: One positioned by a river here and another high in a treetop lookout here.
What you'll see: In one morning visit (about 10:30 a.m. EST), I saw a giraffe and a mischievous vervet monkey. On other days I've seen fast-moving zebras. The "lookout" web cam views include wonderful vistas of the lake where larger animals drink and bathe.
If you go in future: Never sleep in while on safari. Early mornings (sometimes as early as 5 or 5:30 a.m.) and sunset tend to be feeding and hunting times for wildlife, thus ideal for seeing wildlife. Breakfast can wait.
Rutland Osprey Nest Cam Viewing, Wildlife Trusts, United Kingdom
Web cam: Click here if you're a bird lover and want to see ospreys in real time.
What you'll see: Wildlife Trusts operates a number of wildlife web cams throughout England, Wales and Scotland. A favourite of mine is the one that's been monitoring a pair of osprey (named Maya and 33/11) since 2015. Jutland is in central England, near Leicestershire. Regular viewing makes it easy to attune to the life cycles and migration patterns of these feathered creatures.
If you go in future: The Wildlife Trust offers a directory of wildlife experiences for every season, which enables you to plan your bird-viewing based on the timing of your visit.
Pembrokeshire Coast Path Live Google Cam Tour, South West Wales
Web cam: The scenery might give you a bad case of wanderlust. Click here for the web cam views.
What you'll see: This one is ideal for hikers who've temporarily suspended overseas rambles. I've hiked sections of the Wales Coastal Path which includes the Pembrokeshire Coast Path so staring at this web cam view (longer than I should have, probably) brought me right back to Wales.
You'll see the well-trodden foot path as it hugs the clifftops overlooking the Pembrokeshire Coast. You'll see beaches, meadows and estuaries, as well as flowers and all kind of birds. Hearing the constant roil of the waves via the web cam will instantly transport you away from your laptop.
If you go: Consider starting at St. Dogmaels at the north end of the trail and allow yourself 10 to 15 days. There is an excellent coastal bus service to help you reach trail heads and accommodation.
Puffin Loafing Ledge, Sea Island, Maine, USA
Web cam: If you need a chuckle this web cam of puffins should provide it.
What you'll see: This live web cam, operated by the National Audubon Society, is best viewed when puffins return to Maine between April and August. This puffin cam overlooks what is known as the "loafing ledge," a mini "rock island" on Seal Island, about 30 kilometres off the coast of Maine.
There were a few when I last checked in late March. I also spotted gulls and hawks in this web cam feed—which, by the way, are known to prey on puffins. These beautiful creatures, recognized by their black beaks streaked with orange, black heads and white bellies, are endangered so seeing them in their natural habitat is a privilege.
If you go in future: For the protection of the puffins—and the fact that you can't walk to these rocky islands where the species tends to nest—consider a puffin-viewing cruise, such as those offered by New Age Seaside Inn.
Columbia Icefield, Rocky Mountains, Alberta, Canada
Web cam: The live webcam for the Columbia Icefield returns in spring 2020.
What you will see: The web cam views show one of the world's largest non-polar icefields in the world—and the largest icefield in the Rocky Mountains. You'll get wonderful views of Mt. Athabasca and Mt. Bryce.
If you go in future: I recommend an tour with Pursuit Collection (which now operates Brewster tours). The scenic drive between Jasper and Lake Louise through the Columbia Icefield is stunning. Athabasca Glacier is a definite highlight of a Canadian Rockies visit.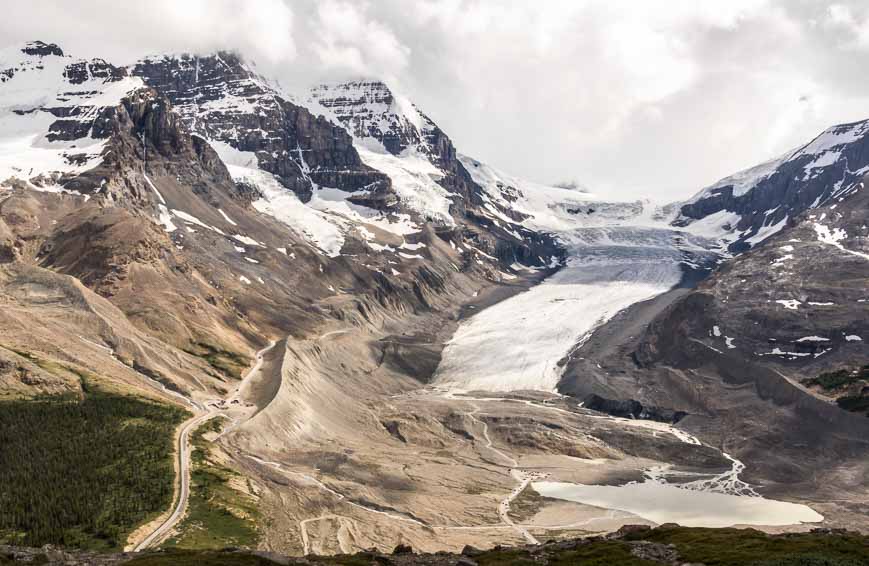 Tips for live web cam views
Be conscious of the time zone difference: While it's daylight where you are, it could be the dark of night where your favourite web cam is located. If the screen is all dark, try back later.
Be aware that web cam views can change with the season: Don't log onto your favourite bird-nesting web cam if your feathered friend has migrated south for the winter.
Be patient: I occasionally check in on a stork nest in Germany's Bavarian Forest National Park. Last week I visited four times without seeing my feathered friends. Nature doesn't always show up on demand. If no one's home—come back another time.
Expect the occasional "Closed for the season" greeting: Some live web cam feeds shut down at certain times of the year if there's little activity, and occasionally for funding reasons. Be understanding.
Protect the privacy of our wildlife: If a web cam monitors wildlife (birds or other animals), try not to determine the physical location of the nest or habitation and plan a real-time visit. Simply enjoy the wonders of your live web cam views.
Further reading on travel related to the webcams
Click on the photo to bookmark to your Pinterest boards.