Backpacking to Berg Lake in Mount Robson Provincial Park
Have you thought about backpacking the trail to Berg Lake in Mount Robson Provincial Park?
The trail to Berg Lake wins the popularity award in the Canadian Rockies. It sees more backpackers (almost 4,000 per year) and day hikers than any other trail in the Rockies. But don't be put off by this fact. There is a good reason so many people hike to Berg Lake – extraordinary scenery and an extraordinary experience.
The beauty of a Berg Lake backpacking trip
If you're looking for big, bold Rocky Mountain scenery – the kind that takes your breath away then you'll find it on the trail to Berg Lake. The backdrop, should you be lucky enough to see it as it's often shrouded in mist or cloud, is Mount Robson, the highest mountain in the Canadian Rockies rising 3,000 metres above the valley floor. It's so big that it makes its own micro-climate, a good thing if you're keen to hike by mid-June as it's warmer than nearby Jasper.
Not only is Berg Lake a first-class destination but the trail up to the lake offers an astounding variety of scenery. It starts gradually, climbing alongside the Robson River through a micro rainforest of hemlock and cedar. The year I did it was a wet one and large sections of the trail for the first few kilometers were underwater.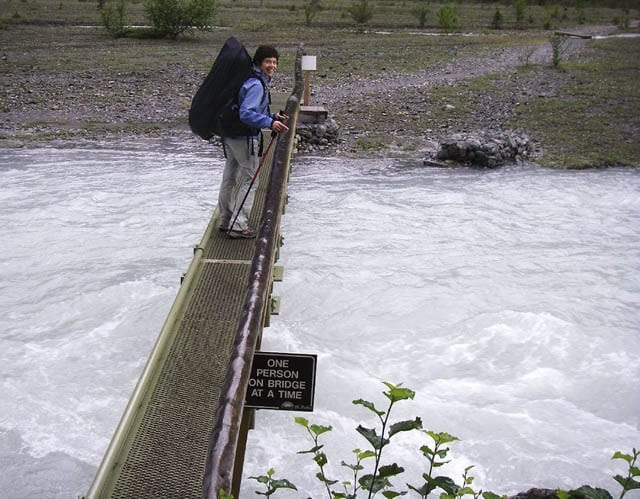 The Route to Berg Lake
Kinney Lake is the first major landmark you reach and the location of the first of seven campsites. It's also the end of the trail should you be riding a bike. Next up is the fantastic Valley of a Thousand Falls, accessed via a very steep climb. Named waterfalls you pass include White Falls, Falls of the Pool and Emperor Falls. From Emperor Falls it's another 3 kilometres to reach the shores of Berg Lake. Look for the Berg Glacier as you continue along the trail. Sometimes you might even see a recently calved iceberg. Look up too. The face of Mount Robson rises over 2,300 metres above the lake.
Many people call it quits at the Berg Lake Campground as it's got a cabin for cooking indoors, a plus when you consider that the climate here is notoriously wetter than in either Banff or Jasper National Park. But if you want a taste of solitude continue to the Rearguard or Robson Pass Campgrounds, one and two kilometres away respectively. Almost no one goes there.
Try to allot a few extra days in the Berg Lake area and use them to explore Snowbird Pass and/or do the Hargreaves Glacier/Mumm Basin Route. Both offer outstanding vistas and wonderful wildflowers in summer.
Useful information for your Berg Lake backpacking trip
Distance: Gain 800 metres over 23 kilometres (that gets you to the Robson Pass Campground) It's 21 kilometres to Berg Lake.
Where: The trailhead is at the Visitor Center 80 kilometres west of Jasper, 320 kilometres northeast of Kamloops
Time Needed: Two days at an absolute minimum and up to five days to explore Hargreaves Glacier or Snowbird Pass
When: Mid-June – September
How: Get a back-country permit at the Visitor Center on Highway 16. Or make a reservation for anytime in the summer beginning on January 2nd on the Discover Camping website. You can also call 1-800-689-9025. There are 7 campgrounds along the trail.
Cost: Backcountry pass is $10 pp per night for people 16 and over, $5 pp per night if under 16, and $6 pp per night +13% tax to a maximum of $18 + tax to make a reservation. It is an additional $5 to make a reservation by phone. (Reservations aren't required but they will give you peace of mind.)
Options: Do the 21.2 kilometre round trip to Snowbird Pass, a 6 kilometre loop to Hargreaves Glacier or the 12 kilometre Mumm Basin loop
Tour companies: Canadian Wilderness School and Expeditions
Fun fact: Mount Robson Provincial Park, is included within the Canadian Rocky Mountain Parks as a UNESCO world heritage site. It boasts 224,866 hectares 200 kilometres of trails, 182 species of birds, 43 species of mammals and 4 species of amphibians.
Are you one of the 4,000 people per year that has been backpacking to Berg Lake?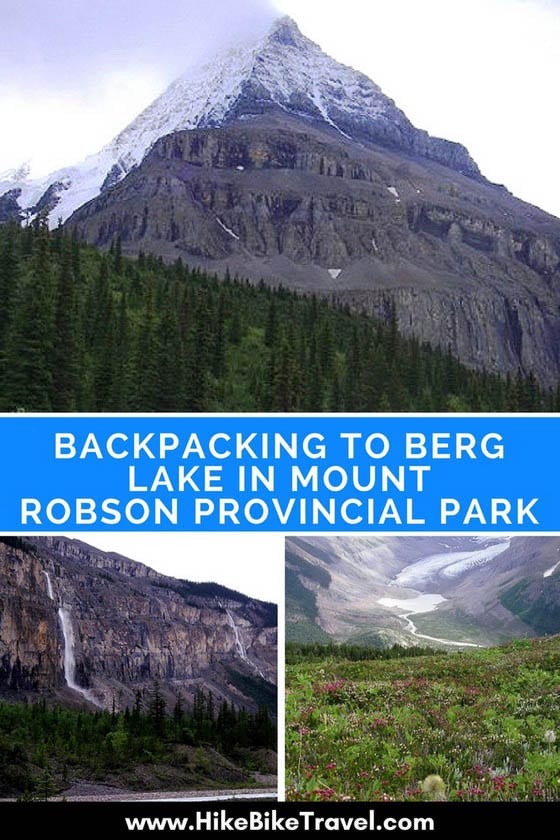 Leigh McAdam